Fresno State ace Wilson wills Bulldogs to CWS championship
AP Photo/Ted Kirk
Justin Wilson's War
By Tim Griffin, ESPN.com
OMAHA, Neb. -- Mike Batesole was sure that Justin Wilson was his best pitching option coming into Wednesday's championship game of the College World Series.
But if the Fresno State coach needed any real reassurance, he got it early in his team's 6-1 victory over Georgia on Wednesday night.
"I knew it was over when I saw the look in Justin's eye in the first inning," Batesole said. "It didn't matter how we were playing or who was in the other dugout. He would get it done by himself if he had to."
Wilson didn't go that far -- but he didn't miss it by much. His eight-inning effort was the longest in the College World Series this season. And his 129 pitches matched a personal high set earlier this season.
Despite pitching on only three days' rest, Wilson was fueled by adrenalin in his strong effort. He scattered only five hits, walking one and striking out nine.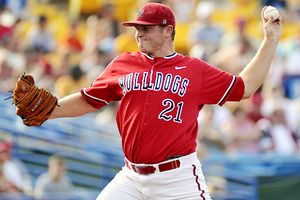 AP Photo/Ted Kirk
Justin Wilson turned in one of the College World Series' best performances Wednesday.
His command was apparent early in the game when he jumped ahead in the count with first-pitch strikes to seven of the first nine batters he faced.
And Wilson, a junior left-hander from Clovis, Calif., also came up with a couple of big pitches when he really needed them. He coaxed Ryan Peisel to fly out on a tight fastball with the bases loaded in the second inning. And he struck out Lyle Allen and Miles Starr in the fourth inning after Joey Lewis had tripled with one out.
"We got runners in scoring position, but we just couldn't get them in," Georgia shortstop Gordon Beckham said. "He beat us because he did all of the little things right."
The power surge keyed by Steve Detwiler, who drove in all six Fresno State runs with two homers and a double, had starting kicking in by then. Wilson pitched with confidence as his team was ahead for most of the game.
"When your hitters score runs behind you and your defense is playing well, it's easy to get in a groove and a good rhythm," Wilson said.
His big effort helped him earn a place on the CWS All-Tournament team, joining North Carolina ace Alex White in that select group. Wilson went 2-0 with a 2.21 ERA in three starts in Omaha, leading all CWS pitchers in strikeouts (20) and innings pitched (20 1/3).
That pitching effort was critical for a Fresno State team that was reeling from the loss of ace Tanner Scheppers during the regular season. And with No. 3 starter Clayton Allison limited in Omaha because of tendinitis in his pitching shoulder, a lengthy start was even more crucial.
That short staff was expected to be Fresno's biggest weakness. But instead, Wilson's big efforts trumped similarly huge work by Holden Sprague and Jake Hower in the Game 2 victory Tuesday night that kept the Bulldogs' season alive.
"I honestly didn't think they would be able to piece together a pitching staff," Peisel said. "But they shut us down for two games. They are a great team and I can't take anything away from them."
Wilson kept the ball on both sides of the plate and didn't allow Georgia to get into any real groove. As the game continued, the SEC champions clearly started to press, with four of their outs caught by Fresno State outfielders on the warning track.
"Everybody was trying to go for a six-run homer and we just couldn't get it done," Peisel said.
And while Wilson didn't pick up his second complete game of the season, his deciding-game victory will stay with him for a long time. He has an upcoming decision after being selected in the fifth round by the Pittsburgh Pirates in the recent Major League Baseball draft.
"This is something I want to savor," he said. "It means so much to me to win with these guys. And with good defense, our coaching staff and the team atmosphere, it all paid off."
No Obstacle Too Big For Bulldogs
By Tim Griffin, ESPN.com
OMAHA, Neb. -- Maybe it was the way Fresno State reacted to all the misfortunes that marked its season.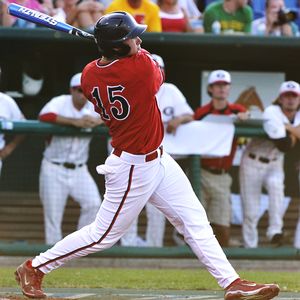 AP Photo/Ted Kirk
Steve Detwiler needed just one thumb to drive in six runs in the CWS championship game.
Several Fresno players admitted they were a little anguished about their NCAA tournament hopes in late May, knowing they would most likely have to win the Western Athletic Conference tournament to qualify in the 64-team tournament.
The Bulldogs were chased out of their familiar digs earlier in the tournament, forced to practice in the Arizona desert after a runaway truck driven by vandals damaged their stadium.
And for good measure, the team plane to the College World Series was rerouted 50 miles west of Omaha after struggling with weather problems on the trip from the West Coast.
For the complete story, click here.
Highlights: Fresno State
STOCK UP/stock down
WEDNESDAY
PLAYER
TEAM
POS
STOCK
Gordon Beckham
Georgia
SS
Beckham may not have been able to lead his team to the title, but his home run kept the Dawgs from being shut out. It also tied him with LSU's Matt Clark for the single-season home run title (28).
Steven Detwiler
Fresno State
RF
Detwiler hit two home runs and drove in each of Fresno State's six runs -- a career high and the second-highest RBI total in a CWS championship game. But that's not all: Detwiler went 8-for-13 with three homers and nine RBIs in the finals, setting records for hits, RBIs, homers and extra-base hits (5).
Tommy Mendonca
Fresno State
3B
Mendonca, the College World Series' Most Outstanding Player, tallied a .276 average with four HRs (a single-series CWS record) and 11 RBIs. But perhaps more important than his performance at the plate was his defense; Mendonca seemingly made every play and stopped every ball hit within a mile of third base.
Justin Wilson
Fresno State
LHP
Wilson went 2-0 with a 2.21 ERA in three starts in the CWS, leading all pitchers in both strikeouts (20) and innings pitched (20.1). He is one of only two pitchers to win more than one game in Omaha, and the eight innings he pitched against Georgia on Wednesday was the longest outing by a pitcher in the CWS.
College World Series Wrap
Going Yard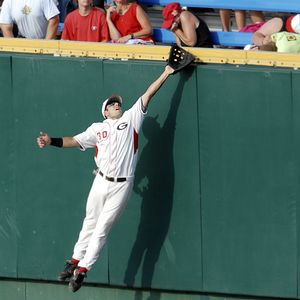 AP Photo/Dave Weaver
Matt Olson did his best to try to stop the first of Steve Detwiler's home run shots from leaving the park, but it wasn't meant to be.
By The Numbers
By ESPN Research
7 The last seven College World Series champs have come from west of the Mississippi River.
62 Fresno State tied USC's 1998 record for runs scored at the College World Series with 62. The Bulldogs were the first team in CWS history to score at least 17 runs more than once in the same trip to Omaha.
341 The 2008 College World Series set a new record for hits with 341; the previous mark of 327 was set in 1998. The teams combined for a .303 average -- the highest in seven years. Only four other College World Series (1947, 1995, 1998 and 2001) have seen the field hit over .300.
Postgame Extra: CWS Finals Game 3