Uncommitted Evans shows he's nation's best remaining recruit in East win
MILWAUKEE -- Brandon Jennings spent Wednesday night refining his on-court improvisation. He decided to open his arsenal of crowd-appeasing skills which included a kaleidoscope of no-look passes and sleight of hand with the basketball.
Simply put Jennings, the ball magician and the top-ranked player in the ESPN 150, didn't look to shoot. Instead he was looking to distribute. He had something in mind.
Tyreke Evans
of American Christian (Aston, Pa.), the nation's top unsigned senior, was more deliberate but direct. Evans was measured with his moves, seeming to strike when the East squad needed him the most. Evans, a scoring machine who combines a variety of playground moves and unlimited range, brought his 'A' game. The clash of the hardwood titans went to the East squad as Evans scored 21 points and had 10 rebounds in a 107-102 victory over the West at the 2008 McDonald's All American Boys' High School Basketball Game before 10,914 at the Bradley Center.
Williams' Analysis
It was apparent early on both teams wanted to win the game in order to secure the most highly-coveted prize -- bragging rights. Through aggressive play in the passing lanes on defense and an effective transition game, the East established a big early lead and withstood a late run for a 107-102 victory.
6-foot-6 shooting guard Tyreke Evans, the nation's top undeclared prospect, led the way for the East, garnering MVP honors in the process through his prolific 21-point, 10-rebound performance. Evans has the ability to score points in bunches, preferring to use his quick first step to penetrate to the basket as opposed to shooting the perimeter jump shot. When he drives, he generally goes right. Once at the rim, Evans uses his upper body strength, long arms, body control and hang-time to absorb contact and make in-air adjustments while still converting the basket.
As he prepares for the next level, he will have to improve his jump-shot in addition to becoming a better ball-handler. At this point of his career, he takes too many dribbles to get to spots on the floor. Evans also has to alleviate his tendency to over-dribble, which only serves to reduce his teammates to spectators. Once he learns to beat defenders with jab-steps and pump fakes, he will enhance his penetration skills and become a more well-rounded offensive talent. For stretches, Evans plays very good pressure defense, using his body and long arms to harass opposing guards.
Oklahoma-bound 6-4 combo-guard Willie Warren spearheaded the West's determined run with his inspired play. Warren penetrated to the basket almost at will, using his reliable handle and quickness to drive past defenders. Warren also has a developed body and good strength, fueling his ability to penetrate into a congested lane, take a hit from an opposing big and still finish the lay-up. When he decides to defend, Warren will body-up smaller, quick point guards and force them into mistakes with his physical play.
Warren sometimes struggles with shot-selection, electing to hoist up ill-advised shots from well beyond the 3-point line. Though he has a nice follow-through on his jump shot, he has a tendency to shoot the ball from his chest, which sometimes causes his shot to fall short. When he utilizes a higher release point, he usually makes his jump shots. Though more of a shooting guard prospect in playing style and mentality now, Warren could develop into a very nice point guard on the next level if he improves his ability to involve others on offense.
-- Antonio Williams, Scouts Inc.
The East seized control early and fought off the West's late comeback effort, but perhaps the sage words of point guard
Mike Rosario
brought order down the stretch.
"I told our coach [Woodie Jackson] to get the ball into the hands of Tyreke [Evans]," said Rosario, who quarterbacked top-ranked St. Anthony High in Jersey City, N.J. to a 32-0 record this season. "Tyreke could drive and dish and create things for the other guys when we needed it."
With Evans milking the clock in an attempt to shorten the game, the East executed the game plan.
"We needed to take at least 25 seconds off the shot clock per possession in the final three minutes," Jackson said. "Tyreke and Mike mainly had the ball, but it was Tyreke showing he could drive and kick that helped us hold them off."
Jackson, who coaches at Francis Marion (Marion, Ala.), improved to 4-0 all-time in all-star games but clearly was humbled by the experience on the grandest stage. "The greatest collection of talent I've seen and had the privilege to coach," said Jackson, who is Alabama's active leader with six state championships (in three different classifications) since 1978. Entering the game, Jennings aimed for the McDonald's game assist record of 13, set by Jacque Vaughn in 1993. He finished with nine assists and scored 12 points -- all in the second half. "I was trying for the record," Jennings admitted. "At the end [of the game] I stepped up my scoring but it wasn't enough." The East won the game on the offensive boards, holding a decisive 19-10 edge, and outscored the West 22-7 on second-chance points. Six players from the East hit in double figures, including
Kemba Walker
(13 points),
Elliot Williams
(10),
Ed Davis
(11) and
JaMychal Green
(12). "Too many [East] offensive rebounds killed us," said West co-coach Tom Diener of Milwaukee Vincent. "We were careless with the ball at times, but it was an entertaining game. The fans seemed to really enjoy it." So did the East, which halted a two-game slide in the series and now leads 17-14 since 1978. Trailing for nearly the entire game, the West received a free throw from
Scotty Hopson
with 7:41 left to reduce its deficit to two points, 84-82. The East used a 15-6 run over the next four minutes to clinch victory. Evans scored seven points during the run and collected two key defensive rebounds. Evans, named the most valuable player, knocked down 9 of 15 shots but excelled on defense where he collected eight of his 10 rebounds.
[+] Enlarge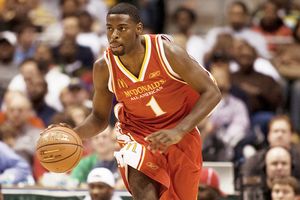 Ross Dettman for ESPN.comTyreke Evans, one of the two uncommitted players participating in the McDonald's All-American Game, took over late in the second half to lead the East to victory.
"We played good defense and my teammates got me the ball late in the game," Evans said. Evans added his name to select company in winning the John R. Wooden MVP Award. Past winners include Michael Beasley (2007), Kevin Durant and Chase Budinger ( both in 2006), LeBron James (2003), Dwight Howard (2004) and Kevin Garnett (1995). The West received a game-high 23 points from Oklahoma-bound
Willie Warren
and 14 from
Jrue Holiday
. West co-coach Jim Gosz of Milwaukee Rufus King had the unenviable task of juggling a lineup of prep superstars, finding them all ample playing time. "We had to manage minutes rather than tempo and strategy," he said. The East surged to take the lead early as Evans nailed back-to-back jumpers less than five minutes into the opening half. Evans' latter shot, a fadeaway 3-pointer, made it a 15-8 lead. Walker, a Connecticut recruit from Rice High in Manhattan, N.Y., stretched the East lead to 37-26 with 9:43 left. The West fought back within five points at 39-34 with 7:30 left on Holiday's dunk, but trailed 54-48 at the break. The West made 21 of 41 shots (52.1 percent) in the opening 20 minutes, but misfired from beyond the 3-point line, making only 1 of 11 shots. "We needed to play intense," said Rosario, who scored 18 points on 8-of-13 shooting. "They had to play catch up the whole game. We wanted it more and made to get everyone involved [in the scoring]."
Greg Monroe
, considered the nation's top player by recruiting sites Rivals.com and Scout.com, had a tough game for the West, committing five turnovers and scoring one point after an 0-for-2 performance from the field. He had six rebounds. At halftime,
Luke Babbitt
of Galena (Reno, Nev.) was presented the Naismith Sportsmanship Award. The award is given annually to the player who exhibits the best sportsmanship during the week of the game and is voted on by the players and coaches. Babbitt, a 6-8 forward who signed with Nevada, scored four points and brought down two rebounds.
Christopher Lawlor has covered high school sports for more than 20 years, most recently with USA TODAY, where he was the head preps writer responsible for national high school rankings in football, baseball and boys and girls basketball. He also for worked for Scholastic Coach magazine, where he ran the Gatorade national player of the year program for nine years. Lawlor, a New Jersey resident, grew up in Rochester, N.Y. and is a graduate of St. Bonaventure University. Information from The Associated Press was used in this report.
High School Basketball
Christopher Lawlor has covered high school sports for more than 20 years, most recently with USA TODAY, where he was the head preps writer responsible for national high school rankings in football, baseball and boys and girls basketball. He also ran the Gatorade national player of the year program for nine years.
2008 McDonald's All-American Game
The 2008 McDonald's All-American Game airs live Wednesday on ESPN at 9:30 p.m. ET. ESPN.com will provide in depth coverage of the practices leading up to the game starting Monday.
• McDonald's Game Zoom Gallery
• Evans leads East to McDonald's win
• Williams: McDonald's Game breakdown
• Watch: McDonald's Game highlights
• Tuesday Zoom Gallery
• Williams: Tuesday scrimmage and practice report
• Lawlor: Tales from media day
• Monday Zoom Gallery
• Williams: Monday practice report
• Lawlor: Catching up with Morgan Wootten
• Sunday Zoom Gallery
• Williams: Sunday practice report
• Gibbons: McDonald's matchups
• McDonald's Game team rosters
---
Boys basketball
•
Championship Zoom Gallery
•
St. Anthony's secures No. 1 ranking
•
Lawlor: CIF recap
•
Latest ESPN HIGH Elite 25
MORE MEN'S COLLEGE BASKETBALL HEADLINES
MOST SENT STORIES ON ESPN.COM