Commentary
Favors, Henry, Sidney head talented 2009 ESPN 100
Move over Michael Beasley, the stacked Class of 2009 looks to be full of players who will be instant-impact freshman, writes Bob Gibbons.
Updated:
March 31, 2008, 7:08 PM ET
By
Bob Gibbons
| Scouts Inc.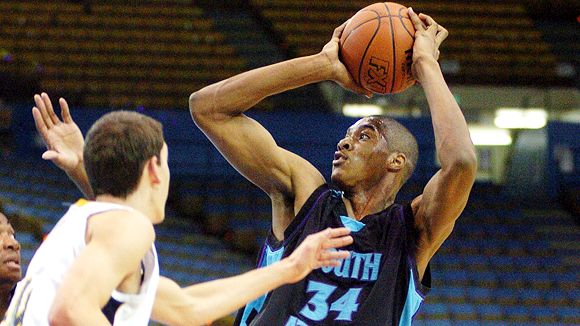 Chris Williams/Icon SMIDerrick Favors' size, power and athleticism earned him the top spot in the first edition of the ESPN rankings.
Our very early ratings of the Top 100 prospects in the deep and talented Class of 2009 are based upon our evaluations of these players' overall abilities and their achievements to date -- including this past season. Obviously, these ratings are subject to change while we continue our evaluations through the 2008-09 high school basketball season.
From our perspective, the Class of 2009 appears to have more potential "star power" than the Class of 2008. In fact, the overall level of talent and depth at each position could be comparable to the outstanding Class of 2007, which constitutes college basketball's unprecedented group of amazing freshman standouts. There are players in the '09 class who could have major first-year collegiate impact similar to that of Michael Beasley, Kevin Love, Eric Gordon, Derrick Rose, O.J. Mayo, Jerryd Bayless, Kyle Singler, Jonny Flynn, Patrick Patterson, Nick Calathes, Blake Griffin and James Harden this season.
Recruit Tracker redesign
The redesigned Recruit Tracker for boys basketball debuts Monday with enhanced look, feel and user navigation.
Among the changes:
• Users can search by first and last name on any page.
• Team pages now include stories, scouting reports and briefing room entries sorted by team.
• Pop-up windows provide class information and news in one easy click.
Another notable change is the ESPN 150 has been trimmed to the ESPN 100, which ranks the top 100 players in a class. While rankings and grades will still be available for most prospects regardless of whether they make the list, we felt with fewer scholarships available in basketball compared to football, the list should be appropriately smaller.
The ESPN Watch List and ESPN Super 60 have also been added for underclassmen, the latter debuting later this week.
Recruit Tracker: ESPN 100
It should be very interesting to see which player emerges as the No. 1 prospect in the Class of 2009; there are at least 12 early contenders for this honor. However, based upon his stellar play in the summer of 2007 and this past season, we have
Derrick Favors
-- a 6-foot-9 C/F from South Atlanta High School (Atlanta) -- as No. 1. Favors is the consummate court warrior; he displays highly completive demeanor and is an aggressive power player. Favors excels at rebounding and shot-blocking. His low-post scoring skills and shooting range need to improve. Favors, however, always plays with maximum effort and appears to have a Tyler Hansbrough mentality when he steps on the court.
Rated No. 2 is multidimensional, fundamentally skilled 6-6 G/F Xavier Henry, Putman City High School (Oklahoma City). Henry is an accurate outside shooter and was one of the most impressive underclassmen at the prestigious NBPA Top 100 Camp in June. He reminds us somewhat of Kobe Bryant as a schoolboy.
[+] Enlarge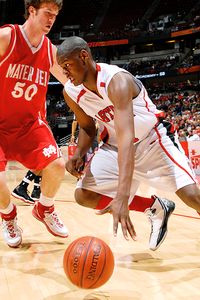 Chris Williams/Icon SMIRenardo Sidney needs to focus on his interior play to excel at the next level.
The No. 3 2009 prospect is a physically dominating big man, 6-9 C/F
Renardo Sidney
, Fairfax High School (Los Angeles). When he is motivated Sidney is as good as it gets in this class. His game, however, has been somewhat up and down. Hopefully, this transplant from Mississippi will have the stability of remaining at Fairfax for his senior season (he has attended a different high school each year) and can achieve his enormous potential. He could become a Michael Beasley in college.
At No. 4 is the pride of the Big Apple, 6-foot-5, 210-pound shooting guard Lance Stephenson of Abraham Lincoln High School (New York). Stephenson already has an NBA body and is a gifted all-around scorer. He can drill 3-pointers or slash to the hoop. He also has an outstanding medium-range game. Stephenson has Eric Gordon-type abilities and is a serious candidate for 2009 player of the year honors.
Somewhat similar to Sidney, and now rated No. 5, is 6-11, 250-pound C/F DeMarcus Cousins, LeFlore High School (Mobile, Ala.). After missing most of his sophomore season for disciplinary reasons and relocating from Birmingham to Mobile in October, Cousins had a successful season and was named second-team all-state. His performance at the LeBron James Skills Academy in July validated his ability to become one of the best in this class. Cousins has already committed to Mike Davis' UAB program.
The No. 6 2009 player is Dexter Strickland, a versatile and skilled 6-3 guard from St. Patrick High School (Elizabeth, N.J.). Strickland plays for an excellent coach, Kevin Boyle, and has been well schooled in the fundamentals. He can play both guard positions and is an accurate outside shooter, passer and defender. He made his mark as a sophomore when he successfully defended O.J. Mayo in an ESPN-televised game. Strickland has made an early commitment to Roy Williams' North Carolina Tar Heels.
At No. 7 is another highly talented guard, 6-4 Leslie McDonald, Briarcrest Christian School (Eads, Tenn.). McDonald has the skills to play three positions -- point guard, shooting guard or small forward -- and may already have grown to 6-5. He is a gifted scorer at all shooting ranges and is a truly outstanding high-major backcourt prospect.
Rated No. 8 is the stellar junior on coach Bob Hurley's undefeated national championship team, 6-6 G/F Dominic Cheek, St. Anthony High School (Jersey City, N.J.). Despite playing on a senior-laden team, Cheek was truly the most promising prospect among a record-setting group. He has excellent scoring skills and extended shooting range. Cheek impressed us with his stellar play at the NBPA Top 100 Camp last June.
The No. 9 player is native Venezuelan, 6-foot-9, 260-pound center Gregory Echenique of St. Benedict's Prep (Newark, N.J.). Echenique teamed with McDonald's All-American Samardo Samuels to form a beastly duo of inside dominators for coach Danny Hurley's 24-1 and nationally ranked team this past season. Echenique is the son of a Venezuelan professional player and a member of his country's junior national team. He should emerge as one of the most productive post players in the Class of 2009. Echenique recently committed to Fred Hill's Rutgers program.
At No. 10 is the top junior prospect in Texas, 6-6 G/F Nolan Dennis, Richland High School (North Richland Hills, Texas). The Class of 2009 is loaded with talented wing prospects, and Dennis ranks with the best of them. This velvety smooth, Wayne Ellington-type player made 49 percent of his 3-point attempts as a junior. He can play multiple positions and is a superbly gifted athlete.
[+] Enlarge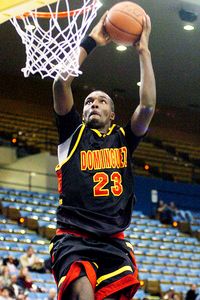 Chris Williams/Icon SMICalifornia wing Jordan Hamilton is one of the country's most versatile players.
Rated No. 11 is prolific scoring, 6-foot-7 wing
Jordan Hamilton
of Dominguez High School, (Compton, Calif.). As a sophomore, Hamilton was very impressive at Dorsey High School (Los Angeles). He really elevated his game this season at Dominguez High School under the guidance of coach Russell Otis. Hamilton has the athletic abilities and offensive talent to become the Kevin Durant of this class.
Completing our dandy dozen at No. 12 is sharpshooting 6-2 guard Kenny Boynton, of American Heritage High School (Plantation, Fla.). Boynton is a Stephen Curry-type shooter, with high national acclaim as a junior. He was the main man for one of the top summer teams, Florida-based Team Breakdown, last year and had a tremendous season at American Heritage, including a record-setting 61-point game at the City of Palms Classic in Fort Myers this past December.
Thirty-one members of the ESPN 2009 Top 100 have already committed to a college. North Carolina leads the way with four commitments, all from players currently rated in the 2009 top 25. And coach Roy Williams is looking to add additional recruits from this class.
Other programs off to a good early recruiting start with commitments from players rated in the Top 100 include: Illinois (3), Rutgers (2), Kansas State (2), Connecticut (2) and Louisville (2).
We expect a number of additional Top 100 players to soon make their collegiate decisions. We will keep you updated.
Bob Gibbons is the editor and publisher of the All Star Sports Report and is widely regarded as the recruiting guru of college basketball. Drop Bob a line in his mailbag.
Scouts Inc. Basketball Recruiting
Bob Gibbons is the editor and publisher of the All Star Sports report and is widely regarded as the recruiting guru of college basketball.
SPONSORED HEADLINES
MORE MEN'S COLLEGE BASKETBALL HEADLINES
MOST SENT STORIES ON ESPN.COM
EDITORS' PICKS
How did Ben Simmons become the No. 1 prospect?
Biancardi

How does Cincinnati find the perfect prospects?
Finkelstein

The National High School Hoops Festival drew plenty of attention. What stood out most?
Jeff Borzello