Commentary
A weekend of slam-jam action at the Peach Jam
Originally Published:
July 14, 2008
By
Bob Gibbons
| Scouts Inc.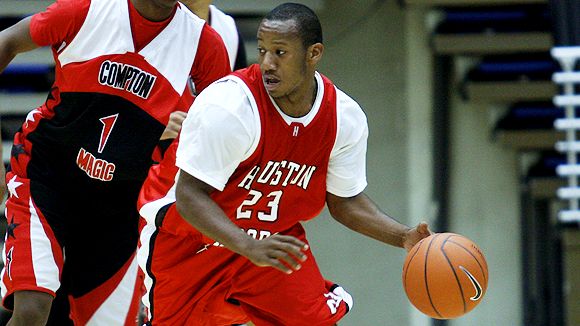 Jeremy Myers for ESPN.comTommy Mason-Griffin was impressive at the Peach Jam.
NORTH AUGUSTA, S.C. -- The Peach Jam Tournament, our favorite event of the summer, includes 24 of the best Nike sponsored 17-Under travel teams and 16 of their top 16-Under teams playing games in the adjoining four courts at the excellent Riverview Park Activities Center in North Augusta. This is an ideal setting for player evaluations because of the proximity of the courts all in one building, the competitiveness of the games and players participating in a true team setting rather than trying to showcase their talent as individuals.
Saturday we saw six games won on shots in the final seconds. The best game Sunday was a battle between two undefeated (3-0) teams, the Georgia Stars and BABC (Mass.). The Stars were led by recent Georgia Tech commit, 6-8 PF Kammeon Holsey (Sparta, Ga./Hancock) with 25 points. Also 6-5 G/F Adrien Coleman (Stone Mountain, Ga./Stephenson) had 24 points, 6-0 PG Jordan Callahan (Marietta, Ga./Blessed Trinity) hit for 19 points and 6-5 G/F Glen Rice, Jr. (Marietta, Ga./Walton), the son of former NBA player Glen Rice, scored 14 points in their hard-fought 93-86 win over BABC.
Six-foot-4 2010 2G Gerald Coleman (Tilton, N.H./Tilton School) led BABC with 26 points, Connecticut commit, 6-6 WF Jamal Coombs-McDaniel (Tilton, N.H./Tilton School) had 17 points and 5-9 2010 PG Phillip Pressey (Ashburnham, Mass./Cushing Academy), a playmaker supreme and the son of former NBA player Paul Pressey, had a superb game with 12 points, 9 assists and five steals.
Peach Jam Notebook
• John Wall might have arrived at the Peach Jam with the rating as the top point guard in the Class of 2009. But after four games that included a head-to-head matchup with Wall, 5-10 Tommy Mason-Griffin -- a tenacious bulldog -- has proven to all onlookers he could very well be the nation's best. Mason-Griffin outplayed Wall and showed much better floor leadership and playmaking abilities as his Houston Hoops team defeated Wall's South Carolina Ravens 64-52.
With his team trailing the Illinois Warriors by 22 points at halftime, Mason-Griffin became a points producer, scoring 24 second-period points (total of 32 for the game), and found teammates for 9 assists to lead the Houston Hoops to a four-point advantage that they eventually yielded in an 81-78 loss to the Illinois Warriors.
In Sunday night action with his team behind 27-21 at the half, Mason-Griffin hit 9-11 second half shots and had 25 points, 10 assists and four steals as Houston Hoops downed the Rising Stars Gold JG (Ill.) 62-58.
• Marcus Jordan, the 6-3, 200-pound guard from Chicago/Whitney Young, bears the heavy burden of being Michael Jordan's son. Jordan is a very competitive young man and an effort player. However, he is nothing like his dad. A left-handed shooter, Jordan averaged 16 points during the first four games with a high game of 22 points. He has a quick first step and is fearless driving to the hoop. He lacks his famous father's explosiveness but is proving to be at least a mid-major college prospect with his all-around team play for the Rising Stars Gold JG team.
• The best all-around player at the Peach Jam is ESPN No. 2-rated 6-6 G/F Xavier Henry (Oklahoma City, Okla./Putnam City). Now almost fully recovered from the high ankle sprain that had curtailed his play this summer, Henry exploded for a tournament high 36 points in his second game. He scored 29 points Sunday evening as his Athlete's First team whipped Meanstreets 75-55.
Henry is an accurate left-handed 3-point shooter. However, his forte is posting up and slashing to the hoop. He is comparable to former Memphis player Chris Douglas-Roberts in his ability to go over, under or around defenders and finish at the rim. Henry told ESPN his final two schools are Kansas and Memphis.
• The Peach Jam is filled with talented big men. However one of the most underrated and productive is 6-9, 220-pound C/F Royce White (Minnetonka, Minn./Hopkins), who plays his club ball for the Howard Pulley Panthers. White is a very mobile, quick athlete and runs the floor exceptionally well. He is an outstanding passer, rebounder, shotblocker and has very advanced skills. White can play either the high or low post at the collegiate level. Reportedly White has committed to the Minnesota Golden Gophers. If he can convince his gifted Howard Pulley teammate 6-6 G/F Rodney Williams (New Hope, Minn./Robbinsdale Cooper) to join him at Minnesota, coach Tubby Smith would have the talent he needs to take the Golden Gophers to the top of the Big 10.
• The best prospect in the Peach Jam 16-Under Tournament is 6-7 2011 G/F Michael Gilchrist (Elizabeth, N.J./St. Patrick). Gilchrist, an ESPN Watch List prospect who likely projects as the top prospect in the Class of 2011, can literally play every position, including point guard. He has played the point in this event for his Team Final (Pa.) squad. Gilchrist has exceptionally advanced fundamentals for a player so young. His court vision and passing skills are outstanding. He always seems to find an open teammate with a pinpoint pass. And he is an accurate 3-point shooter. Could he become the next Magic Johnson? Time will tell.
• One of the real surprises is talented big man, 6-9, 225-pound C/F Mike Broghammer ( Minnetonka, Minn./Hopkins), a member of the Howard Pulley Panthers. Broghammer is a tireless worker, a force on the boards and has an effective jump hook. He needs to extend his shooting range but is a terrific competitor. Broghammer is hearing from: Illinois State, Southern Illinois, Harvard, Gonzaga, Iowa, Iowa State, Marquette, Minnesota, and others.
• After two days the scoring leaders in the Peach Jam were: Illinois commit, 6-3 D. J. Richardson (Illinois Warriors) 24.7 ppg; 6-6 Xavier Henry (Athlete's First) 23.3 ppg; 5-10 Tommy Mason-Griffin (Houston Hoops) 21.2 ppg; 6-5 Terrence Boyd (Athlete's First) 19.0 ppg; 6-6 Jamal Coombs-McDaniel (BABC) 18.7 ppg; 6-2 2010 PG Gary Franklin (California Supreme) 18.3 ppg; 6-7 Jordan Hamilton (Team Odom) 18.3 ppg; 6-3 John Wall (South Carolina Ravens) 17.7 ppg; 6-5 Carrington Tankson (Howard Pulley) 17.7 ppg; and 6-0 PG D.J. Cooper (Meanstreets) 17.3 ppg.
• We were also able to cover a neighboring event, the 2008 Peach State Showcase in Aiken, S.C., some 30 minutes away from North Augusta. This tournament had 50 teams playing at the University of South Carolina-Aiken Convocation Center.
The Birmingham Ice (Alabama) defeated the Midstate Ballerz South (Tennessee) 70-65 in the Peach State Summer Showcase Championship game. Outstanding for the Ice was superb floorleader, 6-1 PG Eric Bledsoe (Birmingham, Ala./Hayes) with 24 points and 8 assists. Sharpshooting 6-2 2G Skylar McBee (Rutledge, Tenn./Grainger) had 25 points for the Ballerz.
Midstate advanced to the championship with a 68-52 victory over the United Celtics (Charlotte, N.C.) in the semi-finals. St. John's commit, 5-11 PG Malik Stith (North Bridgton, Maine/Bridgton Academy) played well for the Celtics.
Other standouts in the Peach State Showcase included 6-7 WF Ari Stewart and 6-8 PF Richard Howell (both at Marietta, Ga./Wheeler); 6-4 2G Lorenzo Brown (Roswell, Ga./Centennial); rugged Clemson commit, 6-8 PF Devin Booker (Union, S.C.); gifted Texas A&M recruit, 6-6 G/F Khris Middleton (Charleston, S.C./Porter Gaud); outstanding 2010 prospect, 6-5 2G Russell Byrd (Ft. Wayne, Ind./Blackhawk Christian); rapid-rising 6-5 G/F Garrius Adams (Apex, N.C./Middle Creek); talented Florida commit 6-9 PF Erik Murphy and skilled 2010 big man, 6-9 C/F Nate Lubick (both at Southborough, Mass./St. Mark's); undeveloped 7-2 C Jamarius Sykes (Port Gibson, Miss.).
Bob Gibbons is the editor and publisher of the All Star Sports Report and is widely regarded as the recruiting guru of college basketball. Drop Bob a line in his mailbag.
Scouts Inc. Basketball Recruiting
Bob Gibbons is the editor and publisher of the All Star Sports report and is widely regarded as the recruiting guru of college basketball.
SPONSORED HEADLINES
MORE MEN'S COLLEGE BASKETBALL HEADLINES
MOST SENT STORIES ON ESPN.COM
EDITORS' PICKS
How does Cincinnati find the perfect prospects?
Finkelstein

The National High School Hoops Festival drew plenty of attention. What stood out most?
Jeff Borzello

Which mid-major schools have the best 2015 classes?
Finkelstein