Commentary
Williams keeps climbing at Double Pump; Snaer shines at Fullcourt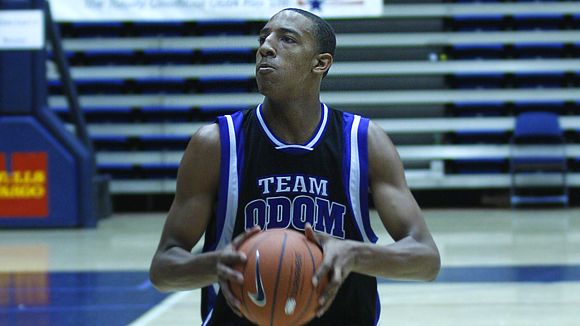 Jeremy Myers for ESPN.comDerrick Williams is wowing coaches and scouts with his improved athleticism.
CARSON, Calif. -- July is a hectic time for scouts and coaches alike, with a whirlwind schedule that could leave you dizzy and dumbfounded, having just endured 12 hours of evaluating. That was exactly the case when I arrived at Cal State Dominguez Hills University for the Double Pump West Coast All Star Camp.
The usual suspects were out and about during Session 2 of the camp, including up-and-coming national recruit Derrick Williams (La Mirada, Calif.), Robert Horry play-a-like Devonte' Elliott (Paramount, Calif.) and Josh Childress clone Tyler Honeycutt (Sylmar, Calif.).
However, the theme of Session 2 was the element of surprise, as a number of unknown prospects unveiled their talents and gave a glimpse of what the future has in store for West Coast hoops.
Standout players
Derrick Williams
(6-6, 215)
2009, La Mirada, Calif.
Williams is having an incredible summer. Scouts and coaches are in love with his frame, and he appears to be more athletic with each outing (he gets up twice before most get up once). His offensive game has become more polished since the regular season, and he has incredible instincts around the basket. His pivot work is impeccable, and his face-up skills have developed nicely as well. In addition to his improved post skills, he has become one of the better passers on the West Coast. His demeanor is outstanding, and he never gets flustered, regardless of the situation. He is one of the more intriguing prospects in the country because of his versatility and savvy.
Anthony Stover (6-9, 215)
2009, La Canada, Calif./Renaissance Academy
Stover has as much upside as any big in the West Coast class of 2009; unfortunately, his desire to be the best is troublesome. He is an extremely lengthy prospect who runs effortlessly in transition and can be quite bouncy around the basket. His strength at this juncture is none other than shot blocking. He has excellent timing and is deceptively quick off the floor. However, he is susceptible to pump-fakes and is foul prone. Offensively, he is far from a finished product, but he has made strides from a year ago, especially with his interior passing ability. His pivot work has improved, but he still is quite methodical in the paint area, resulting in slow, developing post moves. Stover also needs to be more aggressive at both ends, especially in the rebounding department. In a camp in which there were few bigs, his desire to rebound wasn't where it needs to be. Overall, Stover is a high-major prospect, and if a program has the patience to redshirt him to get him stronger and develop his game, he might turn out to be a diamond in the rough.
Tyler Honeycutt (6-7, 180)
2009, Sylmar, Calif.
For the second week in a row, Honeycutt was the most promising prospect, although a handful of players displayed the ability to be high-major contributors someday. Honeycutt wowed the crowds with his acrobatic plays above the rim and passing ability. His passing in transition can be mind blowing at times, and his shooting has improved immensely since the regular season. However, there are some kinks in his armor that need to be addressed if he is to reach his significant upside. His one-handed passing can get careless at times, and he needs to make a more concerted effort at the defensive end if he's to become a complete player. He isn't very physical and needs strength, and aside from blocking shots, he needs to escalate his lateral quickness and overall desire at the defensive end.
Vander Joaquim (6-9, 215)
2009, El Cajon, Calif./Christian
Joaquim has that prototypical frame college coaches covet. He is extremely long and light on his feet and just oozes upside at the 4-position. He can step out and hit the 15-foot shot with regularity, but overall, his offensive game is raw. He has the quickness to take defenders off the bounce and can finish with either hand as well. He is active around the basket and has excellent timing at the defensive end. Nebraska is getting an outstanding prospect, and by the time he's a sophomore or junior, he could be an All-Big 12 performer.
Surprise players
[+] Enlarge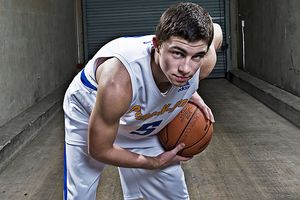 Icon SMIMatt Carlino needs to improve his shot selection and his quickness for the next level.
Matt Carlino
(6-3, 190)
2011, Gilbert, Ariz./Highland
Carlino is a well-known commodity on the West Coast because of his scoring prowess; however, his shot selection most of the time is questionable, to say the least. He is a prolific shooter and his release is textbook, but at this stage of his career he has a lot to learn if he plans on playing the 1 at the next level. Although he still has three years left of high school basketball, his frame is quite mature, but he doesn't have great quickness. He struggled to separate himself from defenders off the bounce and, as a result, became turnover-prone. He will, on occasion, locate open teammates, and he has the savvy to deliver the nifty assist. Most of the time, though, he is hunting for his own shot. If Carlino decides to tone down his shot selection and develop other aspects of his game (such as getting others involved), he should be able to play somewhere on the Division I level.
Thomas Feeney (6-0, 175), Ranking: 80
2010, Anchorage, Alaska/West Anchorage
Feeney has many of the intangibles you look for in a Division I point guard. He has a strong frame, solid speed and an overall good feel for the game. He rarely forces the action and plays the game with an even keel most of the time. He has a solid first step and keeps his handle low, making it difficult for opponents to disrupt his handle. He is very adept at feeding the post and also understands passing angles. His jump shot is solid, as is his pull-up at the elbow. He has a smooth release and gets ideal arc on his shot. He likes to post up in the paint area despite being undersized. He uses his strong physique quite well; however, he does have a tendency to force the action in the paint area instead of kicking it out. Feeney is definitely on the radar now and should start receiving interest from most mid-majors.
Sam Hicks (6-8, 230), Ranking: 70
2009, Redding, Calif./Liberty Christian
Hicks is another prospect unveiled at Double Pump No. 2. He has a terrific frame with broad shoulders and long arms. He has solid lift and decent speed, and he runs fairly well in transition. He can step out and stroke the jump shot from the elbow and has solid footwork and fundamentals in the post. He uses the up-fake very well and can finish with either hand. He is a tough rebounder at both ends and can even finish in a traffic jam. Hicks has a solid upside and enough pop in his legs to play in the West Coast Conference and/or Mountain West Conference.
Allen Huddleston (6-1, 160), Ranking: 68
2009, Merced, Calif.
Huddleston is not a pure point guard just yet, but appears to be heading in that direction. Huddleston has ideal size for the 1 and possesses great speed as well. He can break down opponents off the dribble with regularity and has an innate ability to find teammates in traffic. He can nail the jump shot in transition and/or in the half-court set, and his release is fairly solid. (He keeps his elbow in.) Huddleston still plays too fast at times and needs to develop more savvy for the 1, but he does have the talent to play at the Division I level.
Derron Scott II (6-4, 170), Ranking: 68
2009, Etiwanda, Calif.
Scott is one of the most intriguing prospects on the West Coast. He has a frame (long and lanky) and game that enables him to resemble a shorter version of Shaun Livingston. He has a slick handle and deceptive quickness to get in the lane and set up teammates. His passing is high-level, and his overall feel for the game is tremendous. His jump shot has improved immensely since the regular season, despite its unorthodox release. He still is a below-average shooter beyond the stripe, but his midrange pull-up is very good. He does need to add considerable strength because quick guards that get into him can cause him problems, but overall he's a definite sleeper prospect for the low- to mid-major level.
Ken Rancifer (6-5, 185), Ranking: 63
2009, El Cerrito, Calif.
Rancifer has the quintessential frame for the 3 position. He has tremendously long arms, high-level quickness and athletic ability. He is a gifted slasher who gets to the basket with relative ease because of his length and athletic prowess. He can finish with either hand and has awe-inspiring hang time. He can drive right or left with equal aplomb. His jump shot has become more consistent, but it's still an area that needs to smooth out. He gets great lift on his shot, but it's quite flat in its trajectory. Defensively, his physical attributes give him the potential to be a devastating defender at the next level. Overall, the level of recruitment he receives will depend on how much his jump shot develops in the coming year.
Double Pump notes
• Two of the most improved prospects -- 6-6
Derek Kaster
and 6-6
Jaleel O'Brien
-- in the West Coast Class of 2010 are teammates on the IEBP 16U squad. Kaster (Moreno Valley, Calif./Canyon Springs) is a wing type who has a tremendous knack to score and is doing a much better job of setting up his teammates off the bounce. O'Brien (Alta Loma, Calif.), whose frame resembles that of Cal-Berkeley contributor Jamal Boykin, has a nice feel for the game as well as a soft touch out to 17 feet.
• There were many sleepers for the low Division I level in camp, and none stood out more than 6-2 senior Jacob McLemore (La Jolla, Calif./Scripps Ranch). McLemore has a rangy frame, solid perimeter skills and a fairly consistent 3-point shot.
• Undersized 2-guard Michael Thompson (Las Vegas/Canyon Springs) is an intriguing member of the Class of 2010. He's ultra-athletic when going to the basket, but he needs to utilize the jump shot as well as develop a mid-range game. Many times during the camp, he forced the issue and became turnover-prone.
• 2011 standout 6-4 Byron Wesley Jr. (Rialto, Calif.) has a chiseled frame and plays with great energy at both ends. But he doesn't have a position for the next level and needs to smooth out his jump shot and perimeter handle, and must develop some pace to his game because he plays too fast.
• Ronnie Stevens, a 6-8 sophomore who is transferring from Orange Lutheran to Gardena, Calif./Serra, has a soft shooting touch out to 15 feet and a solid-looking frame. On the other hand, he is still quite raw in terms of fundamentals and doesn't have a whole lot of bounce to his game.
• Tony Freeland, a 6-5 4 man out of Los Angeles/Fremont, is one of the most consistent performers on the West Coast. He use his reach and tenacity to dominate players who are taller. But at this event he didn't play to his strength (attacking the glass and finishing in transition) as often as he should have because he forced a number of ill-advised 3-point attempts.
• After a pedestrian spring, 6-3 senior Timothy Harris (San Jose, Calif./Valley Christian) demonstrated his ability to knock down open jump shots and a more concerted effort at getting to the basket.
• One of the better-looking sophomores in camp was 6-3 Amir Garrett (Las Vegas/Sierra Vista). Garrett is a wiry, left-handed wing type who is extremely bouncy and active at both ends.
• Marcus Byrd, a 6-7 sophomore out of Riverside, Calif./J.W. North, is a ways away from being a finished product, but his length and face-up skills are quite impressive. This lefty needs to utilize his size in the paint area with more regularity, but he does have a soft touch and solid ball skills for someone so young.
• He has enormous talent, but 6-8 sophomore Angelo Chol (San Diego/Hoover), needs to get more assertive on the offensive end and take advantage of his considerable length and athleticism.
• He is apparently headed to Saddleback Junior College in the fall, but 6-6 Kauri Black has the ability to play at the Division I level. He has a terrific frame oozing with athleticism, and he plays at a relentless pace. His jump shot and handle are in their infantile stages, but he has a fair amount of athleticism at the 4 and 3 positions.
• After a sparkling spring campaign, 6-1 senior Andrew Bock (Rialto, Calif./Eisenhower) was rather ordinary at this event. He's a pure point guard with a nice feel for the game, but I'm a bit concerned with his frail frame and less-than-desirable speed.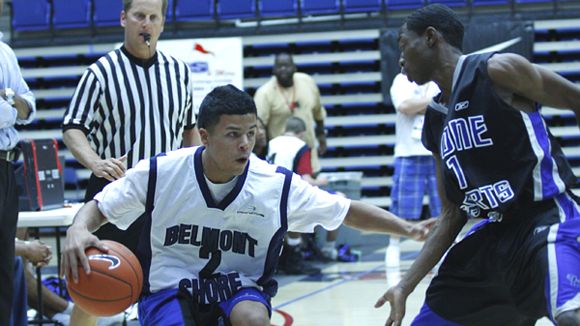 Jeremy Myers for ESPN.comPoint guard Cezar Guerrero had a solid performance at the Fullcourt Press All-West Camp.
Fullcourt Press All-West Camp report
I was able to evaluate only the marathon All-Star session of Dinos Trigonis' Fullcourt Press Camp, but despite the limited amount of time to cover the event, there were enough insightful observations to warrant a report.
There were three all-star games, and as you would expect the play was quite ragged, but there were quite a few standouts -- national recruit Michael Snaer and prep-school-bound Kevin Young come immediately to mind -- who emerged.
• Anthony Marshall, a 6-2 senior from Las Vegas/Mojave, struggled to separate himself from defenders off the bounce. He isn't overly quick but does have a nice feel for the game, and would be best suited for a motion-style offense at the next level.
• Cezar Guerrero, a 5-10 sophomore who is a blur with the ball, has a tendency to overpenetrate, but his pull-up jump shot at the elbow is smooth, and he did a solid job of setting others up as well.
[+] Enlarge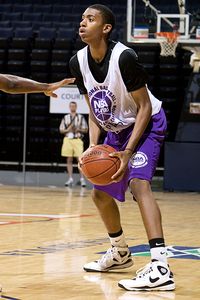 Jason O. Watson for ESPN.comHollis Thompson is one of two prospects committed to Georgetown's 2009 class.
• Georgetown commit 6-7
Hollis Thompson
(Los Angeles/Loyola) needs to gain considerable strength if he is to make a significant impact in the Big East conference a year from now. He continues to shy away from contact off the bounce and needs to become a stronger rebound.
• The most efficient player in the game was 6-6 junior Anthony Brown (Huntington Beach, Calif./Ocean View). His savvy is tremendous, and he has one of the smoothest pull-up jump shots in the West.
• He is deceptively athletic considering his massive frame and has a smooth jump shot out to the stripe, but I'm a bit concerned about where 6-6 San Diego State commitment Alec Williams' body is headed. He looks more like an offensive tackle than a power forward.
• He started the game out forcing the action and taking ill-advised jump shots, but 6-5 senior Michael Snaer finally began to show why he is considered one of the finer 2-guard prospects in the country. When he allows the game to come to him and sets up teammates off the bounce, he is tough to deal with.
• Although he's a 2008 graduate out of Perris, Calif., 6-7 Kevin Young was one of the more intriguing prospects at this event. His wiry frame and bouncy nature allow him to perform acrobatic moves that are reminiscent of former NBA great George Gervin.
• Marcus Ruppel, a 6-7 senior out of Glendale, Ariz./Deer Valley, has a feathery stroke out to the stripe and improving ball skills. He needs to add strength to his willowy frame, but he is one of the better-looking wing types out west.
• The best pure point guard in the game was 6-1 junior Derek Brown (Chino Hills, Calif.). He isn't the quickest, nor is he the fastest, but he is very crafty with his handle and is a high-level passer.
• Dominique Remy, a 6-3 sophomore out of Oklahoma City, Okla./Putnam City, has a nice frame, solid skills and a very good feel for the game.
• One of the better-looking sleepers in the West may be 6-0 senior Demetric Williams (Las Vegas/Cheyenne). He has a solid looking jump shot out beyond the stripe and delivered some savvy assists as well.
Joel Francisco has been a high school basketball scout for 15 years. He has written for Hoopscoop Magazine and Basketball Times and organized "So-Cal's Finest," his own scouting service.
Covers college basketball recruiting
Graduated from Long Beach State
SPONSORED HEADLINES
MORE MEN'S COLLEGE BASKETBALL HEADLINES
MOST SENT STORIES ON ESPN.COM
EDITORS' PICKS
How does Cincinnati find the perfect prospects?
Finkelstein

The National High School Hoops Festival drew plenty of attention. What stood out most?
Jeff Borzello

Which mid-major schools have the best 2015 classes?
Finkelstein