Commentary
Tourney Recap: AAU U16 Nationals
Originally Published:
July 31, 2008
By
Reggie Rankin
| Scouts Inc.
ORLANDO -- All Ohio Red made it a clean sweep in Orlando by winning the 16 and under AAU Super Showcase and National Championship. In the National Championship game on Wednesday All Ohio Red was down at halftime 32-30, but a 30-point third quarter was too much for the New York Gauchos to overcome and All Ohio cruised to an 85-61 victory. All Ohio had four players in double figures led by their go-to guy Jared Sullinger and point guard Juwan Staten with 19 points each. Super athletic forwards J.D. Weatherspoon and Jordan Sibert had 15 and 13 points respectively. The Gauchos were led by scoring guard Deron Lamb with 15 points and Sandro Carrissmo with 10.
Standout players
The 16 & Under Nationals were loaded with young talent at every position and here are a few of the players that really stood out.
Johnny O' Bryant, PF (6-foot-9, 220 pounds)
2011, Cleveland, Miss./ Eastside
O'Bryant has a long, athletic body with great hands and footwork that allows him to score inside and out. He sprints the middle of the floor or the outside lane in transition for layups or drives from the wing. In the low post, O' Bryant works extremely hard for position in order to catch the ball as close to the basket as possible. He does a great job making himself a big target for the passer by showing a target hand to indicate where he wants the ball and is constantly moving in a low athletic stance. His scoring moves are quick and fluid. On the left low box, he likes to shoot the turnaround jumper toward the middle of the lane after a quick fake to the baseline. On the right side of the floor, the low wing or the high post are the areas where O'Bryant will turn to face the basket before he shoots the 12- to 15-foot jumper. He will not hesitate to take the shot if the defender's hands are down or he has backed off to take away the drive. He can be effective on the perimeter with his attacking drives along the baseline that starts with a jab fake to get the defender out of position. He will finish above the rim if the help-side defense is asleep. He can drive both ways but seems to be more comfortable going to his left, where he also has a spin move that ends in a fall-away jumper. The three ball is an option too with time and space. This aggressive, high-energy player rebounds on both ends of the floor and must be boxed out because of his hunger for putbacks on the offensive glass. He is a good defender who is not afraid to take a charge and works to deny his man in order to keep the ball out of the post. O'Bryant also has the lateral footwork to defend the drive. He must learn to stay under control. At times, he will try to do too much and make a costly turnover. He is a big-time talent with some Kevin Garnett tendencies on the offensive end of the floor.
[+] Enlarge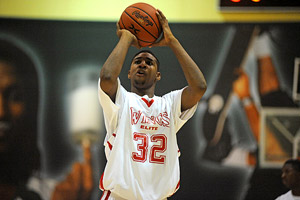 Les Bentley for ESPN.comAaron Ross is a gifted offensive player.
Aaron Ross, SF/PF (6-7, 190)
2011, Little Rock, Ark./ Pulaski
Ross is long, lean and a decent athlete who is good enough to finish above the rim. He runs the floor with ease in transition and is a threat to score anywhere on the offensive end of the floor. He looks to score but does not force things or take bad shots. He has a great feel for the game. Ross understands how to get a double-double and keep his teammates involved. He has an excellent offensive package for such a young player. He is a very good ballhandler and passer. Ross can help advance the ball against the press and can pinpoint a pass to a shooter on the weakside from the post or drop a bounce pass to a teammate cutting to the basket from the perimeter. His post-up game starts on the left low box with a jump hook over his left shoulder or the quick baseline spin that ends in a power move at the rim if he feels the defender is too close. Ross does a great job using the power dribble to get deep in the lane for a point-blank shot. He has great elevation, touch and follow through. On the right side of the floor in the low wing area, he likes to seal his man and face the basket in order to shoot the midrange jumper at about 15 feet or drive left to the middle, spin back to his right and bounce into a pull-up jumper in the middle of the lane. Ross can shoot the spot up 3 off the catch in transition or from guard penetration in the halfcourt. If his defender approaches with a bad closeout, he can drive both ways. Ross also likes to use his good first step going left to get to the rim where he can score through contact or kick after drawing a second defender. He is a good rebounder and must be boxed out to prevent put-backs. He can defend both forward positions because of his speed and lateral quickness. Ross must get stronger to be a better post defender, but his quickness and anticipation allow him to get around stronger players and make a play on the ball. Ross does not have the leaping ability of former Arkansas great Sidney Moncrief, but he does have some similarities in the scoring department.
James McAdoo, PF (6-9, 220)
2011, Norfolk, Va./ Christian
McAdoo runs the lane in transition like a young James Worthy. He finishes above the rim over or around defenders. McAdoo can also drive from the wing both ways -- he's a terror going right. His strides and first step are so good that he beats his man and the help-side defenders to the rim. He has excellent body control when attacking the basket to slither by defenders to avoid charges. He also has the option to jump over them with his superior athletic ability. McAdoo plays hard on both ends, competes and has tremendous energy. In the post, he has the turnaround jumper on either side over his left shoulder to go with his jump hook. On the perimeter, other than his ability to drive, McAdoo can also shoot the midrange jumper off the catch or seal his man on the low wing and shoot the turnaround jumper without hesitation. He has good lift and follows through on his shot. He can also knock down a 3 with ample setup time. He is a very good on-the-move passer after he draws the defense. McAdoo is a good rebounder -- especially on the offensive end of the floor. He often tries to time up missed shots to tip/dunk them. He is also a good shot-blocker on or away from the ball with the wing span of a 747 aircraft. McAdoo can defend both forward positions but will need additional strength to defend a strong or physical center. This kid's upside is off the charts.
Travis McKie, SF/PF (6-7, 200)
2010, Richmond, Va./ John Marshall
McKie finishes with power and authority. He plays with great energy and aggressiveness. McKie has a great motor that allows him to run the entire time he is in the game. He sprints the lane in transition and runs just as hard to get back on defense. McKie is talented and plays with great hustle. He does a good job on defense of contesting and changing shots on the perimeter. He seems to never give up on the play. He has a quick first step that allows him to be a slasher to the rim. He has good body control and is unselfish. He is a good passer who can read the defense and make the right decision in transition or in the half court. McKie has a nice stroke at the free throw line, which he visits regularly because of his ability to get into the lane. He has range to the arc off the catch and is a good rebounder on both ends. A scoring threat on the offensive glass and he can snatch a defensive rebound and take it coast to coast. McKie has a thin build and needs to make the weight room a regular stop to help him defend taller and more physical players. He is a big-time combination forward that can do a little of everything.
Justin Anderson, SG/SF (6-5, 185)
2012, Richmond, Va./ Montrose Christian Academy
When you see this young player, you think of Atlanta Hawks forward Josh Smith. Anderson is left handed, wears a headband and has freakish athletic ability. He is a high wire-act in transition and in the half court. He dunks on, over and around defenders on a regular basis. He has a quick first step and can get to the rim from anywhere on the perimeter. Anderson loves to drive baseline, especially from the left side of the floor with his strong hand. He is thinking dunk all the way, but can pull up if cut off by the helpside -- if he doesn't decide to jump over the defender. He is a good ball-handler, passer and is unselfish. Anderson was willing and able to draw the defense and kick to an open teammate. He is a good rebounder on both ends and attacks the offensive glass from the perimeter in a full sprint with tip dunk being the only thing on his mind. I did not see him shoot the 3 or see him look to shoot a lot of jumpers, but he didn't have to. He pretty much got to the rim at will. Anderson and teammates McAdoo and McKie are the foundation of a very talented Boo Williams team with high-major players at almost every position. Anderson plays hard, competes and has the killer instinct when he is on the court. He must stay focused and continue to develop his skill package. If Anderson's skills reach the level of his athletic ability, the league is in his future.
Noah Cottrill, PG (6-0, 170)
2010, Poca, W.Va./ Poca
Cottrill is a very skilled, true point guard who plays with energy and swagger. He pushes the ball in transition on the pass or dribble. He displayed leadership as he got his team into its half court offense and also did a great job of keeping the ball moving. Cottrill does an excellent job of keeping the pressure on the defense with his ability to dribble, pass and shoot. He has a very good command of the ball and likes to use the left-to-right crossover and the spin dribble. Cottrill has good, but not great speed and quickness with the ball, but he can go by his defender and deliver the ball or get into the lane when pressured. His court vision allows him to find the open man when he penetrates. Cottrill can shoot the three off the catch or dribble with range beyond the arc. He has a very quick trigger with a good release and follows through. Cottrill has a great feel for the game. He will need to add strength to be as effective in college. He works hard on defense and keeps good pressure on the ball. Cottrill understands help-side defense and will rotate in front of a player driving to the basket to take a charge without delay. He committed to West Virginia and will be good fit for Mountaineers head coach Bob Huggins because of his skill, toughness and competitiveness.
Surprise Players
Rashad Perkins, SG/SF (6-5, 185)
2010, Starkville, Miss.
Perkins is a super athletic wing who can score in a variety of ways. He sprints the lane in transition and is looking to attack the rim. If he has an angle or step on the defender, a big-time dunk will be the final result. In the half court, he is an excellent driver with a nice mid-range game. He's a good, not great, shooter who is capable of getting on a roll from behind the arc and knocking down two or three in a row. He can drive either way but likes to shoot the pull-up jumper or floater in the lane going to his right. When driving left, he is usually trying to get all the way to the rim. He also moves well without the ball. Perkins likes to curl into the lane off a down screen and elevate into a turn shot in the middle of the lane. Also, Perkins understands how to read dribble penetration and move into an open area for an uncontested 3 when his defender is forced to help. He is also a live body on the offensive glass. He is quick to the ball, which makes him difficult to box out. The weight room along with being a consistent shooter behind the arc are areas to improve. He also needs to gain a better understanding of helpside defense as he loses sight of the ball at times. Perkins is a player who can have a series of unbelievable possessions that could include a dunk in traffic, midrange pull-up or a 3. When he gets it going, he is a treat to watch.
Jeverik Nelson, SF (6-7, 195)
Jackson, Miss./ Callaway
A finisher in every sense of the word, Nelson is a very athletic power forward who is effective from 12-15 feet. He has good hands and footwork in the post. Nelson is an explosive vertical leaper who can take off from outside the lane and finish over defenders and through contact. The short corners on both sides of the court is where likes to hang out for drop-off passes created by guard penetration. When he catches the ball and has an angle or clear path to the rim, he is more than capable of going airborne. Perkins is also a good driver from the high post and deep corners along the baseline -- where his No. 1 objective is to get to the rim. He has a knack for getting fouled because of his physical style and showed good touch from the free-throw line. Defensive rebounding is one of Nelson's strengths. He snatches the ball at rim level, outlets to the point guard and runs the floor with urgency. I didn't see him attempt any shots beyond 15 feet, but after watching him shoot free throws, he has a good release and follow through that suggest his range could be beyond what he displayed. Nelson is a focused, composed player at all times. If he works on his skills and shooting range, he could develop in to a combo forward. He's an immediate impact player at the mid-major level and role player for the high majors in the right fit.
Demetri Batten, SG (6-3, 180)
2010, Newport News, Va./ Heritage
Batten is in attack mode as soon as he steps onto the court. He is a strong, physical player with killer instinct. Batten goes right at his defender in transition and in the half court. He keeps defenders on their heels. In transition, he sprints the lane to get a clear path to the rim where he can dunk with authority. He also will spot up for a 3 on the wing or in the corner. Batten has a nice stroke with a high release and good follow-through. He can also score off the dribble, especially going left where his quick burst get him by his defender and into the lane. He can shoot the pull-up jumper or get to the rim for a strong finish through contact. Batten is a good defensive rebounder who will go coast to coast if not picked up immediately. He can weave through traffic off the dribble with crossovers, hesitation, between the legs while changing speeds and directions. He is a good passer, but when I saw him, he was making it happen in the scoring department. On the defensive end of the floor, he plays hard and applies good ball pressure. He has quick hands and the strength to stay in from off the ball. Batten can defend both guard positions. He is a true scoring guard who can make eye-opening plays with his aggressive style.
Deante Saunders, PG (5-11, 170)
2011, Deland, Fla./ Deland
This young point guard is strong and tough. Saunders competes every second he is on the court. He possesses great speed and quickness with the ball. An excellent ball-handler with a strong powerful dribble. Saunders pounds the ball and does a nice job protecting it with his offhand. He likes to use the between the legs dribble to change directions and go by his defender. He pushes the ball in transition with the pass ahead or dribble. He is at his best when he rebounds and attacks before the defense can get set. He can turn on the jets and get to the rim where he can finish with either hand. Saunders is an excellent passer, especially in transition, and makes good decisions in the half court. He looks to feed the post and penetrate and kick. His strength allows him to draw fouls; he can dribble through contact and still make a scoring play. Although he's a streaky shooter from behind the arc, Saunders is a good driver and slasher. He can split defenders to score or hit an open teammate making a scoring cut. An excellent on-ball defender with strong, quick hands. He repeatedly knocked the ball free from the ball-handler. Saunders has great anticipation on where the next pass is going and was there to make the steal. At times, he is like a rover with the freedom to roam and double all over the court. If he adds a consistent jump shot, the sky is the limit.
Andre Stringer, PG (5-10, 165)
2010, Jackson, Miss./ Forest Hills
A scoring point who can slide over to the 2 guard spot in a small lineup. he puts constant pressure on the defense with his attacking style. Stringer is always probing and looking to get into the heart of the defense. In transition, he will pass ahead without delay or attack himself. Stringer has the ability to get to the basket and finish with either hand. He is good at scoring on reverse layups on drives from the wing. His body control and concentration on the rim allow him to make these very difficult, contested shots. He's a good ball-handler, but he relies too much on his right hand when he attacks in transition. Stringer has a great burst of speed after he makes his escape moves that include the right to left crossover and a great hesitation dribble where he raises the defender out of his defensive stance on a regular basis. He will shoot the 3 off the catch or dribble. He's not a great shooter but good enough to keep the defense honest. Very streaky, if his first 3 goes down rest assured another will soon follow. Stringer plays with good confidence in his game and competes at all times. Stringer must work on limiting his turnovers. At times he will take risks with the ball trying to hit a home run. Overall Stringer is tough and talented.
16U Notes
• Jalen Courtney (Jackson, Miss./ Provine) is a good athlete with a nice midrange game. He likes to operate in the high post where he can shoot the 15-foot jumper and make the high low pass. Courtney is also a threat off the dribble. One of his favorite moves again from the high post area is the step back jumper that is set up with a hard left hand drive toward the rim. He does a great job of creating space to get the shot off. Good offensive rebounder and help side shot blocker. A very active player that made plays to help his team each time I saw him play.

• J.D. Weatherspoon (Columbus, Ohio/ Northland) is a bit of a sleeper in the Class of 2010. Weatherspoon is thin, long and very athletic. He is one of the best jumpers I've seen. He needs no steps in the lane to finish above the rim with authority. He scores by running the floor in transition, drop off passes created by guard penetration and offensive rebound put backs. He is very raw but with improved skills he moves into the high major category. Weatherspoon could be a tenacious defender because of his great length and athletic ability. He reminds me of a young, right-handed Stacey Augmon.

• Mychal Ammons (Vicksburg, Miss.) is a strong wing shooter. He is a good athlete that can get to the rim in transition. Ammons can knock down the 3 with regularity, especially from the corners. He has great confidence in his shot. He is also a pretty good ball handler and defensive rebounder. Ammons is a good looking prospect especially when his jumper is falling.

• David Rivers (Little Rock, Ark./ Fair) is a pass-first point guard. He pushes the ball in transition where he can change speed and directions with ease. Rivers can weave through traffic and he has a great burst of speed to get by defenders. He is a very good passer into the post from the wing and delivers the ball on the money when he draws the defense as he attacks from either side of the floor. Scores off the dribble with great body control but is a streaky three point shoot at best. Rivers is a terrific on ball defender. He applies great ball pressure with his quick hands and great foot speed. With added strength and a consistent stroke from behind the arc his game becomes complete.

• Jordan Latham (Baltimore, Md./ City College) is all arms and legs. He is another athletic forward that can run the floor well and finish above the rim. He scores in the post with quick drop steps and elevates over the defense. Latham can also face up off the lane and drive both ways but seem to be more comfortable going to his left for a pull up jumper. He has good body control as he slashes through the lane to avoid charges. Excellent offensive rebounder. He is quick to the ball and difficult to box out. He is also an very active defender that utilizes his great wing span and foot speed to defend on the perimeter as well as in the post. He is very good at contesting shots without fouling. Needs to add strength, but is very talented.

• Jan Mahlen (Indianapolis/ Lawrence North) is a 6-10, 325-pound post target who plays below the rim with great strength and power. He runs the floor pretty well for a player his size and has good hands and touch around the basket. He scores on the left low box with a jump hook over his left shoulder and drop steps on both sides of the lane where he powers through the defense to finish. He is an excellent passer out of the post, especially to the weak side of the floor. Good position defender and his game will go to the next level once he gets into shape.
Reggie Rankin is a recruiting coordinator for ESPN Scouts Inc. Rankin was a Division I assistant coach for 14 seasons, including stints at Boston University, Wyoming, Ohio, Georgia, Nebraska and Dayton.
College Basketball Recruiting
Coached in the SEC, Big 12, MAC, and others over 14 seasons
Scout and analyst for RecruitingNation since 2007
Graduated from Ohio University
SPONSORED HEADLINES
MORE MEN'S COLLEGE BASKETBALL HEADLINES
MOST SENT STORIES ON ESPN.COM
EDITORS' PICKS
How does Cincinnati find the perfect prospects?
Finkelstein

The National High School Hoops Festival drew plenty of attention. What stood out most?
Jeff Borzello

Which mid-major schools have the best 2015 classes?
Finkelstein