Commentary
Five burning questions for the early signing period
Originally Published:
November 12, 2008
By
ESPN.com
1. Which fresh faces are making an impact on the recruiting trail?
Less than a year ago, Tom Crean was leading his Marquette squad to yet another outstanding season and an NCAA tournament bid. Now he is trying to restore one of the elite programs in college basketball: Indiana. If his recruiting efforts are any indication as to where the Hoosiers are headed, the Indiana faithful should be very excited.
Crean has put together a top-notch group of Class of 2009 recruits. The class has a trio of future standouts in SF Christian Watford (Shades Valley, Ala.), SG Maurice Creek (Chatham, Va./Hargrave Military Academy) and C Bawa Muniru (Central Park, Ala.). In addition, the class has a ton of depth in 6-8 forwards Bobby Capobianco (Loveland, Ohio) and Derek Elston (Tipton, Ind.) and guard Jordan Hulls (Bloomington South, Ind.).
When a high-profile coach leaves a program and an assistant takes over, the program usually becomes less attractive in a recruit's eyes. But that has not been the case at Marquette, where Buzz Williams is putting together quite a haul in his first year at the helm.
The Golden Eagles' class is led by outstanding point-guard prospect Junior Cadougan (Humble, Texas/Christian Life). In addition, Williams has lured two outstanding wing prospects in Jeronne Maymon (Madison, Wis./James Madison) and Erik Williams (Cypress Springs, Texas).
Although Crean and Williams have received most of the notoriety, other coaches in relatively new positions are making noise. Oklahoma State's Travis Ford, Santa Clara's Kerry Keating and Loyola Marymount's Bill Bayno have done particularly impressive work on the recruiting trail in recent months.
Ford's 2009 recruiting haul could return Oklahoma State to the nation's elite. Karron Johnson, a 6-7 power forward from Mt. Zion, N.C. (Mt. Zion Christian), should make an immediate impact on the front line when he arrives next fall. In addition, Ford met all his needs on the perimeter prospects -- he secured commitments from Roger Franklin (Duncanville, Texas), a do-it-all guard; 5-9 scoring machine Raymond Penn (Bush, Texas); and sharpshooter Reger Dowell (Duncanville, Texas).
Meanwhile, Kerry Keating continues to bring in recruits who will catapult Santa Clara to the upper echelon of the WCC. Chris Cunningham, a 6-7 center from Diamond Ranch, Calif., and Niyi Harrison, a 6-7 power forward from San Jose (Bellarmine Prep), should provide the Broncos with quite a one-two punch for years to come.
Bayno also got a commit from one of the top prospects on the East Coast. Wing Terrell Vinson (Baltimore/St. Frances Academy) could be a potential program-changer for the Lions.
--Joel Francisco
2. Six prospects in ESPN.com's top 20 have yet to pick a college. Where will they end up?
No. 1, Xavier Henry, SG (Oklahoma City/Putnam City): The nation's top senior prospect suffered a fractured cheekbone in an automobile accident on Oct. 22, and he has had to undergo facial surgery. This has likely delayed his college decision until the spring. He was already having a difficult time choosing between his two finalists, Kansas and Memphis. Henry's dad played basketball for the Jayhawks, and, reportedly, many family members want Xavier to follow in his father's footsteps at Kansas. However, his older brother, C.J. Henry, enrolled at Memphis this year and is a freshman playing for coach John Calipari and the Tigers.
[+] Enlarge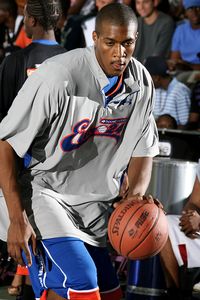 Kelly Kline for ESPN.comDerrick Favors might not be going too far to play his college ball.
No. 2, Derrick Favors, C (Atlanta/South):
The best big man in the Class of 2009 might pick a school this week. There's been some speculation that he may commit to a school but wait until the spring to sign a letter of intent. Favors is reportedly considering six schools: Georgia Tech, Georgia, Memphis, N.C. State, Florida State and Kentucky. Sources close to Favors have said he likely will play his collegiate basketball in Georgia. He really enjoyed his visit to Georgia last week, so it could come down to the Bulldogs and coach Paul Hewitt's Georgia Tech Yellow Jackets.
No. 5, Renardo Sidney, C/F (Los Angeles/Fairfax): Sidney has the most potential of any big man in the Class of 2009. However, his play this past summer was somewhat disappointing. But Sidney's subpar showing has not curtailed his recruitment. The speculation was that he would not sign during the fall period. His list of possible colleges includes Southern California, Virginia, Arizona State, LSU, Mississippi State, Alabama, Kentucky, Ohio State and others. He has already visited USC and is now scheduled to visit Virginia with his parents this weekend. Is it possible that coach Dave Leitao can lure Sidney to sign with his Cavaliers?
No. 6, John Wall, PG (Raleigh, N.C./Word of God): The top-rated point guard in the Class of 2009 has been difficult to read in terms of which school tops his list and when he will sign. Wall is considering Baylor, Memphis, N.C. State, Duke, Oregon, Kansas and Miami (Fla.). Baylor has been considered the school to beat, since it hired Wall's summer team coach, Dwon Clifton, as an assistant. However, Wall is scheduled to take an official visit to Memphis on Nov. 15. The Tigers should have a strong pitch; coach John Calipari is a master recruiter, and Derrick Rose is Wall's role model. N.C. State and Duke have opportunities, too: Wall could attend college near his ailing mother.
No. 7, Lance Stephenson, SG (New York/Abraham Lincoln): Stephenson is an enigma. He has virtually unlimited talent but often is his own worst enemy. Stephenson can be compared to 2008 All-American Tyreke Evans as a scoring machine who must always have the ball. It is uncertain when he will choose his future college, and there have been no indications that Stephenson will sign early. His top schools, reportedly, are Memphis, Kansas, Southern California and Kentucky. Stephenson would probably fit well into Memphis' system. He's also strongly considering spending a year playing overseas.
No. 11, Dominic Cheek, SG (Jersey City, N.J./St. Anthony): Cheek has, perhaps, the most ability and best all-around skills of any wing player in the Class of 2009. He has been well schooled in the fundamentals by legendary coach Bob Hurley at St. Anthony. He is not expected to sign a national letter this week. However, he could make a verbal commitment to a college and delay his signing until April. He is now considering Villanova, Kansas, Indiana, Memphis, Rutgers and Seton Hall.
--Bob Gibbons
3. Which state has the most talent in terms of Class of 2009 recruits?
With 12 players in the ESPNU 100, California's 2009 class is loaded. Georgia, which has nine top-100 players, and Texas, with seven, also stand out.
[+] Enlarge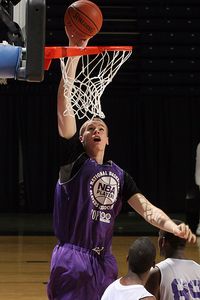 Andrew Shurtleff/ESPN.com Travis Wear is one of the top players in California.
The Golden State's 2009 crop is led by top-10 prospects No. 5 Renaldo Sidney (Los Angeles/Fairfax), who has yet to pick a college, and No. 8
Jordan Hamilton
(Compton/Dominguez), who is headed to Texas. California's other top prospects are: No. 30
Michael Snaer
(Moreno Valley/Rancho Verde), who will decide among Kansas, Florida State and Marquette on Wednesday; No. 34
Tyler Honeycutt
(Sylmar), who is headed to UCLA; No. 49
David Wear
and No. 50
Travis Wear
(both of Santa Ana/Mater Dei), who will head to North Carolina next fall; No. 66
Roberto Nelson
(Santa Barbara), an Oregon State recruit; No. 75
Hollis Thompson
(Concord/De La Salle), who is bound for Georgetown; No. 77
Reeves Nelson
(Modesto/Christian), who will stay local with UCLA; No. 88
Jamal Franklin
(Phelan/Serrano), who is considering San Diego, San Diego State and UC Riverside; No. 95
Solomon Hill
(Los Angeles/Fairfax), a former Arizona pledge who is now considering USC, Georgetown and Kentucky; and No. 96
Brendan Lane
(Rocklin), who is going to UCLA.
UCLA has dominated the California recruiting landscape since Ben Howland's arrival, and this year is no different. The Bruins have secured 2009 commitments from three players in the ESPNU 100, all from California. Also, in the 2008 class the Bruins dominated the state by signing four ESPNU 100 players from California in Drew Gordon, Jerime Anderson, and McDonald's All-Americans Jrue Holiday and Malcolm Lee. The lone out-of-state player in last season's class was J'Mison Morgan of Texas.
--Reggie Rankin
4. Will 2009 be a down year for Duke recruiting after the Blue Devils missed out on
Kenny Boynton
?
With Boynton (Pompano Beach, Fla./American Heritage) picking Florida over Duke, the Blue Devils find themselves falling short on one of their top targets for the second consecutive year -- top 2008 power forward
Greg Monroe
opted for Georgetown over Duke.
Now that the dust has settled, Duke finds itself in scramble mode, looking for a commitment from a top uncommitted backcourt prospect. However, Blue Devils fans should not fret; Mike Krzyzewski still has plenty of juice left on his recruiting fastball.
Duke has two elite power-forward prospects, Mason Plumlee (Arden, N.C./Christ) and Ryan Kelly (Raleigh, N.C./Ravenscroft) slated to arrive in 2009. These highly skilled, sweet-shooting big men should have great success under the tutelage of Coach K. Duke also has commitments from three talented 2010 recruits, including ESPN Super 60 prospects Andre Dawkins and Josh Hairston. Landing Boynton would have benefited Duke immensely, but the Blue Devils' current squad seems to need a dominant inside presence more than a dominant guard. With the talent it has coming in, Duke should have no problem finding the rugged inside presence it has lacked since Shelden Williams' departure for the NBA in 2006.
--Antonio Williams
5. Which non-BCS schools will make the most noise in the early signing period?
It's expected that BCS schools will have great recruiting classes and get a lot of attention. Still, a few schools from leagues that don't generate as much hype are coming up big on the recruiting trail.
UAB, three commits: Mike Davis might have landed one of the best big men in the Class of 2009 in DeMarcus Cousins (Mobile, Ala./LeFlore). This future NBA prospect has all the tools for the offensive end of the floor. Add a pair of solid guards -- Dexter Fields (Orlando, Fla./Olympia) and Adrian Coleman (Stone Mountain, Ga./Stephenson) -- and this class will make noise immediately in Conference USA.
Rice, five commits: Former Cal coach Ben Braun is making an immediate impact at Rice. The Owls' five-man class has standouts in guard Tamir Jackson (Newark, N.J./St. Benedict's), who can light up a scoreboard with his dribble penetration or long-range shooting, and forward Arsalan Kazemi (Lenoir, N.C./Patterson), who has the ability to score both inside and outside and has a superb feel for the game.
San Diego State, four commits: Consistently and quietly, Steve Fisher keeps bringing talent to the Aztecs. His four-man class is led by wing Kawhi Leonard (Riverside, Calif./King), who is a tough player and gifted scorer.
Miami (Ohio), five commits: The RedHawks have put together a stellar class to build around for years to come. Center Drew McGhee (North Ridgeville, Ohio) is a natural low-post scorer with excellent feel with his back to the basket. Power forward Drew Kelly (Franklin, Tenn./Centennial) is a big-time competitor who rebounds at both ends of the floor.
UNLV, 3 commits: This class is lead by skilled guard Anthony Marshall (Las Vegas/Mojave). He is the quintessential glue-guy at the next level. Big man Carlos Lopez (Henderson, Nev./Findlay) can block some shots and knock down a 15-footer.
-- Paul Biancardi
SPONSORED HEADLINES
MORE MEN'S COLLEGE BASKETBALL HEADLINES
MOST SENT STORIES ON ESPN.COM
EDITORS' PICKS
How did Ben Simmons become the No. 1 prospect?
Biancardi

How does Cincinnati find the perfect prospects?
Finkelstein

The National High School Hoops Festival drew plenty of attention. What stood out most?
Jeff Borzello