Commentary
Ross, Marshall thrive at Beltway event
The DTLR National High School Hoops Festival featured some of the top players in the Maryland, D.C., and Virginia areas matched up against teams that featured some elite players from various parts of the country. While the first day of action saw the teams play in a handful of sluggish games, the second day of action presented a set of games highlighted by better flow and evenly-matched teams for the most part.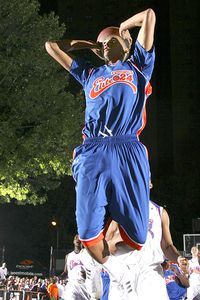 Kelly KlineLaQuinton Ross is one of the most versatile players in the nation.
North Carolina-bound guard
Kendall Marshall
(Arlington, Va./Bishop O'Connell) impressed the most during the first day with his passing skills, and 2011 SF
LaQuinton Ross
(Jackson, Miss./Murrah) enjoyed the most success during the second day on his way to emphatically announcing his presence as the best player at this event with a dazzling display of scoring moves.
Standout players
LaQuinton Ross, 6-8 SF
Sophomore, Jackson, Miss./Murrah
In the scouting business, evaluators ask this question to each other very often when observing players: "Is he a pro?" When asking this question about a player, "pro" refers to playing in the NBA, not simply drawing a check playing basketball from any league. After getting a glimpse of Ross, it seems he will become a pro as long as he remains grounded and continues to work -- a major question mark for many young players who achieve elite status early on. These players do not have another player to look up to, given they already rank as the top player. Instead, the challenge and motivation to become the best has to come from within, the mark of a truly great player, which Ross can become if he remains focused and hungry.
Ross has an effortless, smooth offensive game and rarely changes expression, which may erroneously give off the impression that he does not play hard. He possesses an array of skills that make the game come very easy to him. Ross has range well beyond the 3-point line and he will shoot the pull-up from beyond the land of 3. He has textbook form, with a great follow-through and a nice, high release point on his jumper. He only misses when he does not finish his shot, drops his hands as opposed to holding his follow-through and he fades away. Ross also handles the ball very well and can easily get to the rim with his quick first step. His ball-handling skills allow him to get into the paint with ease, even when defenders try to get up in him and apply ball pressure. Ross has the lift, length, and shooting ability to get off a midrange pull-up jumper almost at will, but he does not utilize this portion of his game as much as he should. When he gets in the paint and not all the way to the rim, Ross has a tendency to negate his length and make himself smaller and easier to defend by adjusting in the air multiple times as opposed to going right up over defenders. He will become an even better finisher as he matures and adds strength to his rather thin frame. Ross also does a good job of not forcing the issue, despite his immense offensive gifts. He drives the ball and dishes out to open teammates for easy shots.
Kendall Marshall, 6-3 PG


[+] Enlarge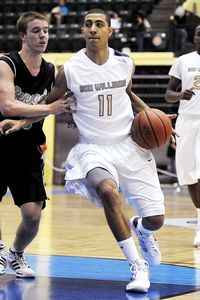 Les Bentley for ESPN.com 2010 point guard Kendall Marshall is heading to Chapel Hill.

Junior, Arlington, Va./Bishop O'Connell
Marshall does not have outstanding quickness, but he doesn't need it, given his very impressive height for the point guard spot. He also has the correct mentality to man the point, looking for his teammates first before he goes for his own offense. Marshall has astounding passing ability and vision, hitting open teammates for easy shots. Sometimes, he surprises teammates with pinpoint passes, which they do not catch because they don't expect Marshall to thread the needle and hit them in traffic. His vision and passing ability will allow him to mesh perfectly in an up-tempo offensive attack, especially since Marshall always dribbles with his head up. He also displayed a much-improved midrange, pull-up jumper, which he nailed with regularity, especially when he dribbled left. He uses a nice hesitation, change-of-speed move to beat his opponent off the bounce going left. When he went to the right for the pull-up, he tended to fall away on the shot. Marshall does not go to his right with nearly the same aggression as he does when he penetrates left. When he shoots from 3-point land, he has a tendency to shoot the shot on the way down, which causes a small hitch in his delivery. Marshall did a very good job of accepting the challenge to guard future UNC teammate Reggie Bullock on the defensive end, harassing Bullock into shooting a number of shots under duress throughout the game.
Maalik Wayns, 6-0 PG
Senior, Philadelphia/Roman Catholic
Wayns plays the way a point guard should play, looking to get his teammates involved as well as leading the defensive charge for his squad. He has very good quickness and handles the ball as if it was connected to his hand. Wayns places a great deal of pressure on opposing defenses by getting into the paint. Off of his penetration, Wayns gets the ball to his teammates in places where they can score easily. He also has the strength and muscle to take contact at the rim, adjust in the air and finish. He plays the game at one speed, and that sometimes gets him into trouble. If he learns to change speeds with his good quickness, Wayns will become almost unstoppable off the bounce. Wayns will have to improve his jump shot range and consistency; he kicks his leg out on the shot, which causes him to lean away from the rim and prevents his shoulders from squaring to the rim, ultimately affecting his jumper in a negative manner. Wayns also defends the ball very well and rebounds in traffic with great effectiveness, especially given his size.
Talib Zanna, 6-9 PF
Senior, Kaduna, Nigeria/Bishop McNamara
This young man ranks as an absolute dominant force on the backboards. Zanna rebounds the ball with a fervor bigs rarely display at this level. He does a great job snaring boards out of his area. Zanna plays very actively and keeps opposing big men working, especially since he does not accept box-outs when he attempts to gain position for rebounds. Zanna also blocks shots very well coming from the weak side. He will become even better in the trenches once he adds more strength and matures physically. Zanna has to improve his footwork and post moves, in addition to eliminating the predictability in his game; he loves to post on the left block. When Zanna does receive the ball on the block and tries to make a post move, he tends to take extra steps and travel. Zanna has a nifty little right-handed jump hook over the left shoulder when he doesn't travel.
Roscoe Smith, 6-8 SG/SF
Junior, Baltimore/Walbrook
Smith has incredible length and very good athleticism. He also has the size that could allow him to develop into an elite wing scorer, but he needs to get much stronger. Smith has range on his jumper that extends to the 3-point line, but he has a tendency to rely on that shot too much. When he looks to go to the rim, he tends to overdribble and hunt down shots, which serves to bring the offense to a halt. Smith almost exclusively operates on the left wing for his offense. A middle game would make Smith even more difficult for defenses to contend with; it would open up his drive game. He also needs to continue to work on his ball-handling skills. Smith has the length, lateral quickness, and athleticism to become a very good defender, but he only seems to utilize this after he scores a bucket. He also needs to alleviate his tendency to leak out on defense for fast breaks and instead of using his impressive athletic gifts for defensive rebounding. Added strength would not only help him as a rebounder and defender, but also aid him on the offensive end when he goes to the bucket.
Surprise players
Ayodeji Egbeyemi, 6-4 SG
Junior, Fort Washington, Md./National Christian Academy
Egbeyemi has very good athleticism, leaping ability, and quickness, which he uses to get to the rim almost at will. He also covers a vast amount of ground when he puts the ball on the floor and gets into the paint. Egbeyemi has a complete scorer's mentality, looking to attack defenders whenever he gets the ball. He would make himself even tougher to guard if he looked to pass more, instead of shooting practically every time he receives the ball. The defense knows he will drive to the rim, and Egbeyemi has a tendency to dribble right into defenders. He also will benefit from going left off the bounce as opposed to dribbling routinely to his right. Egbeyemi needs to learn to utilize jab-steps and pump-fakes, actually putting himself into position to score with putting the ball on the floor; right now, he has a tendency to over-utilize multiple rhythm dribbles to set himself up for drives to the paint. When he shoots the jumper, he has good lift off of the floor and has dependable shooting ability with range that extends out to the 3-point line, though he could benefit from increased accuracy on his jumper. Given his length and impressive athleticism, Egbeyemi could become a dominant defender, but he needs to devote more energy and attention to this end of the court.
Quinn Cook, 6-1 PG
Sophomore, Bowie, Md./DeMatha
Cook has great passing ability and the right temperament for the point guard spot, both of which are somewhat surprising given his youth. He has very good quickness and ball-handling skills, which make him a very good penetrator. Once at the rim, Cook fearlessly looks to convert buckets without regard for the bigs trying to swat away his layup attempts. His quickness and passing ability make him a perfect fit for the transition game; he does a great job setting the tempo by pushing the ball up the floor quickly and finding open teammates streaking to the rim for layups. When not getting to the paint, Cook has a reliable jumper and he will knock down the perimeter shot from 3-point territory if left unattended. He also has the ability to break down defenders and pull up for a midrange jump shot as well. Cook also makes his presence felt on the defensive end by using his lateral quickness to stay in front of opposing ball-handlers, and he excels at anticipating and playing passing lanes for steals, which makes even more fast-breaking opportunities for his club.
Grandy Glaze, 6-6 PF
Sophomore, Frederick, Md./Saint John's Catholic Prep
Glaze does not have explosive athleticism or leaping ability, but he has a very mature game that allows him to excel on the offensive end. Despite not possessing ideal height and length for the interior, Glaze does a great job scoring around the hoop and using angles to compensate for his lack of great explosion when he encounters longer shot-blockers. He adequately attacks defenders off the dribble and utilizes fakes to get shots off. Glaze would benefit from adding counter moves to negate his lack of height in the post. He also needs to continue to improve his perimeter shooting. Glaze plays both ends of the court with good intensity. Despite his average quickness, he moves his feet very well and hedges effectively on screens. Glaze also communicates very well on the defensive end. Glaze also does a more than adequate job of pursuing the ball when it comes off the glass on both ends of the court.
Phillip Wood, 6-3 PG/SG
Senior, Upper Marlboro, Md./Wise
Wood has very good quickness and athleticism, which makes him very difficult to guard for opposing defenders. He efficiently utilizes his quickness by changing speeds very well when he has the ball in his hands. Wood has big hands, which serve to enhance his ball-handling skills and make him a tough cover. He gets to the rim with relative ease and uses his leaping ability to convert on rather difficult shots at the rim. Wood also has range on his jumper that extends well beyond the land of 3; he will surprise defenders by pulling from 23-24 feet. Wood would benefit from adding a midrange pull-up to his offensive arsenal, which would make his off-the-dribble game even more potent. He also does a good job getting others involved, but he needs to alleviate his tendency to leave his feet with nowhere to go, which sometimes causes him to get into foul trouble.
Brandon Coleman, 6-8 PF
Junior, Accokeek, Md./Bishop McNamara
Coleman plays with incredible intensity and energy. He remains active throughout the game on both ends of the court and uses his good athleticism to place his imprint on games. Coleman rebounds the ball equally well offensively and defensively. Although he does not rank as a good shooter, he will connect on jumpers from the midrange area when given the opportunity. Coleman will benefit from smoothing out his stroke and becoming more consistent from the perimeter. Coleman also needs to improve his post moves, which would make him a better player on offense with his back to the basket. His activity and aggressiveness on the defensive end make him a valuable asset for any team, and he has the capacity to develop into a pretty nice shot-blocker.
Notes
• Seven-foot-1 C David Nyarsuk (Patterson, N.C./The Patterson School) has an enormous amount of potential and promise. He has very good length and needs to add strength, but may not add much more muscle given his rather thin legs. However, Nyarsuk does not shy away from the paint and hits the offensive glass with aggression. He has very good footwork, which makes for a nice back-to-the-basket game. If he has to, Nyarsuk has a reliable enough jumper from around the free throw line to play the high spot in the high post or hit jumpers as a trailer in transition, an area where Nyarsuk could make a living given his impressive ability to change ends. Nyarsuk, with more experience, will also develop into a shot-blocking defensive force in a short amount of time, especially when he becomes stronger.
• Six-foot-8 PF Chris Braswell (Baltimore/Hargrave Military Academy) has had some issues with remaining engaged throughout the course games, but Braswell had no such problems during this event. He played with a high level of energy and rebounded the ball on both ends of the court with ferocity. However, when he plays inspired basketball, he draws a ton of fouls on the opposition, but he struggles mightily from charity stripe. Braswell would benefit from making his release point higher on his free throws as opposed to extending his arms forward so much, making his release point low. He also has to become a better finisher in the traffic.
• Five-foot-8 combo guard Kemy Osse (Washington, D.C./Archbishop Carroll) has very good athleticism and quickness, which he uses to get into the paint. He also has a very nice middle game, enhanced by a consistent pull-up jumper. Osse has the ability to erupt for points in bunches. With his great length and big hands, Osse should have a growth spurt left in him. He has to exercise more control over his emotions and not let them hinder him throughout games.
• Six-foot-4 SG Victor Oladipo (Upper Marlboro, Md./DeMatha), a 2010 prospect, does a great job of moving without the ball and playing with a high level of energy on both ends of the court. He plays passing lanes well and gets steals, getting out in transition for layups. Oladipo scores very well around the hoop but he can also stick the 3 if given the shot by the defense.
" Six-foot-3 PG Eric Green (Winchester, Va./Paul VI Catholic) utilizes his size at the point guard spot. He works very well off the dribble, especially going left for his pull-up jumper. He will become even better if he becomes a viable scoring threat going right.
• Six-foot-9 PF/C Rakeem Christmas (Philadelphia/Northeast Catholic) has the physical tools and upside to develop into a dominant post presence. His timing seems a tad off; he reacts one step slow, especially on the defensive end at this point. However, the more he plays, the more he will come up to speed. He can score and rebound in traffic, but sometimes has problems accomplishing these tasks. As his skills and experience catch up with his rather impressive body, this young player will become a force with the potential to become a pro.
• Six-foot-5 PF Larry Savage (Dumfries, Va./Bishop O'Connell), a 2010 prospect, is a tad undersized for the interior. Still, he understands his role and does not venture far from it. Consequently, he enjoys success on the court, using his good leaping ability to score around the hoop and shoot short jumpers.
• Six foot PG Keith Ellington (Fort Washington, Md./National Christian Academy) has the quickness that coaches covet in lead guards. He has the floater if he cannot get all the way to the rim in addition to a nice midrange pull-up. He has decent vision and fits perfectly in up-tempo offensive attacks.
• Six-foot-4 combo guard Deandre Kane (Pittsburgh/The Patterson School) did a great job of scoring. He impressed even more with his relatively good shot selection. When confident, Kane can stroke it from beyond the arc and use his quickness to get to the paint. He also has the length and quickness to become a dominant defender.
• Six-foot-4 G/F Jack O'Neil (Philadelphia/Northeast Catholic) just plays his game and quietly puts up his numbers. He has enough strength to play inside, but he shoots it from the perimeter well enough to play out on the wing. O'Neil gets the most out of his ability and rarely commits mistakes to hurt his team.
Antonio Williams is a recruiting coordinator for Scouts Inc. He previously worked as an NBA scout for Marty Blake Associates.
Basketball Recruiting
Antonio Williams is a recruiting coordinator for Scouts Inc. He previously worked as an NBA scout for Marty Blake Associates.
SPONSORED HEADLINES
MORE MEN'S COLLEGE BASKETBALL HEADLINES
MOST SENT STORIES ON ESPN.COM
EDITORS' PICKS
Basketball recruiting's summer headquarters have shifted.
Finkelstein

The top committed recruits of the 2015 class.
Biancardi

Recruiting strategies of Donovan, Calipari.
Finkelstein