Commentary
Sullinger shows well on Day 1
Originally Published:
July 6, 2009
By
Reggie Rankin
| Scouts Inc.
AKRON, Ohio -- About 80 of the nation's top high school basketball players are on display at the University of Akron's James A. Rhodes Arena this week for the LeBron James U.S. Skills Academy. The coaching staff is energetic, and has set the tone with intense drill work in all facets of the game. The players are learning the fundamentals of ball handling, passing, shooting, scoring moves off the dribble, coming off screens and the footwork that will help them take their games to the next level. Team offense was a primary emphasis, and the coaches made it a point to show the players how to move without the ball and help them understand the importance of floor spacing. There was limited live action on Day 1 Sunday, but during the short scrimmage at the end of the session, 6-foot-8 power forward Jared Sullinger (Columbus, Ohio/Northland) made his presence felt with his rebounding and finishing around the basket. Not to be outdone, Guo Ailun (Liaoning Panoan club team), a point guard from China, was impressive with his ballhandling and ability to pass.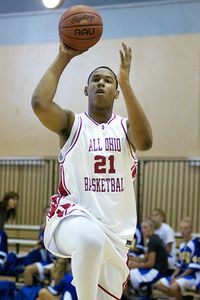 Les Bentley for ESPN.com Jared Sullinger should be an instant impact freshman at Ohio State.
Standout player
Sullinger went right to work, rebounding on both ends of the court with strength and power. If there is a better area rebounder in the Class of 2010, I have not seen him yet. Sullinger moves opponents out of the way with his big body, and snatches the ball with two hands as he clears out all incoming traffic in the lane. The Ohio State commit also is effective in the post. Sullinger spreads out in the post by getting low and wide, giving the passer a target to get the ball inside. He does a great job sealing his man with at least one foot in the paint. Sullinger is terrific at maintaining contact before making his scoring move. He loves to bang the defender with his body to get looks at the basket and improve his shooting percentage. He can score through contact, after getting deep in the lane, with a power drop step or jump hook over his left shoulder. Sullinger also passes well out of the post after drawing the double-team. He kicks out to open shooters, and hits players cutting through the lane. Sullinger seems to be more explosive than in the past; he took drop-off passes created by guard penetration and finished above the rim with ease. The big man was impressive in the short period of time he had to show off.
Surprise player
Ailun, a 6-3 point guard, is a terrific passer. He is only 16 years old, but he seems to have a great feel and understanding of the game. Ailun is about 170 pounds and must add strength, but he is an excellent penetrator and can drive, draw and kick with good court vision. He can get into the lane and drop off passes to post players at close range or kick out to shooters on the weak side of the floor. He seems to like to leave his feet to pass, which could make him charge prone, but he can hang in the air and put the ball on the money. Ailun also showed the ability to slash to the basket and finish layups with great touch and body control. Ailun is also an excellent ball handler. He weaves through traffic to find openings. I am looking forward to watching his game closer as the week progresses.
Notes
A few familiar faces
ESPN College Basketball Analysts Fran Fraschilla and Jay Bilas are coaching at the skills academy this week. Coach Fran was working with the perimeter players, and Bilas was helping the young post players.
Bringing the intensity
2011 prospect Mike Gilchrist (Elizabeth, N.J./St. Patrick) is not only impressive when he competes during games, but he brought that same energy and focus to the drill sessions. Gilchrist, the nation's top junior, impressed us at last month's National Basketball Players Association Top 100 camp with his ability to make plays off the ball. It looks like his remarkable play is directly related to the effort he gives in performing every task on the court.
Power in the post
2011 true center Kevin Johnson (Gardena, Ca./Junipero Serra) got my attention right away with his physical post play. Johnson welcomes contact, and has excellent feet and hands. He moves well for his size (6-9, 250 pounds plus), seals his man in the post and works for rebounds, adding a putbacks in traffic. Johnson also passed well out of the post area. I am looking forward to watching him play an entire game.
Anderson in attack mode
Super athletic 2012 forward Justin Anderson (Richmond, Va /Montrose Christian School) was impressive in drills today. He has off-the-charts bounce, and plays with great energy.
Reggie Rankin covers basketball recruiting for ESPN Scouts Inc.
College Basketball Recruiting
Coached in the SEC, Big 12, MAC, and others over 14 seasons
Scout and analyst for RecruitingNation since 2007
Graduated from Ohio University
EDITORS' PICKS
A look at the top big men in the class of 2015.
Biancardi

How do coaches plan the timing of official visits?
Finkelstein

Some new names have joined the ESPN 60.
Biancardi