Commentary
Payne to pick from 20-plus suitors
PF has narrowed his list down to Arizona, Kentucky, Michigan State or West Virginia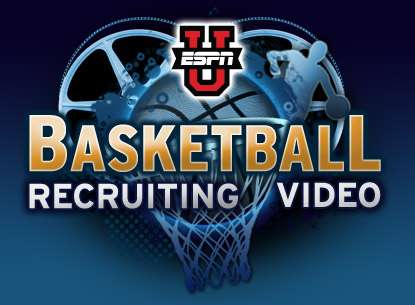 Adreian Payne
Adreian Payne usually states his case with actions. The verbal stuff isn't the modus operandi of the No. 23 prospect in the ESPNU 100 from Jefferson High in Dayton, Ohio.
On Thursday, that will change when the normally taciturn Payne tells the basketball world where he'll attend college. Get this: He's doing it on ESPNU at 6 p.m. ET.
Talk about breaking his silence.
Payne, the No. 7 power forward in the 2010 class, told ESPN.com Wednesday night that, "I already know where I'm going; I knew it when I visited the campus."
The lucky program will learn of Payne's decision when he puts on the cap of the school. The 6-foot-9, 215-pound Payne revealed Michigan State, West Virginia, Arizona and Kentucky are the four finalists.
"I had a comfortable feeling this was the place when I was visiting," Payne said. "I liked the players and coaches, and the educational system had to be in place."
Jefferson coach Art Winston said his star post player sifted through more than 20 offers and considered in-state schools such as Cincinnati, Xavier, Dayton and Ohio State, but went in another direction.
"Adreian is a versatile player," Winston said. "He can handle it, rebound, run the floor and shoot it. That's a complete player."
ESPN analyst John Stovall, who has seen Payne play for the past four years, concurs.
"After Perry Jones [of Duncanville, Texas] he is the most talented player in the country," he said. "I don't mean the best, but his talent and potential are unlimited."
Will the thrill: Will Sheehey has his priorities in order.
"Academics and then athletics," the nation's No. 52-rated small forward prospect said this week.
Sheehey, who recently transferred from South Fork (Stuart, Fla.) to Sagemont School (Weston, Fla.), might be considered a throwback or a forward thinker. The only numbers that matter for Sheehey are his grade-point average and cumulative SAT score.
"The main point of college is to get a degree," Sheehey said. "That's why I'm closely scrutinizing schools; trying to find the one with the right balance."
That's not to say wins and losses and scoring and rebounding averages aren't important, but Sheehey, unlike most teens, is looking down the road.
The road of life won't always feature a bouncing ball, the squeak of shoes on the hardwood or X's and O's. Instead, Sheehey is preparing for the game of life.
"When the games are over, you'll always have a [college] degree and that's really important; it'll give you a start in the world," he said.
A quick check of his college suitors backs Sheehey's "education-first" mantra: Stanford, Vanderbilt, George Washington, Michigan, Washington and Indiana.
He also indicated Arizona and Arizona State entered the mix in the last week.
Plenty of choices, but what is he thinking?
If you ask his father, a standout swingman at St. Bonaventure (Class of 1984), it's about patience.
"He has plenty of offers already," said Mike Sheehey, whose eldest son has received at least 50 scholarship offers. "William has to gather information on the schools and decide which one is the best for him academically and athletically."
"There's no rush; be patient. Every day [a different school] is coming in for a talk," he said.
Last season Will Sheehey exploded at South Fork, averaging 24 points and 10 rebounds while earning accolades which included being a Class 5A all-state selection. Despite his success, South Fork failed to reach the regional tournament.
Following a successful summer with the Florida Rams, Sheehey transferred to Sagemont, a college preparatory school, located in Broward County.
"Will has leadership qualities. His work ethic on and off the court is contagious," Sagemont coach Adam Ross said. "He's also versatile and can defend players at four positions, including the point. He can get points off the offensive boards mostly off dunks."
Sheehey's presence adds to Sagemont's talented nucleus of 7-foot center Fabricio Melo (No. 20 in the ESPNU 100), a Syracuse recruit, and 6-6 junior Rod Days (No. 25 small forward in the Class of 2011).
"Sagemont is better all-around fit for me," said Sheehey, an honors student who maintains a 4.3 weighted grade-point average while taking advanced placement coursework. "Playing with Melo and Rod and all the guys is great. Sagemont will open doors for me."
Sheehey is in the middle of a busy week.
On Tuesday he took an unofficial visit to Miami. He will officially visit Vanderbilt this weekend and is officially scheduled from Nov. 6-8 at Indiana.
Though he's zeroing in on a decision, Sheehey is far from declaring. Here's what he says about his suitors:
Stanford: "High academics, and [coach] Johnny Dawkins is great. The players are all intellectuals."
George Washington: "Washington, D.C. is a great area, and the basketball program is all they have. There's no football."
Miami: "It's local [less than an hour from Sagemont] and an academic-oriented private school."
Indiana: "Tom Crean is a great coach, and the school's business program is one of the best in the country."
Michigan: "I hear Ann Arbor is a great college town. It has the great combination of books and basketball. My father knows coach John Beilein."
Vanderbilt: "I've never been to Nashville; I'm excited. It's another school with a blend of high-level academics and basketball. I understand they have several foreign players."
With the season less than a month away, Sheehey is ready. He's added 20 pounds of muscle since last season and is ready for a national schedule of games which includes the Bass Pro Invitational (Springfield, Mo.) in January and the City of Palms (Fort Myers, Fla.) before Christmas, and a potential matchup against Florida's defending 3A Pine Crest (Fort Lauderdale) at an Alex Rodriguez-sponsored tournament in mid-December in Miami.
"The workouts targeted my legs and upper body," Sheehey said. "I feel stronger, especially when driving to the basket. I'll get bumped but can now take the constant pounding and last longer in games."
Ross agrees.
"With strength and added weight comes confidence. It'll help elevate his game to another level," he said.
Royalty: You might think Hopkins (Minnetonka, Minn.) would be down after a record-setting season. Guess again.
The Royals (31-0), No. 12 in ESPN's final rankings in 2009, completed a historic season, becoming Minnesota's first unbeaten team to capture the large school (Class 4A) championship. Six seniors graduated, going to name schools such as Notre Dame, Minnesota, Santa Clara, North Dakota State and Arizona State, supposedly leaving a dip in talent.
Coach Ken Novak, however, made sure to give several youngsters ample playing time en route to the school's sixth 4A title, setting up the Royals for another deep postseason run this year.
"If we get off to a good state that'll mean a lot," Novak said. "We'll be a much better team as the year goes along; hopefully playing our best around the postseason."
D.J. Peterson, 6-5, is the 65th-rated shooting guard in the ESPNU 100. As a junior Peterson contributed 7 points and 4 assists per game and brings a point guard's mentality with the cleverness of polished perimeter player. His game resembles that of Chauncey Billups and he already has an offer from Baylor and more from Midwestern mid-majors.
"D.J. is really a combo player," Novak said. "He's a true 1 but can play 2 or 3. He's a smart player; he takes good shots and can penetrate the defense."
Peterson thinks he might wind up at New Hampton Prep in New Hampshire for a postgraduate year.
"If I sign it will be late; I've already spoke with the New Hampton coach and that's where I may go," he said.
A pair of 6-4 juniors, Joe Coleman and Marvin Singleton, also return.
Coleman, whose brother Dan started at Boston College before transferring to Minnesota and now plays in France, is "the best athlete I've coached," Novak said. "He needs more polish on his skills, but it's all there."
Santa Clara has offered, with Iowa, Harvard, Colorado State, Loyola (Ill.), Wisconsin-Green Bay, Northern Iowa and Minnesota still looking.
"My game is better; I've worked on 3-point shooting and I'm confident taking the shot. I'm a strong wing player," Coleman said.
Meanwhile, Singleton, a stealthy 220 pounds, is transitioning from the post to the wing.
"He's going to be the surprise player in the state," said Novak of Singleton, who currently has no offers. "By the end of the season [he will] have plenty of schools interested. Marvin can play multiple positions and is adapting quite well outside."
Novak points out that two underclassmen -- freshman Riley Doering and sophomore Siyani Chambers -- will play prominent roles this season.
Doering, 6-4, is a razor-thin rookie who can fill it up from the wing. Chambers, 5-11, was the third man off the bench last year, logging quality minutes for a championship squad.
"We'll be one of the best large schools in the state again; we play all the teams in the state's top 15," Novak said. "We have hidden gems on this team. It's a good group."
Christopher Lawlor has covered high school sports for more than 20 years, most recently with USA Today, where he was the head preps writer responsible for national high school rankings in football, baseball and boys and girls basketball. He also for worked for Scholastic Coach magazine, where he ran the Gatorade National Player of the Year program for nine years. Lawlor, a New Jersey resident, grew up in Rochester, N.Y., and is a graduate of St. Bonaventure University.
High School Basketball
Christopher Lawlor has covered high school sports for more than 20 years, most recently with USA TODAY, where he was the head preps writer responsible for national high school rankings in football, baseball and boys and girls basketball. He also ran the Gatorade national player of the year program for nine years.
SPONSORED HEADLINES
MORE MEN'S COLLEGE BASKETBALL HEADLINES
MOST SENT STORIES ON ESPN.COM
EDITORS' PICKS
How did Ben Simmons become the No. 1 prospect?
Biancardi

How does Cincinnati find the perfect prospects?
Finkelstein

The National High School Hoops Festival drew plenty of attention. What stood out most?
Jeff Borzello
Jansport Men's Arizona Wildcats Cardinal Tournament Basketball T-shirt Shop »