Commentary
Knight known for academics, athletics
Updated:
November 11, 2009, 12:51 PM ET
By
Matt Winkeljohn
| Special to ESPN.com
Nearly anybody who knows anything about high school basketball on a national level knows something about Brandon Knight.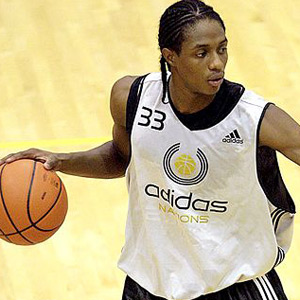 Courtesy of AdidasBrandon Knight is one of the most highly sought-after recruits.
His name came up in a recent pregame conversation among sports writers at an NBA game between the Atlanta Hawks and the Washington Wizards. At least one writer covering each team recognized the name. "He's the smart kid, right?" one hack said.
Well, there's this: Knight has a 4.2 grade-point average at Pine Crest in Ft. Lauderdale, Fla., and, "if he earns straight A's this year, it will be the 12th straight year," said his mother, Tonya Knight.
And as just the third junior ever named Gatorade National Player of the Year, joining LeBron James and Greg Oden, Knight's obviously a fabulous player. "From Florida, right?" another NBA writer said. "They're nuts about football down there, and if you're good enough in hoops to get props like that down there, you're legit."
But who knew ESPNU's No. 4-ranked senior in the nation and the No. 1-ranked point guard is also a prep Pied Piper in south Florida?
Pine Crest is a private school with a collegiate campus that churns national merit scholars out as if an assembly line.
Basketball players? Not so much. But Knight and former teammate Ed Waite, now a freshman at Monmouth, helped change that.
"Our first year, we were 13-9 and I don't think we had 10 people in the gym because we were a swimming and cheerleading school," said basketball coach David Beckerman.
In the past four seasons (including Knight's eighth-grade campaign), Pine Crest went to three state Class 3A Final Fours, won the past two state titles, and Beckerman said his team's record in that span -- against private and public schools -- is 114-12.
Pine Crest produces graduates like former Dolphins and Marlins owner H. Wayne Huizenga, actor Kelsey Grammer and swimmer Diana Nyad.
The school has not, until recently, produced or attracted front-line hoopsters.
"Brandon was part of a catalyst of change not only from the standpoint of being on the basketball court, but also [he and Waite] are really academically inclined," Beckerman said. "I don't, and we don't, recruit. There is a significantly different approach.
"Recruiting is salesmanship, but encouragement is an attempt to convince young people to do what's best for them. In some circles we may have been looked upon as unreachable in the community. I think Brandon, without knowing it, opened the door for people in the community that if you are committed to academics, assets are open to you."
That the 6-foot-3, 185-pound Knight averaged 31.8 points, 8.7 rebounds and 5.6 assists last season did not surprise Beckerman.
"Last year in the regionals we were down 11 with three minutes to go, and in that three-minute period he was 9-for-9 on free throws, hit three 3-pointers, had two steals, drew a charge and got a jump ball," the coach said. "He scored 52 points, and we won by three.
"

Recruiting is salesmanship, but encouragement is an attempt to convince young people to do what's best for them. In some circles we may have been looked upon as unreachable in the community. I think Brandon, without knowing it, opened the door for people in the community that if you are committed to academics, assets are open to you.

"

-- Coach David Beckerman
"The thing that makes him as great as he is, he doesn't have to score a point. He makes people around him better, has a real knowledge of the game … and he refuses to lose."
Beckerman knows about the drive to achieve and succeed. He founded the Starter company in 1971, earning millions of dollars with a company that made jackets and sports outerwear. His business acumen is documented all over the Internet.
He grew up in Connecticut, was a prep coach in New England for years, has his name on numerous buildings in the region, is on the Naismith Memorial Basketball Hall of Fame board of trustees, and now splits his calendar between Connecticut and south Florida, where he said, "I coach for $1 a year."
So, Knight taps into his coach for more than basketball.
"Brandon has a different perspective. He has asked questions about my background, financial questions, last year he asked about [Bernie] Madoff," Beckerman said. "He asked questions about how that happened, what was the impact, and how do you trust, and who do you trust? It's all part of calculation."
When Knight's parents opted for Pine Crest, that was calculated.
"He's very competitive, and we've always demanded excellence," Tonya Knight said. "We knew from the time he got straight A's in first grade that when he was capable. His father [Efrem] told him, 'I can't accept a B.' As [Brandon] once said, it's become a way of life.
"We knew that Pine Crest was one of the best academic schools in the country, and he needed to be challenged."
With help from others, Knight's worldview is far from common.
Beckerman took Knight on an unofficial visit last year to Yale, which was surely different than his official visit last weekend to Kansas.
While there, his competitive nature emerged when, "they had been playing some sort of game, and Brandon just wanted to go back to the room and play that game some more and beat somebody in it," Tonya Knight said.
Knight also is considering UConn, Kentucky, Syracuse, Miami and Florida. He could end up playing as much at shooting guard as at point.
No matter where he goes, he's sure to bring his brain with him. His mother said he wants to study engineering, architecture or perhaps a straight math degree. Knight will bring a certain magnetism, too.
"I've been doing this 40 years, and he's one in a million, no doubt," Beckerman said. "Every coach dreams about getting one, not only with his skill, but he has a great deal of things that go far, far beyond basketball.
"Others have seen what we've accomplished on the court with kids who are academically sound, and some who never thought about [Pine Crest] are considering it. Ed and Brandon Knight changed the face of our basketball program. They were the only two kids that I really, really encouraged to come, and in both cases it was a leap of faith."
Bet those NBA writers didn't know Brandon Knight is the Pied Piper.
Maybe he doesn't, either.
"To know Brandon, you would have to say that he's unaware of a lot of things," his mother said. "He's very focused. I don't think he focuses on those things as much as other people. He concentrates on making himself better, and others better."
Matt Winkeljohn left the Atlanta Journal-Constitution after spending 21 years there. He can be reached at mattwinkeljohn@yahoo.com.
SPONSORED HEADLINES
MORE MEN'S COLLEGE BASKETBALL HEADLINES
MOST SENT STORIES ON ESPN.COM
EARLY SIGNING PERIOD 2009

The basketball early signing period was full of surprises, the biggest being Josh Pastner's and Memphis' furious finish en route to landing the nation's top class.
Top 25 | Top classes by conference
WRAP-UP
NEWS
FEATURES
PREVIEW
VIDEO