Commentary
Juniors Abrams, Shaw shine
Originally Published:
February 22, 2010
By
Reggie Rankin
| ESPN Recruiting
CHICAGO -- The 15th annual City-Suburban Showdown featured a triple-header at the UIC Pavilion. The Showdown was organized by co-founders David L. Kaplan and Robert M. Rylko of the Integrity Group, which did a great job with this nationally recognized event. In Game 1, Class of 2011 guard and Illinois commit Tracy Abrams scored 21 points to lead Mount Carmel to a 52-44 win over St. Patrick. Mike Shaw of De La Salle was the star of Game 2. Shaw, who is also in the Class of 2011, dropped 21 points and pulled down 10 rebounds in the 64-45 win over Simeon. In the nightcap, Waukegan took out Whitney Young 59-42. Senior swingman Jereme Richmond played well in front of his future head coach Bruce Weber of Illinois by scoring 16 points, grabbing 11 rebounds and notching eight blocks.
Standout players
Tracy Abrams (6-1,180) SG
2011, Chicago/Mount Carmel, committed to Illinois

Although he can help at the point, Abrams is a shooting guard in a point guard's body. It was very clear during this event that he was more comfortable off the ball. Abrams is strong for his size and displayed good athletic ability. He can score the ball in transition or in the half court by attacking the rim when he utilizes his strength to score through contact. He can also get his shot off with either hand. Abrams made his presence felt on the defensive glass and advanced the ball extremely well. He did a nice job of using his body and drawing multiple fouls. Abrams made a few midrange dribble pullups with one or two rhythm dribbles. He has a nice stroke and follow-through that he shoots with great confidence. He can make an open 3 with time and space, but he is better inside the arc off the catch or dribble. Overall, he is a streaky shooter. He can make or miss several in a row. Abrams is a decent ballhandler and displayed good vision at times on his passes. I would have liked to see him play with more energy, but he only did in small doses. Abrams has a scorer's mentality and is capable of defending both guard positions.
[+] Enlarge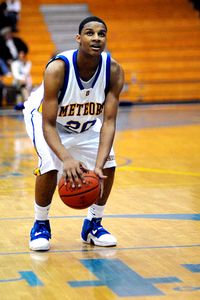 De La Salle InstituteMike Shaw is considering Louisville, Illinois, Texas, Southern Illinois and Florida, among other schools.
Mike Shaw (6-8, 215) PF
2011, Chicago/De La Salle

Shaw had a great game. He was aggressive and scored in the post and with a nice midrange game. He played like a perfect pick-and-pop face-up power forward with a chance to play some part-time small forward in the future, although his strength now is at the 4 position. Shaw hit a pretty floater in the lane, and drives from the high post and low wing after moving the defense with his excellent shot-fake. He rebounded well on both ends, and when he grabbed a defensive rebound he handled the ball pretty well in the open court. He is definitely a matchup problem at the 4 position. He can post smaller defenders and simply elevate over them and drive around less-mobile post players with ease. Shaw was a lob-catcher in transition and offensive rebound tip-dunker. If he can consistently be physical as he was in this game, his production will increase and his game will go to the next level. Shaw has tons of talent and shows flashes of greatness, but this long and athletic forward must fight for consistency to be special.
Jereme Richmond (6-7, 197) SF
2010, Waukegan, Ill., signed with Illinois

Richmond played an excellent floor game and did a great job of scoring within the offense. He hit midrange pull-up jumpers going both right and left with a pretty stroke and excellent elevation. He knocked down the open 3 and finished above the rim in transition with a tomahawk and with a reverse dunk along the baseline in the half court. Richmond passed the ball well and used his great length to see over defenders to deliver the ball. He also was a force on the boards. Richmond had a couple of two-hand snatches at rim level and led the break. He played very unselfishly and didn't force a single shot. Richmond encouraged his teammates and showed leadership throughout the game. He handled the ball well and made good decisions. He also was a huge factor on the defensive end of the floor with his shot-blocking. Richmond swatted shots on and away from the ball repeatedly. This smooth and skilled wing must add strength but played at a high level, and will be a great fit and a matchup nightmare in the Illinois motion offense if he can play physically and consistently.
Player to watch
Jabari Parker (6-6, 210) SF/PF
2013, Chicago/Simeon

This long and lean combination forward's game is under construction. Still, he is oozing with talent and potential. Parker has a great feel for the game and plays with great confidence, especially on the offensive end of the floor, where he constantly wants the ball. Parker runs the floor well and can finish on the break. He can make midrange jumpers off the catch or dribble. He has good hands and can handle the ball very well for his size, but he must tighten it up when he is under intense ball pressure. He uses his size to be a good passer over smaller defenders and displayed good court vision when passing on the move. Parker must add strength, but he is a good area rebounder on both ends. Parker competes and works to deny the ball on defense in the post, although he is not strong enough yet to hold his position. He plays with energy and urgency and seems to take the game very seriously. It will be fun to follow Parker's progress, because he has the tools to be one of the elite prospects in the Class of 2013.
Notes
• Shooting guard Anthony Johnson (Chicago/Whitney Young), a Purdue signee, had a few impressive possessions. He got to the basket in transition and on a couple of baseline slashes. Johnson also knocked down his open 3-point jumpers.
• Class of 2011 small forward Luke Hager (Chicago/Whitney Young) also made a few plays. Hager has great size and length at about 6-foot-7. He ran the floor where he finished above the rim and hit his open shots. Hager competed and got my attention with his effort and energy on both ends of the floor, and was much better since I last saw him.
• Freshman power forward Alex Foster (Chicago/De La Salle), at 6-8, is one to keep an eye on. He is long and has a good basketball body for such a young player. He slithered between defenders for a couple of nice finishes and displayed the ability to rebound in a crowd. He is raw and still finding his way at times, but the talent and potential are very evident.
Reggie Rankin was an assistant coach at seven schools for 13 seasons, most recently at Dayton. He played at Ohio University from 1986-90 and was an All-MAC first-teamer his senior season.
College Basketball Recruiting
Coached in the SEC, Big 12, MAC, and others over 14 seasons
Scout and analyst for RecruitingNation since 2007
Graduated from Ohio University
SPONSORED HEADLINES
MORE MEN'S COLLEGE BASKETBALL HEADLINES
MOST SENT STORIES ON ESPN.COM
EDITORS' PICKS
Saturday's Under Armour Elite 24 game did not disappoint.
Biancardi

Under Armour Elite 24 matchups.
Rankin

Dominic Green made the most of his summer.
Medcalf »