Commentary
Barton leads Brewster
NEW HAVEN, Conn. -- Brewster Academy (Wolfeboro, N.H.) took the fourth annual National Prep Championship on Wednesday night at Albertus Magnus College only three days after taking the NEPSAC Class A title. Brewster was the last team standing as the top eight programs in the country met in a single-elimination tournament. Coach Jason Smith's squad knocked off Northfield Mount Hermon (Mass.) in the final, 79-76 in overtime, ending a Cinderella run for Northfield, which had defeated fourth-seeded Notre Dame Prep (Baltimore, Md.) and top-seeded Hargrave Military Academy (Chatham, Va.) in the first two rounds.
[+] Enlarge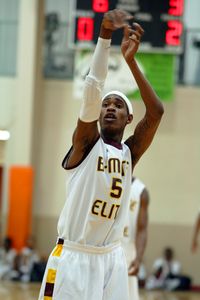 Stephanie Yelder-Stovall for ESPN.comBaltimore product Will Barton is headed to Memphis.
Standout player
Will Barton, 6-6, SG
2010, Baltimore, Md./Brewster Academy
He earned tournament MVP honors by topping the 20-point plateau in all three games, and although he forced the action a little bit more in this tournament than he did in the NEPSAC, his sheer talent was simply too imposing for any defender to consistently stop.
Surprise player
Majok Majok, 6-8, PF)
2010, Perth, Australia/Northfield Mount Hermon
While NMH had solid perimeter play all tournament long, it was Majok's presence in the middle that proved so difficult for opposing teams to match up with thanks to his combination of strength and athleticism. He rebounded in traffic on both ends, blocked shots, finished well and had a handful of drop-step dunks.
Player to watch
Naadir Tharpe, 6-0, PG
2011, Worcester, Mass./Brewster Academy
There are spurts when Tharpe controls the game with his vision, playmaking ability, decision-making coming off ball screens and much-developed 3-point range. However, he is still streaky. If he realizes how to do it on a consistent basis, he could be among the top point guards in 2011.
Notes
• C.J. Fair (Baltimore, Md./Brewster Academy) made a variety of big plays throughout the week. The long and athletic forward will be a great fit in Syracuse's 2-3 zone, and although he may not create his own shot consistently at the next level, he finishes everything at the rim and can also step out and shoot.
• Laurent Rivard (St. Bruno, Canada/Northfield Mount Hermon) is a steal for Harvard. He has good size, strength and toughness for the swing positions. Plus, he's a lights-out shooter from the perimeter and really understands how to play the game.
• Although St. Thomas More lost a heartbreaker to Brewster in the semifinals, Andre Drummond (Middletown, Conn./St. Thomas More) played very well, controlling the game defensively with his shot-blocking and even scoring consistently when being guard by the older and stronger Maurice Walker (Toronto, Can./Brewster Academy).
• This tournament really illustrated the geographic variance in prep school distribution around the country. NEPSAC (New England Preparatory School Athletic Council) has never had a greater percentage of the nation's top teams, while Westwind is one of the few comparable programs west of the Mississippi River.
• Available big men are clearly in high demand, and Walker might have been the best left in the Class of 2010. Coaches from Connecticut and Rutgers watched both of his games on Wednesday.
• Majok may be the next best available big, and although his recruitment has surged to the high-major level recently, Drexel and Fordham have been on him since the very beginning and are still pursuing him aggressively. Drexel coach Bruiser Flint and assistant Ashley Howard, as well as Fordham coach Jared Grasso and assistant Steve Treffiletti, returned on Wednesday.
• Melvin Ejim (Ontario, Canada/Brewster Academy) is quietly one of the most efficient players on Brewster's roster and could surprise many people by making an immediate impact at Iowa State next year. Ejim was sporting bright pink shoes this week and said he wore them in February for Breast Cancer Awareness Month, but has left them on in March because his team has been playing so well since. • Quinnipiac signee Dominique Langston (Bridgeport, Conn./St. Thomas More) and Harvard signee Laurent Rivard (Saint Bruno, Can./Northfield Mount Hermon) look to be flat-out steals at their respective levels and should certainly be among the top freshmen in the NEC and Ivy League.
• Tre Bowman (York, Pa./St. Thomas More) has seen his recruitment really pick up in the last month or two. Coaches from Rhode Island and Drexel were there to see him play on Wednesday, while Oregon State and Duquesne are also said to be high on his list.
• Not a whole lot to report on the recruiting scene at Hargrave, as 10 of its 12 players are already committed to Division I schools with no late shuffling expected, according to Hargrave's coaching staff.
• Shot-maker Chris Fitzgerald (Swansea, Mass./Northfield Mount Hermon) has a list that starts with Cornell, Brown, Marist, Quinnipiac and Bryant, according to NMH coach John Carroll.
Adam Finkelstein is a recruiting coordinator for ESPN Recruiting.
Covers college basketball recruiting
Former Division I assistant and NBA scout
Graduate of UConn and the University of Bridgeport
EDITORS' PICKS
Top prospects in 2015 talk recruitment.
Rankin

How do decommitments change programs?
O'Neil

There are new faces in the ESPN 100.
Biancardi