Commentary
Shelby Valley has coaches calling
Think winning the Kentucky Sweet 16 state tournament is a big deal? Just ask the newly minted state champions from Shelby Valley High in Pikeville, a school located in the far eastern corner of the state, enveloped by the Appalachian Mountains.
[+] Enlarge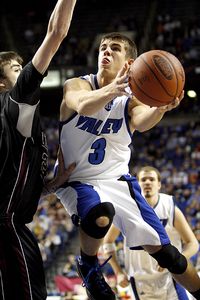 AP Photo/James CrispElisha Justice will play at Lousiville in the fall.
"Words cannot describe it," senior forward Taylor Newsome said.
"It's the dream of every boy in Kentucky once they pick up a basketball," senior forward Ashley Hatfield added.
If you win Kentucky's state tournament, you truly are champion. That's what happens in the commonwealth, a single-class system where every school has a chance at the prize. All schools play in district and region tournaments before qualifying for a date at storied Rupp Arena in Lexington.
Win the tournament and you're an instant celebrity. Autograph sessions, police escorts, pictures, ring fittings and parties were on the agenda this week.
That's because last Saturday, Shelby Valley defeated Ballard (Louisville), 73-61, becoming the first school to capture both the Sweet Sixteen and All Class A championships in the same season. For those unfamiliar with the All A tournament, it gathers the smallest 125 schools for an in-season mini state tournament during two weeks each season, giving the little guys a chance at hardware.
Funny thing, though, Shelby Valley was not satisfied with winning its second-straight All A title. The Wildcats wanted more, eyeing the big prize. Playing together since the fifth grade, Shelby Valley's core confidently put on an old-fashioned basketball demonstration, which included polished fundamentals and techniques straight from a textbook.
Dr. James Naismith, basketball's founding father, is smiling in hoop heaven.
"We're not supposed to beat the big schools," sixth-year coach Jason Booher said. "This team was focused right from the beginning and they fed off each other."
The Wildcats were built around 5-foot-11 Elisha Justice, who will be named Kentucky's Mr. Basketball on Friday. Justice will attend Louisville as a preferred walk-on, said Booher.
"He wanted to lock into a school and play in a big-time program," Booher said. "He's holding out hope that a scholarship might open up [at Louisville] this spring."
Justice, a tireless worker and gym rat, could have averaged more than 30 points this season but settled for 19.6 points per game and taking home most valuable player honors at the Sweet 16.
"Elisha got everyone involved. Instead of one guy scoring all the points we had five players scoring in double digits," Booher said.
Justice (No. 79 point guard in ESPNU 100 rankings) drew interest from schools in lower-end conferences such as the Ohio Valley and Atlantic Sun before leaping at a chance to handle the ball for Rick Pitino at Louisville.
Justice, Gatorade's 2010 state player of the year, is the consummate pass-first floor leader, putting the ball in position for his teammates to finish. He entered the season as the state's 11th-best prospect but played bigger than his rank. Here's proof:
"What sets Justice apart from the many short guys who play the position of point guard is his vision and basketball awareness. This young point guard seems to deliver baskets to his teammates. … If he is passing to an open jump shooter, he puts the ball into the pocket that leads to a made shot, passing to the post is an art and Elisha has mastered this art," Scouts Inc. analysts assessed.
If you think Justice is the only outstanding player for the Wildcats, think again. Here's a closer look at rest of the starting five, three of whom will play college ball on the Division II or III levels, or at an NAIA school.
• Hatfield: At 6-6, he's considered a swingman. He topped the Wildcats in rebounding (7.3) and added 14.8 points per game and scored 21 in the state final. "He can handle the ball on the press. He's long and lengthy," Booher said. Hatfield doesn't have any Division I offers but will visit King College in Bristol, Tenn., this weekend. He expects to visit Brevard College (N.C.) and Transylvania (Ky.) in the coming weeks.
• Taylor Newsome (ESPNU No. 217 small forward): "He's our blue-collar workhorse," Booher said. He contributed 12 points and 7 rebounds per game. He also led the team in 3s and is the school's all-time leading rebounder. Maryville College, a Division III school in Tennessee, is the most interested in the 6-3 forward.
• Cody Varney: The 6-2 Varney is the team's best athlete but will pursue a baseball scholarship. He's considered a top-notch right-handed pitcher.
• Tyler Newsome (the nation's No. 334 small forward): He's a distant cousin of Taylor and a solid 6-4 wing shooter. Several Division III schools are in the mix.
Booher said his e-mail and phone have been busy since Shelby Valley's title run.
"That's what happens this time of year," he said. "There's a lot of interest from smaller schools. Once one school offers them, the rest will follow. We'll see who puts together the best packages."
Shelby Valley players aren't the ones looking for a college.
Ian Chiles, a 6-1 combo guard from Ballard, scored 23 points in the state final against Shelby Valley but remains unsigned with limited options.
[+] Enlarge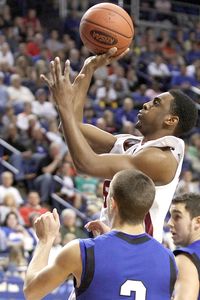 AP Photo/ James CrispIan Chiles could be a mid-major steal.
"He's being under-recruited," Ballard coach Chris Renner said. "There are a couple of reasons but he didn't display what he's capable of doing in AAU ball last summer.
"I tell coaches he's sloppy, unpolished player. Instead of looking what he can't do, I'm telling coaches that he's a winner and a complete player who will become better. He'll be a real steal for a mid-major program."
Ballard, one of the top programs in Kentucky with three state titles, has sent several players (notably Jerry Eaves, DeJuan Wheat and Allan Houston) to college and the pros. Chiles, who averaged 18 points, is a triple threat on offense, according to Renner.
"Ian can make a 25-footer, pull up and hit the midrange shot, shoot 70 percent from the foul line or dunk driving to the rim," he said. "He's taken big shots and made them. He was a little inconsistent scorer as a junior but that wasn't the case this season. Defensively he's an impact player whether it's blocking shots or making steals."
Chiles is expected to visit Evansville this weekend while Nicholls State and Wright State remain interested. Prep school is an option; Renner said Chiles has qualified but would do it for the added exposure.
"Ian's a gamer. He's a sleeper or a diamond in the rough. He'll be a great find for someone," said Renner, a former Division I coach.
Gael force
Jamar Coke was a relative unknown outside of his native Canada. Sure the 5-foot-11 point guard from Cathedral High in Hamilton, Ontario, has been a dominant player domestically, but he's still trying to generate interest from Division I schools.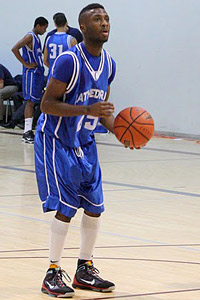 Leslie DalyJamar Coke averaged 21 points, 7 rebounds and 6 assists per a game this past season.
Coke, an all-region player who averaged 21 points, 7 rebounds and 6 assists this season, has feelers from junior colleges, Niagara (N.Y.) County and Iowa Western, but that's it.
"Unless something else happens, I'll visit Iowa Western and see what my options are," Coke said.
Last weekend Coke took a step closer to his dream of playing Division I basketball when he put on a show at the Alhambra Catholic Invitational Tournament in Frostburg, Md. The Cathedral Gaels went 1-2 at the 50th annual eight-team Catholic school tournament, finishing seventh, and Coke was named second team all-ACIT.
Coke totaled 68 points, including 27 in the third-place consolation game, a 87-47 victory over host Bishop Walsh (Cumberland, Md.), last Saturday. It was the second straight year that a Cathedral player won the ACIT scoring title. Last year Dwayne Harvey (now at New Mexico State) netted 72 points, averaging 24 in the tournament. Joining Coke on the second team were Mikael Hopkins of DeMatha; Notre Dame-bound Eric Atkins and Ryley Beaumont, both of Mount St. Joseph (Baltimore); and Trey Davis of Benedictine (Richmond, Va.).
There was more at the ACIT.
Gonzaga won its third straight ACIT crown, becoming the third school (DeMatha did it three times, Bishop O'Connell-Alexandria, Va. once) to win the title at least three consecutive years. The Purple Eagle edged conference rivals DeMatha (Hyattsville, Md.), 68-67, in the final. The game featured 18 lead changes and 17 ties, but Richmond-bound Cedrick Lindsay's two free throws with 0.5 seconds left was the difference.
Lindsay earned most valuable player honors while Duke-bound junior forward Mike Gbinije of Benedictine was the most outstanding player. Both were on the first-team all-ACIT with junior Quinn Cook and Victor Oladipo (Indiana recruit), both of DeMatha, and Tyler Thornton (Duke) of Gonzaga.
The ACIT also marked the final go-around for coach Jim Yerkovich of Judge Memorial (Salt Lake City), who called it quits after an illustrious 44-year career. Yerkovich's highlights include 13 ACIT appearances, 635 wins, three Utah state titles and six finals appearances since 1966.
Watch these weekend warriors
The high school state championships finally come to a close this weekend with five high-profile states. However high school season will extend one more weekend, starting April 1 when the National High School Invitational tips off for a three-day run at Coppin State in Baltimore, Md. Eight schools will vie for the national title, among them several teams in the ESPN rankings.
Until the games in Baltimore, you need to check out these states which offer memorable moments in the making (all times local).
Friday, New York State Federation championships, Glens Falls, N.Y., 3:15 p.m.: The Glens Falls Civic Center will host Class AA, A and B federation tournaments, with several intriguing matchups. The AA three-team tournament is top draw. The federation gathers champions from state public, independent, Catholic and New York City Public Schools (PSAL) in brackets to determine overall class champions.
Here's the full schedule: Friday's Class B semifinals are Westhill versus High School of Teaching (Queens) and Collegiate (Manhattan) versus St. Mary's (Lancaster), at 3:15 and 5:00 respectively. In Class A the semifinals are Jamesville-Dewitt versus Bedford Academy and Nichols School (Buffalo) versus Long Island Lutheran (Brookville) at 6:45 and 8:30, respectively.
Saturday's slate has three boys' games, featuring the B final at 5:45 and the A at 7:30. The AA first-round game has Christian Brothers Academy (Albany) against Christ the King (Middle Village) at 3:45. The winner plays Boys and Girls (Brooklyn) Sunday at 3:00 for the title.
Star watch: If you want top talent here are some names to keep in mind. The top senior is Virginia-bound Will Regan of Nichols, while 6-4 wing Michael Barrow of CTK and 6-4 guard Kameron Ritter are still unsigned. At 6-6, Will Bartlett (No. 191 shooting forward) will play next season for Yale. The state's top-ranked junior, 6-3 Achraf Yacoubou of Lutheran, will sign with Villanova. Guard Michael Taylor of Boys is a high-major prospect. The 6-5 Taylor has South Carolina, Pittsburgh, Maryland and Providence atop his list. CTK guard Omar Calhoun and 6-8 post DaJuan Coleman of J-D are super sophomores.
Friday, Pennsylvania state championships, State College, Pa., 2 p.m.: This weekend the Pennsylvania finals are Philadelphia-flavored as four of the eight schools on the boys' side come from the City of Brotherly Love. The featured game is Friday's Class AAA final between Neumann-Goretti (Philadelphia) and Chartiers Valley (Bridgeville) at Penn State's Bryce Jordan Center, 8 p.m. The game caps the remarkable four-year run of Neumann's Tony Chennault (the nation's No. 36 point guard), who's headed to Wake Forest. LaSalle-bound Tyreek Duren will likely match up against CV's 5-9 T.J. McConnell (No. 49 point guard), a speedy floor general who will attend Duquesne.
The rest of the lineup includes: Saturday's Class AAAA final matches Plymouth-Whitemarsh (Plymouth Meeting) and defending champion Penn Wood (Lansdowne) at 8. Strawberry Mansion (Philadelphia) plays South Fayette in the AA at 2. The Class A game features Reading Central Catholic and Sewickley Academy (Pittsburgh), led by Davidson-bound Tom Droney, Friday at 2. The top young prospect is 6-7 junior Jaylen Bond of Plymouth Whitemarsh, who has several Atlantic 10 and Big East schools interested.
Friday, California Interscholastic Federation finals, Bakersfield, Calif., 1:30 p.m.: The 10,000-seat Rabobank Arena is the venue for 10 state title games -- five boys' and five girls' -- over two days. Friday's boys' games are Price (Los Angeles) versus St. Mary's (Albany) in Division IV, 1:30, and Lincoln (San Diego) versus St. Francis (Mountain View), Division II, 8. Saturday's lineup starts with La Verne Lutheran-Branson (Ross) in Division V at 11:30 a.m.; followed by Serra (Gardena)-Bishop O'Dowd (Oakland) in Division II at 3:30 p.m. and Westchester (Los Angeles)-Newark Memorial in Division I at 8.
If you're looking for young talent, there's 6-9 post Brandon Ashley of O'Dowd. He's a budding star, contributing 13 points and 13 rebounds versus Sacramento High in the Northern California Regional, Division III final.
In Division I, Westchester (31-3) is the favorite, riding City Section player of the year, 6-7 Dwayne Polee Jr., an unsigned senior. He's surrounded by all-city players Kareem Jamar, Jordin Mayes and Reggie Murphy. If the Comets win, it would be the sixth CIF title for coach Ed Azzam.
Thursday-Friday, Michigan semifinals, East Lansing, Mich., 1 p.m.: Expect three days of basketball bliss at Michigan State's Breslin Center. Opening day features the Class C and D semifinals and Thursday has the Class A and B. The finals are Saturday, starting at 10 a.m. with the D title game. Thursday's afternoon session tips at 1 with Huron (Ann Arbor) and Southfield, followed by Kalamazoo Central and Denby (Detroit), vying for the large-class (A) crown.
Be on the lookout for a pair of ESPNU Super 60 players, Amir Williams of Detroit Country Day (Beverly Hills) and 6-1 point guard Carlton Brundidge of Southfield, who will sign with Michigan. The top player is PG Ray McCallum of DCD, a McDonald's All-American, while Denby guard Isaiah Sykes has offers from the likes of Michigan State, Syracuse, Dayton, Tennessee and Michigan.
Saturday, Indiana championships, Indianapolis, 10:45 a.m.: Hoosier Hysteria culminates with four state title games Saturday at Conseco Fieldhouse. What better way to tip off a week chock-full of basketball than with the state's 100th annual tournament. Next week, the preps give way to the NCAA Final Four down the street at Lucas Oil Stadium.
The morning session features two small-class title tilts: The Class 1A final is Barr-Reeve versus Bowman Academy (Gary) at 10:45; followed by the 2A final between Park Tudor (Indianapolis) and Wheeler at 12:45 p.m. Bowman's top players are unsigned seniors Christopher Bond and 6-1 point guard Tyrae Robinson and 6-6 sophomore DeJuan Marrero. Park Tudor's 5-11 point guard Kevin Ferrell has earned high grades and college offers from Big Ten schools and Butler and Washington.
The late session tips at 6 p.m. with Washington and Lew Wallace (Gary), followed by North Central (Indianapolis) and Warsaw at 8:15.
The first game pits a pair of big-time juniors -- Wallace's 6-6 Branden Dawson (No. 3 small forward, ESPNU 60) and Washington's 6-9 Cody Zeller (No. 11 power forward). Senior Terone Johnson (No. 34 shooting guard) of North Central is headed to Purdue and is considered the tournament's top player while teammate Trip McFall is an unsigned 6-4 guard. Washington's 6-5 forward Tony Tolliver is also looking for a college ride.
Christopher Lawlor has covered high school sports for more than 20 years, most recently with USA Today.
High School Basketball
Christopher Lawlor has covered high school sports for more than 20 years, most recently with USA TODAY, where he was the head preps writer responsible for national high school rankings in football, baseball and boys and girls basketball. He also ran the Gatorade national player of the year program for nine years.
SPONSORED HEADLINES
MORE MEN'S COLLEGE BASKETBALL HEADLINES
MOST SENT STORIES ON ESPN.COM
EDITORS' PICKS
Finding the perfect 'blend' players
Finkelstein

Exceeding expectations as a frosh next year
Roundtable

Five prospects with most long-term potential
Biancardi