Commentary
Five things we learned from EYBL Finals
Originally Published:
July 16, 2010
By
Paul Biancardi
| ESPN Recruiting
NORTH AUGUSTA, S.C. -- After three months, the first-ever Nike EYBL came to an end as Team Takeover defeated the St. Louis Eagles 70-62 in the championship game.
[+] Enlarge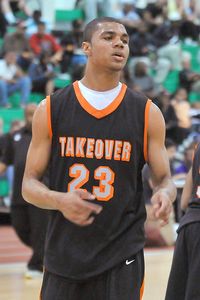 John DrewMichael Gbinije is the No. 29 overall player in the Class of 2011.
Duke commit Michael Gbinije (Chester, Va./Benedictine) carried Team Takeover with 19 points, five rebounds and strong defense against Bradley Beal (St. Louis/Chaminade) and Ben McLemore (St. Louis/Eskridge) on his way to earning MVP honors. James Robinson (Hyattsville, Md./Dematha) contributed 24 points and had a stellar all-around game for Team Takeover.
Here is a look at five things we learned from the tournament:
1. The EYBL came out a big winner
In its inaugural season the EYBL came up with a groundbreaking concept that put the emphasis on winning rather than individual achievements. This simple concept allowed teams to compete and earn their way to play for a championship. However, what made this concept unique is that the 42-team tournament spanned three months, which allowed teams a chance to improve and advance. The summer circuit was getting stale, but Nike has set the standard for grass roots basketball again.
2. There are still some marksmen out there
Part of the EYBL's plan was to implement college concepts to enhance and prepare players for the next level. One way this was done was by using the college 3-point line, and some players really filled it up from beyond the arc.
• Beal has exceptional form, great elevation and is always a threat behind the line. The future Florida Gator draws comparisons to Ray Allen.
• Austin Rivers (Winter Park, Fla./Winter Park) has a quick trigger, deep range and makes big shots. He also possesses the two mental qualities shooters must have: great confidence in themselves and a short memory.
• Nic Moore (Winona Lake, Ind./Warsaw) understands when he is open and shows good shot selection, which leads to consistency.
• Trevor Cooney (Wilmington, Del./Sanford) is an excellent spot-up shooter who moves well without the ball to get clean looks. He is also capable of hitting a big shot with time winding down.
• Myles Mack (Jersey City, N.J./St. Anthony) may only be 5-foot-9 but he knows how to create space for himself and drills it from the perimeter.
• Myles Davis (Plainfield, N.J./St.Peter's) can light it up from the perimeter and can keep it going.
• Michael Carter-Williams (Hamilton, Mass./St.Andrews) has good size to see over defenders, and you can see that he has invested time into his long-range shot. He also knocks it down off the bounce well.
• Phillip Greene (Chicago/Julian) and Will Cummings (Jacksonville, Fla./Providence) also impressed with their shooting.
3. Davis could be climbing the rankings
[+] Enlarge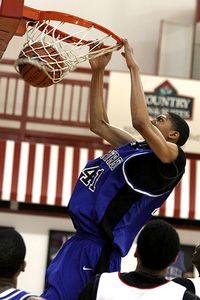 David Dixon of Natural Talent ScoutingAnthony Davis is the No. 4 power forward in the Class of 2011.
Much has been written about Anthony Davis (Chicago/Perspectives Charter) recently and it is all deserved. He is just beginning to scratch the surface of his tremendous upside and he continues to improve every time he steps on the floor. The 6-9 power forward with an enormous wing span is extremely versatile and highly skilled. He also keeps himself hungry and humble, which will move him ahead of his peers as time goes on. Davis is making a case to be a top-3 player in the Class of 2011.
4. Top-notch coaching was on display
Whoever said AAU coaches just roll out the ball needed to be at this event. Being a former Division I assistant and head coach, I came away very impressed with many performances as coaches prepared for competition. Coaching is an all-encompassing trait that includes but is not limited to motivating, teaching, planning and preparing. Some coaches that stood out include Team Takeover's Keith Stevens and the St. Louis Eagles' Dale Turner. Stevens' team was the undefeated champion despite not having the most talented team. He got his kids to not only play individual defense but team defense as well. Even though Turner has two elite players in Beal and McLemore, he did an outstanding job of getting the others to play with them and guided the Eagles to the championship game.
I didn't get a chance to see everyone, but others that stood out include Gary Betts (Spiece Indy Heat), Leo Paple (BABC), Robert Brown (Team Final), Boo Williams (Boo Williams), Tom Topping (Team Florida), Therion Joseph (Each One Teach One), Jim Hart (Albany City Rocks), Marlon Williamson (The Family), Jevon Mamon (Mean Streets) and Norm Parker (Georgia Stars).
5. This event allowed some players to emerge as prospects
With so many head and assistant coaches in attendance, the EYBL at the Peach Jam was a great stage for players to get noticed.
• Perhaps the great find was Malcolm Brogdon (Norcross, Ga./Greater Atlanta Christian), who performed so well that high-major offers are surely to follow.
• Nic Moore (Warsaw, Ind./Warsaw Community) impressed many coaches with his ability to score and run a team when he filled in for ESPNU 100 PG Marquis Teague (Indianapolis, Ind./Pike), who was traveling back from playing with USA basketball.
• Julian Dubose (Beltsville, Md./ St. John's) is a slasher and lock-up defender. He had his coming-out party last year at the U-16 Peach Jam and continued to impress again this year with his overall play.
Paul Biancardi is a veteran of the coaching ranks with years of college experience. He has recruited on a national level with stops as an assistant coach at Boston University and Boston College, associate head coach at Ohio State and most recently as an assistant at Saint Louis University. Biancardi was head coach at Wright State University from 2003 to 2006. In 2004, he was named Horizon League Coach of the Year. He is a selection committee member for the prestigious McDonald's All-America Game and the Gatorade Player of the Year award.
Basketball Recruiting
National Recruiting Director for ESPN.com
18 years of coaching experience at Division I level
Former Horizon League coach of the year at Wright State
SPONSORED HEADLINES
MORE MEN'S COLLEGE BASKETBALL HEADLINES
MOST SENT STORIES ON ESPN.COM
EDITORS' PICKS
Finding the perfect 'blend' players
Finkelstein

Exceeding expectations as a frosh next year
Roundtable

Five prospects with most long-term potential
Biancardi