Commentary
Super Showcase finals preview
Updated:
July 27, 2010, 1:08 PM ET
By
Paul Biancardi
| ESPN Recruiting
ORLANDO, Fla. -- After two impressive performances in the U-17 AAU Super Showcase semifinals by the two best shooting guards in the country, the final is set. Each 1 Teach 1, led by the No. 2-ranked player in the 2011 class, Austin Rivers (Winter Park, Fla./Winter Park), and the St. Louis Eagles, led by the No. 6-ranked player in the 2011 class, Bradley Beal (St. Louis/Chaminade), are ready to play for the U-17 Super Showcase championship Tuesday night at 7 ET on ESPNU.
[+] Enlarge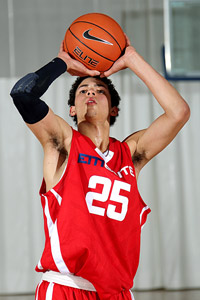 Kelly KlineAustin Rivers scored 37 points in his team's semifinal victory.
Rivers is the go-to guy on Each 1 Teach 1. He can create his own shot and showed in the semifinals versus the Georgia Blazers that he can put up points in a hurry. The 6-foot-4, 189-pounder has a very impressive offensive arsenal that includes unlimited range from 3, a solid pull-up floater in the lane and a knack for drawing contact to get to the charity stripe, which is the sign of a great scorer.
Like Rivers, Beal is the Eagles' No. 1 option, but their games are very different. While Rivers creates his own shots, Beal needs to work to get open and relies on his players to get him the ball. But when he gets the ball with just a little bit of time and space, you can pretty much count it. He has good size (6-4, 177 pounds), great elevation and NBA range on his 3s. It is important to point out that Beal has worked on his dribble-drive game this season and has made some impressive passes in this tournament. He has also shown the ability to grab a rebound and go coast to coast.
While Rivers and Beal are the clear superstars of their teams, neither is without a solid supporting cast. Trevor Lacey (Huntsville, Ala./S.R. Butler), the No. 23-ranked player in the 2011 class, has become a tremendous second option for Each 1 Teach 1. He is a big, strong guard who can shoot the 3 and knows how to play with Rivers. Ben McLemore (St. Louis/Eskridge), the No. 9-ranked player in the 2011 class, is Beal's partner in crime. McLemore is a freakish athlete and big-time scorer. He can be a bit of a streaky shooter, but look out when he gets it going.
While McLemore is a great second option for the Eagles, point guard Shaquille Boga (Florissant, Mo./McCluer) could be the key to the entire game. He is a great facilitator and does a great job of getting Beal the ball in a position to score. If he get's into foul trouble, the Eagles will need to find another point and may even put Beal there, which would hinder his best attribute: running through screens and getting open.
Both teams have lots of firepower and it will be an entertaining game to watch. Don't forget, even if St. Louis jumps out to an early lead, which it is prone to doing, no lead is safe with Rivers on the floor.
Paul Biancardi, who has been a head coach and assistant on NCAA tournament teams, is the national director of basketball recruiting.
Basketball Recruiting
National Recruiting Director for ESPN.com
18 years of coaching experience at Division I level
Former Horizon League coach of the year at Wright State
SPONSORED HEADLINES
MORE MEN'S COLLEGE BASKETBALL HEADLINES
MOST SENT STORIES ON ESPN.COM
EDITORS' PICKS
Basketball recruiting's summer headquarters have shifted.
Finkelstein

The top committed recruits of the 2015 class.
Biancardi

Recruiting strategies of Donovan, Calipari.
Finkelstein