Commentary
Bigs take center stage at AAU nationals
Originally Published:
August 2, 2010
By
Adam Finkelstein
and
John Stovall
| ESPN Recruiting
The 2010 AAU nationals are now a thing of the past, as the Boston Amateur Basketball Club (BABC) knocked off All Ohio Red in the final and the Arkansas Wings defeated the Rising Stars for the bronze medal.
Here are five things we learned from the AAU nationals.
Think big in 2012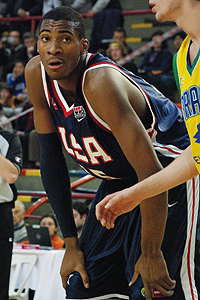 USA Basketball In the Big East, Drummond's true on-court persona will be revealed.
It is already better than the 2011 class in terms of post players and has at least 40 bigs with high-major potential. This depth is made evident by one player: Mitch McGary (Chesterton, Ind./Brewster Academy). The 6-foot-10, 225-pounder, who is re-classifying into the 2012 class, would have been a top-20 post prospect in the 2011 class, but is now probably no better than a top-40 post prospect in the 2012 class.
The 2012 class of bigs is highlighted by seven bigs in the top-10 -- Andre Drummond (Middletown, Conn./St. Thomas More), DaJuan Coleman (Syracuse, N.Y./Jamesville-DeWitt), Khem Birch (Quebec City, Can./Notre Dame Prep), Brandon Ashley (Oakland, Calif./Bishop O'Dowd), Isaiah Austin (Mansfield, Texas/Grave Prep), Daniel Ochefu (Westtown, Pa./Westtown School) and Perry Ellis (Wichita, Kan./Wichita Heights). Meanwhile, the 2011 class only has three post players in the top-10 overall -- Quincy Miller (North Chicago, Ill./Westchester Country Day School), James McAdoo (Norfolk, Va./Norfolk Christian) and Rakeem Christmas (Philadelphia/Academy of the New Church ).
Winning strategy
At this point in the summer it becomes apparent that the winning teams have a few elements in common:
• Good team chemistry: teammates understand their roles and work to fulfill those roles in order to win games, even if it may not lead to great individual statistics.
• They play hard, defend and share the basketball. Competing is a prerequisite for success in every sport, but defense wins games in basketball.
• Teams that have kept their rosters pretty much the same from year to year leads to better team chemistry and cohesiveness.
Noel's block party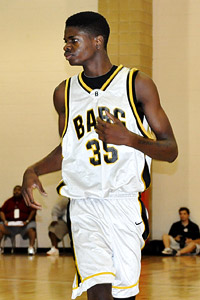 Mike ScottClass of 2013 center Nerlens Noel is already drawing comparisons to a young Patrick Ewing.
In the 2013 class, one big man is setting himself apart, especially on the defensive end. Nerlens Noel (Everett, Mass./Everett) put on a defensive clinic last week for BABC on the way to the team's national championship. The 6-foot-10 post player is heading to the Tilton School to reclassify into the Class of 2013. With the move, Noel becomes one of the best post players in the 2013 class. He is already one of the best overall shot-blockers in the country, regardless of class. Noel has quick bounce, precise timing, great mobility and uncanny instincts. He had 20 blocks in one game earlier this week and took over during the last two minutes of the final, blocking four shots including two potential layups to save the title for BABC.
Fatigue setting in
It has been a long summer. Most players play just over 100 games over the course of the spring and summer, 30 of which come during July alone. As the final month comes to an end, the level of play begins to deteriorate. The players are still competing and playing hard for the most part, but the execution and the ability to finish plays is what tends to suffer. Many players lose their legs and struggle to score because of fatigued, which makes for low shooting percentages and lower scoring games.
Importance of long-range shooters
One thing that was hard to find this week were knock-down shooters. While it seems there are more and more guys who are "capable" from long range, there are definitely fewer and fewer who specialize in that area. Consequently, the teams that do have a knock-down shooter that can space the floor, have a distinct advantage and it was no surprise that many of those players could be found on teams that advanced deep into the playoffs. BABC had Jaylen Brantley (Springfield, Mass./Springfield Central) and All-Ohio Red had Jake Kretzer (Waverly, Ohio/Waverly). Plus, the Rising Stars made a surprise run to the semifinals by spacing the court with four shot-makers at one time.
Adam Finkelstein is a frequent contributor, both in player evaluations and event coverage, to ESPNU's recruiting coverage. John Stovall is a recruiting coordinator who has worked as director of scouting for Prep Spotlight Scouting Service and magazine for 15 years.
Covers college basketball recruiting
Former Division I assistant and NBA scout
Graduate of UConn and the University of Bridgeport
EDITORS' PICKS
What are the top storylines at McDonald's All-American Game.
Borzello

Will No. 4 Malik Newman end up in the SEC?
Borzello

A look at who's coming in for teams who are out of the NCAA tournament.
All teams »
MORE MEN'S COLLEGE BASKETBALL HEADLINES
MOST SENT STORIES ON ESPN.COM