Commentary
No changes at the top
No changes at the top of Terrific 25, but Nerlens Noel and Rodney Purvis start to climb
Originally Published:
September 3, 2010
By
ESPN Recruiting
The top two overall spots in the 2013 class -- PF Julius Randle (Dallas/Prestonwood Christian Academy) and SF Kuran Iverson (Windsor, Conn./Northwest Catholic) -- have not changed, but No. 3 Nerlens Noel (Everett, Mass./The Tilton School) is a newcomer to the Terrific 25 and Rodney Purvis (Raleigh, N.C./Upper Room Christian) jumps up one spot to No. 4. Shooting guard Chris Thomas (Lanham, Md./Princeton Day School) rounds out the top five.
[+] Enlarge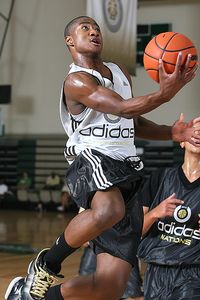 Jack ArentRodney Purvis is ranked No. 4 overall in the 2013 class.
Randle's size, strength and effort make him extremely difficult to guard, which is why he retains the No. 1 spot. On top of his brute strength in the middle, the 6-foot-8, 225-pounder has good hands and can even handle the ball a little.
Iverson impacts the game in a different way. The 6-8, 170-pounder draws comparisons to Antoine Walker and he has the total package from a skill standpoint -- able to shoot the 3, make midrange pull-ups, score with a jump hook on the low post, handle and pass against pressure, and create for himself and others.
Noel was ranked No. 55 in the 2012 class and now he is the No. 2-ranked big man in the 2013 class. The 6-10, 210-pounder is an exceptional shot-blocker who takes away the rim. Offensively, he has some rapidly emerging tools. He gets a ton of dunks inside the paint, both from a guard's penetration and the offensive glass, because he can catch and bounce into a dunk so quickly.
Purvis is the No. 1-ranked guard in this class, which has 10 in the Terrific 25. The 6-3, 185-pounder is physically dominant at his position and is a good passer. Purvis, who plays against older kids at the U-17 level, is hard to guard off the dribble and takes everything to the glass.
Notes
• Including Randle, there are six prospects from Texas in the Terrific 25 and, even more impressive, five in the top 13.
• The Terrific 25 is loaded at power forward (seven) and shooting guard (nine).
• Aaron Harrison (Houston/Strake Jesuit) moves up to No. 8 from No. 14. He does a great job of sprinting the floor in transition for spot-up 3s and he knows how to use screens in the half court.
• Other than Noel, three players are new to the Terrific 25 -- No. 12 Troy Williams (Hampton, Va./Phoebus), No. 13 Matt Jones (Dallas/DeSoto) and No. 25 Stephen Clark (Oklahoma City/Douglas). Williams is a skilled wing player with a scorer's mentality. Jones has a beautiful shot and is often Randle's sidekick. Clark is a 5-8 point guard who can really shoot.
Just missed the Terrific 25
Here is a look at five players who are on the cusp. It is important to point out, however, that any of these prospects could vault himself into the rankings.
[+] Enlarge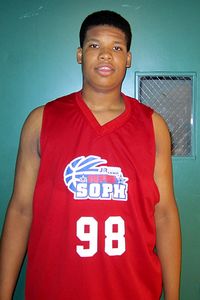 Casey WeitzelKennedy Meeks was the best true post player at the Super Soph Camp in Cleveland.
Kennedy Meeks (Charlotte, N.C./West Charlotte)
PF, 6-foot-8, 240 pounds | College: Undecided
He is a wide-bodied post player with great footwork. Meeks is comfortable in the paint, can shoot midrange jumpers and is a terrific area rebounder on both ends of the floor.
Greg McClinton (Winston-Salem, N.C./Winston-Salem)
SF, 6-6, 175 pounds | College: Undecided
He is a long combo forward with good skill level but needs to get stronger. McClinton has size, athleticism and an improving 3-point shot.
Brian Bridgewater (Baton Rouge, La./Episcopal)
SF, 6-5, 230 pounds | College: Undecided
He is a big, strong undersized power forward. Bridgewater is a very good rebounder, and his strength makes him tough to guard.
Roschon Prince (Long Beach, Calif./L.B. Polytechnic)
SF, 6-5, 190 pounds | College: Undecided
The one thing that stands out about Prince is his attitude. He never shows his emotions and plays harder than a lot of the other kids in the 2013 class.
Marc Loving (Toledo, Ohio/Saint Johns)
SF, 6-8, 200 pounds | College: Ohio State
He is a very long, skilled combo forward with a feathery touch out to 20 feet.
Paul Biancardi, Adam Finkelstein, Joel Francisco, Michael LaPlante, Reggie Rankin and John Stovall contributed to this piece.
ESPN Recruiting's Latest Rankings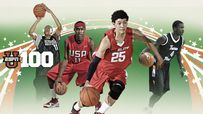 Austin Rivers surpasses Michael Gilchrist for the No. 1 spot in the ESPNU 100 thanks to his dominating play and accolades this summer.
ESPNU Top 100
|
Super 60
|
Terrific 25
Class of 2011
Class of 2012
Class of 2013
MORE MEN'S COLLEGE BASKETBALL HEADLINES
MOST SENT STORIES ON ESPN.COM