Commentary
Hoophall Classic recap
Originally Published:
January 18, 2011
By
Dave Telep
| ESPN Recruiting
SPRINGFIELD, Mass. -- The Hoophall Classic, which is one of the biggest stages for a high school basketball player, featured an abundance of talent including Kentucky signees Michael Gilchrist (Somerdale, N.J./St. Patrick) and Anthony Davis (Chicago, Ill./Perspectives). At the event, we learned some guys are more cut out than others once the bright lights are flicked on and the curtain goes up.
Top performers
[+] Enlarge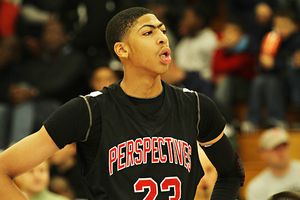 Brendan NolanKentucky signee Anthony Davis is the No. 2 overall player in the 2011 class.
Anthony Davis
2011, PF, 6-foot-10, 200 pounds
Not much has changed since the summer. He's the guy we thought he was and evaluating him under the circumstances (his high school team doesn't have much talent) is difficult. Like a lot of bigs in this situation, he came out strong early, picked up fouls and had to adjust his game accordingly. Davis is silky smooth and his touch around the cup and on the perimeter is advanced. A great argument can be made that he is the best long-term prospect of the bunch because he's had the least development and exposure to the elite level. The most impressive part of his senior season is that despite what happens around him on the floor, he keeps an even temperament, doesn't blame his teammates and marches on, taking care of business. Davis sprained his thumb and missed a portion of the final quarter, but finished with four fouls, 30 points, 16 boards, 8 turnovers and 7 blocks.
Michael Gilchrist vs. Shabazz Muhammad
The top two small forwards -- one a senior and the other a willing junior apprentice -- matched one another and it was quite the show. Gilchrist is everything you've read about him -- a hard-playing, strong finishing, skilled transition player who is armed with an intense desire to win. On the high school and soon-to-be college levels, he'll be a beast and nearly knocked Bishop Gorman out himself. However, his hard play inspired Muhammad (Las Vegas/Bishop Gorman) in the second half and he raised his level of play. The lefty, who operates almost exclusively on left side, went to work. He finished with 28 points; Gilchrist with 27. From this seat, it was teacher versus student.
Tony Wroten Jr. vs. Wayne Blackshear
These two very highly regarded players are polar opposites. Blackshear (Chicago, Ill./Morgan Park) is a scorer. Slice him open, check his DNA and you'll find that he's wired to get buckets. He will pop it deep and is underrated once he gets in the lane; he can finish. Wroten (Seattle, Wash./Garfield) continues his physical recovery from a major knee injury. Despite a huge national reputation early, he's less known for his scoring and is a transitional prospect, now considered a point guard. Without a big man, he's limited. However, he can pass and when he eliminates the flash as Washington will coach him to do, the Huskies will have a facilitator on offense. Wroten shot 21 free throws and made 15 to finish with 23 points, 7 boards, 5 assists and 4 turnovers. Blackshear had 26, missed a portion of the first half with a knee injury and went 10-for-17 from the field. Bottom line: Both need a middle game and we bet each finds his way into the McDonald's game; Blackshear for sure since game is in Chicago. Edge: Blackshear (now) with Wroten (future) perhaps surpassing him in the long term.
Nick Johnson vs. Michael Carter-Williams
Everything about this matchup made it intriguing. Johnson (Phoenix, Ariz./Findlay Prep), an athlete and noted shooter, was checking Carter-Williams, a slender playmaking combo with a scorer's touch. Carter-Williams (Barrington, R.I./St. Andrews) didn't receive much assistance but fared exceptionally well. Findlay Prep threw multiple defenders at him and began with Johnson. The Arizona signee (Johnson) made the Syracuse signee work not just for his buckets for his looks. It was a high-level situation and a great evaluation setting in which both players demonstrated their skills and played well. They are different style wings as Carter-Willams is a crafty guard who scores from all areas on the floor. Johnson is at the rim or behind the line with explosive athleticism.
LaQuinton Ross (Jackson, Miss./Life Center)
2011, SF, 6-8, 200 pounds
His high school career has been a roller coaster as early expectations contributed to a bar that was difficult to reach. As his career winds down, he can look back at this event and know what his true ceiling is. In a win over St. Mark's, the Ohio State signee scored 21 points in the first half, 26 for the game. In the first half he was stroking catch-and-shoot 3s; in the second he offered resistance against Kaleb Tarczewski (Southborough, Mass./St. Mark's) in the post. He should walk away from this event feeling good about the effort and holding himself accountable to replicate it.
Shannon Scott vs. Quinn Cook
These two point guards, behind the scenes, may be battling for the same spot in the McDonald's game. Cook (Hyattsville, Md./Oak Hill), regarded as the higher-ranked player, watched Scott (Alpharetta, Ga./Milton) get his team and himself out of the gates quickly. Scott was in command of his team and his 22 points and 3 assists set a tone in the game. Cook doesn't have the same explosion in his game and struggled to a 5-for-19 effort. The knee injury he suffered in late August at the Elite 24 seems to have limited his speed and explosion. In the matchup, the win and the head-to-head battle tilted in favor of Scott. The future Buckeye is having a stupendous senior send-off.
LeBryan Nash (Dallas, Texas/Lincoln)
2011, SF, 6-7, 230 pounds
He's the best to lace them up for Lincoln since Chris Bosh led the club to a state title and undefeated season. Nash is better than his current ESPN ranking which we'll adjust on Jan. 25. The Oklahoma State signee is a unique conglomeration of size, strength, power, explosiveness and skill. On the court he owns a nasty streak. Bosh left big shoes to fill earlier in the decade but Nash is carving out his own identity.
Dai-Jon Parker (Alpharetta, Ga./Milton)
2011, SG, 6-2, 185 pounds
The Vanderbilt signee has so much athletic ability and natural talent that he can't help but have a great college career. He tracks as an impact defensive player. Offensively, he can switch between scorer and creator and actually is more apt to see the floor and make a good pass than dominate a game in the points column. He's truly a versatile high-major player and a guy Kevin Stallings will put on the other team's best player.
[+] Enlarge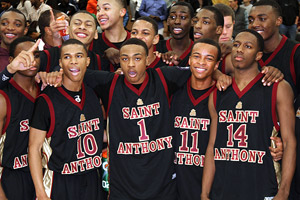 Brendan NolanMyles Mack (No. 1) is the No. 85 overall player in the 2011 class.
Myles Mack
(Paterson, N.J./St. Anthony)
2011, PG, 5-9, 155 pounds
Mack busted up DeMatha in a TV game. Here's the deal on Mack: He's a natural scorer with point guard size. By scorer, we mean fearless shooter with range. He's improving as a distributor but will always be a threat to catch fire. The Rutgers commit will be one of the smaller points in the Big East and on occasion will have his hands full defensively. Having said that, his guts, range and competitiveness are exactly what the Scarlet Knights need. Look for him to be part of the fabric of the rebuild.
Dezmine Wells (Raleigh, N.C./Hargrave Military)
2011, SF, 6-5, 220 pounds
Hargrave made short work of St. Thomas More and Wells ended any hope of STM's comeback. He crushed a pair of dunks that were showstoppers. Wells would have terrorized the SEC or ACC with his athleticism, so consider the A-10 warned. He's a midrange jumper away from being a complete weapon at the small forward. If Xavier had a football team, he'd be a two-way star.
Surprise player
Nikolas Stauskas (Toronto, Can./St. Mark's)
2012, SF, 6-6, 185 pounds
Lately he seems to be stringing together more games with good success from deep. Stauskas elevated himself as one of the top shooters in his class (he front-rimmed a game winner here). We tag him as a small forward because should he go to the highest level in college, his defensive assignment is likely to be the third perimeter player.
All eyes on these underclassmen
Andre Drummond (Oakdale, Conn./St. Thomas More)
2012, C, 6-10, 275 pounds
The bar is so high that anything but complete and total domination of other high school players means he was merely average. Drummond's team got drilled, but he displayed NBA talent by going 6-for-12 with 13 points, 10 rebounds and a forceful lefty putback dunk in traffic. It will be tough for anyone to supplant him as the best prospect, yet there remains room for him to keep developing his game, especially when it comes to consistent, focused effort.
DaJuan Coleman (Dewitt, N.Y./Jamesville-DeWitt)
2012, C, 6-10, 280 pounds
You do not want to enter in this big fella's personal space. As much as any big man in the junior class, Coleman owns his area. He's paid attention to his conditioning and we think he is coming into his own as a Zach Randolph type in the lane. Coleman posted 23 points and 20 rebounds in a statement game on Sunday. When he catches it in the money spot, within eight feet of the bucket, he is outstanding at finishing. High school kids head for the hills when he makes his intentions known for a rebound.
Notes
• Damien Wilson (Austelle, Ga./Oak Hill Academy) said he would like to attend college with William Goodwin (Decatur, Ga./SW DeKalb) and Jordan Adams (Atlanta, Ga./Oak Hill). Wilson is getting recruiting interest from Georgia, Wake Forest, UCLA and Memphis in addition to "the whole SEC."
• Kris Dunn (New London, Conn./New London) is a point guard in progress. A good body, he's a shot-maker we think could forge an identity as a lead guard going forward. He's only a junior, so we'll check him closely and project him as a strong mid-major prospect provided he begins to pay attention on defense. Rhode Island is his most ardent pursuer. He also has offers from Massachusetts and Delaware State. Connecticut, Pittsburgh and Boston College are also looking.
• Colorado-bound point guard Spencer Dinwiddie (Woodland Hills, Calif./Taft) controlled the game in a win over Mount Vernon with 11 assists. For the Buffs, expect a lead guard with size and creating abilities who will need a year to strengthen his offensive game and become more of a threat to get by his man off the bounce. He has a nice ceiling and will grow into his role.
• Billy Garrett (Chicago, Ill./Morgan Park) is a name to watch in the 2013 class. His father is an assistant at DePaul and Billy is a tall point guard with excellent size and poise.
• Sidiki Johnson (Brooklyn, N.Y./Oak Hill) isn't healthy enough to play yet. The Arizona signee tried to play on Saturday but the broken fifth metatarsal bone is not fully healed and his mobility is affected.
• Damion Lee (Baltimore, Md./St. Thomas More) visited Northeastern recently. Last year, he inked with Towson but opted for the prep route. Drexel, Tulane, Bradley and Loyola Marymount are committed to recruiting him.
• Pat Connaughton (Danvers, Mass./St. John's Prep) made them when they counted and scored 19 in a win. He was active on both ends with 6-of-21 shooting and 13 rebounds.
• Findlay Prep junior post man Landen Lucas hails from Oregon. His father hooped for the Ducks. Duke tossed a call his way this month and in addition to the Ducks, Oregon State, Arizona State, Arizona and most of the Pac-10 is on him. Harvard slid into the building the other day to spy on him.
• We close with a mention of Antoine Slaughter (Brooklyn, N.Y./Boys & Girls). Slaughter's floater with 2.1 seconds remaining closed out Academy of New Church in a TV game.
Dave Telep is the senior basketball recruiting analyst for ESPN.com. His college basketball scouting service is used by more than 225 colleges and numerous NBA teams. He can be reached at espndt@gmail.com. Don't forget to follow him on Twitter.
SPONSORED HEADLINES
MORE MEN'S COLLEGE BASKETBALL HEADLINES
MOST SENT STORIES ON ESPN.COM
EDITORS' PICKS
Who are the best defenders in the class of 2015?
Biancardi

How has Texas A&M built its loaded class?
Borzello

UCLA has two critical weekends coming up for official visits.
Finkelstein