Commentary
Purdue, Indiana starting early
Recent Purdue pledge continues a trend of programs in Indiana landing underclassmen
Originally Published:
February 16, 2011
By
Dave Telep
| ESPN Recruiting
There isn't another state in America that has embraced the early commitment trend like Indiana. With Purdue's addition of 2013 small forward Basil Smotherman (Indianapolis, Ind./Heritage Christian) on Wednesday, the Boilermakers have three commits in that class alone and six underclassman pledges overall. Not to be outdone, Indiana University has eight underclassman pledges of its own.
[+] Enlarge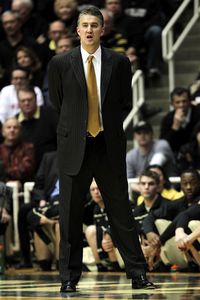 AJ Mast/Icon SMIPurdue coach Matt Painter has already added three commits to his 2012 class and three to his 2013 class.
The Boilermakers are so far out in front of the pack -- as is rival Indiana -- that Matt Painter's team had the ability to take the first player from a group of three -- Smotherman, Zak Irvin (Fishers, Ind./Hamilton SE) and V.J. Beachem (Fort Wayne, Ind./Harding) -- to join guard Bryson Scott (Fort Wayne, Ind./Northrop) and Kendall Stephens (St. Charles, Ill./St. Charles East) in the Boilermakers' 2013 class. Each had an offer from the Boilermakers and Purdue was in the position where it could recruit Smotherman, Irvin and Beachem equally hard and was willing to take the first player willing to commit. The important aspect of this process is that each was a good fit for Purdue, therefore Painter could use the first come, first commit approach. It also meant the Boilermakers could put a little squeeze on each to nudge the commitment forward, which is also the case with the three 2012 commits the Boilermakers also have.
Down the road, 114 miles away, Tom Crean's Indiana program has also been aggressive early with four pledges in the 2012 class, two in the 2013 class and two in the 2014 class. When it's all said and done the Hoosiers will wind up with a talented collection of kids by the time they are ready to matriculate.
Indiana has received most of the accolades for its recruits and for good reason. Crean has executed his plan and the results are there, but the Boilermakers are not simply reacting to the Hoosiers' recruiting success. Sure, IU's aggressive recruiting put the state and programs that recruit Indiana on alert. Purdue, under Painter, has also been aggressive with underclassmen though not as successful as Indiana at getting kids to pledge early.
Purdue's current senior class, headlined by E'Twaun Moore, Robbie Hummel and JaJuan Johnson, was a product of Painter's commitment to early relationship building. Behind the scenes, Painter was all over the trio as youngsters. The difference between that group and the current crop of underclassmen under Painter is timing. Moore & Co. made Painter wait until the summer of their senior year to pledge, but because of IU's early moves and the commitment climate in the Hoosier State, Painter and Crean are now receiving pledges much earlier.
From an evaluation perspective, it's not about the numbers. Each program will eventually fill its scholarship quota. The big question is: Who got the better players?
Early Commitments
| Year | Purdue | Indiana |
| --- | --- | --- |
| 2012 | 3 | 4 |
| 2013 | 3 | 2 |
| 2014 | 0 | 2 |
Time will tell
The general consensus is that the state of Indiana is in the midst of an outstanding run of talent. Given the depth of its younger age groups, Indiana and Purdue, two programs that value in-state and regional recruiting, seemed predestined to score big classes of local players.
The interesting sidebar to the commitments is within the state, no one is really sure who is the best prospect. Indiana certainly made a strong move when 2013 small forward Collin Hartman (Fishers, Ind./Cathedral) committed in November. He's probably the clubhouse leader as the top committed player in either school's class, but no one can be certain. While we can keep score in terms of the quantity of the pledges, tracking the quality will be an ongoing debate.
Buyer's remorse
Basketball is a business and recruiting, especially in the younger age groups, has its risks and rewards.
"There's always a risk of buyer's remorse," an assistant told ESPN. "You have to project, but what if your projection is the wrong projection?"
A program can achieve momentum (see Illinois under Bruce Weber) by stockpiling pledges of younger players. Fans want to know that their head coach can get the job done. When a school receives a pledge, it's one of those feel-good moments. It's an addictive feeling for a coach and fan base alike.
However, and this is the case with the rash of Purdue/Indiana pledges, not even the staffs can tell you definitively who has the better group. Most of the pledges owned by the schools have played less than half of their high school careers. Players change, mature, improve and in some cases regress.
[+] Enlarge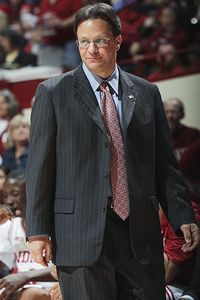 AJ Mast/Icon SMIIndiana coach Tom Crean knows what he wants in a recruit.
When it comes to taking early commitments, the school must be willing to commit to the idea that not every early decision translates into a good player. It's the recruiting equivalent of a roll of the dice. The best way to improve your odds is to know your subject and match him with your program.
Recruit to your profile
The kids who have committed to Indiana and Purdue did not make rash, spur-of-the-moment decisions. These players, in nearly every case, visited the schools unofficially and were courted as if they were older prospects. Homework was done on both sides.
Don't make the mistake of thinking every school in the country understands its brand and the makeup of its program, but in the case of these two schools, there's a defined framework for what makes a Boilermaker and a Hoosier. That profile, created by each head coach, allows the assistants to separate the prospects and determine, through relationship building, which players are the best fit.
"The most important part is understanding the type of kid you're getting," an assistant said. "You may not know what they're going to look like but you know they're going to buy into what you're trying to do."
Who stays hungry
From a player's standpoint, the stress of the actual college decision is over. Fourteen players know where they will play their college basketball. In some cases, there's a natural tendency to relax, while others do the opposite and set out to improve their stock. This talent race is so close that the ultimate winner will be decided on the courts. We'll learn a lot about these committed players by determining which ones remain hungry and strive to improve.
For the players committed to Indiana and Purdue, the challenge is raising their level of play so that their head coach doesn't have to sit in the stands next summer and experience remorse from taking an early pledge.
The schools, believe it or not, can help this happen. Wise programs will weave the committed players into the fabric of their programs. They'll share scouting reports, enlist the help of the player to recruit other kids and make the committed prospect feel as if he's already on the team. By doing this, the relationship strengthens and the level of communication becomes more direct and honest. If a college coach can speak frankly to his recruit it helps the player improve and can be a significant confidence builder.
Dave Telep is the senior basketball recruiting analyst for ESPN.com. His college basketball scouting service is used by more than 225 colleges and numerous NBA teams. He can be reached at espndt@gmail.com. Don't forget to follow him on Twitter.
SPONSORED HEADLINES
MORE MEN'S COLLEGE BASKETBALL HEADLINES
MOST SENT STORIES ON ESPN.COM
EDITORS' PICKS
How did Ben Simmons become the No. 1 prospect?
Biancardi

How does Cincinnati find the perfect prospects?
Finkelstein

The National High School Hoops Festival drew plenty of attention. What stood out most?
Jeff Borzello