Commentary
King James Classic recap
Kenny Kaminski, Devontae Watson and Terry Rozier highlight a loaded field
Originally Published:
April 25, 2011
By
John Stovall
| ESPN Recruiting
AKRON, Ohio -- The annual King James Shooting Stars Classic has become one of the key events of the spring travel team circuit. This year's event did not disappoint and was loaded with top-level talent in all age groups.
Standout players
[+] Enlarge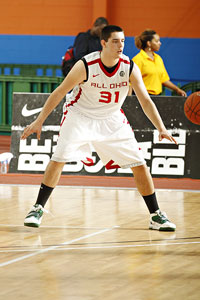 Andrew Shurtleff for ESPN.comKenny Kaminski has already decided to play his college ball for Michigan State.
Kenny Kaminski (Medina, Ohio/Medina Senior)
2012, PF, 6-foot-7, 230 pounds | Team: All Ohio Red
College: Michigan State
Kaminski is probably the best pick-and-pop player in the 2012 class thanks to his tremendous shot with range to 22 feet. His action at the top of the key is one of the main weapons for his All Ohio Red squad. He is also tough and has added enough low-post moves to keep you honest. He should be a true asset for Michigan State in a couple of years.
Torian Graham (Raleigh, N.C./ Word of God)
2012, SG, 6-4, 200 pounds | Team: D.C. Assault
College: Undecided
He is one of the most explosive and talented wings in the 2012 class. He has top-shelf athleticism and is definitely wired to score, but his only issue is that he does not bring it all the time. Graham is a streaky shooter with range to 22 feet, but will be a highly-ranked player just off his talent and athletic ability. When he learns to continually be dialed in, he could be playing in next year's McDonald's game.
Devonte Pollard (DeKalb, Miss./Kemper County)
2012, SF, 6-7, 200 pounds | Team: Southern Phenoms
College: Undecided
The lefty makes quick moves in the post over his right shoulder and steps out comfortably to about 17 feet and can line up a 3 with time and space. Pollard is also a coast-to-coast threat after he cleans the defensive glass. He is active and aggressive on both ends of the floor and has great upside. Mississippi, Mississippi State, Georgetown, Marquette, Kentucky, LSU and Alabama are all on the list of the athletic power forward who is a true matchup problem.
Matt Costello (Linwood, Mich./Bay City Western)
2012, PF, 6-9, 220 pounds | Team: ACB Bank Hoops
College: Michigan State
The future Spartan has good size, strength, competitiveness and matching skill. He has a nice feel in the low post and displayed a nice spin move and touch on both sides of the rim. Costello can also knock down face-up jumpers with range to the arc, which makes him perfect for pick-and-pop situations. Costello runs the floor and can finish drop-off passes above the rim. Costello will give coach Tom Izzo many options in the Spartans set plays.
Jordan Goodman (Jacksonville, Fla./Arlington Country Day)
2012, SF, 6-9, 205 pounds | Team: D.C. Assault
College: Rutgers
He is one of the most skilled high-post power forwards in the class who is thin, but long and athletic. Goodman is a very good scorer offensively and is a streaky shooter with range to 20 feet. He tossed in 28 in a loss in the U-17 championship were he showed the entire package. Goodman has committed to Rutgers were he should have an impact from Day 1.
Terry Rozier (Shaker Heights, Ohio/Shaker Heights)
2012, PG, 5-11, 165 pounds | Team: All Ohio Red 17's
College: Undecided
Rozier led All Ohio Red to the U-17 championship by scoring 16 in the finals and hitting some key baskets along the way. He has really improved his game in the last year and is one of the fastest rising players of the spring. He is long with very good athleticism and has the ability to get his own shot. He is also a good finisher in transition whose stock should continue to rise over the summer.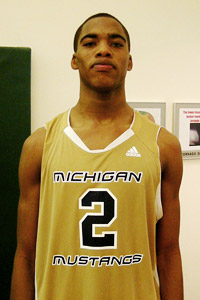 Reggie RankinJavonte Hawkins is already drawing comparisons to Richard Hamilton.
Javonte Hawkins (Flint, Mich./Powers Catholic)
2012, SG, 6-5, 200 pounds | Team: Michigan Mustangs
College: Undecided
Hawkins is a true shooting guard who is long and very athletic. He sprints the floor, where he is a threat to knock down NBA-range jumpers without hesitation. He also has the first step to get to the rim and finish in traffic or draw the foul. Hawkins will not hesitate to post a smaller defender and simply elevate over him. He competes and has a great motor as well. Hawkins has the length and athletic ability to defend both wing positions. He reminds us of Richard Hamilton and has West Virginia, Michigan, USC, DePaul and Arizona State on his list, among others.
Surprise players
Devontae Watson (Midland, Pa./Lincoln Park)
2012, C, 6-10, 205 pounds | Team: King James Shooting Stars
College: Undecided

Watson is a very intriguing prospect. The long, athletic center is very raw and is a good shot blocker who can also change shots at the rim. He can be a little lazy at times, but can really run the floor when motivated. He is developing offensively, but has a couple of rudimentary post moves. He can score over his left shoulder, finish dump-off passes inside and has great upside.
Deonte Hearns (Viera, Fla./Viera)
2012, PF, 6-6, 210 pounds | Team: Florida Assault/Showtime Ballers
College: Undecided
The hard playing combo forward is at his best as an undersized power forward, where he can use his quickness and athleticism to out maneuver bigger opponents inside. He is too quick for other post players to guard so he scores well inside. He can also put the ball on the floor some to score. Overall, he is a solid prospect for any mid-level to mid-level-plus school.
R.J. Curington (Dyer, Ind./Oak Hill)
2013, SG, 6-4, 190 pounds | Team: CIA Bounce
College: Undecided
He is a very athletic wing who has really stepped up his game. He was a reserve this year for Oak Hill Academy, but look for him to break out this coming season. He is a solid, athletic slasher who can explode in the paint and is a streaky shooter. Curington also had one of the best dunks we saw all weekend.
Mike Hall (Atlanta, Ga./Woodward Academy)
2012, PF/C, 6-10, 195 pounds | Team: World Wide Renegades
College: Undecided
Hall is an extra long and lean power forward who has very good mobility and skill. He runs the floor extremely well, can finish drop-off passes above the rim and knock down open jumpers very comfortably to about 18 feet. Hall uses his length and athletic ability to rebound and contest shots in and out of his area He also is a very disciplined shot blocker because he rarely went for the first shot fake. Hall must add strength in order to hold the ball in traffic and his low-post position, but he has tremendous upside. He reminds us of a young JaJuan Johnson, the former Purdue star, is being recruited by Georgia Tech, Virginia, Clemson, Georgia and Auburn, among others.
Richard Lee (Oakland Park, Fla./Northeast)
2014, SG, 6-2, 180 pounds | Team: Breakdown
College: Undecided
Lee displayed an excellent midrange game in limited time. He sprints the outside lane and can get to the rim, if not identified by the transition defense. His pull-up jumper is smooth and confident. He is a good rebounder for a guard and can push the ball and put immediate pressure on the defense. He is young, but doesn't get rattled and is a threat to score every time he touches the ball. Lee has offers from Florida, Florida State. Alabama, Miami, Virginia Tech, West Virginia and FIU are also watching very closely.
Players to watch
Nate Britt (Washington D.C./Gonzaga College)
2013, PG, 5-11, 165 pounds | Team: D.C. Assault
College: Undecided
He is a tough-minded playmaker at the point guard spot. The lefty is a solid shooter with range to 19 feet who can penetrate to score or find an open opponent. He also gives good effort on defense and shows solid leadership skills. Overall, Britt is one of the top point guards in the 2013 class.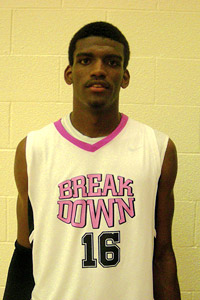 Reggie RankinVirginia Tech has offered Demetrius Henry, while Alabama, Florida State, Florida and South Florida are still checking him out.
Demetrius Henry (Miami, Fla./Northeast)
2012, PF/C, 6-8, 210 pounds | Team: Breakdown
College: Undecided
Henry is an active power forward who competes on both ends of the floor with energy and urgency. He runs consistently on the break and can finish above the rim by out-running other posts or when he receives drop-off passes created by dribble penetration. He is also a good area rebounder who cleans up the glass and can hit open jumpers with time and space out to 16 feet.
Tyler Scott (Monroeville, Pa./Gateway Senior)
2012, SF/SG, 6-5 | Team: King James Shooting Stars
College: Undecided
The skilled combo guard is a solid athlete who has a good scoring mentality. He can disappear at times, but is one of the top performers for the King James U-17 squad. Scott is a nice shooter with range to 20 feet and a solid handle, which lets him get to the cup. He also uses his athleticism to be a decent rebounder for a wing player who should have a good spring and summer being one of the main cogs for the King James squad.
Jeremy Miller (Milton, Mass./Milton)
2014, C/PF, 6-9, 205 pounds | Team: Expressions Elite 15's
College: Undecided
Miller led his team to the U-15 championship in a win over King James. Right now, he is raw but shows real flashes of brilliance and is one of the top big man prospects in the 2014 class. Big men are tough to evaluate at this age because they are usually not very productive as their bodies are not totally mature and coordinated yet. However, Miller has nice touch with the ability to block shots, rebound and score inside. He has solid hands and feet and will be a well-known commodity soon.
Victor Dorsey (Akron, Ohio/St. Vincent-St. Mary's)
2014, PF, 6-7, 205 pounds | Team: King James Shooting Stars College: Undecided
He is a skilled big man who may even develop into a small forward down the road, but is best as a high-post 4 man right now. Dorsey has solid skill and can put the ball on the floor some in order to create his own shot in small spaces. Dorsey, who has nice length and athletic ability, has a very good upside and is already starting to be productive.
Jordan Green (Lexington, Ky./Henry Clay)
2014, SF, 6-5, 190 pounds | Team: King James Shooting Stars
College: Undecided
He is an ultra-skilled perimeter player who can literally play all 5 positions on the floor right now. He plays on the perimeter for King James, be it on the wing or handling the point position. Green is a good ballhandler and a solid shooter. As he continues to grow and improve, the sky is the limit for this multidimensional player.
Notes
• The U-17 division was won by All Ohio Red, which defeated D.C. Assault, 74-66. Rozier led a balanced All Ohio attack with 16. 2012 PG Jordan Potts (Columbus, Ohio/Northland) added 12. Goodman led D.C. Assault with 28.
• The U-16 divison was won by All Ohio Varsity, which bested the Kevin Martin-sponsored, Ohio based Martin's Wolverines 63-44. 2013 PG Jack Gibbs (Westerville, Ohio/ North) led AOV with 25. 2013 wing Deondray Martin (Lima, Ohio/ Senior) and 2013 PG Randy Clarkson (Columbus, Ohio/ Brookhaven) each added 11.
• The All Ohio Varsity team is one of the toughest teams on the circuit. It simply out-efforts and out-hustles its opponents. The team's best prospects are Gibbs, a tough bulldog of a guard and 2013 PF Marquiez Lawrence (Columbus, Ohio/ Marion Franklin), who is a developing super long shot blocker and scorer inside.
• People who really follow high school basketball may remember a 6-8 power forward who played for the University of Cincinnati and had one of the best freshman seasons in history in the early 90's -- Dontonio Wingfield. His son is a sophomore in Ohio and is making a name for himself. D.J. Wingfield (Cincinnati, Ohio/ Lockland) is a 6-4 wing who is a developing talent.
• 2012 PG/SG Marcus Maye (Palm Bay, Fla./Holy Trinity) is a super strong athlete who sets the defensive tone with his intense ball pressure. He has quick hands and great lateral foot speed. The elite level cornerback and safety on the football field also doesn't hesitate to give up his body for a charge. Maye is being recruited by Florida State, Texas A&M, Nebraska, Central Florida and Miami for basketball and Florida State, Florida among others in football. Maye would fall under the category of defensive specialist.
John Stovall, a recruiting coordinator, has worked as director of scouting for Prep Spotlight Scouting Service and magazine for 15 years. Reggie Rankin contributed to this piece.
EDITORS' PICKS
Diamond Stone will give Maryland an immediate boost.
Rankin

A look at who's coming in for teams who are out of the NCAA tournament.
All teams »

Can the elite teams lure No. 6 Ivan Rabb from California?
Borzello
MORE MEN'S COLLEGE BASKETBALL HEADLINES
MOST SENT STORIES ON ESPN.COM