Commentary
Take lessons from the Final Four
Watch and learn to become a better player
Updated:
March 31, 2010, 12:17 PM ET
By
Mark Lewis
| HoopGurlz
Its spring and love is in the air. At least until the Final Four is over, anyway. Obviously I'm not talking about romance. I'm talking about basketball and I'm starting to think that some young players are not being faithful.
[+] Enlarge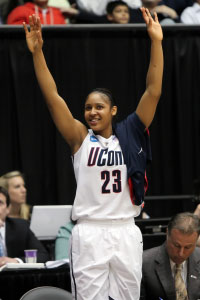 Scott Terna/US PresswireWant to be a better player? Learn what sets Maya Moore apart.
You have to work at and pay attention to the love of your life if you're going to have a rewarding relationship. Basketball can be a demanding partner. It seems today that the willingness to spend time in the gym or studying and following the game is taking a backburner to simply playing games.
What do you hear college recruiters claim is missing? Focused skill workouts in addition to the games and practices of both high school and club teams. One of my favorite questions to ask recruits was always whether or not they were working on their game. All too often I would hear this:
"Oh yeah, I played here or there and then went to this open gym and then we played pick up at these courts."
That's not enough. Although shooting workouts are imperative, so are ballhandling skills, footwork, passing and cutting and a host of other parts of the game that aren't just going to appear come game time.
By the way, when you are shooting, be sure your goal is shots made and not shots taken. It doesn't matter if you got in 500 shots before school if you only made 75. If being late for school creates a little pressure on you to reach your goal -- even better.
Good coaches will tell you that skill development is about repetition. When you're just playing games, you have no control of when or how often a particular skill or situation may come up. Even if it does, you may go back to a bad habit because you're comfortable with it and want to win.
In skill workouts you can create situations and repetitions that will allow you to not only sharpen but become comfortable using whatever fundamental it is that you're working on. Just like with shooting, you set goals for accomplishing something with a specific skill and force yourself do it right time and again regardless of the results. In that setting you don't have to worry about winning or making a big play, just about getting better.
New or advanced skills often require more thought during a game and because of that occur too slow or seem somewhat mechanical. Your goal through individual workouts should be to take that thought and turn it into a reaction that you don't have to think about and can count on at any time.
I'm also surprised by the number of players who really aren't fans of the game. The players who have the most vested interest in the game and who are, in essence, its future, pay little attention to what you would assume is their passion.
As a coach you try to find out an athlete's level of knowledge about the college game during the recruiting process. I'm not talking about the specifics of a particular program or coach but about the game itself and the nuances that make up women's college basketball. Beyond their own recruitment, many prospects actually know very little about the game.
Of course you could argue that "playing" the game is where that passion really lies, but part of excelling at any sport is what you can take from others walking in your own shoes. A young athlete can develop by imitating, learning from and being inspired by players at the highest levels.
TV coverage of both the college and WNBA game continues to grow, along with internet coverage, offering more opportunities to learn basketball from some of the best in a flat-screen classroom.
It's great to know that Maya Moore is a great player or that Brittney Griner is changing the game. But beyond that know what exactly it is that sets Moore apart from the rest or why Griner made such incredible strides in her game since the start of her freshman season. It's not going to put you on the fast track to Connecticut or have you hanging on the rim in Waco but there just might be something that will give you an edge in your next workout or game.
As a player you have a relationship with your sport. You have to work at it and you have to pay attention to it. And just like other relationships you have to give something to get something back from it. Whether it's a person who makes your heart flutter or basketball -- if you just play games, you might end up with a broken heart.
Follow us on Twitter, where you can ask questions and get instant updates.
Become a fan of the site on Facebook and get updates in your news stream.
Discuss this on our Message Board.
Mark Lewis is the national recruiting coordinator for ESPN HoopGurlz. Twice ranked as one of the top 25 assistant coaches in the game by the Women's Basketball Coaches Association, he has more than 20 years of college coaching experience at Memphis State, Cincinnati, Arizona State, Western Kentucky and, most recently, Washington State. He can be reached at mark@hoopgurlz.com.
Women's College Basketball Recruiting
Mark Lewis is a columnist and national evaluator for ESPN HoopGurlz. Twice ranked as one of the top 25 assistant coaches in the game by the Womenís Basketball Coaches Association, he has more than 20 years of college coaching experience at Memphis State, Cincinnati, Arizona State, Western Kentucky and, most recently, Washington State.
SPONSORED HEADLINES
ESPN TOP HEADLINES
MOST SENT STORIES ON ESPN.COM
RECRUITING ADVICE

The recruiting process should be fun, but it can be overwhelming. Mark Lewis, the national recruiting coordinator for ESPN HoopGurlz, and Joy Hollingsworth, Seattle University assistant coach, offer you tips and advice to help you make the most of your recruitment.
HoopGurlz Index
•
Research crime, take safety precautions
•
Don't buy postseason success without facts
•
Pay attention to recruiting classes
•
Embrace the high school experience
•
Step up to deter infractions
•
Keep an open mind during process
•
Overrated recruiting factors
•
Evolution of recruiting process
•
Be cautious about social media
•
Making the most of campus visits
•
Surviving the club circuit
•
Goal-setting can help accomplish dreams
•
Impress scouts, even on a bad day
•
Offensive structure stifling creativity
•
Questions to ask prospective coaches
•
Avoid burnout by finding balance
•
Transfer derby in full swing
•
Tips for spring recruiting
•
Rewards of being a student-athlete
•
Learn from Final Four games
•
Avoid these traps
•
March madness
•
Get the most out of your club season
•
Old-School advice holds true
•
All the world's a stage
•
Train hard to improve your game
•
How many scholarships are out there?
•
Consider junior college options
•
Consistency gets you noticed
•
How to juggle school and sports
•
Tournaments help get you seen
•
Laying the foundation for success
•
Consider all sides before signing early
•
What to remember after tryouts
•
Sometimes it's just about the game
•
The politics of recruitment
•
Success is in the details
•
Advice to juniors: Check out programs
•
Official visits: Timing is everything
•
Picking a college: Finding the best fit
•
Recruiting advice: Consider the source
•
Finding the perfect fit
•
Which school should make the final cut?
•
Seniors should be realistic about options
•
What's in a name?
•
Take time now to avoid transfers later
•
Approach to spring a key for success
•
Watching games at TOC a great idea
•
Nothing as telling as an in-season campus visit
•
Get busy researching rosters and stats
•
Look at scheduling; it's more than wins and losses
•
Be ready for coaching changes this spring