Commentary
Innovative Schimmel unafraid of new moves
Originally Published:
March 11, 2008
By
Glenn Nelson
| Scouts Inc.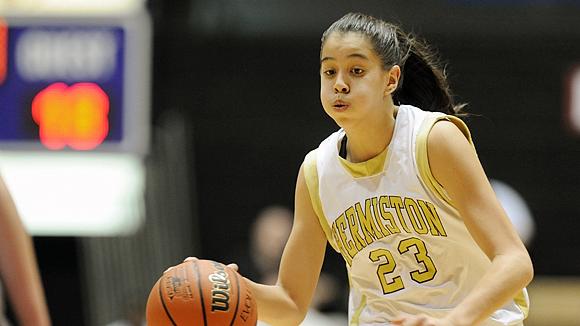 HoopGurlz.com Armed with an ever-growing repertoire, Shoni Schimmel has great feel on the court.
PORTLAND, Ore. -- She conjures visions of Pistol Pete -- that's what everyone says about Shoni Schimmel. Just watch her come cold off the Hermiston High School bench, spin off the dribble and cause a pair of defenders to tumble like bowling pins. Then, with the defenders sprawling, watch Schimmel raise up, five feet beyond the 3-point line, and bury a jumper.
Pistol, all right. Pistol with a ponytail.
Still, Pete Maravich has been dead five years longer than Schimmel has been alive. And invoking his name only underscores the ever widening generational gap between the player and those who seek to categorize her.
And1 mix tapes?
Check.
"I get a lot of stuff from those," says the super sophomore out of Mission, Ore., the tribal headquarters of the Confederated Tribes of the Umatilla Indian Reservation (Cayuse, Umatilla, Walla Walla), over on the eastern part of the Columbia River.
Schimmel is a prodigious collector of basketball maneuvers who has borrowed from wherever and whomever she could, to the point that, shoot, she's just making things up on her own now.
[+] Enlarge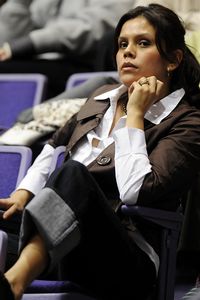 Hoopgurlz.comCeci Moses is determined for her seven children to leave the Confederated Tribes of the Umatilla Indian Reservation.
Her mother, Ceci Moses, remembers the time when Schimmel was in the eighth grade and faked a pass that made an entire 2-3 zone shift. Schimmel had stuck the ball behind her knees, an apparently effective hiding place. She retrieved it and dribbled unabated to the hoop.
"She wows me," Moses says of her daughter. "She's crazy with the things she tries out there."
It's the trying that separates the likes of Shoni Schimmel, the way it differentiated Long Island's Samantha Prahalis, who is taking her show to Ohio State next season. Girl athletes are notorious for avoiding failure by not making the attempt in the first place. Explanations abound for this phenomenon in hoops, though most agree that pickup basketball, the most free-wheeling and experimental version of the sport, is not yet ingrained in girl's culture, robbing it of the best source of trial and error.
Not an issue for Schimmel, who cut her basketball teeth on the reservation. The so-called "rez ball" style is free spirited and encourages creativity. The rez players on Hermiston -- Schimmel, her younger sister Jude, who should be in the 8th grade, and friends Sam McCould and Briana Stacona -- are easily distinguishable by the flair they bring to the floor.
Schimmel first picked up a basketball at four years old and never stopped bouncing it. Moses made certain of that. She decreed that all of her children were free to dribble a basketball -- in the house, no less -- if they desired. That was a decision not to be taken lightly; Moses has seven children -- four boys and three girls.
Then again, Moses never let her children get in the way of basketball. She continued playing at Pendleton High School after giving birth to Shae, her oldest, and Shoni. Her "litter," as she calls her children, was up to four while Moses played at Blue Mountain Community College in Pendleton, Ore.
Moses, who coached Shoni for years on the American Horse club team, is just as determined for her children to leave the reservation, avoid the pitfalls of drugs and alcohol and "make something better for themselves" -- as well as "serve." She is so eager for her kids to leave the reservation, her first two children have made 40-minute (each way) commutes to go to Hermiston. So far, Moses and her husband Rick Schimmel are off to a good start. Shae is a freshman at Oregon and Shoni is well on her way to just about anywhere.
"You don't see girls like (Shoni) come only very often," says Hermiston's Mike Royer, who has been coaching for 27 years. "She's going to go places."
[+] Enlarge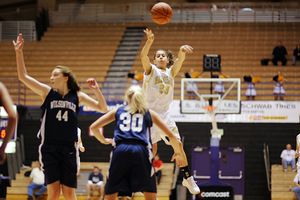 Hoopgurlz.comSchimmel will undoubtedly be one of the most sought-after players on the West Coast in the Class of 2010.
If she had her druthers -- and she very well may -- Schimmel would go to Stanford, where her father went to college. Until she is able to make such a choice, Schimmel will be under siege from college coaches. One coach in attendance at the Oregon 5A state championships, noting he'd once scouted the likes of Allen Iverson on the boys side, said Schimmel sees the floor better than any player he'd seen at her age. Another raved, saying, "She definitely has feel."
Put aside Schimmel's dipsy-do forays to the rim or her threes launched several feet beyond the arc. Her style may sell tickets, even at the high-school level, but it is her uncanny feel that will help win games.
Schimmel has a young player's wont to leave her feet to deliver many of her passes but offsets that vulnerability by seeing a few steps ahead in every developing play. As such, you often will see her throwing passes to a space, where a player should be, or will be, as opposed to straight at a player. She also can put the ball right into the hands of a streaking teammate, even three-quarters to a half-court ahead.
"She is a player you must guard as soon as she crosses halfcourt," says Corvallis coach Joe Williamson, whose team lost to Hermiston in the Oregon State 5A quarterfinals. "If she's open from anywhere, it's a good look for her. But I think where she hurts you most is with the pass. It's not so much the player guarding her you worry about. It's the four other players who aren't guarding her, who are back in good defensive position, but just are not ready for the kind of passes she throws."
She is shifty, combos her dribble moves in ways that don't occur to most and has figured out a way to gather herself, then extend in mid-air to extend her hangtime to often-impressive heights. Schimmel also is 5-foot-9 and long enough to be disruptive on defense. If time confers upon her the mass to withstand the physical punishment certain to be meted out by defenses, particularly at the next level, and she irons out some decision-making quirks, there won't be many, if any, guards better in the 2010 class.
And, oh yeah, as long as there is a television nearby, and a game to watch on it, Schimmel will continue to add to her repertoire of ballhandling wizardry. She'll see something, then go out in the living room -- somewhere in the Moses-Schimmel household -- and master it. She's just not much of an ESPN Classic kind of girl. Pistol Pete? How about LeBron James?
"He's the man," Schimmel says.
She winks. Shoni Schimmel does that a lot. Wink, that is. As if she were sharing a special secret.
She is, after all, full of those.
For more in-depth coverage of women's college-basketball prospects and girl's basketball, visit HoopGurlz.com
ESPNHS HoopGurlz
Founder of HoopGurlz
Coached girls' club, high school and middle school basketball
Co-founder, former editor-in-chief of Scout.com and former NBA columnist/sportswriter
SPONSORED HEADLINES
ESPN TOP HEADLINES
MOST SENT STORIES ON ESPN.COM
EDITORS' PICKS
How did Ben Simmons become the No. 1 prospect?
Biancardi

How does Cincinnati find the perfect prospects?
Finkelstein

The National High School Hoops Festival drew plenty of attention. What stood out most?
Jeff Borzello