Commentary
Hollingsworth: Success is in the details
Updated:
October 28, 2009, 4:27 PM ET
By
Joy Hollingsworth
| HoopGurlz
I once was a 5-foot-9 shooting guard playing travel ball in small, hot gyms across the country. I clearly remember parents in the bleachers yelling, the unique AAU team names and the concession booths selling hotdogs and Red Vines. Walking into the gyms, I would look up in the stands to see all the college coaches decked out in their school gear of crisp polos and cool T-shirts. Trying so hard not to let my nerves make me turn ball over on a 3-on-0 fast break, it was difficult to keep my composure with the pressure of the game, making me sweat through my jersey.
[+] Enlarge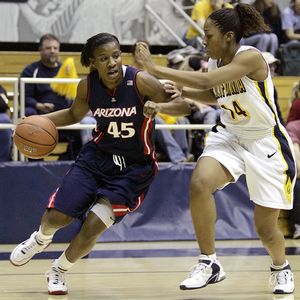 AP Photo/Ben Margot Seattle University assistant coach Joy Hollingsworth, at left during her playing days with Arizona, offers advice for young players: Have fun.
I quickly learned it's the little details that matter the most. Never hung my head, always gave high-five to my teammates and cheered loud while sitting on the bench. Fast-forward 10 years later, and I'm now the one in the bleachers wearing a bright red polo having players trying to impress me.
It was new experience for me to sit with the other college coaches and watch games during the recent fall evaluation period. After the meet and greet of a smile, hug, or head nod, it was time to catch up with old friends, former teammates or coaches and establish new contacts. As I spent the day evaluating players, I was constantly entertained by the athleticism and explosion that comes with youth -- the sweet baby jump shots, tight handles or sticky defense. I'm truly amazed by the way the game has evolved with players running fast as Usain Bolt and jumping high like Nate Robinson.
For a moment, I flash back to my good, old AAU days wishing someone had pulled me aside and spit some words of wisdom my way to better prepare me for this first round of the recruiting process.
Student first, athlete second. Get your grades on point. You can be the best razzle-dazzle point guard or a dominant post player dunking, but if you don't have the grades, you will never set foot on the court. Play smart and invest the same amount of effort in the classroom as you invest in the gym.
Play the game because you LOVE it. Don't play because your mom and dad dragged you on a three-hour road trip to the middle of nowhere to fulfill their lost dreams. Play basketball because you get chills up your spine for an assist or a burst of contagious energy on an And1 tape. Coaches can tell if you're a true "baller."
College coaches look at more than just you on the court. We watch how you treat your parents. Are you the one yelling at Mom for buying the wrong Gatorade, or telling Dad to shut up in the stands? We watch the body language on the bench. Are you slouching, pouting, frowning or standing up and high-fiving your teammate when they sub out? Basketball is just a piece of the recruiting process. We're always watching.
A-plus for Attitude. Get your attitude in check. Leave that trash-talking-potty-mouth-throwing-the-ball-hard-at-the-refs-slouching-in-your-seat-player at home. We don't have time for knuckleheads.
Run back on defense. One of the easiest ways a coach can tell if you have a case of laziness is by the way you run back on defense. Are you walking, jogging or sprinting your butt back? Please don't be the player who walks back on defense as your player scores a fast-break layup. Embarrassing.
In the end, just play, don't think. I can tell you all the tricks and trades of performing well, but if you if you're thinking too much, it will mess you up. If you only remember one thing, just remember to have FUN.
Follow us on Twitter, where you can ask questions and get instant updates.
Become a fan of the site on Facebook and get updates in your news stream:
Discuss this on our Message Board
Joy Hollingsworth is a first-year assistant women's basketball coach at Seattle University. A native of Seattle, Wash., she was a standout guard at Seattle Preparatory High School, earned WCC Freshman of the Year and honorable mention freshman All-American at the University of San Francisco and was a two-year starter and honorable mention All-Pac-10 at Arizona. Hollingsworth played professionally in Greece and earned an M.Ed. from the University of Washington. She can be reached at hollingj@seattleu.edu.
RECRUITING ADVICE

The recruiting process should be fun, but it can be overwhelming. Mark Lewis, the national recruiting coordinator for ESPN HoopGurlz, and Joy Hollingsworth, Seattle University assistant coach, offer you tips and advice to help you make the most of your recruitment.
HoopGurlz Index
•
Research crime, take safety precautions
•
Don't buy postseason success without facts
•
Pay attention to recruiting classes
•
Embrace the high school experience
•
Step up to deter infractions
•
Keep an open mind during process
•
Overrated recruiting factors
•
Evolution of recruiting process
•
Be cautious about social media
•
Making the most of campus visits
•
Surviving the club circuit
•
Goal-setting can help accomplish dreams
•
Impress scouts, even on a bad day
•
Offensive structure stifling creativity
•
Questions to ask prospective coaches
•
Avoid burnout by finding balance
•
Transfer derby in full swing
•
Tips for spring recruiting
•
Rewards of being a student-athlete
•
Learn from Final Four games
•
Avoid these traps
•
March madness
•
Get the most out of your club season
•
Old-School advice holds true
•
All the world's a stage
•
Train hard to improve your game
•
How many scholarships are out there?
•
Consider junior college options
•
Consistency gets you noticed
•
How to juggle school and sports
•
Tournaments help get you seen
•
Laying the foundation for success
•
Consider all sides before signing early
•
What to remember after tryouts
•
Sometimes it's just about the game
•
The politics of recruitment
•
Success is in the details
•
Advice to juniors: Check out programs
•
Official visits: Timing is everything
•
Picking a college: Finding the best fit
•
Recruiting advice: Consider the source
•
Finding the perfect fit
•
Which school should make the final cut?
•
Seniors should be realistic about options
•
What's in a name?
•
Take time now to avoid transfers later
•
Approach to spring a key for success
•
Watching games at TOC a great idea
•
Nothing as telling as an in-season campus visit
•
Get busy researching rosters and stats
•
Look at scheduling; it's more than wins and losses
•
Be ready for coaching changes this spring
MOST SENT STORIES ON ESPN.COM