Commentary
Tips for juggling school and basketball
Updated:
January 6, 2010, 10:03 AM ET
By
Joy Hollingsworth
| HoopGurlz
Basketball is in a full-court press with teams traveling to play cross-town rivals. Add to that a school schedule jammed with finals and papers due. No wonder your life seems out of balance. Here are some things to remember during the season.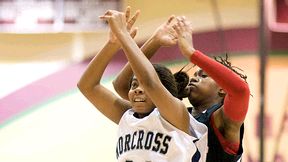 Glenn Nelson Managing school and basketball requires skillful choreography.
Manage your time: Juggling school, basketball, family and a social life can be tricky. If you ever feel overwhelmed, pump the brakes on basketball and focus on school. You're a student first and athlete second. Nothing should ever come before school. Get a monthly planner and write down appointments and events. This will help you make better use of your time.
You're always in uniform: Believe it or not, younger student-athletes aspiring to be future high school and collegiate basketball players look up to you. People will recognize you off the court. Be gracious, stay humble, smile and don't act a fool in public.
Impress scouts: Every now and then you might look up in the stands and see a college coach checking you out. Don't get nervous, get tough! Put your game swagger on high and play hard. This is your chance to impress the scouts and get on their radar.
Do the little things in a game: You're not going to make every shot you take or steal every ball, but you can do the little things that don't show up on the scoreboard. If your game is off and shots aren't falling, why not take a charge? There's nothing more reassuring than getting knocked to the ground and having four teammates run over to pick you up. If you make a bad pass, turn around and get it back on defense. It's the little things that matter the most when you have an "off" night.
Practice outside of practice: If you want to become a better basketball player, the two-hour practice after school will not cut it. Individual skill work is crucial to improving your game. If you want more playing time or you're tired of dribbling the ball off of your foot, stop complaining, and get your butt in the gym.
Parents: Remember to stay positive: I remember how funny it was for my dad to sit in the stands and chew out the refs for 32 minutes and later give me a 30-minute speech about sportsmanship during the car ride home. How embarrassing it is for a kid to have to claim the one parent in the crowd yelling at everyone. Don't be the hot-head parent no one wants to sit near. Give your kid a hug and buy her ice cream after a good -- or bad -- game. Stay positive by any means necessary.
Follow us on Twitter, where you can ask questions and get instant updates.
Become a fan of the site on Facebook and get updates in your news stream.
Discuss this on our Message Board
Joy Hollingsworth is a first-year assistant women's basketball coach at Seattle University. A native of Seattle, Wash., she was a standout guard at Seattle Preparatory High School, earned WCC Freshman of the Year and honorable mention freshman All-American at the University of San Francisco and was a two-year starter and honorable mention All-Pac-10 at Arizona. Hollingsworth played professionally in Greece and earned an M.Ed. from the University of Washington. She can be reached at hollingj@seattleu.edu.
SPONSORED HEADLINES
ESPN TOP HEADLINES
MOST SENT STORIES ON ESPN.COM
RECRUITING ADVICE

The recruiting process should be fun, but it can be overwhelming. Mark Lewis, the national recruiting coordinator for ESPN HoopGurlz, and Joy Hollingsworth, Seattle University assistant coach, offer you tips and advice to help you make the most of your recruitment.
HoopGurlz Index
•
Research crime, take safety precautions
•
Don't buy postseason success without facts
•
Pay attention to recruiting classes
•
Embrace the high school experience
•
Step up to deter infractions
•
Keep an open mind during process
•
Overrated recruiting factors
•
Evolution of recruiting process
•
Be cautious about social media
•
Making the most of campus visits
•
Surviving the club circuit
•
Goal-setting can help accomplish dreams
•
Impress scouts, even on a bad day
•
Offensive structure stifling creativity
•
Questions to ask prospective coaches
•
Avoid burnout by finding balance
•
Transfer derby in full swing
•
Tips for spring recruiting
•
Rewards of being a student-athlete
•
Learn from Final Four games
•
Avoid these traps
•
March madness
•
Get the most out of your club season
•
Old-School advice holds true
•
All the world's a stage
•
Train hard to improve your game
•
How many scholarships are out there?
•
Consider junior college options
•
Consistency gets you noticed
•
How to juggle school and sports
•
Tournaments help get you seen
•
Laying the foundation for success
•
Consider all sides before signing early
•
What to remember after tryouts
•
Sometimes it's just about the game
•
The politics of recruitment
•
Success is in the details
•
Advice to juniors: Check out programs
•
Official visits: Timing is everything
•
Picking a college: Finding the best fit
•
Recruiting advice: Consider the source
•
Finding the perfect fit
•
Which school should make the final cut?
•
Seniors should be realistic about options
•
What's in a name?
•
Take time now to avoid transfers later
•
Approach to spring a key for success
•
Watching games at TOC a great idea
•
Nothing as telling as an in-season campus visit
•
Get busy researching rosters and stats
•
Look at scheduling; it's more than wins and losses
•
Be ready for coaching changes this spring