Commentary
Being yourself can go a long way
Updated:
July 7, 2010, 4:14 PM ET
By
Joy Hollingsworth
| HoopGurlz
Club mania is here. Players soon will begin traveling all across the country to impress college coaches for a spot on a team. There's nothing like being surrounded by talented ballers rocking ponytails and pink t-shirts. I enjoy sitting in the stands, watching players dive on the floor for a loose ball or scream "And-1!" with a fist pump after the whistle blows.
Touring different cities, battling fierce competition, and meeting new friends -- this is summer ball. Looking back, it was difficult containing my nerves and feeling as if I was on an interview from the time I walked on the court to loading the white mini van after the game. My parents paid a ton of money to send me on those trips and in return, I made the best of it. If this is your first or last summer out on the road, here are some tips to make every moment count.
[+] Enlarge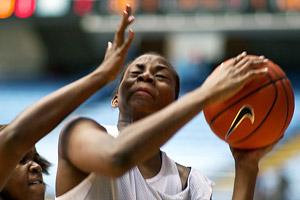 Glenn Nelson/ESPN.com The summer tours can be tough, but it's important to remember to play your game and take care of yourself.
Take care of your body
Running around in piping hot gyms, players often collapse due to poor hydration or get injured because of muscle fatigue. If you're thirsty, you're not staying hydrated enough. Drinking water during timeouts, halftime, and in between games, gives your body the liquid fuel it needs to perform at a high level. You can also ice your knees to refresh your body.
Play your role
Just because college coaches are sitting in the bleachers, it isn't a sign to shoot fade-a-way jumpers or chuck up NBA 3-pointers. Embrace who you are and what you have to offer. If you're the hustler, a shooter, a rebounder, or dribble driver, then be who you are by playing within yourself and the team. Coaches can evaluate your talent, trust me.
Have fun on the court
You might not win every game, but you can bust you butt giving 100-percent effort. Create small, obtainable goals to make games enjoyable. Whether your mission is transition or taking a couple charges, every game has fun moments no matter how lopsided the score.
Make the best of your trip
Have more than just basketball on your mind this summer. Yes, you're there to play ball but take hold of the other opportunities that surround you. Go on a campus tour, visit other universities, and get a feel for the college atmosphere. My mother was the first one off the plane with a map in one hand and a list of "must sees" in the other. Even though my parents dragged me around to every school or historical site, I'm extremely grateful for the exposure.
What Coaches are looking for?
Every college coach has a certain type of player who will fit well within his or her program. You can have all the talent in the world, but if you're grades aren't on point and attitude is in the gutter, you won't find yourself on any team. We want someone who plays hard, has a touch of swagger and leadership qualities.
This should be the time of your life. You have nothing to worry about. The best piece of advice I can give is go out and make moves. If you shoot an air ball or throw a pass that ends up in the bleachers, laugh it off and keep it moving. Good Luck!
Follow us on Twitter, where you can ask questions and get instant updates.
Become a fan of the site on Facebook and get updates in your news stream.
Discuss this on our Message Board
Joy Hollingsworth is a first-year assistant women's basketball coach at Seattle University. A native of Seattle, Wash., she was a standout guard at Seattle Preparatory High School, earned WCC Freshman of the Year and honorable mention freshman All-American at the University of San Francisco and was a two-year starter and honorable mention All-Pac-10 at Ariz
ona. Hollingsworth played professionally in Greece and earned an M.Ed. from the University of Washington. She can be reached at hollingj@seattleu.edu.
RECRUITING ADVICE

The recruiting process should be fun, but it can be overwhelming. Mark Lewis, the national recruiting coordinator for ESPN HoopGurlz, and Joy Hollingsworth, Seattle University assistant coach, offer you tips and advice to help you make the most of your recruitment.
HoopGurlz Index
•
Research crime, take safety precautions
•
Don't buy postseason success without facts
•
Pay attention to recruiting classes
•
Embrace the high school experience
•
Step up to deter infractions
•
Keep an open mind during process
•
Overrated recruiting factors
•
Evolution of recruiting process
•
Be cautious about social media
•
Making the most of campus visits
•
Surviving the club circuit
•
Goal-setting can help accomplish dreams
•
Impress scouts, even on a bad day
•
Offensive structure stifling creativity
•
Questions to ask prospective coaches
•
Avoid burnout by finding balance
•
Transfer derby in full swing
•
Tips for spring recruiting
•
Rewards of being a student-athlete
•
Learn from Final Four games
•
Avoid these traps
•
March madness
•
Get the most out of your club season
•
Old-School advice holds true
•
All the world's a stage
•
Train hard to improve your game
•
How many scholarships are out there?
•
Consider junior college options
•
Consistency gets you noticed
•
How to juggle school and sports
•
Tournaments help get you seen
•
Laying the foundation for success
•
Consider all sides before signing early
•
What to remember after tryouts
•
Sometimes it's just about the game
•
The politics of recruitment
•
Success is in the details
•
Advice to juniors: Check out programs
•
Official visits: Timing is everything
•
Picking a college: Finding the best fit
•
Recruiting advice: Consider the source
•
Finding the perfect fit
•
Which school should make the final cut?
•
Seniors should be realistic about options
•
What's in a name?
•
Take time now to avoid transfers later
•
Approach to spring a key for success
•
Watching games at TOC a great idea
•
Nothing as telling as an in-season campus visit
•
Get busy researching rosters and stats
•
Look at scheduling; it's more than wins and losses
•
Be ready for coaching changes this spring
MOST SENT STORIES ON ESPN.COM