Commentary
Celebrating a hall of fame prep career
Updated:
October 20, 2010, 1:24 PM ET
By
Joy Hollingsworth
| HoopGurlz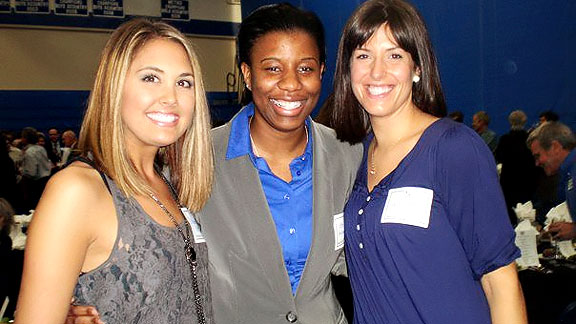 Courtesy of Joy Hollingsworth Joy Hollingsworth was recently inducted into the Seattle Preparatory School Hall of Fame.
I'm not one to talk about myself, but ESPN HoopGurlz thought this subject deserved a short column. A few weeks ago I was inducted into the sports hall of fame at my alma mater, Seattle Preparatory School. This institution also is the high school home of Spencer Hawes, center with the Philadelphia 76ers, and Martel Webster, shooting guard for the Minnesota Timberwolves.
Mixed emotions ran through my body while stepping foot on campus -- nervous of speaking in front of an audience, excited about seeing old friends and anxious to throw on a pair of sneakers rather than the stylish but uncomfortable heels that were killing my feet. It felt weird entering the gym in a pants suit instead of the basketball jersey I had become so accustomed to. Looking up at our 2002 Washington state championship banner, I immediately thought back to all the hard work we put in to win. The three-hour practices, extra shooting drills, sets of running lines, and hours of film breakdown -- this was my life.
The gymnasium where I spent countless hours of training became my second home. Hot summer nights at St. Joe's consisted of me skipping out on a friend's house party to do one-on-one moves with Brandon Roy, now of the Portland Trail Blazers, or play shooting drills with my cousin Nate Robinson, who is with the Boston Celtics.
I remember our team played in the league championship my senior year. It felt as if the rim was as wide as the sea and 3s were falling from all over the court. Every time I nailed a 3, Nate jumped up and down in the bleachers with his hands signaling a 3-point field goal, saying "That's my cousin, yup, that's my cousin." It meant a lot to me to see his love and support. He might be a three-time NBA dunk champion and big-time pro athlete known all over the world, but I still hold the shooting crown in the family.
The most special moments of high school basketball were the relationships. I had teammates who kept me grounded and dedicated coaches who challenged me. I forgot all about game-winning shots or scoring records but clearly remember the dog pile in the middle of the court or screaming wildly down the hall to the locker room after a close win.
Even though I worked extremely hard to get to where I am, I could not have done it without people in my corner, pushing me along the road to success. Failure was not an option and every door that was closed, another one opened. I'm grateful to the people who helped me follow my dream, tackle it down and finally live it.
I had no idea basketball could bring me so many gifts throughout life. It was never my intention to be recognized as a good basketball player. I constantly strive for doing the right things in life and showing how much I care about people. My basketball career as a player is over and now it's my turn to be a stepping stone for someone else to touch their dreams.
Follow us on Twitter, where you can ask questions and get instant updates.
Become a fan of the site on Facebook and get updates in your news stream.
Discuss this on our Message Board
Joy Hollingsworth is a first-year assistant women's basketball coach at Seattle University. A native of Seattle, Wash., she was a standout guard at Seattle Preparatory High School, earned WCC Freshman of the Year and honorable mention freshman All-American at the University of San Francisco and was a two-year starter and honorable mention All-Pac-10 at Arizona. Hollingsworth played professionally in Greece and earned an M.Ed. from the University of Washington. She can be reached at hollingj@seattleu.edu.
EDITORS' PICKS
Who's the favorite for center Elijah Thomas?
Borzello

It's a big recruiting weekend for Kentucky.
Borzello

Who are the best shooters in the class of 2015?
Biancardi