WIR: New challenges for Nader
Originally Published:
September 22, 2006
By
Henry Gola
| Scouts Inc.
Last Friday, during a game against A&M Consolidated, offensive tackle Matt Nader of Westlake High School in Austin, Texas, sat on the bench recuperating after a long drive. Then, everything changed.
"I can remember feeling hot in my chest, and then I started feeling light-headed, and I can even remember whiting out then waking up in the hospital," recalls Nader.
Nader, 6-foot-6 and nearly 300 pounds, collapsed on the sideline from what was later diagnosed as a lethal arrhythmia. His mother Barbara Bergin, a doctor, administered CPR before paramedics arrived and used an automatic defibrillator to revive him.
"It was a scary moment," Bergin told the Bryan-College Station Eagle after it happened. "Unbelievably scary."
Nader stabilized once arriving at a local hospital, but doctors had to implant a defibrillator in his chest in case of another lethal arrhythmia.
After beating the odds once, Nader and his family decided he will quit football. He had verbally committed to Texas, and all reports are that he will still sign a scholarship offer in February, then apply for a medical exception.
"I feel good, glad to be alive," Nader said.
He will remain involved with his high school team and wants to stay involved when he arrives on campus at Texas. His dream is to be a sports broadcaster.
Game of the year in Southern California
Want to check out Friday night's showdown between Oaks Christian of Westlake Village, Calif., and St. Bonaventure of Ventura in person? Tickets through the school are sold out, but they're on eBay for around $70.
"Crazy, isn't it?" St. Bonaventure coach Jon Mack asked.
It's the first meeting between the two powerhouses. Oaks Christian has a 33-game winning streak, and St. Bonaventure has won 27 in a row and 98 of its past 101.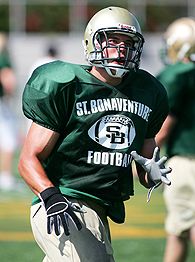 John Pyle/Icon SMIWR Blaine Irby will lead the St. Bonaventure offense against Oaks Christian.
Oaks Christian coach Bill Redell said, "It's not the most important game we've ever played, but as far as impact in southern California and the nation, it's probably the biggest game we've played.
"They're the toughest team we'll have played in the six-year history of the varsity program."
It's not for lack of trying. Oaks Christian, which often has been accused of playing a soft schedule, didn't have a game last week because letters sent out before the season looking for non-Tri Valley League opponents got no response -- except for St. Bonaventure.
"They are the favorites to win every game they play," St. Bonaventure coach Mack said. "So you could say it's a soft schedule, because they are better than every team they play.
"You could say the same about our schedule and our team, but having watched film, I would have improved their schedule with the quality of their team."
Of course with Oaks Christian fielding three top-10 national players in QB Jimmy Clausen, RB Marc Tyler and S Marshall Jones among nine Division I recruits, it's hard to blame less-talented teams for not wanting to get blown out.
St. Bonaventure should be up to the task, though. They have two top-flight recruits in ESPN 150 prospects S Mike Williams and WR Blaine Irby, but more importantly they have more bulk than Oaks Christian, with 28 players weighing 200 lbs. or more.
The game, which starts at 7 p.m. local time, also has been upgraded from a regional television broadcast to a national one on Fox Sports Net (11 p.m. ET).
No decision looming for Austin
No. 1-rated DT
Marvin Austin
(Washington, D.C./Ballou), who this week was named to the U.S. Army All-American Bowl, won't be making a decision any time soon.
"I'm definitely enjoying the recruiting process," Austin said. "I think when I became one of the top recruits in the country, I knew what to expect. I spoke to a lot of guys about it."
One of those guys is last year's No. 1 overall prospect and current Florida State freshman Myron Rolle, who no doubt is trying to woo Austin to join the garnet and gold.
However, unlike Rolle, who committed to Florida State before his senior season, Austin plans to wait until the last minute.
"They offered me to commit at the Army game. That could be possible, but I don't know if I want to make the decision at the game or wait until right before national signing day," Austin said.
Florida State is among his favorites, along with Miami, USC, Tennessee, Maryland, Virginia and Illinois; he will be making an official visit to Illinois this weekend when the Illini plays host to Iowa.
Etc.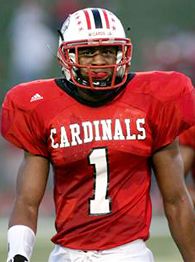 Maxpreps/Bryan RinnertEugene Clifford will join former high school teammates and '06 signees Connor Smith and Tyler Moeller at Ohio State.
• Ohio State fans can start to chill out a little about their '07 recruiting class. Safety
Eugene Clifford
(Cincinnati/Colerain), the No. 3 prospect in Ohio, announced a verbal commitment Thursday to the Buckeyes.
Expect No. 1 Ohio prospect Dewey Elliot (Fairfield) and No. 2 Ohio prospect Ben Martin (Cincinnati/La Salle) to eventually follow suit.
• DT Tim Lamb and S Da'Shaun Barnes will go from high school teammates to SEC foes. The Tallahassee-Lincoln prospects gave verbal commitments to Auburn and Tennessee, respectively.
Henry Gola is the recruiting editor for ESPN.com
SPONSORED HEADLINES
ESPN TOP HEADLINES
MOST SENT STORIES ON ESPN.COM
EDITORS' PICKS
The Epicenter of recruiting is ...?
Story »

Who is best recruiting fit at Florida?
Crabtree

Little tops ESPN Junior 300.
Rankings »