Commentary
Gators lay claim to top two safeties
Originally Published:
August 21, 2009
By
Bill Conley
| Scouts Inc.
The 2010 group of safeties is one of the most talented position groups in the class. Eleven are in the ESPNU 150, including two five-star prospects. The SEC has already received verbal commitments from half of the top 10 safeties. Florida has verbal commitments from the top two safeties in this class, LSU grabbed the seventh and ninth, and Georgia has landed the fifth overall.
Just like in 2009, the safeties are impressive in terms of being balanced defenders against both the run and the pass. In fact, several of these athletes have excelled on both sides of the football and on special teams as returners, coverage-unit players or punt-block specialists. Many of the safeties are fluid and loose in the hips with the ability to transition in space. They have excellent range and can cover a lot of territory in pursuit of the football. There is also no lack of ball skills or foot quickness at this position.
Top prospects

Jonathan Dowling | Highlights
(Bradenton, Fla./Southeast)
College: Florida
This tall and physically impressive defensive back absolutely rules the deep and intermediate zones. He has great leaping ability and the ball skills to make an interception on any football thrown in the same county. His talents have earned him the No. 7 overall spot in the ESPNU 150.

Demar Dorsey | Highlights
(Fort Lauderdale, Fla./Boyd Anderson)
College: Florida

He could very well be the most athletic of all the safeties in this class. His closing speed and hitting ability are second to none. He can also change direction and attack angle without losing any speed. Like Dowling, Dorsey is a five-star athlete and is headed to the University of Florida next season.

Ahmad Dixon | Highlights
(Waco, Texas/Midway)
College: Baylor

This all-around safety is a reminder of last year's No. 1 and fellow Texan Craig Loston (LSU). He displays excellent range in run support and pass defense. Like Loston, Dixon is also a standout on special teams. It will be a huge recruiting feat if Baylor can hang on to Dixon until national signing day.

Sean Parker | Highlights
(Harbor City, Calif./Narbonne)
College: Undecided

Parker is the fourth-best safety in the ESPNU 150. Opposing offenses find getting to the outside tough against such an aggressive defensive player. He keeps great leverage on the football as he secures the perimeter and reacts instantly to the sweep, option and flare passes.

Alec Ogletree | Highlights
(Newnan, Ga.)
College: Georgia

Ogletree is built like an outside linebacker with speed. He is especially imposing in halves coverage breaking off the hash to support the run or break on the deep and intermediate passes. Look for Ogletree to impress the Georgia coaching staff with his punt-blocking skills.
On the verge
Nick Dew | Highlights
(Virginia Beach, Va./First Colonial)
College: Undecided
Dew was one of the lesser-known players in the 2010 class until his versatility and overall football skills were recognized by college scouts and recruiters. He is the guy you want to send on the blitz because he will get into the offensive backfield and get there in a bad mood. He makes the sack or flushes the quarterback on a regular basis.
Making the grade
The evaluation process for each position involves in-depth film study and research. Find out what Scouts Inc. took into account while evaluating this year's crop of safeties. Breakdown
Eric Reid | Highlights
(Geismar, La./Dutchtown)
College: LSU
Reid has a motor that goes 100 mph. Like most of the safeties in this class, he is tall and well put together. He is a smart defensive back who breaks instinctively on the pass and understands the high-low concept in terms of route progression. He is also the second of the top 10 safeties to head to Baton Rouge.
Quentin Hayes | Highlights
(Lancaster, Texas)
College: Oklahoma
The future Sooner has the talent and athletic ability to play either of the safety positions at the next level. Hayes has the toughness coaches look for in a strong safety and the fluidity to make plays in the open field. He also has the football savvy to be a difference-maker in the secondary.
Tharold Simon
(Eunice, La.)
College: LSU
Simon is a towering athlete who takes command on both sides of the ball as a safety and wide receiver. The Tigers truly have a couple of options with this special football player because he is almost impossible to throw over as a safety and conversely can high-point the football when going up for the reception as a wideout.
Dietrich Riley | Highlights
(La Canada, Calif./St. Francis)
College: Undecided
A number of colleges are still trying to lasso this highly skilled player. He has both catch-up and closing speed along with the competitiveness to fight through blocks to make a play on the ball carrier. Riley is one of the most natural athletes in this class.
Under the radar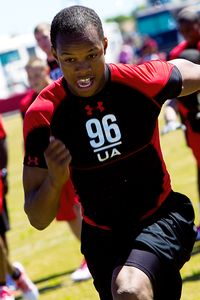 David De Pas Devon Carrington has good size and is physically intimidating because of the way he plays the game.
Devon Carrington
(Chandler, Ariz./ Hamilton)
College: Stanford
Carrington is the last safety to make the ESPNU 150. He is solid in run support but is exceptional playing zone and underneath man pass defense. Carrington has the frame to add some bulk without affecting his speed, quickness and the ability to transition in space.
Chad Abrams
(Lakeland, Fla./Kathleen)
College: Florida State
Even though he doesn't have the height of most of the other safeties, Abrams is extremely productive on the field. Every time he makes an interception he has the running skills to turn it into six points. Like Ogletree, Abrams is a punt-block specialist because he has the quickness and courage to take the football off the punter's foot.
David Amerson
(Greensboro, N.C./Dudley)
College: Undecided
Amerson does a masterful job of keeping leverage on the running back. He completely denies the cutback and shows very good acceleration when driving through the tackle. Amerson can swivel his hips and redirect in the open field to change his angle of pursuit.
Jarrick Williams
(Prichard, Ala./M.T. Blount)
College: Alabama
Williams is fluid and athletic enough to lock up on wideouts in the red zone and take away the fade route. He runs very well for a safety and shows great anticipation breaking on the quarterback's release. It is impressive to see Williams get his big frame up in the air to make a play on the football.
Tevin McDonald
(Fresno, Calif./Edison)
College: UCLA
McDonald seems to be a more natural wide receiver, but he has the ball skills and instincts to develop into a fine safety at the next level. He needs to sharpen his tackling fundamentals but isn't afraid to take on big running backs when isolated in the open field.
Notes
Even though they didn't land in the ESPNU 150, safeties Latwan Anderson and Christian Bryant carry on the Cleveland Glenville tradition of producing great players. … Carrington isn't the only talented safety to commit to Stanford; Daunte Carr (Gainesville, Ga.) is also headed to Palo Alto. … One of the big-time sleepers in this class could be Chris Badger (Provo, Utah/Timpview). His run support and hitting ability earned him an offer from Notre Dame after he first committed to BYU. … Bob Stoops and his Sooners staff have invaded Texas to land two of the nation's top 20 safeties -- Quentin Hayes and Eddrick Loften (Irving, Texas/Nimitz).
Bill Conley is a recruiting coordinator for ESPN Scouts Inc. He previously worked at Ohio State for 17 years as an assistant coach and recruiting coordinator.
SPONSORED HEADLINES
MORE COLLEGE FOOTBALL HEADLINES
MOST SENT STORIES ON ESPN.COM
2010 ESPNU 150

The 2010 ESPNU 150 is led by a trio of standout defenders, but the talent in this class runs deep. In Scouts Inc.'s initial rankings 12 prospects received a coveted five-star grade.
ESPNU 150
|
Class Rankings
|
Index
ESPNU 150 content
•
Shurburtt: Jeffcoat earned his No. 1 spot
•
Scouts Inc.: Ranking ESPNU 150 no easy task
•
Shurburtt: Notes from the ESPU 150
•
Scouts Inc.: Under-the-radar players
•
Scouts Inc.: Eleven players on the cusp
•
Scouts Inc.: ESPNU 150 by the numbers
•
Shurburtt: Breaking down the star system
•
Scouts Inc.'s grading scale
Class Rankings
•
Florida tops early 2010 class rankings
Position breakdowns
•
Luginbill: Sims, Scroggins lead 2010 QBs
•
Tucker: Dyer, Lattimore top 2010 RBs
•
Luginbill: 2010 class loaded at WR
•
Haubert: Grimbles tops deep TE class
•
Conley: Elite OT Henderson leads O-linemen
•
Conley: Athlete position features elite talent
•
Haubert: Jeffcoat leads deep DE group
•
Haubert: Texas commit Bible tops DTs
•
Tucker: Elite talent Luc leads ILBs
•
Tucker: Hicks highlights upper-tier OLBs
•
Tucker: Joyner, Milliner are best in CB class
•
Conley: SEC bringing in safeties in numbers
Video
•
Luginbill's 2010 DB breakdown
•
Luginbill's 2010 LB breakdown
•
Luginbill's 2010 D-line breakdown
•
Luginbill's 2010 athlete breakdown
•
Luginbill's 2010 O-line breakdown
•
Luginbill's 2010 WR breakdown
•
Luginbill's 2010 RB breakdown
•
Luginbill's 2010 QB breakdown
•
Luginbill's class breakdown
SportsNation
•
Chat wrap: Tom Luginbill
•
Chat wrap: Craig Haubert