Commentary
Sanders, Willis, Smith among decade's top sleeper recruits
Updated:
February 5, 2008, 12:58 PM ET
By
Bruce Feldman
| ESPN The Magazine
In honor of signing day, this week's list tackles the best Division I-A sleeper recruits of the past decade. (I didn't take into account JC transfers, small-school players or walk-ons like Owen Schmitt.)
1. Bob Sanders, Iowa: The 5-foot-8, 205-pound defensive back is 3 inches shorter than the ideal safety, but Sanders' speed, instincts and toughness have more than made up for his so-called shortcomings. The Erie, Pa., native wanted to go to Penn State, but the Nittany Lions never offered him a scholarship. Hardly any big-time programs did. One of Sanders' high school coaches suspected that a broken bone Sanders suffered in his foot during his senior season -- he played through it for part of the season -- might have made him look not as explosive on film. Or maybe it was just "the short thing." Joe Paterno's loss, though, was Iowa's gain. In fact, not only did Sanders develop into an All-American at Iowa, he also went 4-for-4, beating the Nittany Lions every time he played them. Since then Sanders has kept winning over skeptics, emerging this year as one of the NFL's best defenders. He is proof that toughness, smarts and speed are more important than a few inches.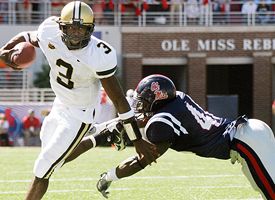 Matthew Sharpe/WireImage.com Ole Miss LB Patrick Willis won the Butkus Award.
2. Patrick Willis, Ole Miss: The ultimate small-town star, Willis put up huge numbers in his tiny Tennessee town, but the linebacker didn't register on many people's radar. Academically, he didn't seem like a sure thing, but Willis' home life was far from ideal. (He and his younger siblings were removed from their father's residence after his sister told teachers they were living in an abusive household.) Willis would've loved to have heard from the Tennessee Vols, but instead they chased after highly touted LB prospect Daniel Brooks. So Willis signed on with Ole Miss. In a more stable environment, Willis thrived, making the honor roll in his first year at Ole Miss. He also won the Butkus Award at Ole Miss and is now a budding NFL superstar.
3. Alex Smith, Utah: As a spindly QB who didn't throw for all that many yards in high school (1,704 in his senior season), Smith didn't exactly draw a ton of interest. Then again, he did have Reggie Bush to hand off to. Then-Utah coach Urban Meyer loved Smith's accuracy (he had a 30-4 TD-INT ratio) and his intelligence, both on and off the field. Smith was the senior class president and his GPA ranked 13th in a class of 430. Still, Smith's only other offer came from Louisville, where his uncle John L. Smith was the coach. At Utah, Smith blossomed into a star by his second season. He also graduated at 20, receiving a bachelor's degree in economics after just two years. He led the Utes to an unbeaten season and a romp over Pitt in the Fiesta bowl before being selected as the top overall pick in the 2005 NFL draft.
4. DeMarcus Ware, Troy: This is fudging a little since technically Ware had no I-A offers (Troy was I-AA at the time), but the star DE-OLB for the Dallas Cowboys is a worthy story. The Auburn, Ala., product was a 6-2, 190-pound high school senior who didn't have much football experience, but the Troy coaches saw an athlete with great feet and the kind of long-armed frame that could pack on some serious muscle. By the time Ware left Troy as a first-rounder, he was almost 6-4 and weighed 250 pounds and still ran a 4.51 40. Ware left the Sun Belt school as the program's all-time sack leader.
5. A.J. Hawk, Ohio State: All of the recruiting services touted Mike D'Andrea as the big get for the Buckeyes in the class of 2002. Privately, the OSU coaches felt otherwise. They were bringing in four linebackers (Bobby Carpenter and Stan White, later an OSU fullback, were the others), and Hawk was the one who got them the most fired up. A few months after signing day, former OSU defensive coach Mark Snyder raved about Hawk's ability to play the pass and the run, saying he'd be surprised if Hawk didn't end up the best of the bunch. Nice call. Hawk was one of the best linebackers in OSU's storied history, and he's become one of the cornerstones of the Green Bay Packers' turnaround.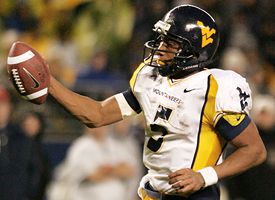 Mark S. Hawkins/Icon SMIQuarterback Pat White has developed into a Heisman candidate.
6. Pat White, West Virginia: The fleet-footed Alabama product had plenty of offers, although almost everyone pegged him as an athlete. The 6-1, 185-pounder, who had passed for 1,488 yards and 15 touchdowns while rushing for another 1,905 yards and 31 more TDs, was planning on signing with LSU to play wideout. However, Rich Rodriguez's system and the persistence of Mountaineers recruiter Rick Trickett ultimately swayed White with the chance to play QB. The results have been eye-popping; White will enter his senior season as a Heisman contender.
7. Mathias Kiwanuka, Boston College: Like Ware, Kiwanuka is a project who developed even better than any of the coaches could've imagined. The BC coaches spotted him in Indianapolis only because they were chasing his more high-profile teammate, offensive lineman Jeremy Trueblood. Kiwanuka was a 6-6, 200-pound defensive end/tight end as a senior in high school. Four years later, with the aid of 65 pounds of bulk, he wrapped up his BC career with 245 career tackles, a school-record 37.5 quarterback sacks, 65.5 tackles for loss, 13 pass breakups, three forced fumbles, two fumble recoveries and three interceptions.
8. Antonio Bryant, Pittsburgh: The Miami native was an afterthought for all the Florida schools. After all, he had been labeled as the 11th-best prospect on his high school team, powerhouse Northwestern High. Pittsburgh wasn't going to sign Bryant, either, even though the 6-2 receiver had good grades and a lot of fire. But then another Panthers recruit opted on signing day to go someplace else, and then-Pitt coach Walt Harris offered his 24th and final spot to Bryant, who had planned to go to Louisville. Two years later, Bryant won the Biletnikoff Award.
9. Ryan Kalil, USC: The best offensive lineman of the Pete Carroll era didn't have any scholarship offers until he showed up at the Trojans' summer camp. Back then, Kalil was a 6-1, 250-pound offensive tackle, clearly a few inches shorter than ideal. However, when the Trojans coaches observed Kalil's quick feet and toughness, they had visions of a top-flight college center. They weren't sold, so they kept sticking Kalil in against the top defensive tackles in their camp and he kept on battling (and neutralizing) them. "What else you got for me?" he'd ask them. They invited Kalil back the following week for another camp and Kalil kept winning his one-on-ones. He was hardly a blue-chip guy, but all he did was start three seasons and become the leader of the team.
10. Nick Barnett, Oregon State: Considered by many college coaches the fifth-best prospect on his high school team, the Fontana, Calif., native picked Oregon State over San Jose State. The 6-2, 180-pound safety prospect excelled as a hurdler and in the classroom, earning a 3.8 GPA. The Beavers' staff saw a guy who could make plays all over the field and had the smarts to run a defense. It was a good evaluation. He started three years while his frame continued to fill out and led the Pac-10 in tackles as a senior. In 2003, Barnett became the first Oregon State product drafted in the first round since the L.A. Rams took QB Terry Baker first overall 40 years earlier.
Bruce Feldman is a senior writer with ESPN The Magazine. His new book, "Meat Market: Inside the Smash-Mouth World of College Football Recruiting," is on sale now.
SPONSORED HEADLINES
MORE COLLEGE FOOTBALL HEADLINES
MOST SENT STORIES ON ESPN.COM
National signing day 2008
What schools have the best classes? Where are the top undecided recruits heading? ESPN.com and Scouts Inc. have you covered in the final month leading up to national signing day.
• Top 25 class rankings
• Team grades: ACC | Big East | Big Ten | SEC
• Team grades: Big 12 | Pac-10 | Best of the rest
• Lawlor: Pryor's choice is not to choose just yet
• Hudson: Jones stays home to play for Alabama
• Signing day blog
• Signing day chat wrap
• Behind the scenes on signing day
• Tucker: Top uncommitted prospects
• Schlabach: Michigan's future could hinge on Pryor
• Forde: Verbals can be risky business
• Florida climbs to No. 1 in class rankings
• WIR: Pryor announcement could be on hold
• Dinich: Recruiting pipelines
• Lawlor: Proud HS coaches
• Dinich: Long and winding road for assistants
• Conley: What happens on home visits
• WIR: Watching the early entries
• Top 10 undecided prospects
• Conley: The final push
• WIR: Uncommitted prospects hit the road
• DaQuan Bowers tops final ESPN 150
Conference overviews
• Pac-10 part one | Part two
• ACC Atlantic | ACC Coastal
• Big Ten part one | Part two
• Big 12 North | Big 12 South
• Big East
• Notre Dame and best of non-BCS
• SEC East | SEC West
Recruit Tracker
• Commit lists | ESPN 150
Briefing Room
• Follow the latest commitments
Conversations
• ACC | Big 12 | Big East | Big Ten
• C-USA | Independents | MAC
• MWC | Pac-10 | SEC | Sun Belt | WAC
Video
• DaQuan Bowers
• Omar Hunter
• Brandon Harris
• T.J. Lawrence
• Julio Jones
• Darrell Scott
• Jamie Harper
• Terrelle Pryor