Commentary
Class of 2008 SEC West recruiting overview
Originally Published:
January 15, 2008
By
Tom Luginbill
| ESPN.com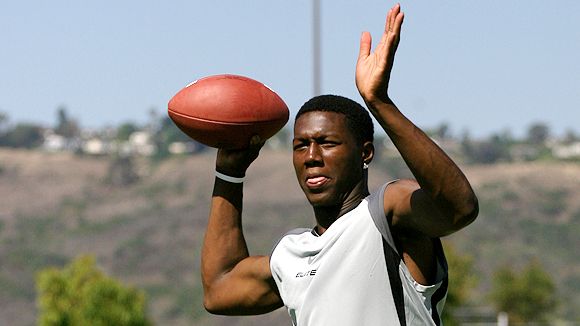 Tom Hauck for ESPN.comThough a project, Alabama QB commit Star Jackson has the potential to bring a new dimension to the Tide's offense.
The 2007 BCS National Champion LSU Tigers currently hold down the No. 11 class in the country but have some talented undeclared prospects to close on down the stretch. Bobby Petrino could quickly make his recruiting presence known in the SEC if he can snag in-state athlete Joe Adams (Little Rock, Ark/Central Arkansas Christian) from USC. Nick Saban has his eyes set on an in-state talent as well; a signature by ESPN's No. 2 overall prospect Julio Jones (Foley, Ala.) will make this already impressive Alabama class outstanding. Here's a look at each class:
Schools in order of 2007 finish
Signing day storylines:
It is good to be king and when you win the national championship, you've got to play that up every step of the way down the stretch. As February 6 rapidly approaches, the Tigers are starting to close and pick up some steam. After backing into the BCS national championship game just two weeks after losing their season finale to Arkansas, the Tigers didn't necessarily have the class you would think for a team playing for all the marbles, but that has changed as of late.
As we have often stated, recruiting is a marathon, not a sprint and what happens on signing day is all that really matters. There are at least 10 ESPN 150 players who have yet to make their college choice who have LSU as one of their top schools including, cornerbacks T.J. Bryant (Tallahassee, Fla./Lincoln) and Brandon Harris (Miami/Booker T. Washington) as well as DT Brandon Thompson (Thomasville, Ga.) and often debated commit/non-commit S Karnell Hatcher (Delray Beach, Fla./Atlantic Community), among many others. You can't possibly believe Les Miles and his staff will miss out on all of them fresh off a national title and great momentum as official visits continue and more importantly in-home visits take shape to close the deal.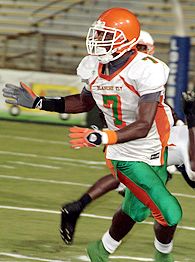 Jerry Rodland for ESPN.comDespite a recent pledge to LSU, Patrick Johnson's recruiting saga may not be over.
Top prospect:
This is a slam dunk as to who the best player in LSU's class is, but will he be in its class a week from now or even three weeks from now? CB
Patrick Johnson
(Pompano Beach, Fla./Ely), the No. 1-rated cornerback, has made an absolute circus of his recruitment for many months now culminating with his official withdrawn pledge from the Miami Hurricanes and subsequent commitment to LSU in the first week of January. There is no doubt he has enjoyed the process as well as the limelight so the questions now becomes will he be swayed once again as college programs make their final push? I truly hope Les Miles has drawn a line in the sand with Johnson.
Johnson and No. 1-ranked Class of '06 corner Jai Eugene make for a potent, physical and speedy tandem of young talent on the perimeter for one of the premier defenses in the country. Johnson should see the field in some capacity if he can handle the mental jump because his physical tools are off the charts. He's big, strong and can run with great ball skills.
Class highlights: As mentioned above, this class has dramatically improved over the last three weeks with the edition of Johnson, WR Chris Tolliver (Rayville, La.) and TE Tyler Edwards (Monroe, La./Ouachita Parish). Prep standout from the 2007 class DeAngelo Benton should be primed and ready to go after spending the fall at Hargrave Military getting eligible. More importantly, the Tigers have themselves explosive pass rushers in DE Chancey Aghayere (Garland, Texas) and DE/TE Chase Clement (Thibodaux, La./White Catholic) to replace departed upper classman within the front seven, a huge position of need right now.
With 23 verbal commitments to this point, this class is gaining momentum. LSU now has the ring and there is no reason to believe this class won't finish in the top ten if they can wrangle the few remaining playmakers on their board from competitors across the conference.
Could see the field in 2008: Johnson (nickel/dime, possible full-time duty at some point), Aghayere (situational pass rusher), Tolliver (sub-package receiver/return man)
Signing day storylines:
Well, there is a new sheriff in town on The Plains, at least on offense anyway. A changing of the guard seems to have taken place with Tommy Tuberville's hiring of offensive wiz Tony Franklin from Troy and his high-flying version of the spread offense. I mention this because while we may not see the immediate effects of this hire in the 2008 class because he was just hired before the Chick-fil-A Peach Bowl, rest assured this will make waves and open the eyes of offensive skill players and quarterbacks in the 2009 class and beyond who previously would not have given Auburn the same look.
Quarterbacks want to throw it and wide receivers want to catch it and now the Tigers have an offensive scheme that is attractive. Auburn yet again posted a nine-win season and with a patented running game and salty defense, the Tigers may have just found the missing piece of the puzzle by committing to the spread once and for all. Don't kid yourself either, the brief glimpse we all saw in Auburn's bowl win over Clemson had present and future recruiting written all over it. Junior college QB Chris Todd (Elizabethtown, Ky./Hutchinson CC) was Franklin's first coup, as Todd was once at Texas Tech in a familiar scheme and will give Auburn some experience to go along with the youthful Kodi Burns and Neil Caudle under center.
Top prospect: Without counting the multiple postgrads or late qualifiers in this class, Auburn's top-ranked prospect is wide receiver Damion Allen (Orlando/Dr. Phillips). With the new scheme now in place, Allen is the perfect playmaker with a knack for getting open. More importantly he is an aggressive pass catcher who attacks the ball in the air. There is nothing worse as a wide receiver coach when you have a 6-2 receiver playing like he is 5-10, but that won't be a problem for Allen. He makes acrobatic catches, high points the ball and is very productive in traffic. Allen is one of the more underrated players in this class with big-play ability on deep routes and after the catch as well as he is much shiftier than one might think.
Class highlights: Auburn has some very impressive prep school talent on the way in RB Enrique Davis from the 2007 class and DT Charles Deas, but it needs wide receivers and must stockpile with depth. So it is good to see that Allen will be joined by mammoth wide out Jarmon Fortson (Columbus, Ga./Carver), speedster Harry Adams (Fort Lauderdale, Fla./Dillard), who is much needed in terms of a deep threat, and Darvin Adams (Kennesaw, Ga./Harrison).
The potential sleeper in this class is QB/ATH DeRon Furr (Columbus, Ga./Carver) who has been throwing to Fortson throughout his high school career. Furr is big, physical and very competent as a passer. Tony Franklin had one similar in Omar Haugabrook at Troy. He must develop patience as a passer, but in time he could be a perfect fit for this new scheme.
There are four players in my opinion who could really round out this class nicely for the Tigers -- DE William Green (Birmingham, Ala./Spain Park), OT Antoine McClain (Anniston, Ala.), OLB Jerrell Harris (Gadsden, Ala.) and underrated CB Neiko Lipscomb (Tucker, Ga.).
Could see the field in 2008: Any of the aforementioned receivers as needed.
Signing day storylines: Love him or hate him, Bobby Petrino is back in college football. From an offensive standpoint, particularly in the passing game, this is the best thing that could have happened for Arkansas fans. Much like Auburn's hiring of Tony Franklin, Petrino's arrival is going to open some doors on the recruiting trail in Texas and throughout the Southeast for top-flight offensive skill players and quarterbacks.
It's obvious Houston Nutt and the previous staff knew what they were doing when it came to recruiting defense, offensive line and running backs, but the Hogs' need playmakers. With McFadden gone, even more pressure is going to be placed on the Arkansas quarterbacks now.
Within just a few days on the job, Petrino's presence was felt in keeping the state's top quarterback and one of the country's most underrated signal-callers in Tyler Wilson (Greenwood, Ark.) home. Wilson was previously committed to Tulsa and former Arkansas offensive coordinator Gus Malzahn, who thought they had the steal of the century.
Top prospect: RB De'Anthony Curtis (Camden, Ark./Fairview) is the top-ranked player but as good as he is, I am not so sure Wilson is not the most important prospect at this time. Wilson brings to the Arkansas program what Mitch Mustain did two years ago -- credentials as a passer in a wide-open scheme. The main reason Petrino has been so successful at the college level is that he has always had a premier signal-caller. While he will have his hands full with his stable of current QBs, he may be able to build the future around Wilson. With Curtis, Arkansas is getting a true dual threat on offense as both a runner and receiver. He is a naturally gifted pass catcher and an explosive change-of-pace back.
Class highlights: We have touched on the importance of Wilson and Curtis, but what stands out to me about this class to this point is the influx of wide receivers, a need position on this roster. Teammates Jarius Wright (Warren, Ark.) and Greg Childs (Warren, Ark.) are joined by Cruz Williams (Little Rock, Ark./Pulaski Academy). Wright brings the speed and explosiveness while Childs and Williams bring the Marcus Monk-type size to the roster at 6-4.
Defensively DE Lavunce Askew (Camden, Ark./Camden-Fairview) is a disruptive force as a swing DE/DT at the next level. No. 1-ranked athlete Burton Scott has himself a teammate in CB Marcal Robinson (Pritchard, Ala./Vigor) who committed to the Hogs. He is smooth and fluid and with time in the weight room could blossom into a fine cover corner.
Petrino's No. 1 target right now has to be the state's best player in ATH Joe Adams (Little Rock, Ark./Central Arkansas Christian). He is currently committed to USC, but his interest piqued with the Petrino's hiring.
Said Adams in December, "I think it's real good that they got him. It helps me out more because I know who Arkansas is bringing in as coach now. At Louisville he ran an offense similar to what we ran at CAC, so I guess it helps out more with my decision."
Adams wants to play wide receiver and both rosters have needs at that spot, but I find it hard to believe Adams would bolt now if he hasn't already though stranger things have happened.
Could see the field in 2008: Wilson (in some capacity), any of the aforementioned receivers as needed, Curtis (change of pace)
Signing day storylines:
Just as Sylvester Croom was on the verge of being ousted if the Bulldogs did not win in 2007, he and his staff went above and beyond in capping off a terrific 8-5 season with a gritty Liberty Bowl win over Central Florida. Keep in mind this was a probation-riddled program when Croom took it over four years ago and one that only had nine wins total in his first three years on the job.
But Croom never wavered on his plan of how things needed to be done and the administration showed just enough patience with him to allow him to do it, as he would say, "the right way." This team persevered through hard times and emulated their coach's personality, which is not only paying off on the field but on the recruiting trail as well. Mississippi State has slowly attracted talent that has somewhat flown under he radar like RB Anthony Dixon from the 2006 class. While players with an 80 grade or above won't routinely commit to the Bulldogs, there are a ton of 77 and 78 type guys which can and will blossom into great, SEC-worthy players.
If there is one criticism of this program in recruiting, it is that they have not yet been able to lure a top-flight quarterback. Although this is something that is much easier said than done, if the Bulldogs can continue to improve and win, quarterbacks will become more attracted to the program.
Top prospect: While DT Templeton Hardy (Como, Miss./South Panola) is currently the top-rated prospect we have graded in their class, it is our belief -- especially after seeing him at the Under Armour All-America Game -- he will likely end up being an offensive lineman and a pretty darn good one too once he matures. If he stays on defense, he may not possess that quick-twitch get off and quickness you want out of your tackles along the front four. Hardy is big, strong and athletic and it certainly wouldn't be the first time this transition was made with successful results and won't be the last either.
Class highlights: With 22 commitments to this point with grades ranging form 62 to 80, this class offers quality both offensively and defensively not to mention a fine kicker in Baker Swedenburg (Columbus, Miss./Heritage Academy). OLB Bo Walters (Birmingham, Ala./Briarwood Christian) is not very big but he can run and is in the mold of what most programs in this conference are doing on defense.
If there is a guy that Miss. State fans would like to see in Starkville next year it has to be Charles Mitchell (Clarksdale, Miss.). The versatile, do-it-all athlete could be the big-play weapon Croom needs on offense. DE Andre Wadley (Hernando, Miss.) would be a nice catch as well.
Could see the field in 2008: WR O'Neal Wilder (Carthage, Miss.), a late qualifier.
Signing day storylines:
Realistically, Alabama had the type of season that could have been a 10-win season just as easily as it was a seven-win season. A few plays here or there could have changed their fortunes, but in the grand scheme of things, Alabama is a work in progress. It starts with recruiting, something this coaching staff knows how to do. Keep in mind that Alabama closed strong on the recruiting trail in 2007, landing both WR
Brandon Gibson
and WR
Marquis Maze
and catapulted them into the minds of top 2008 kids early in the process.
2007 was a growth and learning experience for the Alabama faithful as Nick Saban and his crew worked tirelessly to get players, administration and more importantly fans to buy into what has to happen in order for Alabama to get back to the pinnacle of college football. It has not been easy, as you could not have more of a dramatic change in landscape from Mike Shula to Nick Saban. But what Saban has going for him is a successful track record, a national championship at LSU and more importantly for the first time in four years a full slate of scholarships to work with, the key ingredient for building this roster.
Top prospect: I realize that ATH Burton Scott (Pritchard, Ala./Vigor) is going to be given an opportunity to play wide receiver at Alabama when he first arrives, but I also have a hard time believing he won't end up on defense eventually. He is a really good football player who is the definition of the term athlete. He is a dual-threat QB on the high school level with good speed and great feet. When he joined us for the Under Armour Game it became very clear that he has great football awareness. A tough, gritty ball hawk on defense, Scott has natural ball skills, too, which is why wide receiver is a significant option. Sometimes it is also difficult to get a position out of the prospect's mind. So if Scott wants to be a wide receiver, then see what happens as he will make a very good one, but again, as a secondary player he could be special.
Class highlights: This Alabama class is probably considered to be the best one to arrive in Tuscaloosa in the last five or six years -- that is once they sign on the dotted line come February 6. The process continues in building around its defensive scheme with defensive ends, most notably No. 4-ranked DE Courtney Upshaw (Eufaula, Ala.). Alabama has verbal commitments form nine players in this class who rank within the top 20 of their respective position nationally, including No. 1 OT Tyler Love (Birmingham, Ala./Mountain Brook).
More importantly, the Tide is recruiting to specific need on offense as well. Wide receivers Melvin Ray (Tallahassee, Fla./North Florida Christian), Destin Hood (Mobile, Ala./St. Pauls) and Devonta Bolton (Norcross, Ga.) are all solid playmakers. When adding in Scott and ATH Chris Jackson (McDonough, Ga./Henry County), who we feel is one of the more underrated players in this class, to the group, Alabama quarterbacks are going to have some talent around them in the coming years.
We are going to be very interested to see how the development of QB Star Jackson (Lake Worth, Fla.) continues under Major Applewhite's tutelage. He is a great athlete and has very good physical tools and could bring a new dimension to the offense that Tide fans have not seen before.
Could see the field in 2008: There could be several players who have a role of some sort next year on this roster, including DT Kerry Murphy (Birmingham, Ala./Hargrave Military) fresh out of prep school.
Signing day storylines:
While Ed Orgeron didn't win enough games to get him to 2008, Houston Nutt may have inherited a roster that has some very talented youth and on top of that, Nutt has the luxury of coaching quarterback
Jevan Snead
, who sat out last year after transferring from Texas prior to the 2007 season. After going 0-9 in the SEC, there is nowhere to go but up for Nutt and his incoming staff. That gives them some freedom to examine the whole roster and hold "open" tryouts, if you will, in regards to who should be receiving the most playing time starting in 2008.
While Ole Miss recruited some very good players under Coach O and his staff, some did not qualify. Others have already made themselves known, like scatback Dexter McCluster and DE Marcus Tillman, so there is a good, young nucleus for the new staff to work with, especially now that they have a quarterback in Snead to build around.
This program has proven itself capable of consistent seven-win seasons and the occasional nine-win season, so patience is thin with the Rebel faithful as they expect to be competitive in this conference.
[+] Enlarge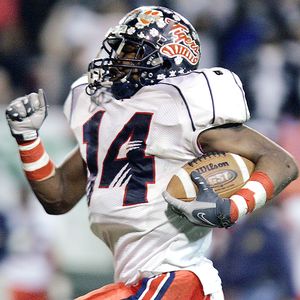 AP Photo/Rogelio V. SolisRB Darius Barksdale helped No. 3 South Panola (Miss.) to a 15-0 season.
Top prospect:
This is a tossup between TE
Jamal Mosley
(Memphis, Tenn./Kingsbury) and RB
Darius Barksdale
(Batesville, Miss./South Panola), as both graded out virtually the same for us, so we will go with the homerun hitter Barksdale here. He is a thickly-built, aggressive runner with good strength and speed. He is a slashing type (unlike Green-Ellis last year for the Rebels) and may have more big-play ability in the open field. Playing in big games for one of the best high school programs in the country can only help.
Class highlights: The Ole Miss class is very similar to Mississippi State's right now, with 22 verbal commitments ranging with players graded from 70 to 78. As mentioned, Mosely passes the eye test and does a lot of things very, very well both as a blocker and receiver. The guy to keep an eye on down the road is OLB Gavin Hardin (Jackson, Tenn./Central-Merry) who at 6-5, 225 pounds will likely end up with his hand down as a defensive end but is explosive and difficult to handle off the edge. Another under-the-radar prospect is ATH Dominique Davenport (Baldwyn, Miss.); with big-play ability and speed on offense, we feel his skills may be best suited at corner.
Could see the field in 2008: Barksdale.
Tom Luginbill is the national director of recruiting for Scouts Inc. Luginbill is a college football and recruiting studio analyst for ESPNU.
RecruitingNation
Senior National Recruiting Analyst for ESPN.com
Coached in four professional football leagues
Graduated from Eastern Kentucky and Marshall
SPONSORED HEADLINES
MORE COLLEGE FOOTBALL HEADLINES
MOST SENT STORIES ON ESPN.COM
National signing day 2008
What schools have the best classes? Where are the top undecided recruits heading? ESPN.com and Scouts Inc. have you covered in the final month leading up to national signing day.
• Top 25 class rankings
• Team grades: ACC | Big East | Big Ten | SEC
• Team grades: Big 12 | Pac-10 | Best of the rest
• Lawlor: Pryor's choice is not to choose just yet
• Hudson: Jones stays home to play for Alabama
• Signing day blog
• Signing day chat wrap
• Behind the scenes on signing day
• Tucker: Top uncommitted prospects
• Schlabach: Michigan's future could hinge on Pryor
• Forde: Verbals can be risky business
• Florida climbs to No. 1 in class rankings
• WIR: Pryor announcement could be on hold
• Dinich: Recruiting pipelines
• Lawlor: Proud HS coaches
• Dinich: Long and winding road for assistants
• Conley: What happens on home visits
• WIR: Watching the early entries
• Top 10 undecided prospects
• Conley: The final push
• WIR: Uncommitted prospects hit the road
• DaQuan Bowers tops final ESPN 150
Conference overviews
• Pac-10 part one | Part two
• ACC Atlantic | ACC Coastal
• Big Ten part one | Part two
• Big 12 North | Big 12 South
• Big East
• Notre Dame and best of non-BCS
• SEC East | SEC West
Recruit Tracker
• Commit lists | ESPN 150
Briefing Room
• Follow the latest commitments
Conversations
• ACC | Big 12 | Big East | Big Ten
• C-USA | Independents | MAC
• MWC | Pac-10 | SEC | Sun Belt | WAC
Video
• DaQuan Bowers
• Omar Hunter
• Brandon Harris
• T.J. Lawrence
• Julio Jones
• Darrell Scott
• Jamie Harper
• Terrelle Pryor