Commentary
2009 receivers have size and speed to burn
Originally Published:
August 18, 2008
By
Tom Luginbill
| Scouts Inc.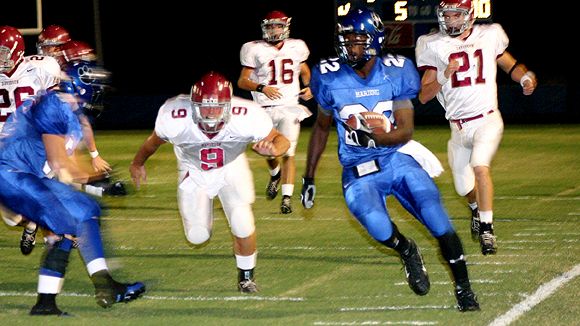 Harding AcademyNo. 2-ranked wide receiver Marlon Brown is the total package at the position.
If two things have become abundantly clear over the past few classes of wide receivers, it's that few of them -- even the elite ones -- can consistently get off the line of scrimmage in press coverage and the subtle nuances of route running are rarely learned at the high school level.
When it comes to getting off press, jam, bump or any other term you want to give a cornerback getting in the face of a wide receiver at the line of scrimmage, it is the same for high school prospects heading into college as it is for players leaving the college ranks and leaping to the NFL. When I was scouting on the NFL side of things for a number of years, often the difference between a receiver who made an NFL roster and one who didn't had nothing to do with speed, quickness, size or hands but rather whether he could even get downfield -- it would stand out on tape like a sore thumb.
At the high school level this is more difficult to evaluate; there are fewer defensive backs at this level capable of handling an elite wide receiver prospect one-on-one, let alone press him at the line. So few guys get challenged enough for their weaknesses to truly manifest themselves until they get into college.
Ironically, WR Julio Jones in the 2008 class found this out the hard way when he matched up against the likes of Janoris Jenkins and Alonzo Lawrence in postseason all-star games, including the Under Armour All-America Game, last year. Conversely Josh Jarboe seemed to be ahead of the curve, and while his off-the-field antics have cost him a shot with Oklahoma, Troy will now certainly benefit.
Route running can be a craft -- an art form if you will -- and when you are just flat out better than everyone you play against like most of the top receivers in high school are, it can be easy not to pay attention to the little details like attacking defensive alignment, reading coverages on the move, eating up cushion before the break and not rounding off cuts because they are getting open without those things. But that will all change in college.
I make these points about wide receivers because I have coached this position and have seen less talented guys be more productive than bigger, stronger and even faster players because they understand the position, have intangibles and find ways to win, just like the Ricky Proehls and Steve Largents of the world. The 2008 class was arguably the most deep, talented receiving group since the turn of the century with wideouts in all shapes, sizes and speeds. Still, keep in mind that the little things will ultimately separate the good from the great.
The 2009 class, in our opinion, may have a few more speed guys as a whole within the top 20 wide receivers than the 2008 class did. The 2008 class had both some of those rare big and fast guys all in one and great depth. This class is a bit more separated into speed and size -- but worry not, there are still a few big and "sneaky" fast guys. We'll break them down into speed, size, versatility and both speed and size combined. The most notable trait about this group is just three players we feel worthy of top 20-25 billing stand shorter than 5-foot-10, showing the trend of the big wideout continues to grow.
Speedsters
The shortest of our top 10 wide receivers is arguably the fastest as 5-11
Randall Carroll
(Los Angeles/Cathedral) can really go. The USC commit is both quick and fast. He can stretch the defense on the outside and also work the slot, catch the short crossing route and turn it into a home run. As mentioned about route running for most at the high school level, he is raw, but his physical gifts could make him difficult to handle once he gets coached up on attacking coverage. He is also a huge threat as a return man.
[+] Enlarge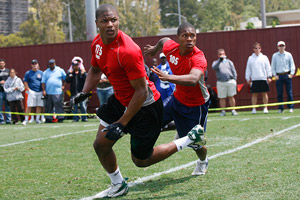 Tom Hauck for ESPN.comShaq Evans is the top-ranked receiver in California.
Shaquelle Evans
(Inglewood, Calif.) is also a jet, only a bit taller than Carroll and you could argue also a bit smoother. While Carroll is more sudden, Evans is more of a fluid slasher who can also stretch the defense. He also can change the field as a kick return man.
Nu'Keese Richardson (Pahokee, Fla.) may be short, but he is lightning quick, shifty and can change gears in a hurry. Right now, he must win off the line with quickness because he lacks the size and strength to outmuscle defenders. Don't blink though, you could miss Richardson once he gets the ball in his hands.
Normally Bryce McNeal (Minneapolis/Breck School) would be in the size/speed category for this piece, but he is so rail thin it negates his height. So he's in the speed category because he really does run extremely well, has a second gear and is very smooth. We are concerned about the level of competition he faces each week, but the Michigan commit will fit in very nicely in the spread and is faster than J.R. Hemingway and Darryl Stonum, two highly-regarded Michigan signees of the last two classes.
The Big Boys
Without question
Alshon Jeffrey
(Saint Mathews, S.C./Calhoun County) is a beast of a wideout at a verified 6-3, 214 pounds. In our opinion he may have the best hands of any receiver in this class -- they are big, soft and he can make the acrobatic grab. He has "sneaky" speed, but his size and craftiness make him extremely dangerous both in the red zone and after the catch. He truly fits the mold of what USC wants in a wideout, therefore his commitment makes sense.
[+] Enlarge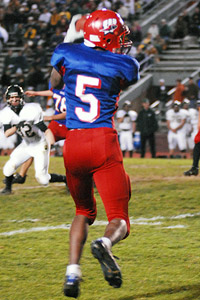 Washington High School Athletics Keenan Davis made improving his speed an offseason priority.
Keenan Davis
(Cedar Rapids, Iowa/Washington) come signing day could move into the size/speed category. He devoted himself to track and a diligent offseason program to improve his 40-time considerably into the 4.5 range, making him now more of a vertical threat. As it stands, the Iowa commit will use his body, long arms and physical style to win.
The comment I made about great hands in regards to Alshon Jeffrey should also be applied to Duron Carter (Fort Lauderdale, Fla./St. Thomas Aquinas). He's just like his dad Cris -- huge hands, knowledge of how to use his frame and he catches everything.
We would be remiss if we did not include Lamar Scruggs (Neptune Beach, Fla./Fletcher) in this discussion; his size and penchant for making the acrobatic grab can be eye-popping at first sight.
Rodney Smith (Miami/Archbishop Carroll) and Rolando Jefferson (Fresno, Calif./Edison) both possess great size as well.
Explosively Versatile WRs
[+] Enlarge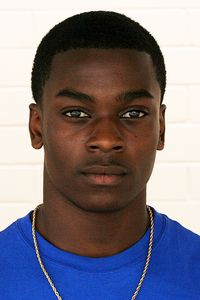 InsideTheU.comPerfect for a spread attack, Andre DeBose can flat out fly from any position on the field.
Andre DeBose
(Sanford, Fla./Seminole) in our opinion could end up being a
Percy Harvin
-like player in college. DeBose has played QB, WR, slot, RB -- you name it, he's done it. He can fly and has game-breaking talent with the ball in his hands.
Jamal Reid (Mayo, Fla./Lafayette) hasn't even really burst on the scene yet -- likely because he plays at a little school and level of competition is a concern, but he's a touchdown machine as a safety, wide receiver and return specialist. The more you watch him, the more you like him. Keep an eye out for this kid in the coming months. Big, fast, strong and elusive -- nice combination huh?
We are going to throw a sleeper in here with Brandon Heavens (Bessemer, Ala./Bessemer Academy) because he is so fun to watch and make so many people miss every time he touches the ball he deserves recognition for being the ultimate "space" player. Obviously, Auburn thinks he is a nice fit for their new look spread as Heavens committed in the spring.
Je'Ron Stokes (Philadelphia/North East) also plays on both sides of the ball and is a terrific overall athlete. Terry Hawthorne (East Saint Louis, Ill.) is cut in the same mold and is an absolute playmaker.
Total Packages
Rueben Randle
(Bastrop, La.) ranks as our No. 1 wide receiver in this class because of his size/speed combination among other qualities as well. Admittedly he's still raw, but he oozes upside and big-play ability both vertically and after the catch. His top-end speed to attack deep and size to go up in the red area make him hard to handle.
We almost put Marlon Brown (Memphis, Tenn./Harding Academy) in the versatile category because he lines up all over the place, carries the ball out of the backfield and returns kicks and punts, but he runs very well for his size and will remind many fans of Class of 2008 prospect DeAndre Brown both in stature and playmaking skills.
[+] Enlarge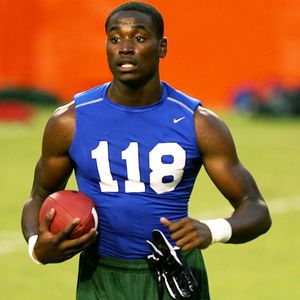 Gator Country/Tim Casey Undecided on where he'll play his college ball, Jheranie Boyd ranks as the top prospect in North Carolina.
Jheranie Boyd
(Gastonia, N.C./Ashbrook) is one of those tall receivers with great speed. He's a track guy who also happens to be a football player. As his frame fills out, he could end up being a very difficult guy to handle. He's smooth, has a second gear and the height to battle in the red zone.
When it is all said and done, don't be surprised if Kendall Kelly (Gadsden, Ala.) is one of the best wide receivers to come out of this class. He actually may have the best combination of pure speed and strength out of any of the guys 6-2 or taller. He is thick and tough to bring down, but his speed really jumps out at you, which makes him an imposing presence.
Logan Heastie (Chesapeake, Va./Great Bridge) is likely the fastest of this group in terms of pure deep speed, but he also must continue to work on consistent pass catching with his hands. He is tall, lean and decisive as a route runner with the speed to run right by people.
Jamal Patterson (McDonough, Ga./Henry County) and Kraig Appleton (East Saint Louis, Ill.) round out this group.
Tom Luginbill is the national director of recruiting for Scouts Inc. Luginbill is a college football and recruiting studio analyst for ESPNU.
RecruitingNation
Senior National Recruiting Analyst for ESPN.com
Coached in four professional football leagues
Graduated from Eastern Kentucky and Marshall
SPONSORED HEADLINES
MORE COLLEGE FOOTBALL HEADLINES
MOST SENT STORIES ON ESPN.COM
2009 ESPNU 150

After the most intensive research effort in Scouts Inc. history, the rankings are in. A pair of talented signal-callers and a gun-slinging athlete lead the first edition of the 2009 ESPNU 150.
Features
•
Luginbill: Breaking down the 2009 WRs
•
Luginbill: Talented arms top 150
•
Lawlor: Shepard a born leader
•
Haubert: Plenty of talent on the cusp
•
Conley/Tucker: Ten Sleeper Prospects
•
Luginbill: Breaking down the 2009 quarterbacks
•
Conley: Breaking down the 2009 OTs
•
Luginbill: USC new No. 1 in class rankings
•
Tucker: Breaking down the 2009 OLBs
•
Haubert: Breaking down the 2009 DEs
•
Luginbill: Breaking down the 2009 wideouts
•
Conley: Breaking down the 2009 safeties
•
Haubert: Breaking down the 2009 TEs
•
Tucker: Breaking down the 2009 RBs
•
Luginbill: Breaking down the 2009 athletes
•
Conley: Breaking down the centers and guards
•
Tucker: Breaking down the 2009 DTs
•
Tucker: Breaking down the 2009 ILBS
•
Haubert: Breaking down the 2009 DTs
•
Tucker: Breaking down the 2009 CBs