Commentary
Class of 2009 superlatives: Quarterbacks
Originally Published:
November 3, 2008
By
Tom Luginbill
| ESPN.com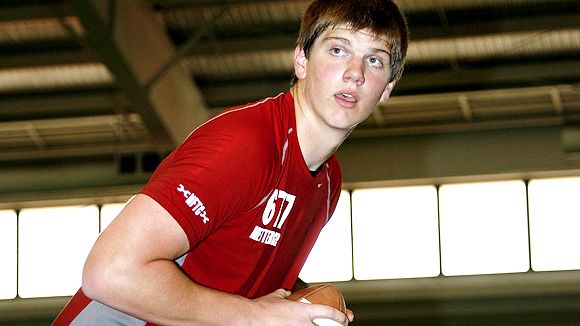 Tom Hauck for ESPN.comGeoriga-bound quarterback Zach Mettenberger has the strongest arm of any 2009 prospect.
In recent years, with the rise of the spread offense, the quarterback position has become a spot that emphasizes athleticism over all else. Statuesque pocket passers, with their inability to move around, don't have a place in some offensive systems. Below we will examine the Class of 2009 quarterbacks and determine which are the best in a particular area of importance.
Strongest arm
What Scouts Inc. looks for: The ability to make spectacular throws into tight spots with arm strength alone. These players display the ability to drive the ball vertically with power and are able to consistently throw the deep comeback route to the sideline from the opposite wide hash.




Mettenberger actually has a stronger arm in person than he appears to have on tape. He's a pocket passer with tremendous power to drive the ball vertically with zip. Mettenberger has the arm to deliver the football to most spots on the field even if his feet are not set.


---

Murray possesses a lightning-quick arm and his wrist velocity and quick release enhance his naturally strong right arm. He can generate tremendous zip on the ball and is capable of making throws into tight spots when throwing across his body or on the move.


---

With his Kerry Collins-type delivery, Savage may wind up a bit, but he is capable of generating serious power behind his throws when his feet are set and he is protected -- much the same as Mettenberger. His arm, coupled with deceptive athleticism, is his greatest asset.


---

The only question about Cotton's arm is where the ball is going to end up. Out of all 12 quarterbacks at the Elite 11 camp this past summer, there was not a player there who possessed the zip, velocity and power Cotton does. He knows nothing of touch yet and must develop accuracy, but there are flames coming off his shoulder when he delivers the football.