Commentary
Making a big game even bigger
Recruits love to be there for rivalry games, but is it the best time for them to visit?
Originally Published:
October 14, 2009
By
Jc Shurburtt
| Scouts Inc.
Big-game weekends provide an opportunity for colleges to showcase their programs, and they give recruits a game-day experience at a school they are considering. Whether it's the best time for a prospect to use his official visit to that school is certainly up for debate, but there is no question that hosting prospects on a big weekend is a powerful way to sell a program and all that goes into a football Saturday.
Just this year, Under Armour All-American Corey Brown (Springfield, Pa./Cardinal O'Hara) committed to Ohio State after making an official visit for the Buckyeyes' home game with USC on Sept. 12. Tennessee scored commits after Under Armour All-American DE Corey Miller (Duncan, S.C./Byrnes) and four-star DT Brandon Willis (Duncan, S.C./Byrnes) made an unofficial visit the weekend of Sept. 11 to watch the Vols host UCLA. The Vols lost, but no doubt the game day atmosphere in Knoxville was a big reason for Miller and Willis to choose Tennessee. And Virginia Tech got Under Armour All-American Nick Dew (Virginia Beach, Va./First Colonial) when he was in for an unofficial for the Miami game.
So it's significant when Notre Dame hosts Southern California on Saturday for the third time during the Charlie Weis era, there again will be a slew of talented prospects in South Bend for the game, many of whom will be taking unofficial visits.
[+] Enlarge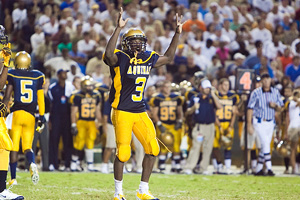 Davide De PasFive-star CB Lamarcus Joyner is one of many top recruits visiting South Bend this weekend.
"Obviously, it's a big game for us and a big game for college football," said Fighting Irish recruiting coordinator Rob Ianello, who has been with the program since Weis was hired in late 2004. "Kids like to see big games, so naturally kids want to be at this one. It's an event. People are coming in for the event and hopefully they see Notre Dame at its finest."
The Irish have had great success signing prospects who visit for the game with the Trojans. In the Class of 2006, seven players from six different states who visited for the 2005 USC game ended up inking with Notre Dame. In the Class of 2008, three from three different states signed with the Irish, including standout receiver Michael Floyd.
Ianello added that Notre Dame always signs a high percentage of players it brings in for official visits. Schools are allowed 56 official visits per NCAA rules, and the Fighting Irish rarely bring in that many.
"We are usually in the 38-40 range," Ianello said.
Florida recruiting coordinator and receivers coach Billy Gonzales, the person largely responsible for bringing Percy Harvin to Florida, remembers the electric receiver's experience in The Swamp and the lasting impression it made.
Harvin made his official visit to Florida on the weekend of Sept. 16-18, 2005. On Saturday night, the Gators hosted SEC East rival Tennessee in a prime-time, nationally televised game and won 16-7. The crowd at The Swamp was loud from start to finish, and head coach Urban Meyer earned his first signature victory as the Gators' head coach.
Harvin's signing with Florida "was big," Gonzales said. "I remember him vividly saying, 'I am sitting next to my mom and screaming to the top of my lungs and she could not hear what I was saying.' That obviously had a tremendous impact on him coming here. Of course, he took other official visits during that recruiting cycle and we signed Tim Tebow, so that helped too."
Big-game weekends are prime opportunities for coaching staffs to bring in and impress top talent.
"It's something we sit down and take a look at as a staff at the end of each recruiting cycle," Gonzales said. "We go over who visited and when and if it worked or not."
"There are a lot of pluses," Gonzales said. "The game atmosphere certainly is one of them. The negative is that you only get to spend a limited amount of time with a recruit and their family when they come in during the season because you are preparing your team. You are going through the walk-through and getting ready to play. If you play an 8 p.m. game, by the time you get through, it's 11 p.m. or so and there just isn't a lot of time to spend with the recruits and their families.
"If you come in here after the season is over, then the time works out better in terms of spending time with recruits and their families."
So it's not like having recruits attend a big game is the only way to land them. In the Class of 2009, Gonzales signed Under Armour All-American Andre DeBose (Sanford, Fla./Seminole). DeBose did not visit until Jan. 23 and committed to the Gators two weeks earlier at the Under Armour All-American game. This recruiting cycle, the highest-ranked prospect in the ESPNU150 to set an official visit to Florida, linebacker Jordan Hicks (West Chester, Ohio/Lakota West)), will visit the Gators the second weekend in January.
Gonzales says it works best when prospects visit unofficially during the summer and then get to return to Gainesville for their official visits and are already familiar with the program, the campus and having spent the quality time with the coaching staff. Harvin had come in for an unofficial during the summer.
USC coach Pete Carroll's program certainly plays in its share of big home games, but the Trojans' philosophy is that it's not always ideal to bring in top targets during big-game weekends.
"I think it's way better to host those weekends after the season is over, but I know the kids like to go to the games," Carroll said. "We really do feature philosophically guys coming in during our bowl preparations, so we just have a little different way of looking at it.
"The problem is, it's just not as good of a weekend because there are so many activities, so many things going on that you can't focus on showing the kids your campus, getting a chance for them to meet everyone they would get to meet on a full weekend, so it hasn't been as big of a deal to us to hold it on a game weekend."
There also is the challenge of Southern California recruiting nationally. There are times during the season, perhaps during an open date, that a talented athlete from across the country can get out to Los Angeles. But winter schedules often are filled with basketball or wrestling and it's tough to take a cross-country trip.
"I know a lot of guys who are out of state, they can only make it on game weekends and so we accommodate them, but I don't know if it helps or not," Carroll said. "The other week at Cal, they had a ton of guys and they had them sitting behind our bench while we were having a blast [USC won 30-3], so you have to wonder how much good it did them."
Granted, the game atmosphere has paid off at least once in a major way for the Trojans. USC played host to Reggie Bush for the Notre Dame game late in the 2002 season. There was talk that the talented back would head to South Bend and play for the Irish and then-coach Tyrone Willingham, but Bush had a great visit, watched the Trojans win 44-13, and committed to USC a short time later. That game and the experiences surrounding that particular game were a catalyst for Bush's picking the Trojans.
Hot Sell: Notre Dame

There will be eight players in the ESPNU 150, including some of the top prospects at their positions like OT
Seantrel Henderson
(St. Paul, Minn./Cretin-Derham) and CB
Lamarcus Joyner
(Fort Lauderdale, Fla./St. Thomas Aquinas), and several Under Armour All-Americans in South Bend this weekend. And those are just the official visits by seniors. That's not counting the unofficial visits and the top underclassmen checking the game out. Given the amount of talent that will be on campus this weekend and the way the Irish are able to close the deal on players that visit for this game, they make the most sense for this category this particular week.
Coast-to-Coast Notes
Longhorns impress Hicks
Word is that Texas feels it hit a "home run" during Under Armour All-American Jordan Hicks' official visit to Austin last weekend, but with a Florida official visit to go it is no "slam dunk" he ends up a Longhorn. Southern California and Alabama are still pushing for official visits as well.
Recruits at Texas-OU
The nation's top prospect, defensive end Jackson Jeffcoat (Plano, Texas/West) is expected to be in the Cotton Bowl in Dallas on Saturday for the annual Texas-Oklahoma game. Look for several of the top Class of 2011 prospects from the state of Texas to be there as well. Wide receiver Trey Metoyer (Whitehouse, Texas/Whitehouse), defensive end Cedric Reed (Cleveland, Texas/Cleveland) and defensive back Sheroid Evans (Missouri City, Texas/Fort Bend Dulles) are among the top junior names expected.
Short stuff
Colorado, Stanford, BYU and Utah are the early offers for Class of 2011 ESPNU150 Watch List running back Harvey Langi (South Jordan, Utah/Bingham). ... LSU made a strong impression on defensive tackle Cassius Marsh (Westlake Village, Calif./Oaks Christian) after he visited Baton Rouge during the weekend for the Florida game. ... The Tigers also are one of the teams out in the front group (Auburn and Southern California are believed to be the others) for running back Lache Seastrunk (Temple, Texas/Temple). ... ESPNU150 wide receiver Ivan McCartney (Miramar, Fla./Miramar) is ready to visit West Virginia officially. The Mountaineers are in the mix, but Florida is still the team to beat. McCartney will visit Gainesville on Thanksgiving weekend.
JC Shurburtt covers recruiting for ESPN.com. He can be reached at jcsespn@aol.com.
EDITORS' PICKS
Struggles haven't slowed Florida's recruiting.
Early Offer

Arkansas' rebuild is adding good D-linemen.
Early Offer

Why it's worth the wait for elite defensive linemen.
Crabtree »