Commentary
Uncommitted 2008 prospects to track on signing day
Originally Published:
February 5, 2008
By
Billy Tucker
| Scouts Inc.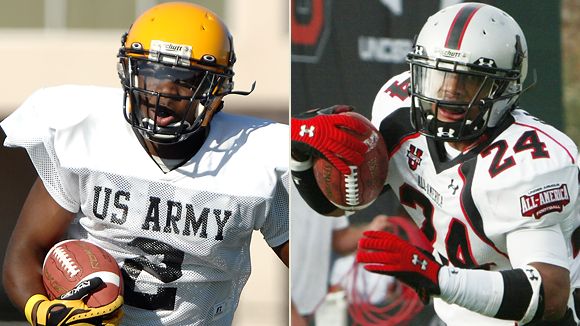 Icon SMI & Tom Hauck for ESPN.comDarrell Scott and Jamie Harper are the top two remaining uncommitted running backs.
The focus of the recruiting world shifts to the top undeclared prospects still on the board with signing day less than 24 hours away. The prevalence of early commitments leaves only 15 prospects currently undecided from the ESPN 150, but a large group of prospects remains in the 77-80 grade range who can greatly impact the final class rankings.
As usual, the elite, early impact caliber skill players carry the most weight and interest heading into national signing day. Two No. 1-rated prospects at their respective positions, quarterback Terrelle Pryor (Jeannette, Pa.) and receiver Julio Jones (Foley, Ala.), head the list of most-coveted prospects set to make announcements Wednesday.
Signing day coverage
ESPNU and ESPN.com will provide all the national signing day coverage you can handle Wednesday. Tom Luginbill, Craig Haubert and host Lowell Galindo will analyze the classes and commits on ESPNU's "National Signing Day Recruiting Insider Special" (Noon, ESPNU).
Prospects expected to announce on ESPNU: No. 3 RB Jamie Harper, No. 1 WR Julio Jones, No. 10 WR T.J. Lawrence, No. 2 RB Darrell Scott, No. 3 CB Brandon Harris.
Prospects expected to appear: No. 1 QB Terrelle Pryor (possible announcement), No. 1 DE DaQuan Bowers (Clemson commit), No. 2 DT Omar Hunter (Florida), OG Khaled Holmes (USC) and Class of 2009 QB Matt Barkley (USC).
Coaches expected to appear: Notre Dame coach Charlie Weis, Clemson coach Tommy Bowden, Georgia coach Mark Richt, Miami coach Randy Shannon, LSU coach Les Miles and Texas coach Mack Brown.
ESPN.com will have constantly updating commit lists in Recruit Tracker, a live blog breaking down the day's events, a marathon chat with many guests and other features.
Regardless of whether Pryor makes his decision known Wednesday, he still will keep his commitment to appear live on ESPNU's "National Signing Day Recruiting Insider Special" and either update his recruitment or proclaim his college of choice. Michigan, Ohio State, Oregon and now Penn State are all very much in the running for the No. 4 overall player in the country. If he does announce Wednesday, he will have canceled his trip to Oregon, which would presumably take it out of the running.
Jones has kept his recruitment close to the vest since day one; Alabama, Oklahoma, Florida, Florida State and Texas Tech are his final five. It may be difficult to snag this quiet and reserved superstar out of state, but if anyone could do it, Oklahoma and its national prominence could have the power.
In a running back class with parity between the top three spots, ESPN's Nos. 2 and 3 backs, Darrell Scott (Moorpark, Calif./Saint Bonaventure) and Jamie Harper (Jacksonville, Fla./Trinity Christian), are currently undecided. On defense the state of Florida boasts ESPN's Nos. 2 and 3 cornerback prospects in T.J. Bryant (Tallahassee, Fla./Lincoln) and Brandon Harris (Miami/Booker T. Washington), both of whom possess the required speed to play right away.
Scott and Harper also will announce on ESPNU Wednesday. Texas could be tough to beat for Scott with Jamaal Charles declaring for the draft, but Colorado does have family ties (his uncle, Josh Smith, is on the roster) and appears to still be in the running for ESPN's No. 9 overall player. We have raved about Harper's underrated skills since last spring, and heading into Wednesday it looks like Clemson may have the best shot despite the fact that running back James Davis is returning for his senior year.
Skilled, shutdown corners like Bryant and Harris are rare, which makes them so highly coveted. While both have been looking outside of Florida, we think it will be difficult to lure these fantastic athletes out of state.
There are a few prospects making announcements Wednesday who may not carry the same hype as the aforementioned athletes, but possess the skills to make just as big an impact, particularly if they land at schools in need of their talent. An offensive tackle who can anchor and pass block has become a commodity in recruiting. ESPN's No. 6-rated tackle prospect, Antoine McClain (Anniston, Ala.), is still available and very much open with Auburn, Tennessee, Clemson and LSU as his finalists when we spoke last week. Moving inside, guard Josh Jenkins (Vienna, W. Va./Parkerburg) combines great size with good feet and should continue to physically develop at either FSU, Ohio State or West Virginia. On the perimeter, wide receiver T.J. Lawrence (Lakeland, Fla./Kathleen) is an excellent athlete who could potentially help a team on either side of the ball. This underrated prospect will likely put a smile on either Steve Spurrier's or Urban Meyer's face Wednesday.
[+] Enlarge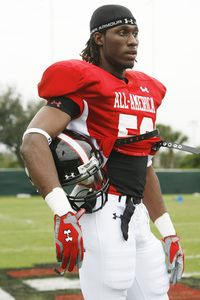 Gary Bogdon for ESPN.comNo. 8 OLB Jerrell Harris will decide between Alabama and USC.
At outside linebacker,
Jerrell Harris
(Gadsden, Ala.) may be the next most-sought-after defensive player left on the board. The ESPN 150 prospect appears to have Alabama and USC at the top of his list. The Trojans are also in the hunt for another talented perimeter attacker,
Nick Perry
(Detroit/Mackenzie). Perry ranks No. 10 among defensive ends in this class, and although Michigan and Michigan State will try to retain him, we think USC is the front-runner for his talents. Staying in the Midwest, ESPN 150 outside linebacker
Christian Wilson
, who has been looking around since the coaching change in Ann Arbor, has de-committed from the Wolverines and will likely sign with either Boston College or North Carolina.
This 2008 class is no different than any other year's group with several prospects who could make or break a few teams' recruiting classes with the quality positional depth they will provide and their upside to develop into top-tier prospects with the coaching and physical maturation they will receive in college.
Looking at the offensive skill positions, a back like Anthony Bibbs (Houston/Jersey Village), who's looking hard at Nebraska and Oklahoma State, lacks elite speed but is a physical, high yards-after-contact back who could develop into a workhorse at the next level. The top-tier talent is deep in this 2008 receiver class (22 receivers are in the ESPN 150), but there are plenty of undecided prospects who reside just outside who are capable of great production on the college level. We were impressed with 6-foot-6 Tommy Streeter's (Miami/Northwestern) size and hands on film as a junior, and his stock rose more when we saw his smoothness in person against Southlake Carroll. Streeter is still looking hard at a number of schools, including Miami -- where a host of his Miami Northwestern teammates will be heading -- South Florida, South Carolina, Oregon and Boston College. Aaron Boyd (Lexington, Ky./Henry Clay) sits one receiver spot outside the ESPN 150. The top-rated Kentucky player possesses good top-end speed to go along with his 6-foot-4 frame. Boyd is far from polished and his best days as a receiver are definitely ahead of him at Kentucky, Arkansas, Missouri or Oregon. It's hard to talk about great frames and leave out 6-4 Darius Morgan (Citra, Fla.), a kid with red-zone ability early in his career who is being chased by FSU, UCF and Tennessee.
The depth and quality of undeclared prospects continues on defense. Up front, defensive end Robert Quinn (North Charleston, S.C./Fort Dorchester) has great size and is a well-balanced run and pass defender on the edge, something always coveted out of high school. Knocking on the door of the 150, Quinn has Alabama, Auburn and North Carolina as his finalists heading into signing day. On the interior, watch for Jamarcus Allen (Orlando. Fla./Boone) to be a disruptive force at the next level, particularly if he falls to a mid-major school; the only thing lacking with this kid is a few inches of height. Size is not an issue for big-bodied Dawan Whitner (Cleveland/Glenville), who flashes good get-off and explosiveness; Michigan State, Minnesota, Louisville, Maryland and Illinois all appear to be in the running.
E.J. Abrams-Ward (Thomasville, N.C.) is a hybrid outside linebacker with the size and first-step quickness to be a threat on the perimeter at end, and some of the better physical upside in this defensive class. Either North Carolina or Tennessee should be getting this amazing athlete. We feel Jordan Yarbrough (Memphis, Tenn./White Station) and Leandre Lance (Jacksonville, Fla./First Coast) are both sleepers on the outside with fewer BCS offers than some of the bigger names at the position, but are great football players who will be productive.
At defensive back, Tony Morgan looks to stay in the Carolinas (either South Carolina or East Carolina) and would be a great land at both because this hybrid corner/safety's great scheme versatility may have caused him to be overlooked. Charles Mitchell (Clarksdale, Miss.) projects at safety or basically any skill position on the field at the next level; Michigan, Mississippi State, Nebraska and Southern Miss look like his final schools heading into signing day. Like Mitchell, Kendall Wright (Pittsburg, Texas) is another ESPN 150 athlete and a bit lesser-known than some marquee true positional prospects, but carries just as much talent and has a host of Big 12 schools as his finalists.
Billy Tucker is a recruiting coordinator for Scouts Inc. and has close to a decade of coaching experience at the college and high school level. Tucker has served as a recruiting coordinator for two nationally ranked Division II colleges. Most recently, he was the associate head coach and defensive coordinator for Merrimack College, which advanced to the Sweet 16 in the 2006 NCAA Division II playoffs.
Scouts, Football Recruiting
• Recruiting coordinator for ESPN RecruitingNation.
• Nearly a decade of college coaching experience.
• Was recruiting coordinator at nationally-ranked Division II colleges.

SPONSORED HEADLINES
MORE COLLEGE FOOTBALL HEADLINES
MOST SENT STORIES ON ESPN.COM
National signing day 2008
What schools have the best classes? Where are the top undecided recruits heading? ESPN.com and Scouts Inc. have you covered in the final month leading up to national signing day.
• Top 25 class rankings
• Team grades: ACC | Big East | Big Ten | SEC
• Team grades: Big 12 | Pac-10 | Best of the rest
• Lawlor: Pryor's choice is not to choose just yet
• Hudson: Jones stays home to play for Alabama
• Signing day blog
• Signing day chat wrap
• Behind the scenes on signing day
• Tucker: Top uncommitted prospects
• Schlabach: Michigan's future could hinge on Pryor
• Forde: Verbals can be risky business
• Florida climbs to No. 1 in class rankings
• WIR: Pryor announcement could be on hold
• Dinich: Recruiting pipelines
• Lawlor: Proud HS coaches
• Dinich: Long and winding road for assistants
• Conley: What happens on home visits
• WIR: Watching the early entries
• Top 10 undecided prospects
• Conley: The final push
• WIR: Uncommitted prospects hit the road
• DaQuan Bowers tops final ESPN 150
Conference overviews
• Pac-10 part one | Part two
• ACC Atlantic | ACC Coastal
• Big Ten part one | Part two
• Big 12 North | Big 12 South
• Big East
• Notre Dame and best of non-BCS
• SEC East | SEC West
Recruit Tracker
• Commit lists | ESPN 150
Briefing Room
• Follow the latest commitments
Conversations
• ACC | Big 12 | Big East | Big Ten
• C-USA | Independents | MAC
• MWC | Pac-10 | SEC | Sun Belt | WAC
Video
• DaQuan Bowers
• Omar Hunter
• Brandon Harris
• T.J. Lawrence
• Julio Jones
• Darrell Scott
• Jamie Harper
• Terrelle Pryor