Commentary
Sunshine State stocked with backs in the '09 class
Originally Published:
August 25, 2008
By
Billy Tucker
| Scouts Inc.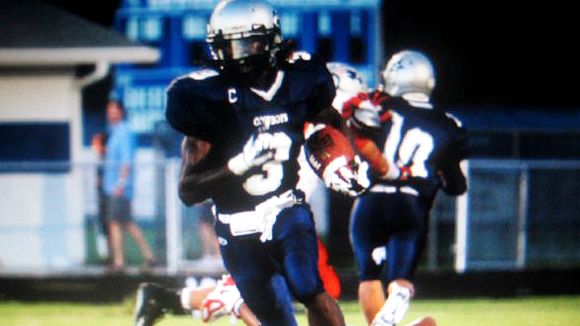 Gaither HS AthleticsJarvis Giles is one of three Florida running backs ranked among the top five nationwide.
Though nationwide the number of elite running back prospects may be down a bit in 2009, the quality and quantity in the Southeast, particularly in the state of Florida, is unprecedented. Almost half of ESPN's top-20 backs this year reside in the Southeast, with a striking 15 out of the top 40 coming out of Florida. The Sunshine State boasts the No. 1, 2 and 5 running backs in
Jaamal Berry
(Miami/Palmetto),
Trent Richardson
(Pensacola, Fla./Escambia) and
Jarvis Giles
(Tampa, Fla./Gaither).
While all three Florida backs have been very productive during their high school careers, they each possess a different kind of running style, a microcosm of the position in the state this year. Florida is loaded with backs in many different shapes, sizes and styles to fit a program's specific needs.
RB grading criteria
Scouts Inc. grades running backs in eight categories:
1. Inside runner: Can they pick and slide? Do they have the vision to be quick to hole? Do they show the ability to cut back?
2. Outside runner: Do they have the speed to turn the corner? Do they make sharp and quick cutbacks? Are they a home-run threat?
3. Elusive runner: Can they avoid tackles and constantly avoid taking big hits? How is their change of direction? Do they have good moves in space? How is their overall vision?
4. Power runner: Do they run with good balance? Do they break tackles or do they go down on first contact? Do they fall forward after contact?
5. Blocker: Are they willing to be a blocker? How are their instincts in pass protection? Can they run-block?
6. Hands, Routes: Can they make both easy and tough catches out of the backfield? Do they have fumble problems? Do they expose the ball too often and are the problems correctable?
7. Durability: Can they take a hit? Do they show the toughness to stay in a game when not 100-percent healthy? Do they wear down too much over the course of a game?
8. Running Style: Are they a slasher, darter or power back? Do they show the ability to kick it into a second gear?

Berry, the top-rated runner in the country, is the best-rounded of the trio and the only one who has not yet committed. He has obvious perimeter speed and elusiveness, but it's the 185-pounder's deceptive in-line running strength and power that separates him. Berry is a home-run threat when he finds an open seam in the second level and also has the compact body structure needed to be productive between the tackles at the next level.
The last time we spoke with Berry he said Ohio State was at the top of his list, but he was not planning on making a decision until after he took some official visits this fall. Although the Buckeyes' class is almost full, expect them to hold a spot for the nation's No. 1 back from now until this February.
One word describes Richardson's running style: violent. When you blend a 365-pound power clean on a 5-foot-10, 219-pound compact frame with 10.6 100-meter speed, you have awesome power. Add in the fact that this kid runs with great determination and would rather run through a defender than around him, you also have the making of a productive, downhill back at the college level -- exactly what he will be if he signs with Alabama. While in-line running strength and tough yards after contact are his forte, Richardson can still make you miss in space and has the straight-line speed to take it the distance on any carry.
Giles is the most sudden and explosive back of the three and perhaps in the entire country. Although he might not have the body structure to carry the load at this point, the Tennessee commit is very dangerous with his ability to find and hit the downhill seam very quickly and impressively reach top speed by his second step. We feel he will be most productive with 15-20 touches per game in a multipurpose role in Knoxville.
Look for some exciting runs from the trio of Berry, Richardson and Giles at the Under Armour All-America Game on ESPN in January.
Although this class is filled with quality top-tier runners, they went very fast if you needed one. Eight of the top 10 backs are verbally committed, including the other two coveted spots that comprise our top five.
[+] Enlarge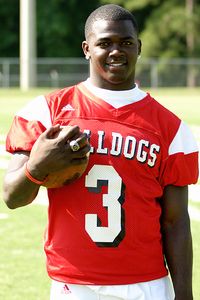 Ron Weatherford/Montee GraphicsWashaun Ealey is one of six ESPNU 150 prospects committed to Georgia.
Bryce Brown
(Wichita, Kan./East), the younger brother of Class of 2008 No. 1-rated linebacker and Miami freshman
Arthur Brown
, followed in his big brother's footsteps -- he committed to the Hurricanes in February.
Washaun Ealey
(Twin City, Ga./Emanuel County Institute), ESPN's No. 4 back and the state of Georgia's single season touchdown leader with 58, picked the in-state Bulldogs in late January. Both backs actually put up staggering numbers during their junior seasons, but their level of competition has also been questioned.
Currently rated as the No. 3 back, there was an argument that Brown's elite blend of size and speed could have easily placed him in the No. 1 or 2 spot. Yet some of the defenses he sliced through for more than 2,000 yards did raise our eyebrows, particularly after viewing them in person last fall. Still there is no denying the 6-foot, 215-pounder's explosiveness, downhill running strength and breakaway speed in the second level. Brown could definitely tote the rock 25 times per game for Miami and wear down the defense with his elite blend of speed and power.
Ealey has a similar downhill, explosive running style to Brown and the compact body structure to develop into a workhorse in Athens. Like Brown, there is a bit of concern about the competition he shredded for an astonishing 2,982 yards as a junior. Ealey has good suddenness and burst through the hole which allows him to make the first defender miss and hit the cutback creases sharply. Like Richardson, he runs with good determination and will keep his strong lower-body churning for extra yards after contact.
Christine Michael (Beaumont, Texas/West Brook) is pressing for a top-five spot, and he is a back we are going to watch closely this fall for consideration. The Texas native is a very powerful, decisive, downhill runner. He can also beat defenses through the hole with his great initial burst. We love his sturdy body structure and great in-line strength needed to carry the load at the next level while providing the explosive burst to rip off a long run on any given carry.
David Wilson (Danville, Va./George Washington) is the top back out of Virginia this year. He may be one of the most underrated runners in the top 10. The future Hokie can earn tough yards after contact with his compact frame and great lower-body leg strength. may be one of this running back class' top home-run threats when he reaches the second level.
Bring on the power backs
Montrell Conner
(Monroe, La./Ouachita Parish),
Chris Whaley
(Madisonville, Texas) and
Dexter Pratt
(Navasota, Texas) are top-10 backs who may be better overall football players at this point than true runners. Their average measurables check in at close to 6-2 and 220 pounds, and all have good straight-line speed for their size.
Conner may be the better true running back prospect out of the three with his lateral foot-quickness and ability to make the first defender miss through the hole. The Mississippi State pledge looks to have a better second gear as well, but Whaley is a bit bigger, stronger in-line and if he's not running over linebackers, he could become one himself at Texas. Pratt is power back heading to LSU who might not be overly quick or flashy but gets stronger with more carries and can wear down a defense with his consistent in-line running strength.
Michigan State head coach Mark Dantonio landed his workhorse of the future with the state's top runner Edwin Baker (Oak Park, Mich.). A kid who could crack our top-10 with a healthy senior season, Baker consistently breaks through first contact with his powerful lower-body and can also make first defenders miss with his good foot quickness. The future Spartan has deceptive speed needed to pull away in the second level as well.
Lamar Miller (Miami/Killian) may have been the most hyped Florida running back heading into this recruiting season. While we never even had the Miami Killian prospect rated as a top-three Florida back, we feel his stock should not be sinking like it appears to be. His good blend of inside and outside speed coupled with his great room for continued physical development make him a coveted prospect in our eyes.
Versatile backs
Like Giles,
David Oku
(Midwest City, Okla./Carl Albert) and
Mike Gillislee
(Deland, Fla.) are arguably the better all-purpose backs in this class. Oku is a weapon in space with his great lateral quickness and is equally impressive as a zone runner with his striking initial burst and ability to sharply and decisively hit the cutback creases.
Gillislee may be one of this class' biggest sleepers with his high-cut frame, great acceleration and speed as a running back prospect. Though more dangerous on the perimeter at this point, he could easily develop into a downhill back if he continues to get bigger. A dynamic skill player, we think Urban Meyer will find way to get this kid early touches in Gainesville.
D.J. Adams (Norcross, Ga.) is the antithesis of a multi-purpose back and simply a load of a runner at the high school level. The future Terrapin lacks coveted top-end speed but has great initial burst and power through the hole to consistently break the first wave of contact. Adams is another sleeper in this running back class and a steal for Maryland.
Looking to bounce back
As we round out our top backs for '09,
Knile Davis
(Marshall, Texas) and
Michael Ford
(Leesville, La.) are two impressive in-line runners who could make strong contentions for higher spots with injury-free senior seasons. On the cusp of the ESPNU 150, Davis is a rare blend of size (6-1, 210-pounds) and speed (4.45 40-yard dash) and knows how to use it attacking the downhill seams. Ford is a compact load of a back who can run through tacklers or elude them with sharp cutting skills. The LSU-bound prospect could carry the load for the Tigers in Baton Rouge.
Eddie Lacey (Geismar, La./ Dutchtown) and Kendrick Hardy (Monticello, Miss./Lawrence) round out the ESPNU 150 at the running back position and possess some of the better physical upside in this class. Both of these talented athletes could develop into strong downhill runners while retaining their quickness through the hole.
Lost in the Florida depth
[+] Enlarge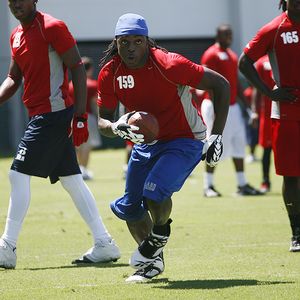 Tom Hauck for ESPN.comNo. 26-ranked RB Trabis Ward has South Carolina, Ohio State, LSU, Florida State and Louisville among his favorites.
In a year with such great quality at the position, the state of Florida boasts a handful of sleepers who may be hidden in the vast talent. The following three players' stocks could be on the rise this fall.
Trabis Ward (Fort Lauderdale, Fla./Dillard): This kid is finally getting some respect -- but it took until mid-summer for major offers to roll in. He has the coveted ability to wear down a defense with in-line strength or elude defenders with great burst and quickness in space.
Bradley Battles (Marianna, Fla.) -- South Florida has a steal in Battles. He has a great blend of power, speed and quickness through the hole. He reminds us of former Auburn RB Ronnie Brown.
Eric Samuels (Umatilla, Fla.) -- He looks more like a rangy corner, which may be throwing some schools off, but he has all the tools at the position -- great potential size, speed, strength and vision.
Billy Tucker is a recruiting coordinator for Scouts Inc. and has close to a decade of coaching experience at the college and high school level. Tucker has served as a recruiting coordinator for two nationally ranked Division II colleges. Most recently, he was the associate head coach and defensive coordinator for Merrimack College, which advanced to the Sweet 16 in the 2006 NCAA Division II playoffs.
Scouts, Football Recruiting
• Recruiting coordinator for ESPN RecruitingNation.
• Nearly a decade of college coaching experience.
• Was recruiting coordinator at nationally-ranked Division II colleges.

SPONSORED HEADLINES
MORE COLLEGE FOOTBALL HEADLINES
MOST SENT STORIES ON ESPN.COM
2009 ESPNU 150

After the most intensive research effort in Scouts Inc. history, the rankings are in. A pair of talented signal-callers and a gun-slinging athlete lead the first edition of the 2009 ESPNU 150.
Features
•
Luginbill: Breaking down the 2009 WRs
•
Luginbill: Talented arms top 150
•
Lawlor: Shepard a born leader
•
Haubert: Plenty of talent on the cusp
•
Conley/Tucker: Ten Sleeper Prospects
•
Luginbill: Breaking down the 2009 quarterbacks
•
Conley: Breaking down the 2009 OTs
•
Luginbill: USC new No. 1 in class rankings
•
Tucker: Breaking down the 2009 OLBs
•
Haubert: Breaking down the 2009 DEs
•
Luginbill: Breaking down the 2009 wideouts
•
Conley: Breaking down the 2009 safeties
•
Haubert: Breaking down the 2009 TEs
•
Tucker: Breaking down the 2009 RBs
•
Luginbill: Breaking down the 2009 athletes
•
Conley: Breaking down the centers and guards
•
Tucker: Breaking down the 2009 DTs
•
Tucker: Breaking down the 2009 ILBS
•
Haubert: Breaking down the 2009 DTs
•
Tucker: Breaking down the 2009 CBs