Commentary
Warwick High trying to learn from Vick's situation
Originally Published:
October 8, 2007
By
Jamar Hudson
| ESPN.com
NEWPORT NEWS, Va. -- From the outside, there's nothing special about Todd Stadium.
On this particular day, street construction is in full swing and drivers are struggling as their regular route has been altered. As pedestrians walk along the sidewalk, they are seemingly oblivious to the aged cement structure that calls 12465 Warwick Boulevard home.
But for the past 40 years, the all-purpose stadium has sat here. Named after former Newport News High School and William and Mary football standout John B. Todd, the complex serves as the home field for the five Newport News high school football teams.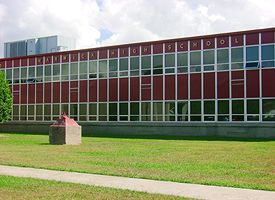 Jamar Hudson/ESPN.comWarwick High School was a launching pad for Vick's football career.
During this time, some of the best athletes to come out of this city of 150,000 on the Virginia peninsula have gotten their starts here.
Ronald Curry, Allen Iverson, Aaron Brooks to name a few.
And, of course, Michael Vick.
About a mile down the street is Warwick High School. In about two hours, head football coach Stan Sexton will take his football team onto the practice field. Coming off a come-from-behind win the previous week against Gloucester, Sexton appears confident as his team prepares to take on crosstown rival Menchville in two days.
This once was Vick's stomping ground. A three-year starter under then-coach Tommy Reamon Sr., Vick, class of 1998, was a star quarterback for the Raiders. Although overshadowed at the time by the more nationally known Curry, Vick still put up stellar numbers. As a senior, Vick threw for 1,500 yards and 10 touchdowns. He also rushed for 10 touchdowns that season. He finished his high school career with 4,846 yards and 43 touchdowns passing, showing the type of talent made him a star at Virginia Tech and the top overall pick in the 2001 NFL draft.
Sexton was an assistant coach at nearby Phoebus High School in Hampton, Va., when Vick was a student athlete and opponent. He vividly remembers the year the Vick-led Warwick Raiders defeating Phoebus 20-14. Sexton would later hear Vick in college describe the game as one of the highlights of his high school career.
"He was a very good quarterback [in high school]. Coach Reamon did a very good job bringing him along," Sexton said. "I think he was probably more of a natural quarterback than Aaron and Ronald were."
Not too long after Sexton was hired at Warwick, Nike was in town to film a commercial highlighting Vick's high school years. It was a moment in which Warwick's native son's popularity made the school proud. Proud to be known as "the home of Michael Vick."
But that was then.
As the past six months have unfolded for Vick and his legal woes, the program he made a name for has gone forward. But not without having to deal with the backlash of the former Atlanta Falcons quarterback's troubles.
Vick is scheduled to be sentenced Dec. 10 after pleading guilty to a federal dogfighting charge. Vick, whose dogfighting enterprise, by his own admission, included killing fighting dogs and gambling, recently was ordered confined to his Virginia home after testing positive for marijuana.
Now, the mention of the name "Vick" ignites a tense feeling. Instead of happiness and excitement, disappointment and hurt looms.
"It's almost like a bad joke or a bad dream kind of deal," said Sexton, now in his third season as head coach. "There are a lot of teachers if you walked around this school who are very stunned this has actually happened because their opinion was very high of Michael.
"There are a lot of teachers here who would have done anything for him."
Gone from the trophy case in front of the school's gymnasium is the Vick jersey that once hung as a symbol of pride for the school. According to Sexton and Warwick High School athletic director Marilyn Watkins, the decision to remove the jersey came from "a higher authority."
ESPN.com requested interviews with the principal and vice principal of Warwick, but messages to their attention were not returned.
It appears the administration is trying to move on and distance itself from the situation. Sexton, instead of deflecting the attention, has used this as an opportunity to educate his players on more than X's and O's, but about life.
"We spend a lot of time trying to tell the kids how you conduct yourself in the classroom, on the bus ride home, on the field and when you're at home," Sexton said. "I tell them everything you do is going to affect the team one way or the other. It's either going to be positive or negative. We say if you get caught up in something outside, it's going to affect the team in a negative situation and it's also going to affect you."
The attention has come indirectly to Sexton and his staff. Since the summer, he has fielded countless calls from media across the country. It got to a point that Sexton just started to ignore phone calls he didn't recognize. But when it came to his players, that couldn't be ignored.
According to Sexton, many players on his roster with ties to Vick, being from the same community, have handled the situation well.
"As a staff, we're not going to shy away from the subject, we just have to be careful how we handle the situation," Sexton said. 'I don't want to separate the team. I don't want divide the team in the 'you're for Michael' or 'you're against Michael' groups. That's the last thing I want."
Sexton sent consent forms home with several of his players asking for parents' permission to be interviewed by ESPN.com. Those forms were not returned.
David Coccoli was an offensive lineman at Warwick and teammate of Vick. Now the defensive coordinator for the Raiders, Coccoli has a more personal connection to the situation, but like Sexton, he feels the young players are learning from what they see, read and hear about the Vick situation.
"I try to refrain from commenting about it around the kids because I've known [Vick] since the seventh grade," Coccoli said. "I think they are learning that people deserve second chances. And once people ask for forgiveness, you should give that person a second or even a third chance."
Coccoli would not comment on whether he thought it was fair or not that Vick's jersey should have been removed. Watkins, however, wasn't against the idea of having it returned in the future.
"If someone told me to put it back, just like someone told me to take it out, I would follow directions," she said.
The school's athletic director for the past 11 years, Watkins was here when Vick roamed the hallways. She says prior to and during the Vick situation, the school has tried to teach responsibility and decision making, but at the same time, they can't escape the truth of what's been going on.
"I would say we're trying to get out of the limelight, because we didn't cause the limelight," Watkins added.
Sexton says he's trying to bring back the proud tradition and he knows it will take time. In the meantime, being in the business of high school football means players are going to get in trouble and he always has to be prepared to deal with it. And if Vick still wore the Warwick burgundy and gold, the same colors as Sexton's players wear today, it would be no different.
"If he was one of my players, I'd sit down and talk to him and say 'Do you understand what you did wrong, did you learn from your mistakes? Then, OK, and let's pull yourself up from the ground, dust off, let's get your gear on and let's get out there and practice,'" Sexton said. "And if he's truly learned from his mistakes, I'd love for him to come in and say, 'Hey here are the pitfalls you have to watch out for.'"
Jamar Hudson is a recruiting editor for ESPN.com.
MORE COLLEGE FOOTBALL HEADLINES
VICK SENTENCED TO 23 MONTHS

Michael Vick was sentenced to 23 months in federal prison and three years' probation for his role in a dogfighting conspiracy. The suspended Falcons quarterback is looking at a scheduled release of July 2009. Story
Update
•
GM: Falcons will attempt to trade Vick
•
Lawyer: Vick might move to halfway house
•
Former Vick estate fails to sell again
•
Vick house fails to sell at auction
•
Vick files for bankruptcy protection
•
Prosecutor: Vick's Virginia trial can wait
•
Vick ordered to repay Canadian bank $2.4 million
•
Judge denies NFL motion to reverse Vick ruling
•
Report: Vick not playing organized football in jail
•
Report: Vick passes time with prison-yard football
•
Vick's state dogfighting trial to begin June 27
•
Munson: Vick yet to enter drug treatment
The sentence
•
Vick sent to Kansas to serve rest of sentence
•
Vick asked judge for leniency before sentencing
•
Vick sentenced to 23 months
|
Document (pdf)
•
Poll: What do you think?
|
What they're saying
•
Clayton: Sentence puts career in jeopardy
•
Munson: Tough sentence by displeased judge
•
Teammates show support at Falcons game
•
Can Vick return to playing in NFL?
•
Pasquarelli: No longer top of mind in Atlanta
•
Last Vick co-defendant sentenced
•
Podcasts

:
Cossack

|
Schlereth

|
Munson/Naqi

|
Pasquarelli

•
Chat wrap: David Cornwell
Post Plea
•
NFL wants court to reverse Vick bonus ruling
•
Victory for Vick: QB can keep $20 million bonus
•
Fifth defendant in Vick case receives probation
•
Vick's house for sale for $1.1M
•
Some Falcons to visit Vick in prison
•
PETA unveils new e-card
•
Former Virginia estate fails to sell at auction
•
Out of Falcons' sight, almost out of mind
•
Judge's casework offers look at possible sentence
•
Remaining dogs placed with rescue groups
•
Source: Feds may push judge to up sentence
•
NFLPA argues Vick should not lose roster bonus
•
Vick co-defendants get 18, 21 months in prison
•
Vick agrees to put up almost $1M for dogs' care
•
Vick given April trial date on state charges
•
Vick surrenders to begin serving sentence early
•
Home at center of Vick dogfighting scandal sold
•
Vick fires one of his lawyers in dogfighting case
•
Man who sold Vick pit bull pleads guilty
•
Man connected to Vick dogfight ring pleads guilty
•
Third bank sues Vick, claims he defaulted on loan
•
Arbiter: Falcons have right to reclaim bonuses
•
PETA: Vick had class on animal cruelty
•
Evaluations show 48 of Vick's dogs placeable
•
Vick tests positive for marijuana
•
Vick supporters turn out for town meeting
•
Vick's apology notes fetch $10.2K at auction
Vick's Plea/NFL Suspension
•
Vick pleads guilty to federal dogfighting charge
•
The plea
(PDF) |
Statement of facts
(PDF)
• Vick's statement:
Watch it

|
Read it
•
Roger Cossack explains plea deal
•
Poll: Vick should be banned
•
Va. Tech, Beamer continue to support Vick
•
Vick supporters drown out protesters
•
NFL suspends Vick indefinitely
|
Goodell
(PDF)
•
Chris Mortensen on Vick's suspension
•
Vick files plea agreement admitting to dogfighting
Indictment
•
Marbury's about-face: Vick 'is 100 percent wrong'
•
National NAACP: Vick 'not a victim'
|
Audio

•
Atlanta NAACP: Vick should be allowed to return
•
Falcons come to terms with 'ex-teammate'
•
Vick timeline
|
What they're saying
•
Helyar: Even Atlanta turns against Vick
•
Goodell: Vick not overshadowing season
•
Vick co-defendant pleads guilty to charges
• Tony Taylor:
Summary of Facts
|
Plea agreement
•
Hometown residents stand by Vick
•
Falcons had planned to suspend Vick
•
Commish tells Vick to avoid camp
•
Vick indicted
|
The indictment (pdf)
|
Civil arrest warrant (pdf)
Town Hall meeting
•
Town Hall chat wrap: Chadiha
Previous columns/analysis
•
Munson: Q&A on Vick reporting to prison early
•
Munson: Looking at Judge Hudson
•
Vick's high school learning lessons
•
Bryant: Confounded by race issue
•
Munson: Q&A about local indictment
•
Munson: Next focus for Vick is length of sentence
•
Schlabach: Vick an afterthought on VT campus
•
Chadiha: Vick not running from truth
•
Hill: Coverage means bigger issues ignored
•
Wojciechowski: Pay attention to the fallen star
•
Bryant: Vick's plea deal comes with baggage
•
Bryant: In failing Vick, NFLPA fails itself
•
Munson: Vick plea means surrender
•
Forde: Vick's epic fall
•
Pasquarelli: Major blow for Falcons
•
Chadiha: Lots of lessons to be learned
•
Wojciechowski: Punishment with teeth
•
Easterbrook: Little sympathy?
•
Clayton: Vick's NFL future might be bleak
•
E-Ticket: A history of mistrust
•
Chadiha: Vick's bad choices