Don't sleep on these guys
Bill Conley and Billy Tucker go beyond the hype to look at some of the underrated ESPNU 150 prospects.
Evaluating high school football players and recruiting is not always an exact science. As a result, each year we uncover prospects on the recruiting trail that we feel are sliding under the national radar. These are prospects that have slipped through the cracks for various reasons and lack the national attention or prominent scholarship offers other players have garnered.
This year's ESPNU 150 sleepers are missing a few of the sought-after attributes that often characterize top-tier prospects. Whether it stems from a lack of ideal size and speed, unimpressive combine numbers, unclear positional projection or presumed inferior level of competition, the following 10 prospects are not getting the respect they deserve among their 2009 classmates.
More Recruiting Coverage

ESPN's in-depth look at the top talent in high school football involved scouting nearly 2,000 prospects. The ESPNU 150 will change throughout the year with a player's final ranking getting determined before national signing day.
• The 150 | Recruiting index
• Scorecard | On the Trail
Any way you slice it, at Scouts Inc., we try to evaluate prospects on more than the usual criteria. In our opinion, the film doesn't lie. But we also look for players who possess qualities that may not be as clear cut as the measureables. We look for prospects we think will continue to produce or blossom at the next level, despite their current or potential perceived limitations.
After objectively evaluating more than 2,000 college prospects at this point, we think the following ten players on our newly released ESPNU 150 deserve a bit more national exposure on the recruiting trail.
Ten ESPNU 150 prospects deserving more pub
The University of Miami is onto athlete Jamal Reid (Mayo, Fla./Lafayette). However, none of the other recruiting powers appear to be pressing. Sorry to let the cat out of the bag, Randy Shannon, but this kid may be one of the best kept secrets in the country.
Perhaps it's because he plays in one of the smaller divisions in the state of Florida, or that he shines more as a total athlete at this point than a positional prospect. Either way, this kid fits into former Pro Bowl wide receiver Cris Carter's mold of "all he does is catch touchdowns." Whether it's as a wide receiver, defensive back or return specialist, Reid is a threat to score every time he touches the ball and is worthy of his 102 national ranking. Although he's not overly explosive, he flashes great top-end speed, is smooth and fluid in all of his movement skills and has some of the better ball skills in this entire class. Reid is a big-time playmaker on any level in our opinion and should continue to see his recruiting stock soar as more people judge his pure talent, not his competition.
As the No. 57-ranked player, Chris Payne (Columbia, S.C.) brings a lot to the table as a defensive back you can't measure at a combine. His name is appropriate to the punishment he delivers to the opposition, and he can change the momentum of the game with his high-impact collisions.
The only thing that may be keeping this guy from topping recruiting lists around the country, aside from his marginal height, may actually be his aggressiveness. His quick and devastating hits often mask his sound zone coverage skills. Though he may not be the tallest safety on the field, his high-motor, sharp angles and solid fundamentals allow him to make big plays in pass defense. If he doesn't undercut the route, he loves to punish and separate wide receivers from the football. This "always in attack" mode defender is also the first man down on the coverage units of special teams -- an often unappreciated attribute.
With a successful camp and combine circuit, Richard Brehaut (Rancho Cucamonga, Calif./ Los Osos) has seen his stock rise since we first evaluated him high in early spring. Yet we still think UCLA is getting the steal of this year's quarterback class and perhaps the West Coast version of Aaron Murray (Tampa, Fla./ Plant).
[+] Enlarge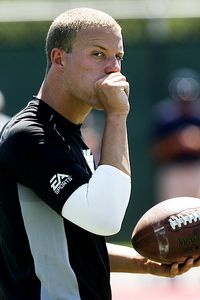 Tom Hauck for ESPN.comUCLA commit Richard Brehaut puts tremendous zip on his throws.
At 6-foot-1, Brehaut might not possess the prototypical size of top-five national quarterback, but his great mental intangibles like competitiveness, intelligence, toughness and moxie are difficult to measure on paper. Aside from his great leadership qualities and field presence, the No. 34-ranked national prospect is no slouch in the physical and skill department as a quarterback either. He has a live, accurate arm and gets rid of the ball quickly with good timing. Brehaut's ability to make plays with his legs and throw well on the run masks the coveted few inches he lacks at the position, in our opinion.
While not a household name on the recruiting trail, we think in terms of size and speed -- Ray Ray Armstrong (Sanford, Fla./Seminole) is perhaps the best overall athlete in this class. With more than 20 scholarship offers from some of the more prominent programs in the country, this 6-foot-4, 215-pound physical specimen is not a hidden gem, but we think he is in obscurity when compared to the rest of the headline names that make up our top 20.
Armstrong lines up anywhere on the field to create mismatches, including quarterback to put the ball in his hands on every snap, but will most likely grow into a disruptive outside linebacker or strong safety at the college level. He has excellent speed, range and smooth hips but remains strikingly explosive -- just ask opposing ball carriers when he is filling hard from his high-point safety position. What puts him into the elite category is the fact that he is still raw and has a high ceiling for development, particularly on defense.
Though he may not be from the largest school in Ohio, safety Isaiah Bell (Youngstown, Ohio/Liberty) stands out in a traditionally strong football area of the state. Impressive now, but the No. 91-ranked player has a ton of upside projected to the next level, both physically and athletically.
[+] Enlarge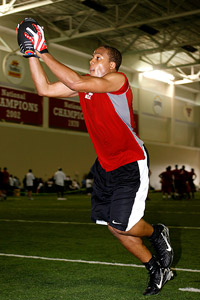 Tom Hauck for ESPN.comIsiah Bell will play at the University of Michigan.
Not only does he excel on defense with his great burst and ball skills, but this long and lean athlete displays abilities as a returner on special teams. His biggest recruiting dilemma, and perhaps the major root of his national obscurity, may be trying to figure out what position to play him. He rules the secondary as a free safety but is built more like an outside linebacker. His continued physical development should dictate eventual position and success. His great instincts and competitive nature will make him a valuable football player at the college level, regardless of position. Bell is the definition of a late bloomer.
Outside linebacker Tom Wort (New Braunfels, Texas) may not weigh the prototypical 230 pounds, but he sure hits like it between the white lines. Growing up in England, Wort was more familiar with a different kind of football, but it didn't take this kid long to adapt to the American version.
Wort's outstanding instincts, high-motor and closing speed can't be coached, and the size will eventually come in a full-time college weight-training program. What makes him a top-10 overall linebacker in the ESPNU 150 is his potential scheme versatility to play both inside and out at the college level, an invaluable quality at the position. Wort's great range and potential for creating havoc on the outside is apparent, but his fast-twitched athleticism in the middle -- allowing him to slip the cutoff block and make stops behind the line of scrimmage -- may be more impressive. Wort is a kid who should set the tempo of the defense with his sell-out style of play and be a force on special teams, two often underrated qualities when projecting a college linebacker.
Sometimes early commitments do not get their justice in terms of national recognition. Such may be the situation with defensive tackle Josh Downs (Bastrop, La.) who verbally committed to LSU in February.
As the No. 81 overall player, Downs is a mobile lineman that has a motor that never quits. He is short for a defensive tackle, which may have caused some to overlook him, but his aggressive play and sound fundamentals easily mask his marginal measurables. He has great hands and can separate and disengage from the blocker with precision, often an underdeveloped skill at the high school level. A rare well-rounded defensive line prospect, Downs is also an active pass rusher that is talented enough to beat the offensive blocker underneath or by speed rushing the edge. We expect his 267-pound frame to be 290 quickly in Baton Rouge.
[+] Enlarge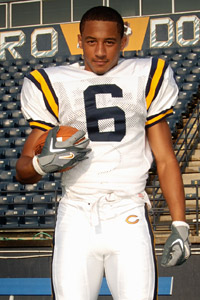 Emily Jeanmard Janzen Jackson is the No. 5 cornerback in the nation.
It doesn't take long to see
Janzen Jackson
(Lake Charles, La./Barbe) is the son of a college coach on film -- this kid does all the little things right as a defensive back. In an age when flashy play and finesse often gets you more hype and attention, his game is built around solid fundamentals and toughness.
Arguably one of the best solo tacklers in this class, the No. 76 overall player has been coached well and is disciplined, key attributes for a last line defender. A versatile defensive back, we project he will develop into a college corner, and underneath physicality will be his forte. Lockdown corners are always in high demand, but a perimeter player who will jam today's bigger college receivers off the line and fill hard versus the run should be just as coveted in our eyes.
The No. 27 nationally ranked player is surprisingly just now starting to receive the recognition we think he deserves. Offensive lineman Paden Kelley (Austin, Texas/Lake Travis) may have been overshadowed by blue-chip teammate Garrett Gilbert early in the recruiting process, but he has the rare blend of size and athleticism to compete early at the collegiate level. His large wingspan and foot-quickness make him a valuable commodity in terms of pass protection, and he is an outstanding reach blocker who takes quick lateral steps as he gains outside pad control of the defender. Kelley is not only effective at the point of attack, but he also runs well and gives super effort getting downfield to pick up an extra block. His well-rounded skills as a run and pass blocker and versatility to play both guard and tackle are rare in our eyes.
It's not often that an offensive lineman is accused of being too tall for his position, but such may be the case with offensive Jack Mewhort (Toledo, Ohio/St. Johns). The No. 122-ranked offensive lineman shows remarkable agility and flexibility for a 6-foot-6 center and his non-traditional measurables may lead to his sleeper status.
Though he doesn't play as low as some shorter linemen, he can manhandle middle guards lined up on him or shaded. His powerful hands and upper body allow him to move defenders off the line of scrimmage with regularity. He is fluid when getting to the second level in order to pick up linebackers and has the coveted mobility to venture downfield to seek out defenders. Mewhort is talented enough to play other positions on the offensive line, but don't count him out at the valuable center spot, despite his height.
Bonus
It's hard to find well-rounded tight ends coming out of high school, but we think Barrett Matthews (Houston/North Shore) brings great versatility to the table at the position, despite not possessing prototypical size. At 225-pounds, the No. 56 overall player has track speed after the catch and the tools to develop as an in-line blocker.
Bill Conley and Billy Tucker are recruiting analyst for Scouts Inc.
Scouts, Football Recruiting
• Recruiting coordinator for ESPN RecruitingNation.
• Nearly a decade of college coaching experience.
• Was recruiting coordinator at nationally-ranked Division II colleges.

2009 ESPNU 150

After the most intensive research effort in Scouts Inc. history, the rankings are in. A pair of talented signal-callers and a gun-slinging athlete lead the first edition of the 2009 ESPNU 150.
Features
•
Luginbill: Breaking down the 2009 WRs
•
Luginbill: Talented arms top 150
•
Lawlor: Shepard a born leader
•
Haubert: Plenty of talent on the cusp
•
Conley/Tucker: Ten Sleeper Prospects
•
Luginbill: Breaking down the 2009 quarterbacks
•
Conley: Breaking down the 2009 OTs
•
Luginbill: USC new No. 1 in class rankings
•
Tucker: Breaking down the 2009 OLBs
•
Haubert: Breaking down the 2009 DEs
•
Luginbill: Breaking down the 2009 wideouts
•
Conley: Breaking down the 2009 safeties
•
Haubert: Breaking down the 2009 TEs
•
Tucker: Breaking down the 2009 RBs
•
Luginbill: Breaking down the 2009 athletes
•
Conley: Breaking down the centers and guards
•
Tucker: Breaking down the 2009 DTs
•
Tucker: Breaking down the 2009 ILBS
•
Haubert: Breaking down the 2009 DTs
•
Tucker: Breaking down the 2009 CBs
MORE COLLEGE FOOTBALL HEADLINES
MOST SENT STORIES ON ESPN.COM