Commentary
Illinois' Whitmer stars at Elite 11 event
Originally Published:
March 1, 2009
By
Tom Luginbill
| Scouts Inc.
ORLANDO, Fla. -- The class of 2010's first EA SPORTS Elite 11 regional camp certainly presented the day's throwers with plenty of challenges, most notably the cold temperatures that included rain and extreme wind.
More than 70 prospects attended the event at Disney's Wide World of Sports complex, which is also home to the Under Armour All-America Game. A select group began to separate itself from the pack as the workout continued. Listed below is a quick snapshot of some of the players who stood out the most throughout the day. (Unfortunately, due to a conflict with a basketball game the night before, Florida commit Trey Burton of Venice, Fla., was unable to attend.)
It is very important to note in all fairness to the prospects who participated, the windy conditions were quite severe and as a result inconsistent accuracy was evident.
Top Performer
Chandler Whitmer (Downers Grove, Ill./South)
Whitmer was a ball boy for the Elite 11 event a year ago, and he held his own against the likes of Aaron Murray, A.J. McCarron and Co. in the 2009 class. He is now a bit taller and has bulked up some. He was polished, nicely groomed and displayed solid footwork, ball speed and arm strength. His natural wrist velocity gave him an edge against the wind and aided in his overall accuracy. At this stage, Illinois, Arizona and Stanford have offered, and he is also receiving interest from Northwestern, Notre Dame and Purdue.
[+] Enlarge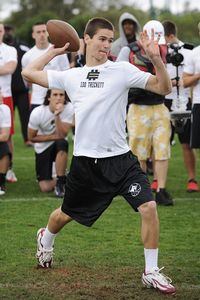 Gary Bogdon for ESPN.comClint Trickett has an impressive pigskin pedigree.
Stock Up
Eddie Sullivan (Boca Raton, Fla.)
Although Sullivan does not possess ideal measurables in terms of height, he clearly displayed the strongest arm and greatest RPMs of anyone in attendance. Standing right around 6-foot, Sullivan is on the shorter side. Regardless, he shows quick feet, good drop speed, a live arm and quick release. He tends to throw with a tense upper body and must relax in his methods, but Sullivan has some nice physical tools and is built similar to Aaron Murray from the 2009 class. Sullivan has offers from Southern Miss and SMU and is garnering interest from Auburn, NC State, Tennessee and Wisconsin at this time.
Sleeper
Clint Trickett (Tallahassee, Fla./North Florida Christian)
The son of Florida State offensive line coach Rick Trickett, Clint is obviously going to be a tough guy if his father has had any influence on him at all. A late bloomer, Trickett is lean, still has some growth potential and clearly is a guy with upside. He reminds us a little of 2009 Michigan State commit Andrew Maxwell, but Trickett isn't quite the same size. He is smooth in his mechanics and delivery and is a guy with his best football ahead of him.
Tale of the tape
Best arm
Eddie Sullivan (Boca Raton, Fla.)
A few guys showed similar power, but, naturally, Sullivan's combination of wrist velocity and pure strength on a consistent basis gave him the edge. The ball pops off his hand.

Most accurate
Chandler Whitmer (Downers Grove, Ill./South)
Whitmer's footwork and delivery are often in sync, which means he is likely not going to miss the strike zone much. He had a good feel for timing and threw a catchable ball.

Best upside
Trevor Seimian (Orlando, Fla./Olympia)
While Whitmer and Sullivan are on the shorter side, Seimian possesses ideal size and still has the frame to really fill out. At times, he flashed excellent arm strength and ball speed along with good footwork and ball control. To truly stand out, he must become more consistent. He really got better as the day went on; he got a feel for the drills and what was asked of him. At this time, Duke and Vanderbilt have offered, and we expect his recruitment to heat up soon.

Honorable mention: Michael Strauss (Miami/Gulliver Prep)

Strauss was similar to Seimian -- not quite as tall, but also maybe more of a gunslinger. He showed a bit of a swagger, but also inconsistent accuracy, which the wind certainly had something to do with. Tulane has offered to Strauss and Akron, UNC, Ole Miss, Alabama and Vanderbilt are expressing interest.

Best dual-threat
Tarean Austin (Tampa/Hillsborough)


Not only did Austin test well the day before at the Nike Football Combine, but he was more than just an athlete playing QB. He has wonderful size and a sturdy build. Austin displayed a raw, powerful arm. In the right scheme, he could be really dangerous. Austin could be a terror in the open field; he is built like a physical safety. USF, Wake Forest and Duke have offered to Austin at this stage.
Best raw tools
Brion Carnes (Bradenton, Fla./Manatee)
Whether Carnes remains at QB is yet to be determined, but he is a special athlete with good size, an athletic build and great feet. He showed raw skills as a passer, but Carnes has real tools for the spread scheme. At times, he was really sharp with his arm and at other times was erratic, but there is a lot to work with. Although Carnes is committed to USF, he holds offers from Clemson among others. It's easy to see why.
Best breakout performance
Ryan Singer (Dunedin, Fla.)
Singer has a combination of good size, decent footwork and solid arm strength. At times, he will wind up a bit in his delivery, but he really showed flashes of developing into a quality pocket guy.

Tom Luginbill is the National Recruiting Director for ESPN's Scouts Inc.
RecruitingNation
Senior National Recruiting Analyst for ESPN.com
Coached in four professional football leagues
Graduated from Eastern Kentucky and Marshall
Nike Football Combines

Players such as Larry Fitzgerald and Devin Hester once shined in Nike Football combines, and this year's circuit is open to the public and features 17 events. Who knows? Maybe the next college or NFL superstar will be there.
Schedule
|
Nike index |
More recruiting
Colorado NFTC
•
Biggins:
MVPs by position
•
Biggins:
Onyeali impressive in all areas
•
Biggins:
Overheard in Boulder
Oregon Elite 11
•
Shurburtt:
QB Grayson looks the part
Oregon NFTC
•
Shurburtt:
WR Wells emerges in Eugene
•
Shurburtt:
Overheard in Eugene
•
Biggins:
MVPs by position
Illinios NFTC
•
Conley:
QBs become the toast of the town
•
Kurelic:
Michigan prospects lead standouts
•
Stumpf:
MVPs by position
•
Kurelic:
Overheard in Champaign
Rice NFTC
•
Shurburtt:
Overheard in Houston
•
Shurburtt:
QB trio leads offensive standouts
•
Liucci:
Defensive standouts from Rice NFTC
•
Stumpf:
Breaking down the MVPs by position
Berkeley Elite 11
•
Montana shines at Cal
Stanford NFTC
•
Stanford NFTC MVPs
•
Overheard in Stanford
Virginia NFTC
•
Haubert
:
Sims fires on all cylinders
•
Givens
:
Olaniyan, Henderson stand out
•
Givens
:
Overheard in Virginia
Penn State NFTC
•
Kurelic
:
Defenders steal the show
•
Kurelic
:
Overheard in State College
Penn State Elite 11
•
Luginbill
:
QBs Boone, Jones look the part
•
Kurelic
:
Jones looks comfortable at PSU
Florida State NFTC
•
Haubert
:
RB Finch has impressive showing
•
Givens
:
Florida natives shine at FSU
•
Givens
:
Overheard in Tallahassee
•
Stumpf
:
MVPs by position
Georgia NFTC
•
Shurburtt
:
Offensive standouts
•
Gunter
:
Defensive standouts
•
Shurburtt
:
Overheard in Athens
•
Stumpf
:
MVPs by position
Georgia Elite 11
•
Shurburtt
:
Bell, Sims show well
•
Luginbill
:
Rising junior LeMay impresses
•
UGA Elite 11 Zoom gallery
USC NFTC
•
Shurburtt
:
Offensive standouts
•
Paskwietz
:
Defensive standouts
•
Shuburtt
:
Overheard at L.A. NFTC
•
Biggins
:
MVPs by position from NFTC
Fort Worth NFTC
•
Shurburtt
:
Skyline stars have strong showing
•
Shurburtt
:
Overheard in Fort Worth
Fort Worth Elite 11
•
Luginbill
:
Gabbert emerges as top QB
•
Shurburtt:
Future Big 12 stars on display
Fort Worth Elite 11 Zoom Gallery
Miami NFTC
•
Haubert:
LB Luc impressive
•
Shurburtt:
South Florida talent runs deep
•
Shurburtt:
Overheard at Miami NFTC
Orlando Elite 11 camp
•
Luginbill
:
Whitmer stars at Elite 11 event
•
Orlando Elite 11 Zoom Gallery