Commentary
Checking in with top undecided recruits
Fifteen of the top 30 prospects are still undecided about where they'll play college ball
Updated:
September 8, 2009, 12:05 PM ET
By
Jc Shurburtt
| Scouts Inc.
Here's the latest on the recruitment of each of the uncommitted top 30 players in the ESPNU150.
[+] Enlarge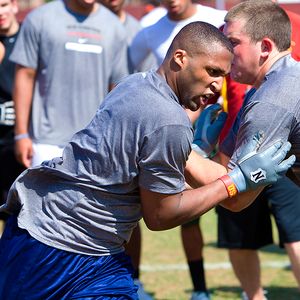 Tom Hauck for ESPN.comJackson Jeffcoat is looking at Texas, Oklahoma, Arizona State, Houston, USC and Florida.
Jackson Jeffcoat, DE
(Plano, Texas/Plano West)
The nation's top overall prospect has a top six (in alphabetical order) of Arizona State, Florida, Houston, Oklahoma, Southern California and Texas. He is planning on attending the Texas-Oklahoma football game on Oct. 17 in Dallas, but will take most of his official visits following the football season when his parents will be able to accompany him on trips. His sister is committed to the Sooners to play basketball. Southern California and Texas also feel good about their chances.
Jordan Hicks, LB, (West Chester, Ohio/Lakota West)
Hicks is supposed to be on campus at Ohio State this weekend, when the Buckeyes play host to Southern California. It is up in the air if the visit is going to be official or unofficial. Texas, who is believed to be the other major player for the nation's No. 2 prospect, is currently scheduled to get an official visit on the weekend of Oct. 10, when the Longhorns play host to Colorado. Ohio State has an excellent shot to land Hicks, but it's not as much of a slam dunk as it typically is with a talented in-state player. Hicks is not originally from Ohio, so he doesn't have the lifelong ties to the program that others do.
Ronald Powell, DE, (Moreno Valley, Calif./Rancho Verde)
Florida and Southern California have been the teams to beat for the talented Powell since the spring. Powell paid his own way to Gainesville, Fla., twice for unofficial visits, displaying an obvious interest in the Gators. He recently made an unofficial visit to USC to watch the Trojans' final scrimmage of the preseason and got the full-court press from the coaches there. Florida is a legitimate contender for Powell, but USC has the geographic advantage and should have more face-to-face opportunities to woo him simply because of proximity.
Seantrel Henderson, OL, (Saint Paul, Minn./Cretin-Derham Hall)
The big offensive tackle will see Southern California three times for official visits. He is scheduled to be in Columbus this coming weekend for the USC game. The 6-foot-8, 301-pounder also has visits scheduled to Notre Dame (the weekend that the Irish play host to the Trojans) and to Los Angeles on Thanksgiving weekend for his official visit to USC. The in-state Minnesota Golden Gophers are a big factor, as well. Henderson typically is noncommittal when he talks about the schools that are strongest for him. He should be considered open, but watch out for the home team when all is said and done.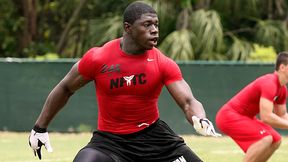 Tom Hauck for ESPN.comJeff Luc will likely stay in the state of Florida, but it's still up in the air whether it's FSU, Miami or UF.
Jeff Luc, LB
(Port Saint Lucie, Fla./Treasure Coast)
Luc is likely going to stay in the state of Florida to play college football. Florida State, Florida and Miami (Fla.) are the three teams to beat with Georgia in the mix, as well. Luc was scheduled to make an unofficial visit to Tallahassee on Monday night for the Seminoles' home game against Miami and Florida State is believed to have a slight edge for his services at this time.
Michael Dyer, RB, (Little Rock, Ark./Little Rock Christian)
Auburn assistant coach Gus Malzahn has deep ties to the Natural State and has made Dyer a major recruiting priority. The Tigers are in excellent shape and are the clear favorites for the nation's No. 1 running back at this time. Arkansas (which you can never count out with an in-state prospect), Ole Miss, Florida and Tennessee are the other schools in the mix for the Under Armour All-American.
Darius White, WR, (Fort Worth, Texas/Dunbar)
White is very noncommittal when asked about his recruitment, but it's a safe bet that Oklahoma has the inside track for his services, particularly after landing his high school teammate, linebacker Rashod Favors. Texas and Oklahoma State also are in the mix and are also strong players for the nation's No. 1 prospect at receiver.
Marcus Lattimore, RB, (Duncan, S.C./James F. Byrnes)
Lattimore already has official visits scheduled for Penn State the weekend of Oct. 10 (the Nittany Lions play host to Eastern Illinois) and for Oregon on Halloween weekend (the Ducks play host to USC). South Carolina, Auburn and North Carolina are expected to receive official visits following the season. Lattimore will decide close to national signing day. The Gamecocks have been in good shape for some time, but the rest of the schools are strongly in the mix, as well.
Lamarcus Joyner, CB, (Fort Lauderdale, Fla./Saint Thomas Aquinas)
Joyner recently said that Florida State, Ohio State and Florida were his "big three" schools. The Seminoles have been in the driver's seat for some time and should still be considered the team with the best shot at ultimately landing him. Plenty of time will pass before Joyner makes a decision, though. The Buckeyes also have been strong for some time and never count out the Gators.
Chris Dunkley, WR, (Pahokee, Fla./Pahokee)
Florida has been the clear leader here for quite some time. Dunkley was talking up the Gators as early as last year's Under Armour All-American Game, when he was in attendance at practices. Florida State and some other schools could get official visits, but it would be a major upset if he doesn't end up in orange and blue.
DeMarco Cobbs, ATH, (Tulsa, Okla./Tulsa Central)
Cobbs is a mystery man and has told different reporters different things about which schools are truly on top. Right now, statistically it looks like he very well could be bound for the Southeastern Conference. Tennessee, Florida, Georgia, Alabama and Oklahoma are his reported finalists and he has said recently that the Vols are on top. This would continue the recent tradition of Tennessee landing top players out of Oklahoma. Gerald Jones and David Oku are two of the most recent Vols acquisitions from the Sooner State.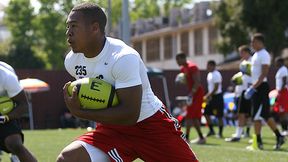 Tom Hauck for ESPN.comJordan James is waiting to make his announcement at the UA All-America game.
Jordon James, RB
(Corona, Calif./Corona)
James will announce his decision at the Under Armour All-America game on Jan. 2. James visited Washington during the weekend and has visits planned to Cal (Oct. 2), Notre Dame (Oct. 16), Arizona (Nov. 7) and UCLA (Nov. 21). James has maintained a wide-open approach throughout the process and could end up at any of the schools on his list.
Lache Seastrunk, RB, (Temple, Texas/Temple)
Auburn has been mentioned the most in connection with Seastrunk, who was obviously strongly considering the Tigers in the spring. In recent interviews, though, he has talked about being more wide open. LSU is a program that has made a big push. Southern California also is in the mix for him and he says he it still open to all schools. Seastrunk's recruitment will be one of the more interesting ones to follow down the stretch. Will the perceived favorite, Auburn, come out on top? Or will he surprise and head elsewhere?
Christian Jones, LB, (Winter Park, Fla./Lake Howell)
Jones has tons of ties to Florida State. His father played for the Seminoles. His brother also played for the Seminoles. Jones has maintained that the Noles are his leader, but he has not committed and seems set on taking other visits. Florida is a school that has been in the mix and chances are he will continue to flirt with the Gators and other programs, but in the end it's going to be awfully difficult for anyone to top Florida State.
Sean Parker, S, (Harbor City, Calif./Narbonne)
The ESPNU150 four-star prospect visited Notre Dame during the weekend and most believe that the Fighting Irish have the inside track for his services. Southern California also is still in the mix to a certain extent, but the Trojans are behind Notre Dame. Expect Parker to end up in South Bend barring something surprising, which of course can always happen in recruiting.
JC Shurburtt covers recruiting for ESPN.com. He can be reached at jcsespn@aol.com.
SPONSORED HEADLINES
MORE COLLEGE FOOTBALL HEADLINES
MOST SENT STORIES ON ESPN.COM
Recruiting 101

The college football season just kicked off, but that doesn't mean college coaches are taking a break from recruiting. These days, the recruiting cycle is year-round.
Introduction to Recruiting
•
Maisel: Evolution of recruiting
•
Luginbill: Changes in recruiting

•
Recruiting calendar
Making The Pitch
•
Feldman: Importance of recruiting
•
Top 25 recruiters
•
Best closers by conference
•
2010 Team rankings
Next: Top Prospects
•
Winkeljohn: Keeping up with the Joneses
•
Top uncommitted prospects
•
ESPNU 150
|
Watch List