Commentary
Smith running into the record books
Updated:
October 1, 2009, 10:34 AM ET
By
Dave Biddle
| Special to ESPN.com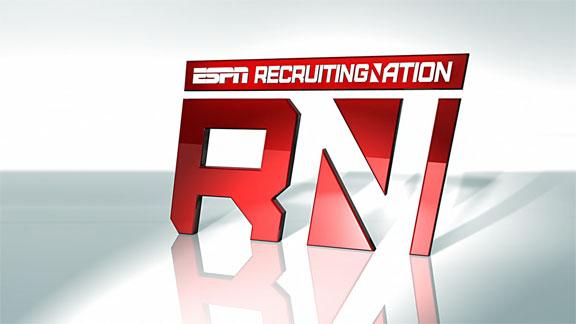 Roderick Smith
He has established himself as one of the top running backs in Indiana high school history.
[+] Enlarge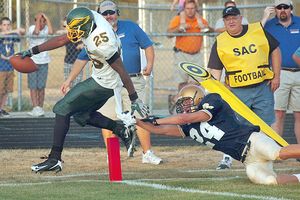 Samuel Hoffman / The Journal Gazette, Fort WayneRoderick Smith has a chance to rewrite Indiana's career rushing record.
Now it's just a matter of how high on the career rushing list he will finish.
Roderick Smith, from Harding High School in Fort Wayne, Ind., has amassed 5,797 yards and 56 touchdowns thus far in his prep career. He ranks 22nd on the Indiana High School Athletic Association's career rushing list, and he'll at least crack the top 10 this season barring injury.
Smith (6-foot-3, 220 pounds) has committed to Ohio State. ESPN's Scouts Inc. ranks Smith as the nation's No. 7 running back in the Class of 2010.
Through six games of his senior campaign, he has rushed for 1,027 yards and 10 touchdowns while averaging 7.1 yards per carry.
"Football is fun for me, but it's also hard work," Smith said. "Over time, you understand that the more hard work you put into it, the more fun you are going to have when the games come around."
Harding coach Sherwood Haydock knows he might never see a player like Smith again.
"Well, the best thing about him is that he runs like he's 5-11," Haydock said. "He is 6-3, 220, but you don't realize that until you stand by him because of the way he runs. He has the elusiveness of a smaller back, and he has great speed burst and great balance. And, of course, he has power. That is what makes him extremely useful in all areas.
"He has great hands -- he could easily be a receiver."
Haydock also offered some insight on how Smith approaches the sport from a mental standpoint.
"Well, he's a very hard worker, and he's just a smart football player," he said. "He's a tremendous student of the game and wants to be the best at everything that he does. When he does have a weakness -- which he doesn't any longer -- he works at it extremely hard.
[+] Enlarge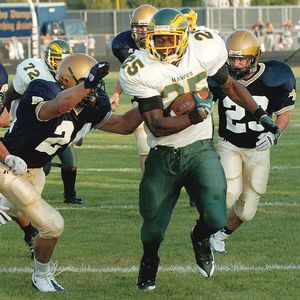 Samuel Hoffman / The Journal Gazette, Fort WayneWhen Ohio State came calling, it was an easy decision for Smith.
"He's still a baby a little bit. And what I mean by baby is that he's never been in the weight room 12 months out of the year because he's a basketball player also. He's still 220 pounds and is strong and benches 300 and squats near 500. So, when he gets in the weight room consistently and eats three good meals a day, he's going to be about a 240-pound back."
Harding rival Fort Wayne (Ind.) Bishop Dwenger knows Smith well. And they won't miss Smith when he's gone.
"We haven't seen many like Rod, and we've seen him for four years," Dwenger coach Chris Svarczkopf said. "We knew as a freshman that he was going to be special. He has just an amazing combination of speed, power and agility. He's really a great back. You set up your whole defense to stop him, if possible, and to just reduce the number of yards and the amount of touchdowns.
We see a lot of Big Ten recruits here in northwest Indiana, and he's probably the best I've seen come through this area. Rarely do you see one of this ability."
Running for the record books
All Ohio State All The Time

For complete coverage of all things Ohio State, from recruiting to the Buckeyes' football and basketball teams and much, much more, check out ESPN affiliate Bucknuts.com every day. Bucknuts.com
The leading all-time rusher in Indiana high school football history is Otis Shannon from Indianapolis Cathedral, who piled up 7,560 yards from 1997 to 2000.
"For [Smith] to get the record, we would have to play all 15 games -- including five playoff games -- and he would have to average about 200 yards a game, which isn't a reach," Haydock said. "But we try and balance it out. He's averaged 22 carries per game during his history with us, so we don't try and overdo it."
To Smith's credit, he has other things on his mind than the rushing record.
"I just want our team to win as many games as we can and to make sure I improve as a running back," Smith said. "Everything else will take care of itself."
As for the recruiting process, Smith didn't take long to make up his mind. He got the offer he wanted and decided.
"Well, he was partial to Ohio State before the recruiting even started because he's been an Ohio State fan," Haydock said. "Well, once Ohio State started showing their interest, everybody else in the Big Ten jumped in in a hurry. But because of his interest in Ohio State, we didn't push him to wait and see how many scholarship offers he could get because he knew where he wanted to go. It was never about the attention. He decided early that he wanted to be a Big Ten guy and he wanted to go to Ohio State."
Dave Biddle is a staff writer for ESPN affiliate site Bucknuts.com.
States Of Recruiting

Every year, recruiters search the country for the nation's best players. They log countless miles and no state is ignored. So which states have the most to offer this year? Scouts Inc. goes state by state and examines the overall talent level, names the top prospect, finds a player whose name you should remember and also breaks down which programs are doing the best.

States Of Recruiting Index
•
Alabama: Loaded with defenders
•
Arkansas: Dyer the big prize
•
Arizona/New Mexico: Carrington shines
•
California offense: James, Bray lead the way
•
California defense: Look out for Powell, Uko
•
Colorado: Top talent heading out of state
•
Florida offense: Dunkley leads deep WR group
•
Florida defense: Plenty of premier prospects
•
Georgia: Plenty of prospects to choose from
•
Hawaii/Alaska: Fehoko is the island king
•
Iowa: Derby gaining national attention
•
Illinois: Prater leads Prairie State prospects
•
Indiana: OSU-bound back Smith leads the way
•
Kansas: QB Bell is among the elite
•
Kentucky: Football takes a backseat to hoops
•
Louisiana: Top talent staying close to home
•
Maryland/D.C.: WR Coxson leading the way
•
Michigan: Gholston, Baker lead the way
•
Minnesota: Highlighted by No. 1 OT Henderson
•
Mississippi: Don't miss out on Dickson or Eulls
•
Missouri: Demien, Lucas leading the way
•
New England: Top talent leaving the area
(Conn., Del., Mass., Maine, Vt., N.H., R.I.)
•
North Carolina: Wolfpack taking charge
•
Nevada: USC hits jackpot by landing Grimble
•
N.Y./N.J.: Penn State cherry-picking Big Apple
•
South Carolina: America's emerging hotbed
•
Pacific Northwest: Trend of edge rushers
(Oregon, Idaho, Montana, N.D., S.D., Wyoming)
•
Tennessee: WR Malone continues tradition
•
Texas offense: WR White among top threats
•
Texas defense: No. 1 Jeffcoat leads the way
•
Pennsylvania: Royer, JoePa leading the way
•
Ohio: Buckeyes dominance continues
•
Oklahoma: Don't sleep on the Sooner State
•
Nebraska: Rodriguez is lone ESPNU 150 player
•
Utah: Quickly becoming a must-stop
•
Virginia/West Virginia: Rich on skill talent
•
Washington: Heap of talent on both sides
•
Wisconsin: Recruiters getting a kick out of it