Commentary
Joyner stays humble in the spotlight
Originally Published:
October 1, 2009
By
Jc Shurburtt
| Scouts Inc.
Lamarcus Joyner (Fort Lauderdale, Fla./Saint Thomas Aquinas) is a big play waiting to happen.
On Friday night, the entire country got to see it firsthand as the Under Armour All-American cornerback ripped off two momentum-seizing big plays in the top-ranked Raiders' 42-34 win against Byrnes (Duncan, S.C.) before a national audience watching on ESPNU.
He touched the ball twice, gained 145 yards and scored two touchdowns.
With Byrnes leading 7-0 and holding momentum, Joyner rushed past the Rebels secondary, catching a deep pass from quarterback Jacob Rudock in stride and racing to the end zone. The play came with 2:34 to go in the first quarter and with Aquinas facing a third-and-16.
"It's not really anything new to me," Joyner said. "It doesn't make me feel excited, it just makes me feel good that I pulled it out for my team. It's not about me anymore. It's about my team. I just want to see this team continue to be No. 1 in the nation."
[+] Enlarge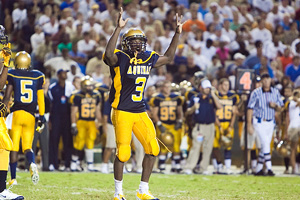 Courtesy of Davide De PasMany expect uncommitted prospect Lamarcus Joyner to end up at Florida State.
The next gigantic play came with 10:14 to play in the game, after Byrnes had pulled within 28-21. Joyner received a kick at the STA 7 and raced 93 yards for a touchdown. Just as was the case before his earlier touchdown, the Rebels had the momentum.
"I just thanked God on that one," Joyner said. "I looked to the sky and asked God to give me the strength in my legs. We call that automatic 6 when Lamarcus Joyner is back there and we did it."
Byrnes head coach Chris Miller said the Rebels were well aware of what Joyner could do heading into the game.
"He's a great football player on both sides of the ball," he said. "We definitely had him scouted and know what he can do. On the kickoff, we put it deep and thought we'd get field position and thought we could cover the kick, but we didn't do it. He's just a playmaker."
There is a sense of humility and respect for the game that you get from Joyner. Most great players display this type of attitude through actions and words. He was asked what his thoughts were about Florida coach Urban Meyer and Miami Dolphins linebacker Joey Porter being on the sidelines for the game.
"I get the chance to meet great men all the time," Joyner said. "Like [STA assistant and ESPN NFL analyst] coach Cris Carter, he is going to be in the Hall of Fame soon. So it was good to show out in front of guys like that. At the same time, it's football and we were focused on the game."
In all honesty, the No. 1 vs. No. 2 matchup with Byrnes is the closest thing to a high school football national championship game that there is. A sign of his maturity, Joyner understood and appreciated the position he was put in.
"I never believed that I would be in a national championship-type of game at this level," Joyner said. "I always felt that would come when I got to the NFL or when I got to college before I could reach a game like this. So this gave me a 'pre-experience' of what is going to come in the future, playing in a game like this.
"It's all about STA pride. We work hard and we work like we are supposed to be. Saint Thomas football has great tradition."
This was the second time Joyner and Saint Thomas Aquinas has appeared on national television this season. Though the Raiders' 52-7 win against Upper Arlington (Ohio) at Ohio Stadium in Columbus on ESPN was a more dominant showing, Joyner felt his team's approach was better on Friday night, even with the stakes much higher.
"The first time we played on ESPN, we tried to go a little too hard," Joyner said. "This time, we settled down and were more focused. This is the way it's going to be on the next level. So I wasn't worried about the cameras or anything. I was just worried about my team. I just made plays.
"The thing that I really like about my teammates is that the stuff we do in practice, we bring it to the field. There is no arguing. We just go out and play the game like we are supposed to play it."
Those teammates all respect him tremendously.
"He's a true playmaker," James White said. "He came through for us when we needed it and got the job done."
Byrnes quarterback Chas Dodd threw for 416 yards and three touchdowns against Joyner and the Saint Thomas Aquinas secondary. But they did not test Joyner very often.
"Our offense takes what the defense gives us," Miller said. "But we were well aware of where he is."
Dodd was impressed and said facing Joyner and the other STA defensive backs will only help him.
"I think he's a great athlete," Dodd said. "He and the other corners that they have are very fast, speedy guys. Throwing against those guys, the windows close a lot quicker. But I think throwing against something like that will help me improve my game."
JC Shurburtt covers recruiting for ESPN.com. He can be reached at jcsespn@aol.com.
SPONSORED HEADLINES
MORE COLLEGE FOOTBALL HEADLINES
MOST SENT STORIES ON ESPN.COM
EDITORS' PICKS
Since our last update, we've changed the prediction on where DE Jashon Cornell, the nation's top recruit, will sign. Which schools gets the good news?
RN Hot Board

Teams that will dominate 2015 recruiting.
Crabtree

Who are 2015's instant-impact recruits?
Luginbill