Commentary
Best Under Armour practice matchups
Originally Published:
December 21, 2009
By
Scouts Inc.
| ESPN.com
The Under Armour All-American game pits the best versus the best, but some of the better one-on-one matchups won't be played out during the game on Jan. 2 (ESPN, 11 a.m. ET). Leading up to the game between Ted Marchibroda's White Team and Sam Wyche's Black Team, each squad will hold practices and it will be interesting to see who comes out on top during some of those marquee intrasquad matchups.
Here is a look at some of the ones we are looking forward to and don't forget to check out the practices on ESPNU:
White Team matchups
[+] Enlarge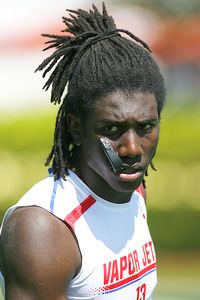 Tom Hauck for ESPN.comCan Chris Dunkley create separation versus Lamarcus Joyner?
WR Chris Dunkley vs. CB Lamarcus Joyner
While Dunkley may have a slight edge in overall size, this matchup features two prospects of very similar skills, speed and athleticism. Dunkley is a serious vertical threat and Joyner possesses the hips and transitional speed to keep pace with him downfield. However, Dunkley is adept at putting together double moves, as well as stopping and starting without wasted motion with the intention of getting overaggressive corners to bite and peek into the backfield. If Joyner falls into this trap during one-on-one drills, he will have his hands full.
The challenge for Dunkley will be creating separation on a consistent basis. Joyner is so quick and explosive, he can recover and should be in Dunkley's hip pocket on a regular basis. Keep in mind that Dunkley may have the quickest and strongest hands of any wideout on the field and as a result should show the focus to make plays, even when covered by Joyner, whose pass-breakup skills and timing are key components to his game.
---
WR Da'Rick Rogers vs. CB Cody Riggs
This is like David versus Goliath on the perimeter. Rogers draws some comparisons to Alabama's Julio Jones, while Riggs' play bears some resemblance to Florida State's Greg Reid. Size and strength could be two overwhelming factors in this matchup and the scrappy, competitive Riggs gives up more than 50 pounds and about 5 inches to Rogers, which does not bode well for the feisty Riggs in the red zone. The key will be Riggs' quickness, speed and demeanor against a very strong Rogers, who is capable of overpowering Riggs -- especially if pressed at the line.
Riggs is more than willing to mix it up and one way to frustrate Rogers is to be on his hip at all times. Riggs can't give Rogers any room to breathe. Riggs must use his feet and quickness to blanket Rogers and not back down from physical confrontations. If Riggs gets thrown around and does not respond, Rogers could own him from a mental standpoint.
---
[+] Enlarge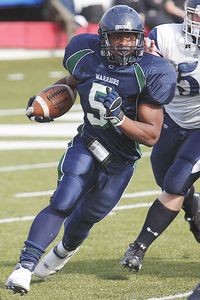 AP Photo/Brian ChilsonPads will be popping when Michael Dyer and Jeff Luc go at it.
RB Michael Dyer vs. MLB Jeff Luc
This is a matchup between the best downhill runner and best downhill filler in the nation. The result should be a number of high-impact collisions, which could take place Wednesday, Dec. 30, during the first 9-on-7 inside run drill. Luc, ESPN's No. 1-rated middle linebacker, is a thickly built 241-pound run-stopper with great explosiveness at the point of attack as well as a punishing tackler.
Dyer, the state of Arkansas' all-time leading rusher, is the No. 1-rated runner in country due to his low center of gravity, strong base and balance. While the compact 200-pounder can jump-cut and avoid tacklers as well as most, he is a yards-after-contact back, an area Luc makes a living on eliminating. It will be interesting to see who gives ground.
---
TE Xavier Grimble vs. S Dietrich Riley
This is a great matchup between two highly regarded West Coast prospects. Both Grimble and Riley have ideal size at their respected positions and are well-rounded in skill set. It should be a grudge match on running plays when these two get after it. Riley thrives on contact and can be a physical presence in the box, while the agile Grimble can quickly work up to the second level with some tenacity as a blocker.
In passing scrimmages, the pair will likely be isolated. ESPN's No. 1 rated tight end has been able stretch the field in high school and utilizes his superior blend of size and athleticism to create mismatches. However, in Orlando, the future USC Trojan will have a 6-1 safety waiting to pick him up. Aside from having the size to match up, Riley is also one of the better athletes in the country with excellent ball skills. He's currently undecided on college, but in between reps Grimble could be in his ear about USC, one of his top schools of interest.
---
[+] Enlarge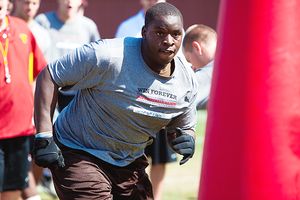 Davide DePas for ESPN.comWill George Uko be able to match Torrian Wilson's strength?
OG Torrian Wilson vs. DT George Uko
Uko has been a player rising up the rankings every time he gets evaluated. He is a high-motor defender with a nice combination of size and quickness. Wilson comes from an excellent high school program and is used to playing under the spotlight. He has the size to match Uko's and displays quick feet for a big man and good strength. This is an interesting matchup between two 300-pounders.
---
OT Chaz Green vs. DE William Gholston
This appears to be must-see TV and may be one of the more interesting matchups of the whole week. Within this matchup you have two prospects who certainly look the part and have very good athleticism for their size. They both have room for growth in areas of their game, but also ooze raw ability and appear to have very bright futures.
Green is a good pass-blocker who can get set quickly and use his reach to deliver a jarring blow, but he will actually be giving up some size to the 6-7, 250-pound Gholston. The Detroit native is developing as a full-time defensive end, but has the tools to get to the quarterback and notched close to 30 sacks as a senior. This is certainly the type of clash that could draw a crowd.
---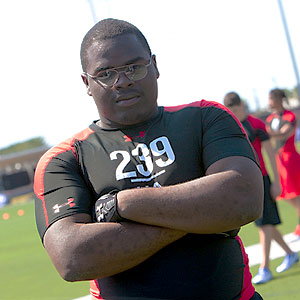 David De Pas for ESPN.comLouis Nix could give Kolton Houston fits on the inside.
OG Kolton Houston vs. DT Louis Nix
The Fighting Irish are heading into a new era and need help on the interior of their defensive line if this new era is going to be a success. One of the players who could help fill that need is Nix, a current Notre Dame commit. He can be quick off the ball and with his size and power he can cause problems as a pass-rusher. He will get a great test of his skills and consistency facing off against Houston. The Georgia commit will be giving up some bulk to Nix, but he is a physical and tenacious player who also has good initial quickness, to go along with the feet and flexibility to give the elite pass-rushers trouble.
---
Black Team matchups
RB Mack Brown vs. OLB Jordan Hicks
During the initial breakdown of our ESPNU 150 this summer, the room was divided on whether Brown had the ability to earn the top running back spot. While he fell to No. 3, the consensus was that he had the talent to develop into one of the most productive college runners in this class. Unfortunately, his 2009 season was less than spectacular. He showed flashes of greatness, but a hamstring injury limited his overall effectiveness as a runner. Coming into this game, Brown has had a month to heal and told us he has a chip on his shoulder to prove all the doubters wrong.
Conversely, Hicks was one of the more celebrated football players in the country this fall and earned the status of being the No. 2 overall prospect. Brown will have a chance all week in practice to improve his stock when he gets outside on the perimeter versus an explosive Hicks. The Ohio native has some of the better speed and closing burst in this strong OLB class and like Brown he can beat you with power or athleticism. This will be the final evaluation period for Brown to earn his comparisons to Clemson's C.J. Spiller coming out of high school.
---
[+] Enlarge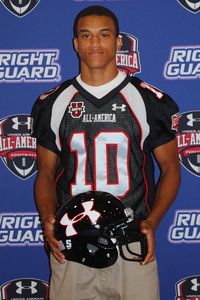 Kevin Shepard for ESPN.comIt remains to be seen if DeMarcus Milliner can handle a full-time switch to corner.
WR Darius White vs. CB DeMarcus Milliner
Milliner should get a good taste of full-time cornerback duty during the week and the smooth, fast White should test his one-on-one cover skills. Keep in mind that for much of his career Milliner has lined up primarily at safety. Milliner certainly has the size to match up, which is why he is expected to be such a factor on the perimeter at the next level. The key to this pairing is going to be who is more physical and early votes would favor Milliner.
White has height, fluid movements and great top-end speed for his size, but what will he do if someone gets up in his face and gets physical? Milliner brings strength with the ability to jam and reroute. White's burst, hand quickness, ability to accelerate and size provide for a worthy challenge. Milliner could turn out to be eerily similar to last year's Stephon Gilmore, who also made the transition to corner full time and had a monster freshman campaign for South Carolina.
---
OG Chad Lindsay vs. DT Taylor Bible
Who could ask for a better matchup than two No. 1-ranked players at their respective positions? Lindsay is the top-rated guard in the 2010 class and Bible the No. 1-rated defensive tackle. During this matchup, don't be surprised if there is a lot of jawing back and forth because their future colleges will face off for the BCS championship. Lindsay is headed to Alabama and Bible will attend the University of Texas. This is also a contest between two players who take pride in being physical on the line of scrimmage.
Both Lindsay and Bible are strong in the hips and lower body. It will be interesting to see if Lindsay can get movement on Bible at the point of attack since Bible can strike, separate and hold his ground versus the run. In terms of the passing game, Lindsay is especially tough versus the power rush, which along with the club technique is one of Bible's two best pass-rushing moves. This will truly be a matchup of two heavyweights.
---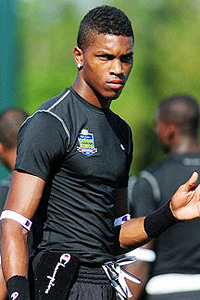 Michael WhiteJonathan Dowling will have his hands full trying to shed Travis Dickson.
TE Travis Dickson vs. S Jonathan Dowling
This is an interesting matchup because both players enter the week with a small, overrated cloud looming over their heads. Dowling is our top-rated safety with an excellent blend of size, range and athleticism. His knock has been lack of physicality as a run defender and that will quickly be tested during the week of practice. Look for his matchup with Dickson, a tough and versatile blue-collar type of tight end who will challenge Dowling as a blocker.
Dickson is undersized but tenacious, and will likely be working up to Dowling on the second level. An excerpt from his scouting report says "Can test second-level defenders' spirit when they need to step up and take him on." Dowling, a 6-3 speedster, may have the edge in pass defense heading into the week, but Dickson will have a chance to prove he can be a legit receiving threat in Baton Rouge, not just a fullback/H-back.
---
OT Ian Silberman vs. DE Dakota Royer
This is a matchup between two athletic linemen. Both Silberman and Royer are a little undersized for their position in terms of weight, but both have excellent frames to build on, while their agility and quickness are exactly what coaches look for at the next level. Silberman has a slight advantage in terms of height and overall size, but Royer is extremely fast off the edge. Royer is a defensive end/outside linebacker who can attack the outside shoulder of the offensive tackle and jet past him to put pressure on the quarterback.
Silberman is one of the best offensive linemen in the country in terms of being able to operate in space. It will be exciting to see if Silberman can use his long arms to stop the initial charge of Royer and then use his foot quickness/agility to shuffle and maintain inside position throughout the play, without giving Royer a clean path from the outside.
---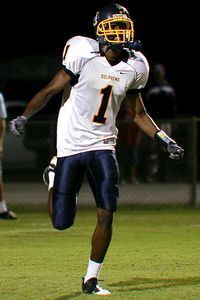 Paula BrownJustin Hunter has the edge over Toney Hurd Jr. in man coverage.
WR Justin Hunter vs. CB Toney Hurd Jr.
From a man-to-man coverage standpoint, this matchup could be the most physical. Hurd loves to mix it up, takes pride in outmuscling opponents in run support and coverage and will not back down from a fight. Hunter brings terrific size, long arms and good overall strength. He maintains a serious height advantage, but his chief concern will be how to get off the line, if Hurd presses him.
Hurd is probably considered to be more of a physical, Cover 2 corner, so he will have his hands full in man coverage against a player like Hunter, who is an acrobatic playmaker with a lot of wiggle. What Hunter may lack in top-end speed, he makes up for with great hands and the ability to make catches in traffic.
---
OT Luke Joeckel vs. DE Adrian Hubbard
Joeckel and Hubbard have such huge wingspans they may never get into each other's frame. The matchup between these tall, long-armed and talented players could be one of the best competitions all week. Joeckel is a Texas mauler who prides himself on being more physical than his opponent. He often drives defenders into the turf once he locks in and drives his legs. The problem he may face with Hubbard, who is quite a bit lighter in the pants and more like a basketball player in cleats, is trying to gain initial control.
One thing is certain: Hubbard must stay away from his tendency to rush offensive linemen faceup; for him to have any chance against Joeckel in pass rush situations he better work the edges. Hubbard will have to play with leverage and just enough finesse to keep the tough Texan off balance.
Tom Luginbill is the National Recruiting Director for ESPN's Scouts Inc.
SPONSORED HEADLINES
MORE COLLEGE FOOTBALL HEADLINES
MOST SENT STORIES ON ESPN.COM
2010 Under Armour All-America Game

The Under Armour All-American teams have been picked and this year's showdown on Jan. 2 will be between the White Team led by five-star RB Michael Dyer and the Black Team led by four-star QB Phillip Sims.
Be sure to check out ESPN.com's complete coverage of the premier prep event.