Commentary
D-linemen should shine in Orlando
Originally Published:
December 29, 2009
By
Craig Haubert
| Scouts Inc.
The talent for the third-annual Under Armour All-America Game is as strong as ever. Throughout the week of practices and the game itself, we are sure to see some impressive individual performances and plenty of jaw-dropping plays. While we will all be eager to see how particular players perform, these fine athletes also need to come together and get ready to play in a nationally televised all-star game. They say "defense wins championships," but these top defensive prospects need to come together in a week's time to try and prove that great defense can also win an All-America game.
[+] Enlarge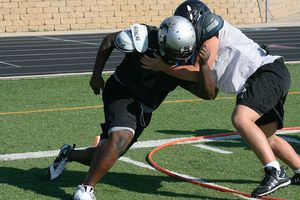 Gerry Hamilton for ESPN.comTaylor Bible, left, could be a force in the trenches.
Due to the time restrictions, there are limitations and things are kept simple. The players in this game are among the elite in the nation and this is really a chance for them to display and test their skills against great competition. You don't want to slow these great athletes down by having them trying to remember a bunch of plays and you don't want them to miss out on some of the fun of an all-star week because they are in meetings all day and night.
The offenses are limited in what they can do, but the defenses have even greater restrictions. You will always see a four-man front and those defensive linemen are the only defenders allowed to rush the passer in the pocket. There is no blitzing. Plus, there are only two coverages the back seven will utilize -- man coverage or zone Cover 3.
The restrictions allow players to not have to think too much and just play, but the rules can also limit what some players can do. This situation puts the offensive linemen at a disadvantage because the time and reps needed to properly jell and get communication down is just not there, while defensive linemen get to do what is a little more natural. Whether it be one-on-ones in practice or rushing the passer in the game, look for players like William Gholston (Detroit, Mich./Southeastern), Corey Miller (Duncan, S.C./Byrnes) and Adrian Hubbard (Norcross, Ga.) on the outside, as well as Taylor Bible (Denton, Texas/Guyer) and George Uko (Chino, Calif./Don Antonio Lugo) on the inside to have strong showings in passing situations. These players will have less to think about and will get a lot of opportunities to work one-on-one versus blockers.
However, the linebackers are a group that could have some adjusting to do. We will get to see the speed in pursuit of players like Jordan Hicks (West Chester, Ohio/Lakota West) and the physical run-stuffing play of Jeff Luc (Port St. Lucie, Fla./Treasure Coast), but these linebackers -- who are dangerous as vertical attackers -- won't be allowed to blitz and rush the passer. They will need to rely on their skills as space players more and some players, like Luc who is known for his physical and punishing style of play, may surprise many with his ability to play in space. Christian Jones (Oviedo, Fla./Lake Howell) is another linebacker who has shown he can play in space and may surprise onlookers with his ability to match up and defend the pass.
In the secondary, the athletic corners will get a chance to showcase their coverage abilities on an island. A player who could really benefit in this scheme is safety Jonathan Dowling (Bradenton, Fla./Southeast). The Florida commit is a tall, smooth athlete who excels as a free safety and has dangerous range as a center fielder. The limited coverages being used could give him a chance to showcase his strengths as a player and show why he is so highly rated as a safety prospect.
Both teams have the benefit of experienced defensive coordinators, who have not only NFL and college experience, but they have also been part of the Under Amour All-America Game before. George Dyer, who won championships as the defensive line coach for the Denver Broncos and was a coordinator for the Los Angeles Rams, among other stops, will oversee the Black defense. Rex Norris, who produced several All-Americans when he was at Oklahoma and coached the Chicago Bears, will coordinate the White defense. Both have the same philosophy: keep it simple.
"You get everything in as quickly as you can because you don't have much time and then you try and polish up from there," Dyer said.
Both coaches realize they have good athletes who are self-motivated and love to compete.
"All we want to do is line them up and let them play," Norris added. "We watch their effort and let them have fun and do what they do."
The players still have the challenge of getting used to playing with new teammates. This is especially an issue for the back seven because communication is key. Under normal circumstances the players have a training camp and several weeks of practice to work together, get a feel for how their teammates will react and develop trust. As a result, they need to be vocal and develop communication quickly.
However, this gives future teammates a chance to play together for the first time and start to build that trust and communication before they get on campus. For example, the White team has two Florida Gators commits in the secondary, so corners Cody Riggs (Fort Lauderdale, Fla./Saint Thomas Aquinas) and Joshua Shaw (Palmdale, Calif./Palmdale) will get a chance to work together and bond before ever arriving in Gainesville.
Despite the condensed amount of time to get ready, most of these players bring more than just great athleticism to the table. Many are also great students of the game and have a great feel for the game, which allows them to pick up things quickly and be able to play together. In fact, both defensive coordinators have been impressed with the football IQs of the players in the game over the past two years and expect the same this year.
"The athletes are phenomenal," Dyer said. "They are well coached and can understand concepts."
While they prepare for the game, you can see in the practices the thirst many of these top-ranked prospects have for getting better. Between the coordinators and the excellent high school coaches who assist as position coaches, the players not only learn the scheme during the week, but also try and pick up things that can enhance their overall skill set. This is evident by the comments of No.1 ranked defensive tackle Jacobbi McDaniel after last year's game.
"Working with the NFL coaches was awesome. They were showing me the things I was doing wrong and helping me to get sharper at my game," McDaniel, the current Florida State Seminole, told NoleDigest.com. "My coaches at [my high school] taught me well, but the coaches at the All-Star game were able to show me the small things that'll make me better."
Craig Haubert is the recruiting coordinator for Scouts Inc. and has more than a decade of coaching experience.
RecruitingNation
National recruiting analyst and analyst for ESPNU
More than a decade of college and pro coaching experience.
Graduated from Indiana and Nebraska-Omaha
SPONSORED HEADLINES
MORE COLLEGE FOOTBALL HEADLINES
MOST SENT STORIES ON ESPN.COM
2010 Under Armour All-America Game

The Under Armour All-American teams have been picked and this year's showdown on Jan. 2 will be between the White Team led by five-star RB Michael Dyer and the Black Team led by four-star QB Phillip Sims.
Be sure to check out ESPN.com's complete coverage of the premier prep event.