Commentary
Mailbag: James Wilder II's latest plan
Updated:
August 6, 2010, 3:37 PM ET
By
Corey Long
| ESPN Recruiting
I'm happy to bring you the first mailbag of the season. I'll be able to answer questions on recruiting and other related topics. If I didn't get to your question this week, don't be afraid to resend it to me at coreyespn@gmail.com.
[+] Enlarge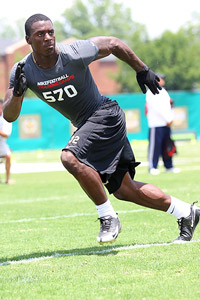 Tom HauckJames Wilder is the No. 19-ranked player in the 2011 class.
Q: Where do you think James Wilder II is going to end up?
-- Several readers, Everywhere
I got this question more than a dozen times and I am no closer to having an answer. I expect the saga of the four-star athlete from Plant Senior High School in Tampa Bay, Fla., is going to have a few more twists and turns before it's over. At first, the plan was to have Wilder announce along with teammates Phillip Ely and Tony Posada. Then Wilder said he was going to wait and could wait until after the season. A week later, the story changed again. Now there's word that the planned announcements of Ely and Posada might not go as expected.
I think Wilder has a good idea of his decision and when he wants to go public with it, but the rest of us are just going to have to wait. I do believe that Florida State, Florida, Georgia and Alabama are his final choices.
Q: I'm wondering if you think my Seminoles are keeping up with Gators so far in the recruiting war for the coming year?
-- Bob Dannals, Dallas
So far so good for Jimbo Fisher in his first offseason as the coach at Florida State. Currently, the Seminoles are ranked No. 6 in the Class of 2011, and there's a good chance they will move into the top five with a few more commits. Right now, I believe the Seminoles are the team to beat for five-star linebacker Tony Steward (St. Augustine, Fla./Menendez), and if they can add another blue-chipper like Nick O' Leary (Palm Beach Gardens, Fla./Dwyer) or Ray Drew (Thomasville, Ga./Thomas County Central), it would be an impressive haul.
Q: Corey, you stated recently that UCF is signing more players from Dade County than Miami? How is that happening? The U needs to step it up!
-- De'Twon Spurlock, Homestead, Fla.
Miami-Dade County had nearly 60 FBS signees last season and will probably match that number in 2011. Of that 60, there are as many as seven to eight players that Miami has identified as prospects it wants. The Hurricanes will sign most, if not all, of those players.
UCF has swooped in and done a great job picking up talent in Miami-Dade County behind the efforts of assistant coach Dave Kelly. Has it damaged Miami? Probably not, and that would go for FSU and Florida as well. However, it's definitely had an effect on schools like Rutgers, Louisville, West Virginia, Marshall, Purdue, South Florida and other schools that look to Miami-Dade County for talent.
Q: How can USF sign more prospects in its own city? Tampa Bay is blowing up and the Bulls aren't taking advantage of it!
-- Mike Polle, Plant City, Fla.
[+] Enlarge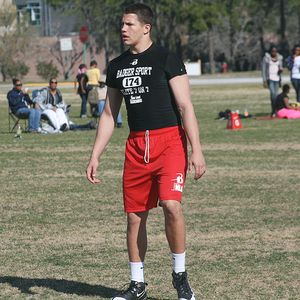 Gerry HamiltonFour-star DE Anthony Chickillo is the big-time prospect that could take USF to the next level.
They have to win more and win over the city. In Miami, there is a ton of local pressure on the city's top prospects to play for the Hurricanes. It's in the neighborhoods and on the sports radio stations. In Tampa, there are more people pushing the top talent away from USF, and it has a lot to do with Tampa being a more transient town than Miami. The area has enjoyed a major growth spurt in the past 10 to 15 years, but the people moving in don't have any particular loyalty to USF or any emotional investment in the program's success.
It's going to take a group of prospects willing to take a risk. USF is going to have to get a verbal from the No. 1 prospect in the city and hope that he can help sign the next five to seven top prospects in the city. Much like what Alonzo Highsmith, Melvin Bratton and Winston Moss did for Miami in 1982, USF is going need a group of local players willing to buck traditional thinking and commit to building a title contender in Tampa. In my opinion, the guy that could change the fortune of USF is Anthony Chickillo (Tampa, Fla./Alonso). He is the type of player that could convince several other Tampa-area prospects to join him. That being said, I believe Miami and Florida are far ahead of the Bulls on his list.
Q: I saw your segment on the ESPN RISE Games Recap about recruiting and social networking. Wouldn't it just be better for the NCAA to loosen the reins on the coaches and recruits to communicate more?
-- Jennifer Cantrone, Lauderdale Lakes, Fla.
It would be if the coaches didn't take that communication overboard. However, they will because it's what they would have to do. The text messaging ban came because texting got out of control at a time when everyone wasn't on an unlimited plan. Imagine a parent's fury when they receive a cell phone bill in the high triple digits because a recruiting coordinator feels the need to text a recruit 50 times a day? Now it's going to be 50-plus Facebook messages a day, and with all these social networking devices available as phone applications, it's really no different than text messaging. The process can be cumbersome without the additional headaches that the overuse of social networking provides.
Q: Did Urban Meyer's absence affect UF's recruiting in the early stages?
-- J.J. Connors, Williston, Fla.
What absence? You mean the leave of absence that probably consisted of a 72-hour weekend getaway? I wouldn't worry about the Gators' recruiting. They will pull in another top-five class. With a few breaks, namely landing Tim Jernigan (Lake City, Fla./Columbia) and Curt Maggitt (Palm Beach Gardens, Fla./Dwyer), they could challenge for the top spot again.
Corey Long has been covering high school football and recruiting in the Sunshine State since 1995. He can be reached at coreyespn@gmail.com.
Reporter, RecruitingNation
Covers recruiting in the Southeast
Joined ESPN in 2009
SPONSORED HEADLINES
MORE COLLEGE FOOTBALL HEADLINES
MOST SENT STORIES ON ESPN.COM
EDITORS' PICKS
Survey shows recruits leading acceptance of gay athletes.
Scarborough »

Survey shows recruits leading acceptance of gay athletes.
Crabtree »

Elite 11 QBs discuss recruiting and their craft.
Roundtable »