Commentary
Tale of two teams
Even talent split in UA Game makes it tough to say which team has an advantage
Updated:
December 27, 2010, 6:10 PM ET
By
Corey Long
| ESPN Recruiting
UNDER ARMOUR ALL-AMERICA GAME TALE OF THE TAPE
The teams are finally set for the 2011 Under Armour All-America Game (Jan. 5, ESPN). Who has the advantage? Here's a position-by-position comparison of the two rosters.
White Team Quarterbacks
Red Team Quarterbacks
The recent suspension and possible defection of Terrelle Pryor to the pros will give Ohio State fans even more reason to check out Buckeyes commit Braxton Miller (Huber Heights, Ohio/Wayne). He is a solid passer and will continue to improve with time and further development. The 6-foot-2, 190-pounder can also take over games with his feet and playmaking ability. Kendal Thompson (Moore, Okla./Southmoore) is a real smooth passer who can get it done in the short passing game or throwing the ball down the field. USC commit Max Wittek is an accurate passer that is at his best executing the play-action fake and taking time to scan the field before delivering accurate strikes -- a prototypical quarterback for the West Coast offense.
All three quarterbacks are known for their ability to make big plays with their arms and their feet. Florida commit Jeff Driskel (Oviedo, Fla./Hagerty) is listed at 6-4, 224 pounds but he's closer to 235-240 pounds and he's going to relish the chance to take on some of the White team's linebackers if he gets the opportunity. UCLA coach Rick Neuheisel is banking his coaching future on the talents of Brett Hundley (Chandler, Ariz./Chandler). The 6-3, 210-pounder accumulated more than 3,000 yards in his senior season and has the playmaking ability at the position the Bruins have lacked. Kiehl Frazier (Springdale, Ark./Shiloh Christian) has terrific measurables, is a decisive runner and has a knack for making plays. He will eventually have the pleasure of following a Heisman Trophy winner at Auburn.
White Team Running Backs
Red Team Running Backs
No player has scored more touchdowns in the state of Florida than Clemson commit Mike Bellamy (Punta Gorda, Fla./Charlotte). At 5-10, 180 pounds Bellamy is an explosive player that can turn a small crease into a big gain and possibly a long touchdown. He averaged well over 12 yards per carry during his high school career. Joining Bellamy in the backfield is Brandon Williams (Brookshire, Texas/Brookshire Royal), an Oklahoma commit who broke the 2,000-yard mark as a senior and scored 25 rushing touchdowns. Williams might not be the pure home run threat that Bellamy is but he's extremely quick to the corner and has terrific speed in the open field.
Isaiah Crowell (Columbus, Ga./Carver) has the sort of ability that just jumps off the TV screen. He's strong enough to find his way through initial contact and fast enough to get to the second level and break off runs to the outside. Crowell has elite balance, vision and cutback ability. In reality Crowell is the type of running back that can do anything you ask of him. Joining him in the backfield is Savon Huggins (Jersey City, N.J./St. Peters), the New Jersey Gatorade Player of the Year. Huggins might not have the reputation of Crowell but he's every bit as talented and just as competitive. Huggins rushed for nearly 1,900 yards this season and will be in the backfield if the Red team needs a few big carries to protect the lead and control the clock.
White Team Wide Receivers
Red Team Wide Receivers
The Peach State is well represented in this unit with Quan Bray (LaGrange, Ga./Troup County), Malcolm Mitchell (Valdosta, Ga./Valdosta) and Justin Scott-Wesley (Camilla, Ga./Mitchell-Baker). Scott-Wesley is already committed to Georgia and the Bulldogs are looking at Bray and Mitchell, as well. DaVaris Daniels (Vernon Hills, Ill./Vernon Hills) and Jamal Turner (Arlington, Texas/Sam Houston) are tremendous athletes that we feel will develop into elite receivers at the next level. Jarvis Landry (Lutcher, La./Lutcher) is the type of player that can burn you deep or take a short offering and turn it up in the open field. Amir Carlisle (Sunnyvale, Calif./King's Academy) is a projected running back that will play in the slot.
There is some serious speed at the wide receiver position on the Red team with four guys that can turn a short pass into a long touchdown. There is no player in high school football faster than Tacoi Sumler (Miami, Fla./Columbus), an Oregon commit with a 4.24 40-yard dash in his arsenal. Devon Blackmon (Fontana, Calif./Summit), Eli Rogers (Miami, Fla./Northwestern) and Bradley Sylve (Port Sulpher, La./South Plaquemines) are all among the best playmakers in this class. Marvin Shinn (Prichard, Ala./Vigor) and Ja'Juan Story (Brooksville, Fla./Nature Coast Tech) are big, physical targets that would love to get one-on-one coverage on the outside. Michael Thomas (Woodland Hills, Calif./Taft) will be a reliable target in the red zone and on third down.
White Team Tight Ends
Red Team Tight Ends
At 6-5, 230, Jay Rome (Valdosta, Ga./Valdosta) has tight end size with wide receiver abilities. He runs solid routes and has tremendous hands. He can line up against a linebacker and easily beat them down the field, as well. Ben Koyack (Oil City, Pa./Oil City) has already shown the qualities of being a strong all-around tight end. The Notre Dame commit is a reliable pass-catcher and tough to tackle after he makes the catch. Koyack is also a strong blocker and will be key for the White team to execute some of its outside runs.
Florida commit A.C. Leonard (Jacksonville, Fla./University Christian) is as versatile as they come, but will be playing tight end for the Red team. He will be yet another weapon in the passing game thanks to his good route running, deceptive speed and ability to stretch the field. Brandon Fulse (Fort Meade, Fla./Fort Meade Senior) is a strong in-line blocker and he will be critical in the Red team's rushing attack. However, he is also a nice target in the short to intermediate passing game and when he has the ball in his hands he is a load to bring down.
White Team Offensive Linemen
Red Team Offensive Linemen
La'El Collins (Baton Rouge, La./Redemptorist) is one of three five-star offensive linemen in this game and the anchor on the white team's offensive front. Sixteen-year-old Bobby Hart (Fort Lauderdale, Fla./St. Thomas Aquinas) is the youngest player and will be occasionally joined by fellow FSU commit Giorgio Newberry (Fort Pierce, Fla./Central). Brey Cook (Springdale, Ark./Har-Ber) and Mitch Smothers (Springdale, Ark./Springdale) will have their first taste of being teammates before the two head to Arkansas. Spencer Region (Cullman, Ala./Cullman) is a big man with dominant playing strength, possessing great size for the offensive guard position, while North Carolina commit Kiaro Holts (Indianapolis, Ind./Warren Central), Penn State commit Angelo Mangiro (Succasunna, N.J./Roxbury) and future Seminole Trey Pettis (Deland, Fla./Deland) round out this solid group.
Much will be made of the soon-to-be-famous "Cyrus connection" and while it's highly unlikely Cyrus Kouandjio (Hyattsville, Md./DeMatha) and Cyrus Hobbi (Scottsdale, Ariz./Saguaro) will be teammates beyond this game, it will be fun to watch how well the two play together if they are lined up on the same side of the line. Texas commit Christian Westerman (Chandler, Ariz./Hamilton) is the top-rated tackle in the game and will be a key in the Red team's running attack. Reese Dismukes (Spanish Fort, Ala./Spanish Fort) is one of the most technically sound interior linemen in this class and Mo Latu (Gilbert, Ariz./Perry) is a big man that could play anywhere on the interior. Andre Yruretagoyena (Scottsdale, Ariz./Chaparral) and Thomas O'Reilly (Marietta, Ga./Pope) are also strong run-blockers. Le'Raven Clark (Rockdale, Texas/Rockdale) might be undersized but he is competitive. Former Miami commit Marcus Jackson (Vero Beach, Fla./Vero Beach) might be slowed by an injury he suffered during the state playoffs.
White Team Defensive Linemen
Red Team Defensive Linemen
The White defensive line brings the beef with 300-pounders Anthony Johnson (New Orleans, La./Perry Walker) and Antwaun Woods (Woodland Hills, Calif./Taft) holding down the interior. Jordan Phillips (Towanda, Kan./Circle) is athletic enough to play tackle or be an imposing figure on the end at 6-5, 285 pounds. Four-star prospect Kevin McReynolds (Washington, D.C./St. John's Prep) is a physical presence in the heart of the trenches that rounds out the interior group. Oklahoma commit Nathan Hughes (Klein, Tex./Klein Oak) does a good job taking on blockers and leads a strong group of defensive ends. The 6-6, 265-pounder will be paired often with Xzavier Dickson (Griffin, Ga./Griffin), who has enough power to knock blockers back and is very good at moving laterally. Steve Miller (Canton, Ohio/McKinley) is the smallest of the White team's defensive linemen but is an excellent defender against the run.
This group might not have the beef of the White squad's defensive line but they more than make up for it with speed and athleticism. The nation's top-ranked player, Jadeveon Clowney (Rock Hill, S.C./South Pointe), leads this group. There isn't much you can say about the 6-6, 250-pounder that hasn't already been said. He is the most disruptive force in the Class of 2011. Greg Townsend Jr. (Beverly Hills, Calif./Beverly Hills) and Anthony Chickillo (Tampa, Fla./Alonso) are both exceptional pass-rushers that will thrive with the additional attention being placed on Clowney. Gabe Wright (Columbus, Ga./Carver) is an interior presence that hits hard enough to make opponents think twice about a return visit. Although Todd Barr (Lakewood, Calif./Lakewood) and Christian Heyward (San Diego, Calif./Point Loma) might not be the biggest defensive tackles, they are guys that compete with high energy on every play. Texas commit Desmond Jackson (Houston, Texas/Westfield) is the most versatile and well-rounded of the interior linemen on this team.
White Team Linebackers
Red Team Linebackers
Stephone Anthony (Wadesboro, N.C./Anson) and James Vaughters (Tucker, Ga./Tucker) gives the White squad a potent inside-outside combo of linebackers. Anthony, the top-rated outside linebacker in the nation, may have an internal magnet that seeks out the football because he tries to get in on every play. Vaughters, a Stanford commit, can cause a lot of damage in the middle of the field for whoever dares to test him. Tennessee commit A.J. Johnson (Gainesville, Ga./Gainesville) and Oregon commit Anthony Wallace (Dallas, Texas/Skyline) are both known for having endless motors and will continue to track down plays until the whistle blows.
The Red team will have a five-man rotation at linebacker with Alabama commit Trey DePriest (Akron, Ohio/Springfield) as the leader of the unit. A natural playmaker, DePriest can get to the quarterback by blitzing up the middle or playing as an edge rusher. Lawrence Thomas (Detroit, Mich./Renaissance) is a big presence and a big hitter in the center of the defense at 6-3, 230 pounds. Ryan Shazier (Plantation, Fla./Plantation) is a speed demon and a natural edge rusher. Vinnie Sunseri (Tuscaloosa, Ala./Northridge), another Alabama commit, is a coach's son and plays the game with the sort of intangibles you would expect. North Carolina commit Travis Hughes (Virginia Beach, Va./Kempsville) is a solid run defender.
White Team Cornerbacks
Red Team Cornerbacks
The White squad will have a five-man rotation of cornerbacks led by Doran Grant (Akron, Ohio/St. Vincent-St. Mary's), a playmaker and a solid tackling cornerback that should only get better with added bulk. De'Ante Saunders (Deland, Fla./Deland) is a terrific athlete and is talented enough to play cornerback or safety if necessary. Demetrious Nicholson (Virginia Beach, Va./Bayside) might not have the size to blow you away but he's got everything else and Danzel Williams (Arlington, Texas/Martin) is an ideal nickel cornerback. Utah commit Ryan Henderson (Moreno Valley, Calif./Rancho Verde) was the winner of the SPARQ National combine.
Quandre Diggs (Angleton, Texas/Angleton) and Nick Waisome (Groveland, Fla./South Lake) are the two best cornerback prospects in this class and for good reason. Both players absolutely live for the challenge of guarding the opposition's best receiver one-on-one. Both guys are natural playmakers and will make you pay dearly for an errant throw and will bait the quarterback into making such mistakes. Darius Jennings (Baltimore, Md./Gilman) and Josh Turner (Oklahoma City, Okla./Millwood) both have lock-down potential and play a physical style of coverage that is sure to frustrate the receivers that will try to get around them. Both players take chances but have the sort of recovery speed to compensate for it.
White Team Safeties
Red Team Safeties
It's a Sunshine State connection in the defensive backfield for the White team. The nation's top-ranked safety, Karlos Williams (Davenport, Fla./Ridge Community), was the defensive MVP of the Gridiron Kings over the summer. At 6-2, 220 pounds, Williams is the ultimate mix of size, speed, range and physical play. He will be joined by fellow Florida State commit Keelin Smith (Port St. Lucie, Fla./Treasure Coast), one of the more versatile players in the secondary with the sort of skills that translate at any one of the four positions. Jabari Gorman (Miami, Fla./Monsignor Pace) is a hitting machine plain and simple, while Marcus Roberson (Lauderdale Lakes, Fla./St. Thomas Aquinas) is a very reactive athlete and a great ball hawk.
Any of the receivers on the White team will think twice about coming across the middle with Ha'Sean Clinton-Dix (Orlando, Fla./Dr. Phillips) and Erique Florence (Valley, Ala./Valley) roaming around the defensive backfield. Both players are known for their bone-jarring hits. Clinton-Dix has the size and the ball skills to turn a poor throw into a defensive touchdown. Florence just plays the game the way old-school fans love -- he's as tough and nasty as they come. Marqise Lee (Gardena, Calif./Junipero-Serra) will take a back seat to no one when it comes to superior athletic skills and he can track the football as well as anyone, while Robenson Therezie (Miami, Fla./Miami Jackson) also thrives off high-impact collisions.
White Team Specialists
Red Team Specialists
USC commit Andre Heidari (Bakersfield, Calif./Stockdale) is the top kicker in the nation and should compete for a starting spot with the Trojans immediately. Heidari had 53 touchbacks on 65 total kickoffs and booted eight field goals in his senior year. USC commit Peter McBride (Scottsdale, Ariz./Chaparral) will be his long-snapper.
When Taylor Bertolet (Reading, Pa./Exeter Township) puts his foot into a kick it's not surprising to hear a scream come from the football. Most of the kickoffs are going deep into the end zone and he has the leg to kick from 55 yards and beyond. Wyoming commit Zach Ewan (Phoenix, Ariz./North Canyon) will be the long-snapper.
Reporter, RecruitingNation
Covers recruiting in the Southeast
Joined ESPN in 2009
2011 Under Armour All-America Game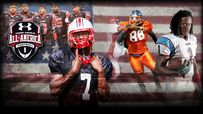 The nation's top prospects will be on display during the Under Armour All-America Game.
Under Armour All-America Game home »
STORIES
VIDEO
PHOTO GALLERIES
MORE COLLEGE FOOTBALL HEADLINES
MOST SENT STORIES ON ESPN.COM