Commentary
Army All-American Bowl tale of the tape
Originally Published:
December 30, 2010
By
Jamie Newberg
| ESPN Recruiting
U.S. ARMY ALL-AMERICAN BOWL TALE OF THE TAPE
East Team Quarterbacks
West Team Quarterbacks
Florida is not known as a quarterback state but a trio from the Sunshine State will take the field for the East team -- Teddy Bridgewater (Miami, Fla./Northwestern), Jacoby Brissett (West Palm Beach, Fla./Dwyer) and Phillip Ely (Tampa, Fla./Plant). Bridgewater and Brissett are big, strong and extremely athletic, while Ely is more of a prototypical passer who relies on rhythm and precision with his receivers. Ely is committed to Alabama, while Bridgewater was committed to Miami but is now open. Each member of this trio brings something a little different to the table for the East squad. Bridgewater is a member of the ESPNU 150.
Nebraska-bound Bubba Starling (Gardner, Kan./Edgerton) is the highest-rated quarterback on the West team. He is ranked No. 6 at this position and is a tricky dual-threat signal-caller, especially considering his size (6-foot-5, 195 pounds). Starling has terrific upside, a good arm and can run deceptively well. Cody Kessler (Bakersfield, Calif./Centennial) and J.W. Walsh (Denton, Texas/Guyer) have committed to USC and Oklahoma State respectively. Both are good spread quarterbacks who know where to go with the football and how to distribute to their playmakers. They display above-average arms and good mobility in the pocket.
East Team Running Backs
West Team Running Backs
There is more Florida flavor at the running back position for the East. You have thunder and lightning with James Wilder Jr. (Tampa, Fla./Plant) and Demetrius Hart (Orlando, Fla./Dr. Phillips). Wilder, a Florida State commit, is a powerful downhill runner with great size. He can also play linebacker or put his hand down at end and can dominate a football game on either side of the ball. Meanwhile, Hart is electric with the ball in his hands and a threat to score every time he touches the ball. The Michigan commit is also a great receiver out of the backfield. Then you have Florida commit Mike Blakely (Bradenton, Fla./Manatee). While he's not the biggest back in the world, he has deceptive power and great versatility to his game. All three are ESPNU 150 members.
This has to be one of the strengths of the West team, led by Texas commit Malcolm Brown (Cibolo, Texas/Steele). The five-star prospect has size (6-0, 215 pounds), power and is arguably the top downhill runner in the class. Another powerful runner is Kenny Hilliard (Patterson, La./Patterson), who's headed to LSU. Then you have two versatile playmakers in Nebraska-bound Aaron Green (San Antonio, Texas/Madison) and Oklahoma State-bound Herschel Sims (Abilene, Texas/Abilene). DeAnthony Thomas (Los Angeles, Calif./Crenshaw) is arguably the most explosive prospect in the country and is super with the ball in space because of his outstanding speed and quickness. The future Trojan can also line up in the slot, at receiver or in the secondary.
East Team Wide Receivers
West Team Wide Receivers
Clemson-bound wide receivers Charone Peake (Spartanburg, S.C./Dorman) and Sammy Watkins (Fort Myers, Fla./South Fort Myers) lead the East team. Both are outside threats with good size, athleticism and playmaking ability. Peake is a five-star prospect and the nation's No. 1-ranked wideout, while Watkins is a member of the ESPNU 150. Tobias Singleton (Madison, Miss./Central) is a rangy receiver who has yet to make his commitment. Recent Rutgers commit Miles Shuler (Long Branch, N.J./Long Branch) is a terrific athlete with quickness, while Danny Woodson Jr. (Mobile, Ala./LeFlore) is headed to Alabama.
The West is stacked at this position, led by ESPNU 150 members George Farmer (Gardena, Calif./Junipero Serra), Victor Blackwell (Santa Ana, Calif./Mater Dei), DeAnthony Arnett (Saginaw, Mich./Saginaw), Trey Metoyer (Whitehouse, Texas, Whitehouse), Jaxon Shipley (Brownwood, Texas/Brownwood) and Kasen Williams (Sammamish, Wash./Skyline). Southern California commits Farmer and Blackwell are big-time talents on the outside. Williams, headed to Washington, is a physical receiver and a deep threat. Shipley, a great route runner, is headed to Texas while Arnett will bring quickness to Tennessee.
East Team Tight End
West Team Tight End
Nick O'Leary (West Palm Beach, Fla./Dwyer) is a five-star prospect and the nation's top tight end prospect. He's a throwback player with size (6-4, 230 pounds) and nastiness to match his super athleticism. He has soft hands and can run block well. O'Leary will announce his decision during the game between FSU, Alabama, Wisconsin, LSU, Miami and others.
Washington commit Austin Seferian-Jenkins (Gig Harbor, Wash./Gig Harbor) is huge at 6-6 and 250 pounds and has a long frame to add a ton of bulk and weight. He is a big target with good hands and is a good run-blocker. In the short term he's a tight end, but he could end up at tackle.
East Team Offensive Linemen
West Team Offensive Linemen
Antonio Richardson (Nashville, Tenn./Pearl-Cohn) is the top-rated offensive line prospect for the East. He's an enormous tackle prospect with very good athleticism. Richardson will be joined at the tackle position by two good ones from the Sunshine State in Zach DeBell (Tarpon Springs, Fla./Tarpon Springs) and Tyler Moore (Clearwater, Fla./Countryside). DeBell is committed to Georgia, while Moore is headed to Nebraska. Donovan Smith (Owings Mills, Md./Owings Mills) will also play tackle for the East. Moving inside to offensive guard will be South Carolina-bound Brandon Shell (Charleston, S.C./Goose Creek), Aundrey Walker (Cleveland, Ohio/Glenville) and North Carolina-bound Landon Turner (Harrisonburg, Va./Harrisonburg). The East center will be Brian Bobek (Palatine, Ill./William Fremd), who's committed to Ohio State.
The highest-rated West offensive line prospect is Matthew Hegarty (Aztec, N.M./Aztec), who's committed to Notre Dame. He's the No. 4-rated OT in the land. Garrett Greenlea (Spring, Texas/Klein Collins), Ethan Hutson (Destrehan, La./Destrehan), Tyler Johnstone (Chandler, Ariz./Hamilton) and Ryker Mathews (American Fork, Utah/American Fork) are all tackles who have committed -- Greenlea to Texas, Hutson to Ole Miss, Johnstone to Oregon and Mathews to BYU. Sedrick Flowers (Houston, Texas/North Shore) is the No. 3-rated guard in the country and he's committed to Texas. Auburn commit Greg Robinson (Thibodaux, La./Thibodaux) can play either guard or tackle. Tony Morales (Arlington, Texas/Sam Houston) and Jordan Rigsbee (Chico, Calif./Pleasant Valley) are two more inside linemen who have committed to Texas Tech and Cal respectively.
East Team Defensive Linemen
West Team Defensive Linemen
Tim Jernigan (Lake City, Fla./Columbia) leads the defensive tackle position for the East. He's undecided and is one of the most coveted prospects on the board, regardless of position. Two other interior defensive linemen are Michael Bennett (Centerville, Ohio/Centerville) and Delvon Simmons (McKeesport, Pa./McKeesport). Bennett is headed to Ohio State, while Simmons hasn't made his pick yet. This isn't the biggest group in the world but it has good athleticism. These linemen average right around 275 pounds. However, the East is loaded at the defensive end position, led by five-star prospect Ray Drew (Thomasville, Ga./Thomas County Central). Two other Peach State standouts join Drew on this squad in Sterling Bailey (Gainesville, Ga./East Hall) and Stephon Tuitt (Monroe, Ga./Monroe Area). Drew hasn't decided on his college yet, while Bailey is headed to Georgia and Tuitt will sign with Notre Dame. Aaron Lynch (Cape Coral, Fla./Island Coast) was at one time headed to South Bend, but now he's committed to FSU. Jeoffrey Pagan (Asheville, N.C./Asheville) recently decommitted from Florida and is currently open. Ishaq Williams (Brooklyn, N.Y./Abraham Lincoln) will make his commitment during the game.
The West defensive tackle position group is led by Viliami Moala (Sacramento, Calif./Grant). The undecided four-star prospect has great size and plays strong in the middle. Oklahoma commit Marquis Anderson (Cibolo, Texas/Steele) is a contrast to Moala, because he's quicker and more athletic. Todd Peat Jr. (Tempe, Ariz./Corona Del Sol) is undecided and Quincy Russell (Arlington, Texas/Sam Houston) has committed to Texas. Both of these prospects are disruptive in the interior. The unit complements each other very well. The highest-rated defensive end for the West team is Jermauria Rasco (Shreveport, La./Evangel Christian Academy), who has yet to make his commitment. Rasco is a playmaker on the edge, against both the run and pass. Brennan Scarlett (Portland, Ore./Central Catholic) has a long frame and good size, while Jason Gibson (Gardena, Calif./Junipero Serra) can play outside linebacker or put his hand down. Gibson, who has committed to Cal, has athleticism and speed. Meanwhile, Juda Parker (Honolulu, Hawaii/St. Louis) is quick off the ball and has a very good motor. At one time he was committed to Tennessee but is now open.
East Team Linebackers
West Team Linebackers
The East suffered a big blow when the nation's top linebacker, Tony Steward (St. Augustine, Fla./Menendez), suffered a knee injury. The uncommitted five-star prospect is one of the most explosive defensive players in the nation, so the East team will rely on linebacker Curtis Grant (Richmond, Va./Hermitage). The rest of this group is very talented -- Brent Calloway (Russellville, Ala./Russellville), Rodney Coe (Edwardsville, Ill./Edwardsville), Kris Frost (Matthews, N.C./Butler), C.J. Johnson (Philadelphia, Miss./Philadelphia), Anthony Sarao (Absecon, N.J./Holy Spirit) and Lateek Townsend (Bennettsville, S.C./Malboro County). Calloway is committed to Alabama, Coe to Iowa, Johnson to Mississippi State, Sarao to Stanford and Townsend to South Carolina. Krost, a terrific athlete, is uncommitted.
Lamar Dawson (Danville, Ky./Boyle County) is a guy who mans the middle and he's a super "big" athlete. Texas-bound Steve Edmond (Daingerfield, Texas/Daingerfield) can make plays all over the field. Christian French (Cedar Rapids, Iowa/John F. Kennedy) could be the most athletic of the group, while Jake Keefer (Baldwin, Wis./Baldwin-Woodville) could be the most deceptive. French is headed to Oregon and Keefer will play at Wisconsin. Harvey Langi (South Jordan, Utah/Bingham) and Colt Lyerla (Hillsboro, Ore./Hillsboro) star on both sides of the ball. They are both undecided. Tre Madden (Mission Viejo, Calif./Mission Viejo) is committed to USC, while Kendall Thompson (Carthage, Texas/Carthage) will play for Texas.
East Team Cornerbacks
West Team Cornerbacks
Nickalos Brassell (South Panola, Miss./Batesville) is headed to Mississippi State and he could play on either side of the ball at receiver or defensive back. He and Auburn-bound Jonathan Rose (Leeds, Ala./Leeds) both have good size at the cornerback position. Blake Countess (Olney, Md./Our Lady of Good Counsel) possesses very good cover skills and he will take his talents to Ann Arbor and play for the Wolverines.
Charles Jackson (Spring, Texas/Klein Collins) leads this group. The future Cornhusker is a physical corner with good ball skills. Tevin Mitchel (Mansfield, Texas/Legacy) was headed to Lincoln with Jackson, but recently switched his commitment to Arkansas. Stefan McClure (Vista, Calif./Vista) plays with great instincts and he has yet to make a decision while Odell Beckham Jr. (New Orleans, La./Isidore Newman) is explosive and quick. He is undecided as well.
East Team Safeties
West Team Safeties
The East safety position has two Floridians and three Georgians. Gerrod Holliman (Miami, Fla./Southridge) and Wayne Lyons (Ft. Lauderdale, Fla./Dillard) represent the Sunshine State. Holliman can do it all and has great range, while Lyons is very physical. Both are uncommitted at this time. Avery Walls (McDonough, Ga./ Eagles Landing Christian Academy) is headed to Cal, while Corey Moore (Griffin, Ga./Griffin) has pledged to Georgia. Meanwhile Damian Swann (Atlanta, Ga./Grady) remains undeclared. This trio from Georgia is athletic and talented.
Glen Faulkner (East St. Louis, Ill./East St. Louis) is the top-rated safety on the West squad. The physical safety is headed to Kentucky. George Atkinson Jr. (Livermore, Calif./Granada) is a two-way standout who has committed to Notre Dame. He has a solid combination of size and speed. James Sample (Sacramento, Calif./Grant) has great size and could grow into an outside linebacker before it's all said and done. Sample excels in run support and he has not yet made his commitment.
East Team Specialists
West Team Specialists
Miller Snyder (Charlotte, N.C./Myers Park) is a kicking prospect who can both punt and place kick. He has committed to North Carolina.
Kicker Benjamin Pruitt (The Woodlands, Texas/The Woodlands) and kickoff specialist/punter Matthew Wile (San Diego, Calif./Francis Parker) have not made their commitments yet.
Jamie Newberg has been covering recruiting both in the Southeast and nationally for 19 years. He can be reached at jamienewbergbw@yahoo.com.
RecruitingNation
Jamie Newberg covers recruiting in the Southeast.
Email him at jamienewbergbw@yahoo.com.
2011 U.S. Army All-American Bowl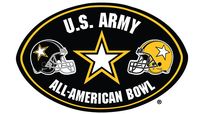 The U.S. Army All-American Bowl will host some of the nation's top prospects.
When: January 8, 2011
Where: Alamodome, San Antonio, Texas
STORIES
MORE COLLEGE FOOTBALL HEADLINES
MOST SENT STORIES ON ESPN.COM