Commentary
Nothing simple about snapping
Peter McBride, Zach Ewan make it look easy and earn scholarships
Originally Published:
January 2, 2011
By
Jamie Newberg
| ESPN.com
LAKE BUENA VISTA, Fla. -- It looks and sounds simple enough. But just for fun, snap a ball between your legs 15 yards and make sure it gets back there in 0.75 seconds. Oh yeah, do it with some 300-pound guy standing over you, getting ready to hit you as hard as humanly possible.
Still sound simple?
It's not. That's why more and more coaches are starting to look for players who excel in this skill -- and make no mistake, it is a skill. It's why Under Armour All-Americans Peter McBride (Scottsdale, Ariz./Scottsdale) and Zach Ewan (Phoenix/North Canyon) have scholarships to play in college next year -- McBride at USC and Ewan at Wyoming.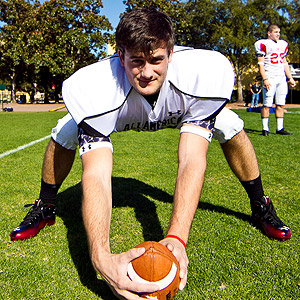 Davide De Pas/ESPN.comPeter McBride went to a camp at USC for fun, and ended up with a scholarship to play for the Trojans.
Think about that for a second. USC, despite being under scholarship limitations, offered McBride (6-foot-2, 210 pounds) a full ride to snap for the Trojans. McBride committed over the summer, signed his scholarship papers and will enroll later this month.
"We liked McBride a lot, he's the top long snapper in the country and now we are set for four years," said USC recruiting coordinator Ed Orgeron. "That's an important job in the kicking game and we feel good about him."
McBride always wanted this opportunity. He knew a few years ago that with hard work he would have a chance to do this at the college level.
"For me I started to long snap my freshman year. I knew that if I became good at it I could always go to school," McBride said. "It didn't matter where. To get an education and play football, that's what I wanted. I just kept working on it and it ended up just being with USC .
"Over the summer I went to a camp up there. I thought I was going to have some fun and never expected a scholarship. I snapped really well. A few days later the coaches offered. They wanted to speak with [my] family and a few weeks later verbally committed.
"It felt pretty special. I mean wow, it's USC. That's big and they are a powerhouse. And I did not expect it. It has been awesome."
Ewan (5-11, 220 pounds) has a similar story. He started long snapping at a young age and then practiced, practiced and practiced some more. That earned him a scholarship to play football at Wyoming.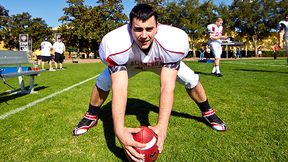 Davide De Pas/ESPN.comZach Ewan will play for Wyoming next year.
"I started long snapping four or five years ago, when I was coming out of middle school. I kept with it," Ewan said.
"Wyoming contacted me my junior year. I went up there for a vacation while in Colorado. I wanted to check it out. So I saw their campus and went to a practice. I talked with the coaches and sent them film.
"They have been with me a long time. Wyoming just felt like at home. The coaches were nice and loyal."
Ewan and McBride have several things in common: They are both from the Phoenix area and are both coached on the side by Ben Bernard, who both say was a key to their earning scholarships.
"Coach Bernard got me where I am today. Everything is from him because he is an awesome coach," McBride said. "Maybe he's a little crazy but he's really good at what he does. He always wants us to do well. I am very thankful for what he has done."
Bernard is well known locally, where he coached high school football for 20 years and now runs Arizona Elite Long Snapping. Two of his students (Nick Sundberg and Jon Weeks) have made it to the NFL and 30 more -- including Cal's Matt Rios, one of the best long snappers in the country -- played in college. Bernard works with his long snappers for roughly eight months out of the year, five to six days a week for two-hour sessions. Typically it's 150 snaps per practice using two-pound and six-pound footballs.
"Honestly, they have both worked extremely hard. They take a lot of pride in being here," Bernard said. "They really have worked hard and both have left a lot of guys by the wayside. They want to get better every day. They focused on it. I can't say enough about these two. I am just so proud of both of them."
Bernard understands what it takes to be a standout long snapper. He knows that if you stand out at that job at the high school level then you can have a future in college and perhaps beyond.
"You have to throw it back there with speed and accuracy or your punt will get blocked," Bernard explained. "A long snapper needs to throw it 15 yards in 0.75 or better. Some people say it's an art. Sometimes it looks perfect. It's like shooting a free throw. It looks great and you should make it. Remember, it's 15 yards and 0.75. If you are a tenth off in high school you should be OK. But in college ball it's blocked. College ball is a big step up. You can't afford that in the NFL. You have to throw it that fast and hit the mark every time in the NFL. Every time."
McBride and Ewan are consistently in the mid 0.7s, which is what college football programs are looking for, but giving scholarships for long snappers hasn't quite caught on across the country. Many bigger programs still prefer to use walk-ons and save the scholarship for a primary position player. But it doesn't change the significance of landing an elite player at the position.
"Just like running backs there are a lot of good long snappers out there. You just have to find the great one," said Eddie Gran, FSU's running backs coach and special teams coordinator. "You look for accuracy and time. I actually break out a stopwatch and time them when watching film. I time them all. It's just like breaking down an opponent.
"As a special teams coordinator, a long snapper is just as important as your quarterback. But usually these guys never get recognized unless they snap it over the punter's head. They are extremely valuable because people can't get you if your long snapper is fast and accurate. If you make a mistake in the operation or have an average snapper, one will get blocked."
To think, there are 32 of these guys in the NFL. They are paid $310,000 a year to snap a football 15 yards. Not a bad way to make a living.
"I'll say," Ewan said. "It's snap the ball, sprint down the field and then hopefully you get to knock a guy's helmet off."
Sounds simple.
Jamie Newberg has been covering recruiting both in the Southeast and nationally for 19 years. He can be reached at jamienewbergbw@yahoo.com.
RecruitingNation
Jamie Newberg covers recruiting in the Southeast.
Email him at jamienewbergbw@yahoo.com.
2011 Under Armour All-America Game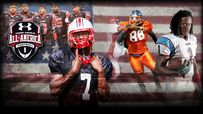 The nation's top prospects will be on display during the Under Armour All-America Game.
Under Armour All-America Game home »
STORIES
VIDEO
PHOTO GALLERIES
MORE COLLEGE FOOTBALL HEADLINES
Nike Men's Wyoming Cowboys #1 Gold Replica Football Jersey Shop »
MOST SENT STORIES ON ESPN.COM