Commentary
Gentle giant
When Anthony Johnson isn't rushing quarterbacks, he's singing R&B
Originally Published:
January 3, 2011
By
Jamie Newberg
| ESPN.com
LAKE BUENA VISTA, Fla. -- Five-star prospect Anthony Johnson is No. 2 in the ESPNU 150, and the LSU commit has it all -- size (6-foot-3, 300 pounds), strength, speed, quickness, athleticism and even vocals.
The No. 1-ranked defensive tackle from O. Perry Walker High School in New Orleans has the aggressive mindset to succeed in the trenches as well as the talent to major in music at LSU.
Although he's only 17, he looks more like a 10-year NFL veteran with the physical maturity of a 30-year old. Yet it's amazing the transformation Johnson makes when he's not playing the game he loves. It's almost as if he has a split personality.
"The game of football is a brutal sport. Football brings out the animal in me," Johnson said. "Out there, I am the king of the jungle.
"Off the field, I am a gentle giant. I love life and live it to the fullest. I just flip the switch. It's something I have always had in me. It was not taught. When the lights come on, a chord is pulled. I was born to do that."
When Johnson isn't crushing quarterbacks and beating offensive linemen, he likes to write music and sing R&B.
"People love to hear me sing," Johnson said. "It puts a smile on their face, and that's what I love to do."
Johnson's high school coach, Emanuel Powell, sees the two different Anthonys every day.
"Anthony the teammate is very unselfish, always looking after his teammates and always encouraging everyone," Powell said. "A kid like Anthony comes around every 20 years. I have never seen him not being supportive, whether it's in classroom or on field.
"On the field, he's just different. I think he sees a lot of bad things on the streets and just in life, and he takes the pent-up energy from life and releases it on the football field. I really believe football is that outlet for him.
[+] Enlarge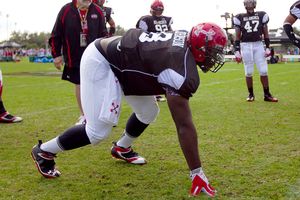 David DePasLSU commit DT Anthony Johnson is the No. 2 overall player in the country.
"Anthony has an amazing personality. He's loving, caring, and funny as hell. He's always cracking jokes or reminiscing. We will miss him, and that's an understatement."
Johnson credits two influences in his life who have made him the person he is today. Foremost is his mother, Nakisha Johnson. She raised Anthony along with his sister Ariane and grandma Angela Derbin.
"That's my mom," Johnson said. "She's been that hardworking parent that has always put food on the table and a roof over our heads. She has given me everything, including a great foundation."
Mom feels blessed to have a son like Anthony. She sees what everyone else sees, a great football player with a huge future ahead of him and an even better young man.
"Anthony has always been humble and polite, and yes, his personality changes time to time, but he always helps everyone," Nakisha Johnson said. " Anthony is a jokester. He makes everyone laugh. Anthony just brightens everyone's day. I am very proud of him. On the field he's different. Anthony is all business."
Johnson also credits another football player from the city of New Orleans, LSU DT Drake Nevis, as a significant factor in his life. Nevis played his high school football at nearby John Ehret High, the two have known each other for close to a decade and their friendship grows stronger by the year.
"Drake has been a huge influence for me," Johnson said. "He's a great player and a person who believes in God. He, like me, is a gentle giant that's a demon on-field. I love Drake. He has meant a lot to me."
Football wasn't always in the cards for Johnson. It's not that he didn't want to play the game. But Johnson was always too big to play and had to settle for basketball instead. After Hurricane Katrina devastated his home state of Louisiana, his mom packed up the family and moved to Alabama to live with her aunt for the next four months.
"Anthony finally got to play football there in Mobile," Nakisha Johnson explained. "He always wanted to play but was too big. Anthony was big from the beginning. But he played in Mobile in the seventh grade and led the county in tackles even though he only played in three games. He hasn't stopped playing since."
It comes full circle for Johnson in a few weeks. He will enroll at LSU early and begin preparations for his future both on the field as a Tigers defensive tackle and off the field as a singer.
"I don't want to brag, but singing will be his next big thing," Nakisha Johnson said.
Jamie Newberg has been covering recruiting both in the Southeast and nationally for 19 years. He can be reached at jamienewbergbw@yahoo.com.
RecruitingNation
Jamie Newberg covers recruiting in the Southeast.
Email him at jamienewbergbw@yahoo.com.
2011 Under Armour All-America Game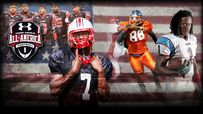 The nation's top prospects will be on display during the Under Armour All-America Game.
Under Armour All-America Game home »
STORIES
VIDEO
PHOTO GALLERIES
MORE COLLEGE FOOTBALL HEADLINES
Nike Youth Lsu Tigers #7 Purple Football Game Jersey Shop »
MOST SENT STORIES ON ESPN.COM