Commentary
Clash of the titans
UA All-American linemen happy to battle players their own size for once
Originally Published:
January 4, 2011
By
Corey Long
| ESPN Recruiting
LAKE BUENA VISTA, Fla. -- Sometimes it's more fun to pick on someone your own size.
For most of the offensive and defensive linemen participating in Wednesday's Under Armour All-America Game, it's the first time they will see live action against players that are their physical equals.
"In high school, you're used to being the biggest and baddest guy out there," La'El Collins said. "Out here it's a different story."
[+] Enlarge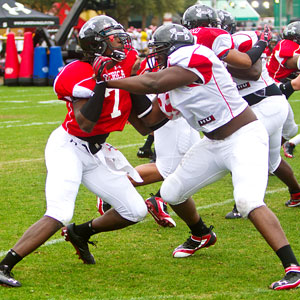 Davide De Pas/ESPN.comThe battle between five-star DE Jadeveon Clowney (left) and five-star OT Cyrus Kouandjio was the talk of the practices in 2011.
The LSU commit from Baton Rouge (La.) Redemptorist missed part of practice Saturday and all of Sunday with an ankle sprain. He promised himself he would get back out at practice Monday, and he did.
"I was playing well and really taking care of business before I had to shut it down," Collins said. "It's frustrating when you can't be out there battling, because we need this."
During practices this week for the upcoming game Wednesday night, every time these linemen face off it's been like a clash of the titans.
Earlier in the week Christian Westerman (Chandler, Ariz./Hamilton), the nation's top-rated offensive lineman, struggled in one-on-one drills by his own admission.
On Monday it was a different story. He was as solid as a rock.
"He's a real fighter out there," defensive end Greg Townsend Jr. (Beverly Hills, Calif./Beverly Hills) said. "He's pretty advanced technically, and if you get him once you're not going to get him a second time the same way.
"That's exactly why I'm happy to be here. On some drills I'm getting stopped, and it's something I really haven't experienced before, but I know it's going to happen. It happens to everyone. And what I see in college is going to be even better than this. So I know I have a lot of work to do."
The battles between Jadeveon Clowney (Rock Hill, S.C./South Pointe) and Cyrus Kouandjio (Hyattsville, Md./DeMatha) have been so epic they could have a documentary written about them.
Right off the bat, the top-rated prospect in the nation showed his speed rush and blew past Kouandjio on the first day. The 6-7, 325-pound Kouandjio battled back and promised that more was to come.
The next day Clowney brought out a new bag of tricks, like his swim move, and Kouandjio answered by being more physical.
"It's been great, because he's the best defensive lineman you can face at the high school level," Kouandjio said. "Going against him is a challenge, and it's going to be the type of challenge you'll see every day in college."
"

In high school you're used to being the biggest and baddest guy out there. Out here it's a different story.

"

-- Five-star OT La'El Collins
Clowney's name has been a popular one with teams from both sides of the ledger. Everyone wants to see what the 6-6, 240-pound phenom has to offer.
And they have yet to be disappointed.
"He's as good as advertised … and then some," said Christian Heyward (San Diego/Point Loma). "Everyone's read about him, and I think all his games were on ESPN this year.
"But you see him out there and you understand why he gets the publicity."
Others have openly lobbied for a chance to go head-to-head against him in the game.
"Oh yeah, I definitely want to go up against Clowney," Bobby Hart (Fort Lauderdale, Fla./St. Thomas Aquinas) said. "I mean, he's the No. 1 guy and if you aren't excited to face off against the No. 1 guy, you have no reason to be out here."
Andre Yruretagoyena (Scottsdale, Ariz./Chaparral) has had his share of action against Clowney in practices this week and says it's been more than a workout.
"I've never faced anything like him before; I have to admit I was a little nervous with him there and the cameras around and everything else," Yruretagoyena said. "Not sure if you want to be calling someone like that out."
Clowney, to his credit, seems to take it all in stride.
"I'm really happy to face anyone out here," he said. "These are the best in the nation by far, and you have to have the experience because this is basically a college-prep crash course. This is the first step."
Clowney's aura has also caught on with the other defensive linemen that want to step up their games to match his talents.
"I feel like I've had a real good week and I've done good things," said Anthony Chickillo (Tampa, Fla./Alonso). "When you are surrounded by this much talent you want to stand out and make people take notice. You want to be part of that top group."
Sometimes the linemen are put in unfamiliar spots, and the results can be a little embarrassing. Just ask Thomas O'Reilly (Marietta, Ga./Pope), who was on the receiving end of a knockdown block from FSU commit Keelin Smith (Port St. Lucie, Fla./Treasure Coast) during punt coverage.
"Did you see me get knocked on my butt?" O'Reilly joked afterward. "I've never done special teams before and they've got me on punts and kickoffs."
O'Reilly, who is headed to Auburn, doesn't appear to be eager to add special teams to his résumé once he gets with the Tigers.
"No, never again," O'Reilly said. "I'm sticking to battling the big boys on the interior."
Corey Long has been covering high school football and recruiting in the Sunshine State since 1995. He can be reached at coreyespn@gmail.com.
Reporter, RecruitingNation
Covers recruiting in the Southeast
Joined ESPN in 2009
2011 Under Armour All-America Game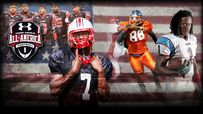 The nation's top prospects will be on display during the Under Armour All-America Game.
Under Armour All-America Game home »
STORIES
VIDEO
PHOTO GALLERIES
MORE COLLEGE FOOTBALL HEADLINES
MOST SENT STORIES ON ESPN.COM